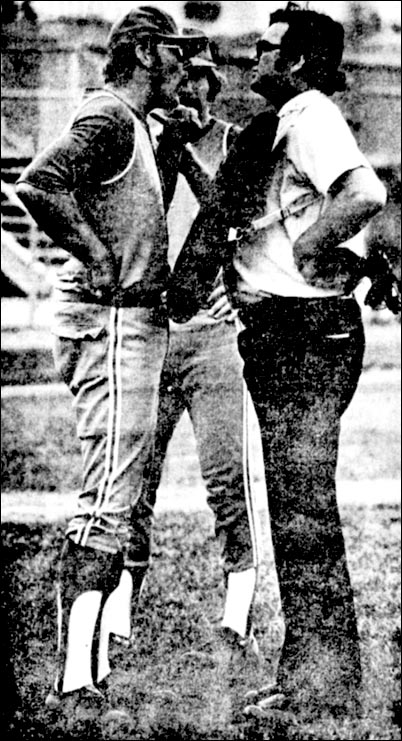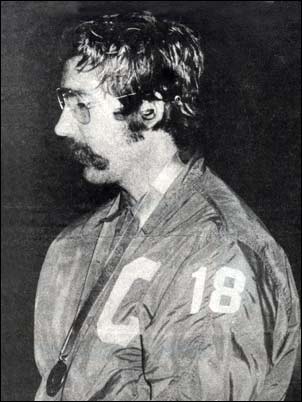 Left - Calgary Jimmies manager Marty Coil has words with Umpire Ken Reid in a June 16th game.
Above - Fred Cardwell of the Alberta team receives his gold medal as the club captured the title at the Canadian Senior Baseball Tournament at North Battleford.
Cardwell fired a six-hitter and set down 16 via strikeouts as Alberta downed Nova Scotia 5-1 in the final. It was his second win of the championship.
The Edmonton Tigers, representing the province, winners of the B Pool with a 4-0 record, downed Quebec 7-1. to reach the final. 
Nova Scotia, with a 2-2 B Pool record, trounced North Battleford Beavers 11-3. The Tigers scored all they needed in the 1st inning. Tim Young reached on a bunt single, stole second and scored on a double by Murray Steeves. Al McKee then drove in Steeves with a single. 
North Battleford, which had a 5-0 record from the A Pool, met their first defeat in the semi-final.
(Photo North Battleford News-Optimist, August 13, 1974)
Below, Edmonton Tigers Manager Ron Watamaniuk receives the championship trophy from Cam Pielak, president of the Canadian Federation of Canadian Baseball after downing Nova Scotia.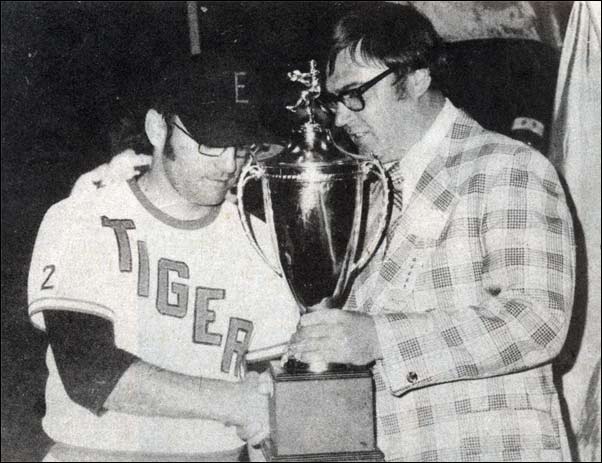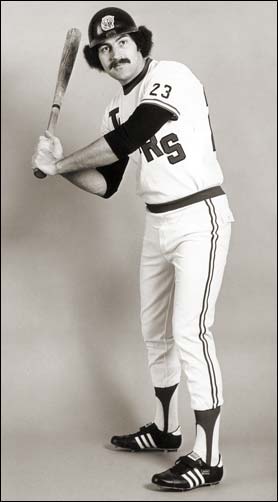 Long-time prairie star Wayne Commodore is among those chosen for induction into the Saskatchewan Baseball Hall of Fame at the annual ceremony in Battleford, August, 2015.
Commodore, a slugging outfielder (sometimes pitcher) began his career with the Swift Current Indians of the South Saskatchewan League in 1966 playing with the team through the 1971 season before landing with the Lethbridge Lakers of the Alberta Major League in 1972 and 1973 and the Edmonton Tigers of the Alberta circuit for 1974 and 1975. He took time off from baseball in 1976 to attend the University of Alabama before returning to Edmonton to star with the Tigers in 1977-78-79 and part of the 1980 season with the Edmonton Cubs.
In addition, in 1973 Commodore was selected for the Canadian National team, picked up by Red Deer for the provincial playoffs in 1975, for Barrhead for the Canadian championships in 1979. He was a member of the Alberta team which won the Canadian senior title in 1974 and 1978.
This might have been his best day - 1973 - with two of the homers off a future major leaguer :
(July 26)   In an awesome display of power, Wayne Commodore crushed four consecutive home runs and a double as Lethbridge whipped Calgary Jimmies 15-6 in semi-final action at the Lacombe Tournament. 
Commodore, who had seven runs batted in, tagged Juan Eichelberger for round trippers to left-centre and right field then crushed pitches from reliever Don Davis down the left field line and up the left-centre field alley for two more. Catcher Bryan Maxwell had a homer, two doubles and two singles. Rob Roy added a four-bagger.  Rod Taylor was the winner in relief.