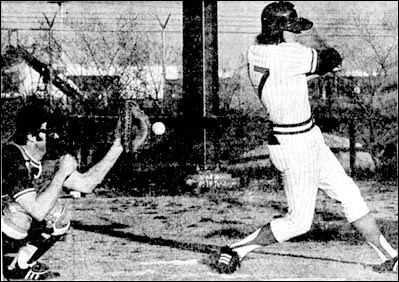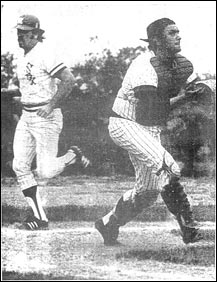 Southern League action in 1974. Left - A swing and a miss for Regina's Bill Bell. Right - Andy Logan (Regina Red Sox) scores while Swift Current Indians' catcher Harvey Nybo looks for a throw that isn't there.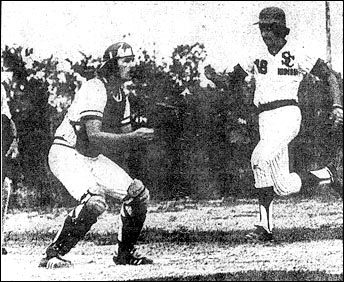 Left - Swift Current Indians' shortstop Dan Ahern scores much to the dismay of Regina Red Sox' catcher Andy Logan who waits in vain for the ball. Right - Regina Red Sox outfielder Stu McLellan begins his dive back to first base on an attempted pick-off.
Jack Buch (Regina Red Sox) sliding, Dave Senyk (Melville Millionaires) attempting the tag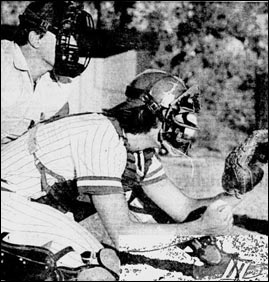 Left - the Red Sox are running! Catcher Harvey Nybo of Swift Current motions for the runner to coming in standing as pitcher Don Szabo moves to back up at home. Right - Regina catcher Andy Logan and umpire Chuck Gregory.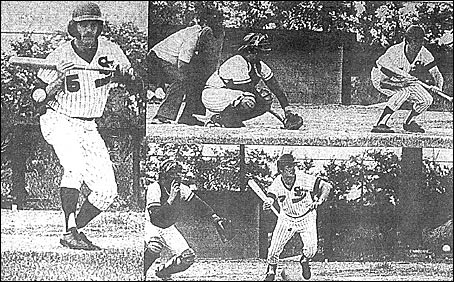 Left - Swift Current pitcher Wayne Pusch yanks the bat back from a bunt attempt.
Right top - Vern Neal of the Indians takes the pitch as Andy Logan corrals the low pitch just at the back of home plate.
Bottom right - Neal is off and running after laying one down the first base line.