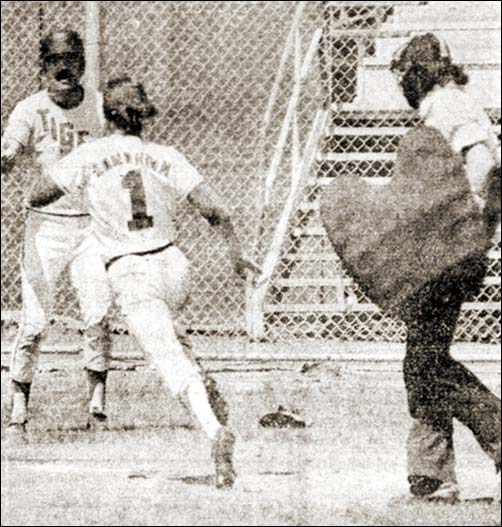 Edmonton catcher Orv Franchuk has an easy trip home as the Edmonton Tigers dumped Calgary Jimmies twice on the weekend.
Calgary Herald, June 2, 1975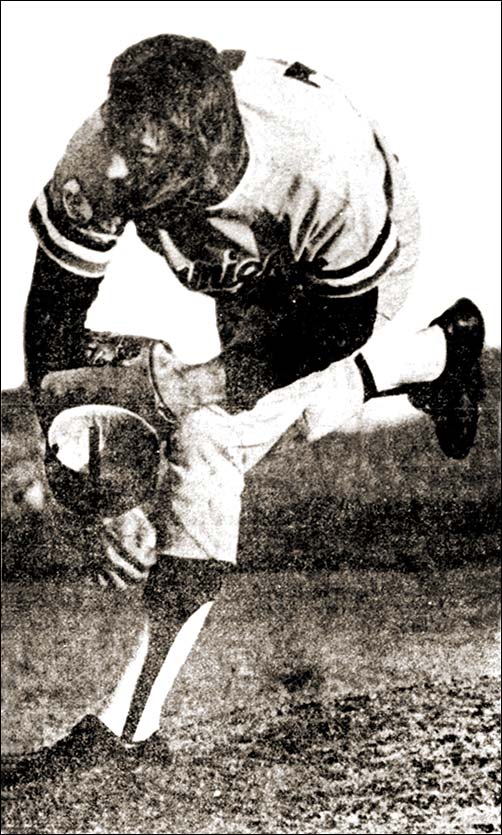 A coup for the Calgary Jimmies was to entice former major leaguer Jim Bouton to suit up with the team. The 36-year-old former New York Yankee tossed a two-hit shutout on the weekend as Calgary swept a three game series from Barrhead.
Calgary Herald, July 21, 1975
Bouton, author of the controversial book "Ball Four", had been working in television following the end of his major league career. But, after his stint in semi-pro ball with Calgary, managed work himself back to the majors with Atlanta in 1978.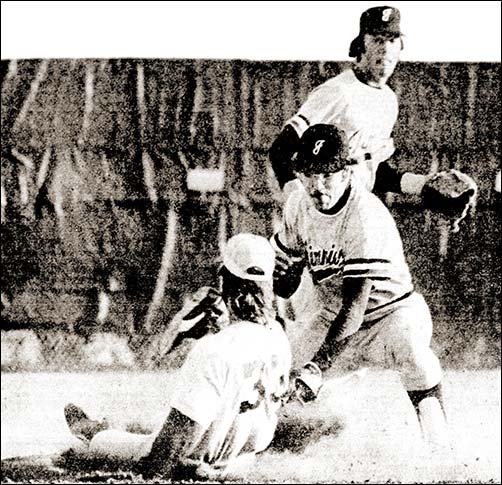 Tim Martin of the California Berkeley Bears is cut down at second as the tag is made by Calgary Jimmies Bob Papworth as shortstop Rick Dalton provides backup. Jimmies beat the Bears 6-2 in the opening game of the Calgary Major Baseball Tournament. Calgary Herald, July 26, 1975
Below Left - In Calgary tournament play, Barrhead catcher Jim McDonald puts the tag on tournament MVP Randy Rasmussen of the Red Deer Generals. Calgary Herald, July 28, 1975
Below right - Ken Grove of the Calgary Jimmies had quite the game as the Jimmies topped Edmonton 7-6. The stocky, young slugger collected five hits - a triple, double and single, hit on the hip by a pitch, and hit on the helmet by an unsuccessful pickoff throw at second. He also drew a walk and scored five times. Calgary Herald, July 15, 1975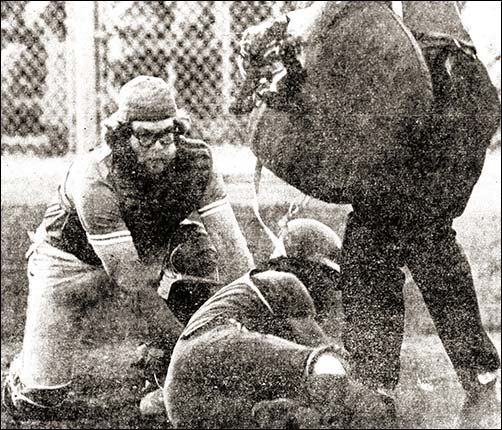 John "Boom Boom" Self is back with the Calgary Jimmies as they prepare for the opening weekend of the Alberta Major Baseball League.
Calgary Herald, May 30, 1975