Eston Tournament :
(July 1-2) Red Deer M&K Generals breezed to $1,000 top money in the Eston Tournament downing the host Eston Ramblers 15-3 in the final. Generals scored four runs in the first inning, three on back-to-back home runs by Hal Harris and Pete Duncan and another on a sac fly. More long balls followed with Blair Hanna clouting a two-run homer in the 3rd, Randy Rasmussen adding a two-run shot in the 5th and Al McKee with a solo homer in the 6th. Rasmussen led the Generals with four hits in five trips to the plate. In addition to his homer, Duncan had a bases-loaded double. Brad Kelly coasted to the win with a three-hitter.
Kelly (W) and xxx
xxx and xxx
Eston reached the final with a 6-3 win over the Berkeley, California, Bears.

Red Deer needed a pair of late inning home runs to edge Unity Cardinals 6-4 in 10 innings in semi-final action. Down 4-1, Generals got a run in their half of the 8th and Pete Duncan smashed a two-run homer in the 9th for the tie. Al McKee's (left) two-run circuit clout in the 10th was the winner. Bob Brown slugged a two-run homer for the Cardinals. Rod Gehring had a strong mound outing in the losing effort.
Behlen, Duncan (W) (7) and xxx
Rod Gehring (L) and xxx
A bases-loaded single by Roger Pozzo in the bottom of the 9th inning carried the Red Deer Generals to a 2-1 victory over Regina Red Sox in the opening round of the Eston Tournament. Generals were held to three hits by starter Wade Wanner and reliever Bob Currie but an error, a balk, and an intentional walk in the 9th opened the gates for a Red Deer victory. Bob Bridges (right) fired a sparkling two-hitter with 16 strikeouts to notch the win. His only mistake was a home run ball to Jim Paisley in the 6th inning.
Bridges (W) and xxx
Wanner, Currie (L) (6) and xxx
Unity beat Moose Jaw Devons 6-3 as Glen Miller smacked a homer and Byron Merkowsky had four hits to lead the offense against the Devons. Bob Dobey, the Cardinals' newest import hurler, picked up the pitching win.
Berkeley Bears punished Kindersley Klippers 23-4 and Eston downed Saskatoon.
---
Killam Tournament :
(July 3-4) Bob Bridges fired his second compete game win in four days to lead Red Deer to top money at the Killam Tournament with a 5-0, five-hit, triumph over Berkeley, California, Bears in the championship final. The teams were locked in a scoreless tie after five innings. Then, in the 6th, Larry Kowalishen lost control with the bases loaded and walked in two runs and hit a batter for a third. Ken Nelson's sac fly brought in another. Blair Hanna singled in the final run in the 8th.
Bridges (W) and xxx
Kowalishen (L), Hughes and xxx
Pete Duncan was the story in Red Deer's 7-4, 12-inning, win over Unity Cardinals in a semi-final. He pitched all 12 innings giving up just four hits after the first inning when Unity used five safeties to take a 3-0 lead. Duncan's two-run homer in the top of the 12th proved to be the difference. Gary Ledbetter had three of the Generals' 11 hits. Unity had tied the contest with two out in the bottom of the 9th on Ed Ralston's pinch-hit single. Don McIntyre went nine strong innings for Unity.
Duncan (W) ands xxx
McIntyre, Gehring (L) and xxx
Berkeley blanked the Edmonton Tigers 7-0 to reach the final.
Red Deer opened the Killam Tourney with a 12-2 lacing of the Grand Centre Northlanders. Roger Pozzo scattered seven hits for the win. Randy Rasmussen, Al McKee and Pete Duncan each had two hits for the Generals.
Pozzo (W) and xxx
xxx and xxx
In other opening games, Berkeley downed the Edmonton Cardinals 10-0. Edmonton Tigers beat Viking 4-3 and Unity shaded St. Paul Bears 7-6. Unity's Doug O'Brien had a shutout for 8 2/3s innings before the Cards gave up six unearned runs. Gord Johnson broke out of a hitting slump with a pair of hits.
---
Unity Tournament :
(July 10-11) After losing in the semi-finals in two straight tournaments, the host Unity Cardinals took top money in their own affair downing the Regina Red Sox 5-2 in the final. Gordy Johnson's two-run homer put Unity ahead in the second inning. Regina quickly rebounded to plate a pair in the bottom of the second to tie, 2-2. Unity's winning margin came in the 7th inning. After Bob Brown walked and Johnson reached on an error, Bryon Merkowsky singled to score what proved to be the winner. The Cardinals got some insurance runs on a double by Randy Munch which scored Johnson and Ed Ralston who had reached on a fielder's choice. Rod Gehring was the winning hurler giving up eight hits while fanning six and walking one. Bob Currie took the loss.
Gehring (W) and xxx
Currie (L) and xxx
Unity nipped Moose Jaw 5-4 in the semi-finals as Glen Miller clouted a homer and Gary Wilburn had three hits. Doug O'Brien picked up the win with relief help from Bob Dobey.
O'Brien (W), Dobey (9) and xxx
xxx and xxx
Red Sox reached the final by trouncing Eston 13-3 in a five-inning victory. Randy Sawa picked up the pitching win as Gerry Fallner cracked a three-run homer to lead the attack. Unity blanked Kindersley 6-0 in their opening game behind Don McIntyre's four-hitter. Byron Merkowsky helped the offense with two hits. .Regina got by Two Hills, 5-4 with Doug Overbo earning the win.
---
Edmonton Tournament :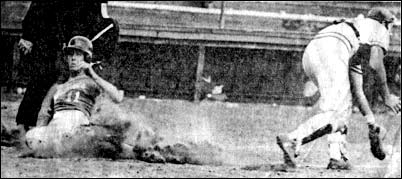 (July 10-11) In their third tournament victory in three tries, Red Deer Generals unleashed a 20-hit attack in crushing the Edmonton Tigers 13-1 in the championship game of the Edmonton Tournament.
Hal Harris, with four singles, a triple and three RBI and Blair Hanna with bases-loaded, inside-the-park homer and a single, led the offensive.
The tournament's most valuable player, Randy Rasmussen (scoring another run above), added three singles. Pete Duncan blanked the Tigers over seven innings before giving way to Tom Sharpe.
(Photo - Edmonton Journal, July 12, 1976)
Duncan (W), Sharpe (8) and Adams
Brown (L), Currie (3), Anderson (6) and Brusegard
Generals rebounded from a 5-3 deficit to top the Berkeley, California, Bears 11-5 to win a berth in the final. Red Deer had 16 hits, three apiece by Pete Duncan and Marty Shepherd. Brad Kelly was the winner in relief.
Bungarz (L), Peretti (5), Kowalishen (7) and Sagisi
Ballinger, Kelly (W) (4), Behlen (7) and Adams
Edmonton Tigers advanced with an 8-5 victory over Barrhead.
xxx and xxx
xxx and xxx
In their opening round match, Red Deer shaded St. John, Washington, 3-1 behind the nine-hit, 12 strike out, pitching of Bob Bridges. The Dodgers got on the board first as Bob Aoki reached with a single, was sacrificed to second and came home on a bloop single by Vic Jacobson. Gens took the lead in the 5th on Randy Rasmussen's two-run double. They added an insurance run in the 7th on singles by Al McKee and Marty Shepherd and an error. Jim Guy gave up just eight hits in taking the loss.
Guy (L) and Rollie
Bridges (W) and Adams
Larry Kowalishen held Calgary Jimmies to six hits as the Berkeley Bears came away with an easy 11-1 victory. Terry Teale homered in a four-run 8th inning and Dick Hazell tossed a two-hitter as Edmonton Tigers topped the Viking Shamrocks 4-1, and Barrhead scored six runs in the 10th inning to stop St. Paul 9-3.
---
Barrhead Tournament :
(July 17-18) The hometown Cardinals downed Berkeley, California, Bears 8-5 to win the Barrhead Tournament.
The Bears reached the final with a 6-2 win over the Red Deer Generals as John Hughes held the Gens to four hits, two of them first inning homers by Hal Harris and Pete Duncan. Bears walloped three circuit blows, a two-run shot by Randy Hooper in the first, a two-run blast by Tim Martin in the 3rd and a solo homer by Bob Silverman in the 8th.
Hughes (W) and xxx
Brad Kelly (L), Behlen (8) and xxx
Cardinals blanked Calgary to reach the final.
Generals won their opener, crushing Two Hills 12-2. Pete Duncan got the Gens going with a three-run homer in the first inning. Blair Hanna belted a homer in the 8th. Duncan and Bill Adams each had three hits. John Ballinger went seven innings to pick up the win.
Ballinger (W), Sharpe (8) and xxx
xxx and xxx
In other games, Barrhead beat Kindersley 5-0, Calgary who topped St. Paul 8-4 and Berkeley opened with an 8-3 win over Edmonton.
---
Lacombe Tournament :
(July 21-22) 17-year-old Ron Leach held the powerful Red Deer Generals to five hits as Calgary Jimmies crushed the favoured Gens 12-3 to win the 27th Annual Lacombe Tournament. The left-hander from Fresno, California, gave up three runs in the 3rd inning, but blanked the Gens the rest of the way while the Jimmies were smacking 13 hits, including homers by Al Price, Bob Papworth and Don McLeod, off a pair of Red Deer hurlers. Rick Johnson added three hits. Randy Rasmussen had a circuit clout for Red Deer. Calgary took home first price money of $2,300.
Leach (W) and Price
Sharpe (L), Behlen (2) and Adams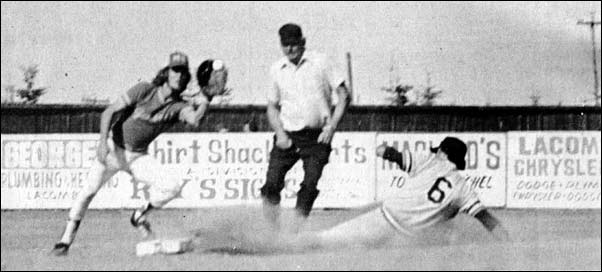 Calgary's Marty Maxwell steals second as Randy Rasmussen of Red Deer awaits the throw. The
Advocate, Red Deer, July 23, 1976
In a semi-final, Calgary took advantage of sloppy defensive play by the Berkeley Bears taking a a 3-0 lead in the 3rd inning, without a hit, and holding off the Bears, 5-4. Berkeley out-hit the Jimmies 11 to 4, but their five errors led to four unearned runs. Down 3-0, the Bears got a two-run homer from Murray Wilson in the 4th to cut the lead to a single run. But the Jimmies got a run-scoring double from Rick Johnson and an infield hit by Don McLeod in their half of the frame to expand the lead to 5-2. Wilson's sac fly for the Bears in the 8th made it 5-3 and John Caselli made it uncomfortably close with a homer in the 9th. Larry Kowalishen took the tough defeat in a route-going effort.
Kowalishen (L) and Sagisi
Forgie (W), Cruess (6) and Price

Red Deer crushed Eston 16-4, in a game called after five innings by the 10-run mercy rule, to advance to the final. The offensive display was one of the most powerful seen in the history of the tournament. In just four turns at bat, the Generals had 17 hits, nine for extra bases. Randy Rasmussen (left) led the parade with a pair of homers. Hal Harris and Pete Duncan also had circuit clouts while Ken Nelson swatted two doubles. Grant Becker knocked in four runs with two singles. For the Ramblers, Robert Murphy had a homer. Bob Bridges coasted to the win. Steve Ward lasted just a third of an inning to take the loss.
Ward (L), Maynard (1), Cavanagh (3) and Morrice
Bridges (W) and Adams
Eston Ramblers rallied with three runs in the 8th inning to edge Edmonton Tigers 4-3 and win a spot in the semi-finals of the Lacombe Tournament. Catcher Rick Morrice started the uprising with a single to centre and after moving up on a wild pitch scored on Robert Murphy's hit up the middle. Greg Thys beat out a bunt and both runners advanced on a ground out. Reg Andrew then delivered the game-winning blow, a double down the left field line. Gorman Heimueller held Edmonton to six hits in going the distance for the win. Dave Curran was the loser.
Curran (L), Randall (8) and Brusegard
Heimueller (W) and Morrice
Randy Hooper's single in the 8th inning scored John Hughes with the winning run as the Berkeley, California, Bears shaded Barrhead 8-7 in the opening game of the 27th Annual Lacombe Tournament. The Bears took an early 7-2 lead but the Cardinals narrowed the margin to 7-5 in the 5th on a sacrifice fly by Gary Picone and two-run double by Lawrence Niven. John Osborne drove in Mike Mukanic in the 6th to make it a one-run game and Walt Mason doubled in the tying run in the top of the 8th. Hooper led the Bears attack with three hits and three runs batted in. Hughes was the winning pitcher with 3 1/3 innings of one-hit relief.
Hendley, Kammer (4), Van de Keere (L) (8) and Teahen
Martin, Hughes (W) (6) and Sagisi
In other opening round games, Calgary fell behind 3-0 in the first inning but rebounded to edge Unity 4-3. John "Boom-Boom" Self smacked three hits and knocked in the winning run with a double in the 8th to pace the Jimmies. Dean Moranda pitched into the 9th inning to take the win in spite of six hits and nine walks. One of the first inning hits against Moranda was Gerry Fellner's two run homer for Unity.
Moranda (W), Forgie (9) and Price
Gehring (L) and Wilburn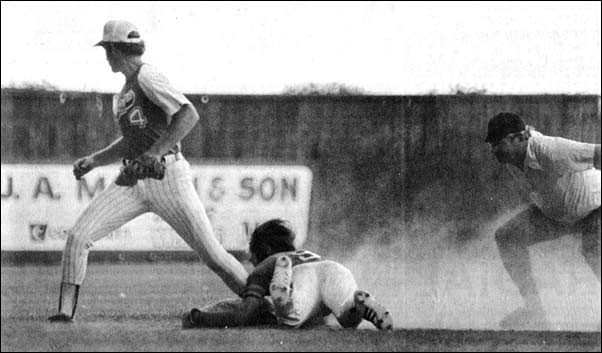 Red Deer's Ken Nelson raises a cloud of dust while stealing second base against Norlake. The
Advocate, Red Deer, July 22, 1976
Red Deer Generals upset the defending champion Norlake All-Stars 10-2 as first baseman Hal Harris smacked three doubles and a single and scored three times. Pete Duncan pitched into the 7th inning to get the win with relief from Brad Kelly. Second baseman Dave Robb had three of Norlake's 12 hits. Starter Kevin Kane took the loss.
Duncan (W), Kelly (7) and Adams
Kane (L), Dumbeck (3), Baehle (7), Kain (8), Danielson (8) and McDonald
The game between Edmonton Tigers and Eston Ramblers was postponed because of rain.
---
Two Hills Tournament :
(July 31-Aug 2) As a pitcher and hitter, Pete Duncan was the story for the Red Deer Generals Monday in a 9-5 victory over Barrhead Cardinals and top money at the Two Hills Tournament. It was the fourth tournament win for the Generals this summer. Duncan scattered 11 hits and smacked a pair of two-run homers to power the Generals. Duncan and Hal Harris each had three of Red Deer's 16 hits. John Osborne and Burt Hass clouted homers for the Cards.
Duncan (W) and xxx
Hendley (L), Paiement (7) and xxx
Red Deer made it to the final by topping Calgary Jimmies 7-5. Bob Bridges cruised into the 9th inning with a two-hit shutout but the Jimmies erupted for five runs on a two-run homer by Ray Forgie and a three-run double by Rod Cruz. Generals had taken the lead in the 4th as Marty Shepherd singled in a run. Pete Duncan homered in the 7th to make in 2-0. Then, in the 8th, the Generals had their own five-run inning. Ken Nelson hit one out of the park and singles by Bill Adams and Randy Rasmussen, a walk, a fielder's choice and an infield out added up to four more. Rasmussen had three of Red Deer's seven hits, two of them doubles.
Bridges (W) and xxx
Moranda (L) and xxx
In the opening round, the Generals got a scare from the underdog St. Paul Bears who took a 10-2 lead before the Generals got untracked and prevailed, 15-10. The slugfest featured 35 hits, 19 by Red Deer. Gens exploded for seven runs in the 6th inning and four more in the 7th highlighted by Blair Hanna's three-run homer. Randy Rasmussen led all the hitters with five hits in six trips. Al McKee and Ken Nelson each had three. Jim Irvine and Jim McDonald each contributed four hits for St. Paul.
Kelly, Becker (5), Behlen (W) (5) and xxx
xxx and xxx
---
Canadian Senior Championship, Fredericton
(August 19-22) Calgary Jimmies trounced Chatham, New Brunswick 11-2 Sunday to claim the Canadian senior baseball title. John Self's three-run homer in the first inning proved to be all the Jimmies needed. Marty Maxwell added a two-run homer in the 8th. Ray Paiement had a three-hitter into the 8th inning when he weakened and allowed both Chatham runs. Phil LePage was the losing hurler.
Paiement (W), Hazell (8) and xxx
LePage (L), McClure (2), Peterson (9) and xxx


Earlier Sunday, Manitoba All-Stars won third-place bronze coming from behind on Terry Lynd's (left) three-run homer in the 9th to top Fredericton All-Stars 11-9. Manitoba had an 8-5 lead until Fredericton got home runs in the 8th from Jean-Guy Pelletier and Jim Maxwell to plate four runs and take the lead.
Alderman (L) and xxx
xxx, Falk (9) and xxx
Calgary advanced to the final with a 6-5 win Saturday night over Fredericton and Chatham won a finals berth by edging Manitoba 4-3 in a game that ended early Sunday morning.
Behind the solid hurling of Garth Neville, Manitoba carried a 3-2 lead through six innings, before Chatham scored a pair in the 7th.
Neville (L) and xxx
xxx and xxx
Alberta concluded preliminary play Saturday taking a slugfest from Chatham 18-17 while Manitoba shaded Fredericton 9-8.

Both Manitoba and the host team had 15 hits, but the prairie squad had the long ball. Stan Furman (left) clouted a three-run shot in the first, Barry Jamieson a two-run homer in the 6th and Mark Fisher added a solo blast in the 7th. Glennis Scott picked up the win in relief.
Ross Lynd, Scott (W) (7) and xxx
Alderman (L) and xxx
Tournament officials named Calgary's John Self as the most valuable player. The first baseman was a .500 hitter with 15 runs batted in with his four homer performance. He was named to the all-star team joining teammates Marty Maxwell at shortstop, Bob Papworth at second base and pitcher Ray Forgie. Others named were Fredericton outfielder Paul Hodgson and DH Jim Maxwell, Manitoba third baseman Stan Furman and Chatham outfielders Brent Hallett and Bill Daley.
Manitoba eliminated Ontario with a 5-3 win Friday. Chatham sent Quebec packing with a 13-0 triumph.
Gerry Falk tossed a seven-hitter for Manitoba and received support from a 13-hit attack, including Stan Furman's two-run homer in the 5th. Bert Ready and Dale Lowes each contributed three hits. Phil Schmidt took the loss.
Falk (W) and Lowes
Schmidt (L), Ambrose (3), McKillop (8) and Flanagan
Calgary whipped Quebec 16-2 in the opening round of the Canadian senior baseball championship Thursday. First baseman John Self connected for two homers, one of them a grand slam. Dale Tilleman drilled a three-run shot to cap a six-run first inning. Jimmies raked two Quebec hurlers for 18 hits.
Elias (L), Clement (8) and xxx
xxx and xxx
In the other game on opening day, the host Fredericton All-Stars parlayed a walk, a sacrifice and a throwing error into a 1-0 win over Ontario, an all-star club from the provinces Inter-County Major Baseball League.
---
Kamloops International Tournament
(September 6) The Washington State All-Stars upset the defending champion Alaska Goldpanners 10-9 Monday to take top money of $5,000 in the Kamloops International Tournament. In a see-saw affair, Washington went ahead for good with a three-run rally in the 8th inning. Reliever Brad Meyring was the winning pitcher. John Mangusso took the loss in relief of Mike Couchee. Panner catcher Pete Rowe was ejected during an argument after a runner was called safe at home. It was the second time in the tourney the All-Stars had beaten the three-time champion Goldpanners. All-Stars won 10-8 in 11 innings Saturday night. The Alaska squad then rebounded to down Red Deer 14-6 to advance to the final.
Goldpanners had a 3-1 lead after two frames keyed by Phil Westendorf's homer. Dan Newell had given Washington the lead with a first inning circuit clout. Bob Krause made it 3-2 with a four-bagger in the third and Washington pulled ahead on a two-run homer by Jim Carrithers in the fifth. Alaska regained the advantage as Jim Chapados cracked a homer with a man aboard in the bottom of the fifth. Trailing 8-7 in the eighth, Washington scored three times, a pair coming home on Carrithers' single and another, the eventual winner, on a single by Bill Hainline, his fourth hit of the game.

Newell, the Washington shortstop, was selected as the tournament's Most Valuable Player. Alaska catcher Pete Rowe (right) was tabbed as the defensive star aided by his offensive output which included seven RBI in games prior to the final and a teaming leading batting average.
Oregon second baseman and DH Tom Rush was the tourney's top hitter while Meyring was selected for the top pitching award.
Riechenburg, Meyring (W) and xxx
Couchee, Mangusso (L), Wilkins and Rowe, xxx
In the opening game of the tournament, Edmonton won by default over Walla Walla.
The Washington All-Stars launched their championship bid with a 9-2 triumph over Gresham, Oregon. Bill Hainline's two run homer in the second inning sparked a 12-hit attack. Jim Carrithers had a solo homer and Bob Weiss had three hits and scored four runs. Bruce Fox had a circuit clout and a run-scoring double for the losers. Brad Meyring was the winning hurler.
Meyring (W) and xxx
Bruce Plato (L) and xxx
Hillsboro, Oregon battered Vancouver Auroras with a 17-hit offensive in notching a 12-8 victory, highlighted by homers from Wally Backman, Cory Kerwood and Jay Beckman. Steve Voorheis drove in the first two runs and had three hits. Tom Bush added a single and a pair of two-baggers. Don Gurniak led Vancouver with four hits.
John Dunn (W) and xxx
xxx and xxx
Alaska Goldpanners scored five runs in the 4th inning Friday to take an 8-0 lead and went on to dump Red Deer 9-3 in their opening game. Eric Wilkins recorded the pitching win, with help from Mike Kinnunen and Mike Couchee. Jeff G. Doyle and Jeff D. Doyle combined for four runs batted in.
Wilkens (W), Kinnunen, Couchee and xxx
Bridges (L), xxx, xxx and xxx
Gresham, Oregon won by default over Walla Walla.
Red Deer crushed Vancouver 18-7 as reliever Gorman Heimueller settled down a see-saw game in the early innings, notching three pickoffs to give him six in two games. The Red Deer onslaught included 23 hits with Al McKee slugging a homer, double and single. Marty Maxwell punched out four singles and John Self and Russ McKee added four-baggers. For Vancouver, John Duda hit his second and third homers in a losing cause. Ossie Chavarria added a three-run homer in the first inning for Vancouver.
Williams (L), Lindsay (4), Johnson (8), Duda (8) and Gurniak
Kamp, Heimueller (W) (4) and Price
Ray Forgie fired a four-hit shutout as Red Deer trampled Edmonton 11-0 as Marty Maxwell clubbed a pair of two-run homers. Russ McKee added a two-run shot and Hal Harris had a solo blast.
Forgie (W) and Price
Thompson (L), Kowalishen (6) and Ireland

The Alaska Goldpanners broke loose in the late innings to down Hillsboro, Oregon, 7-2 Saturday. Tied 1-1 into the seventh inning, Alaska pulled ahead on a run-scoring single by Jeff D. Doyle (left) and also had back-to-back homers in the eighth by Pete Rowe and pinch-hitter Jim Chapados. Oregon got a homer from Mike Backman.
Bill Knudson, Mike Hendley and xxx
Glen Heard (L) and xxx
Washington exploded for four runs in the first inning and coasted to a 12-2 victory over Edmonton. Craig Caskey was the winning hurler.
Caskey (W) and xxx
xxx and xxx

Infielder Wally Backman (left) had a sensational game both in the field and at the plate in leading Hillsboro to a 12-4 victory over Gresham. The 16-year-old high school student cracked two homers, a double and two singles and sparkled in a defensive role.
Mike Spring added a four-bagger, double and two singles, good for five runs batted in. Steve Rudolph and Bruce Fox homered for Gresham. Gary Zagelow had 18-hit support in posting the pitching victory.
Zagelow (W) and xxx
xxx and xxx
In a Sunday night, 11-inning thriller, Washington topped Alaska 10-8 on former Goldpanner Greg Chandler's game-winning homer. Bob Krause and Mike Carey also had two-run shots for the winners. Alaska got a three-run blast from Tim Twyte and a two-run clout from Doug Elliot both in the fifth inning. Craig Caskey, a former Goldpanner and major leaguer with the Expos did an outstanding job in relief in the 11th inning.
xxx, Caskey and xxx
xxx and xxx
The Goldpanners jumped into a big, 7-1 lead, after two innings, keyed by Tim Twyte's grand slam homer, to trounce Red Deer 14 to 6 and win a berth in the tournemant final. Pete Rowe drove in five runs for the winners with a homer and three singles.
Reynolds (L), Bridges (2), Heimueller (4) and Price
Wilkins (W), Kinnunen (7). Leach (7) and Rowe
Washington won a spot in the final with an easy 13-0 romp over Hillsboro as Dan Schmid fired a four-hitter for the shutout.
Schmid (W) and xxx
xxx and xxx