Barrhead Tournament
(June 23-25) The Barrhead Blue Jays captured top money of $3,500 and the Labatt's Cup winning the inaugural Barrhead Tournament.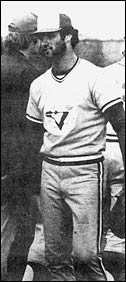 Jays pounded the Edmonton Tigers 8-2 in the final behind the five-hit pitching of Scott Hergott (left). Steve McMannon belted a pair of homers to lead the Jays who had ten hits off four Tigers' pitchers. McMannon knocked in three runs while Mike Teahen and John Osborne each drove in a pair. Barrhead scored three times in the first inning and never looked back. Gord Graves and Larry Drader had circuit shots for Edmonton. Teahen was chosen as the tourney's Most Valuable Player while tammate Dave Tilleman hit .750 to win the award for the Top Offensive Player.
xxx, xxx, xxx, xxx and xxx
Hergott (W) and xxx
In Sunday's semi-final action, Barrhead Blue Jays breezed to a 12-1 victory over the Nor-Lake All-Stars as Keith Van De Keere fired a two-hitter. The only run against him came on a bases-loaded walk in the 6th. The left-hander fanned ten. Gerry Hollett and Mike Teahen each had three hits.
Van De Keere (W) and xxx
xxx and xxx
Edmonton Tigers won a berth in the final with an easy 11-1 victory over Stony Plain Dusters. Randy Rasmussen fired a three-hitter and had home run support from Orv Franchuk and Randy Gregg. Joe Barrett, Gregg, Gord Graves and Larry Drader each had two hits.
Rasmussen (W) and xxx
xxx and xxx
Saturday, the Edmonton Dusters upset Red Deer Players 9-6 as Gary Zunino crushed a three-run homer in the top of the 9th for the victory. Larry Kowalishen was the winner pitcher, Tom Neidenfuer took the loss.
Kowalishen (W) and xxx
Neidenfuer (L) and xxx
Rob Biagini held Lac La Biche to just four hits as the Nor-Lake All-Stars squeaked out a 3-2 win. Steve Wallace tossed a four-hitter in a losing cause.
Biagini (W) and xxx
Wallance (L) and xxx
Blue Jays whipped Grande Prairie All-Stars 13-1 with a 15-hit attack off two hurlers. Ray Lane coasted to the pitching win.
Lane (W) and xxx
xxx, xxx and xxx
The tourney opened Friday with a 2-0 win by the Edmonton Tigers over the Barrhead Broncos, strengthened by three members from the Swan Hills Cubs. Swan Hills pitching ace Bunky Svendsen, hurling for the Bronocs, and Edmonton's Ray Brown matched seven-hitters. The score was 1-0 until the 9th when the Tigers added an insurance run.
Brown (W) and xxx
Svendsen (L) and xxx
Eston Tournament :
(July 1-2) Unity Cardinals came home with top money from the Eston Invitational Tournament. In the first round Unity topped Moose Jaw 7-3 and then embarassed Regina Red Sox 15-5 to advance to the final. The Cardinals clipped Saskatoon Patrick Liners 7-0 in the championship game. Jack Wilson, Shane Lindzy and Rod Gehring picked up the pitching wins for the Cards. Doug O'Brien started against Regina but needed help from Lindzy who picked up the win.
Lloyd Guenther started for the Liners in the final and took the loss.
Guenther (L), Elliot (5) and xxx
xxx and xxx
Saskatoon got a combined one-hit shutout Saturday in its first game to blank Kindersley 9-0. Terry Christman, Guenther and Ron Friess combined on the whitewash.
Christman, Guenther, Friess and xxx
xxx and xxx
The Liners won a berth in the final with a 3-2 win over the host Eston Ramblers.
Giguiere, Wek (W) and xxx
xxx and xxx
Eston had an easy time in its opening game, an 11-1 triumph over Saskatoon Raiders of the Long Lake League.
---
Unity Tournament :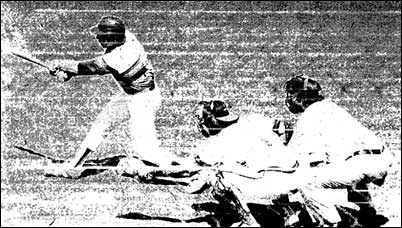 Unity catcher Gary Wilburn reaches out to receive a pitch in the Cardinals' game against the Edmonton Cardinals.
(July 15-16) Edmonton Tigers and Eston Ramblers split first place money at the Unity Tournament. Edmonton led Eston 3-0 after four innings in the championship game but a sudden rain storm forced the game to be called.
The Tigers won a finals berth with a 1-0 win over Moose Jaw and Eston advanced by edging Unity 4-3 in 11 innings.
Tyer Steinback was the winning hurler for Eston in the semi-final.
Steinback (W) and xxx
Jack Wilson (L) and xxx
In an opening round slugfest, Unity held off Edmonton Cardinals 20-13 using a 26 hit attack. Shane Lindzy, with relief from Doug O'Brien, picked up the win.
Edmonton Tigers beat Regina Red Sox and Moose Jaw got by Lac La Biche Dodgers.
---
Edmonton Tournament :
(July 22-23) The Barrhead Blue Jays dumped the tournament host Edmonton Tigers 10-7 Sunday night to take first prize money of $1,700 at the Edmonton Tournament. Tigers had a 4-2 lead after three innings and had knocked Jays starter Curtis Burkehead out of the game. They added a 5th run in the 4th inning off reliever Brian Hamagami. The Jays rebounded with single runs in the 4th, 5th and 6th to knot the count at 5-5. A single to left by Gary Picone scored Ken Rutan with the tying marker. Jays broke the game wide open with five runs in the 8th. Picone, named co-winner of the tournament MVP award with teammate Dale Tilleman, singled in the go-ahead run. Tilleman, who had four hits in the final, finished the tourney with ten hits in 12 at bats. Tigers, who lashed out 13 hits, left 16 men on base. Gord Graves led the team with three singles. The Tigers had won a spot in the final with a 9-4 win over Stony Plain. Jays trounced the Arizona Generals 10-0.
Burkenhead, Hamagami (W) (4) and xxx
Brown, Gregg (8), Duran (8) and xxx
---
Lacombe Tournament :
(July 26-27) Barrhead Blue Jays trampled Stony Plain 13-1 to win top money at the 29th annual Lacombe Tournament. It marked the third big tourney triumph for the Blue Jays having earlier captured the Barrhead and Edmonton events. Steve McMannon, chosen as tournament MVP, Mike Teahen, Gerry Hollett and Ken Rutan clouted homers for the Jays while Keith Van De Keere pitched a seven-hitter for the win. Hollett's two-run blast in the 4th inning shattered last year's record of 25 homers in the two-day event, while Rutan's 6th inning shot established a new mark at 28. McMannon had four hits. Jays pounded three Stony Plain hurlers for 14 hits.
xxx, xxx, xxx and xxx
Van De Keere (W) and xxx
Barrhead downed the Arizona Generals 10-3 in semi-final action while Stony Plain made the final with a 7-6 upset of the Rapid City, South Dakota, Macy's.

Scott Hergott (left) threw a six-hitter against Arizona.
Hergott (W) and xxx
xxx and xxx
Two Alberta and two American teams advanced to the semi-finals of the Lacombe Tournament winning their opening round contests.
Barrhead erupted for seven runs in the second inning and held off a game Eston squad to post a 10-7 victory. Each team had 11 hits. Steve McMannon and Mike Teahen each had two hits and three runs batted in for the Blue Jays. McMannon, who had a homer, also scored three times. Ned Andreoni, Randy Arthur and Pete Maus had four-baggers for Eston. Maus and Arthur each contributed three hits. Ray Paiement claimed the mound victory. Steve Kaia was tagged with the loss.
Kaia (L), Heisler (2) and Sasser
Paiement (W), Hamagami (7) and Teahen
Stony Plain fell behind 2-0 to Unity Cardinals in the first inning then came roaring back with five runs in the 4th and seven in the 5th to take a 12-2 lead and the game was called because of the ten-run mercy rule. Doug Holt's two-run homer was the highlight of the five-run 4th for the Dusters. Steve Conroy was the winner.
Wilson (L), O'Brien (5), Gehring (5) and Wilburn
Conroy (W) and Holt

Terry Christman, who pitched with Lethbridge in the old Western Canada League in 1963-64 before a seven-year pro career, held Edmonton to nine hits -- three of them solo homers -- as his Arizona Generals rapped 15 hits in an 11-4 triumph over Edmonton Tigers. Don Jamerson pounded two homers and drove in five runs for the Generals. Arizona's playing manager, Marty Coil, had three hits for the winners and former major leaguer Rich Morales (left) added two hits, two runs and an RBI. Nye Akchurin had a pair of round trippers for Edmonton and Randy Gregg added another. Dolf Ness was the losing hurler.
Christman (W) and Johnson
Ness (L), Duran (4) and Drader
Rapid City Macy's used the long ball to knock Red Deer out of the tournament. Macy's had five homers in the 12-6 victory. Players had a 3-2 lead into the 5th when the American squad got homers from Brad Bennett, Steve Gelfarb and Mike Vaughn to take a 6-3 lead. Red Deer rebounded with three runs in the top of the 6th to tie. Pete Duncan started the rally with an inside-the-park homer. Terry Hendley doubled and singles from Barney Malpass, Ron Blasetti and Grant Becker produced two more runs. Rapid City came right back in their half of the 6th with three runs and added another three in the 7th to win going away as Gelfarb belted his second homer and Randy Whistle had a three-run shot. Jeff Schattinger was the winning pitcher holding the Players to one hit in 3 2/3s innings of relief.
Foster, Vaughn (L) (6), Gray (7), Hendley (8) and Price
Ritchey, Taylor (6), Schattinger (W) (6) and Whistle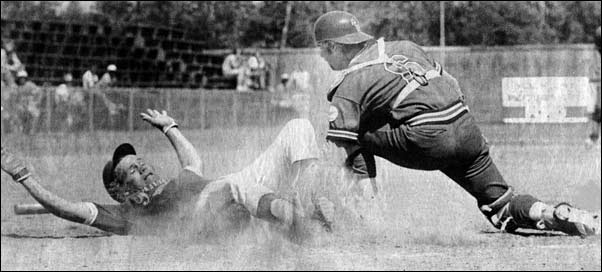 Lacombe Tournament - Blair Hanna slides in under the tag of Rapid City catcher Randy Whistle
but six runs the Players scored were not enough. The Advocate, Red Deer, July 27, 1978
---
Canadian Senior Championships :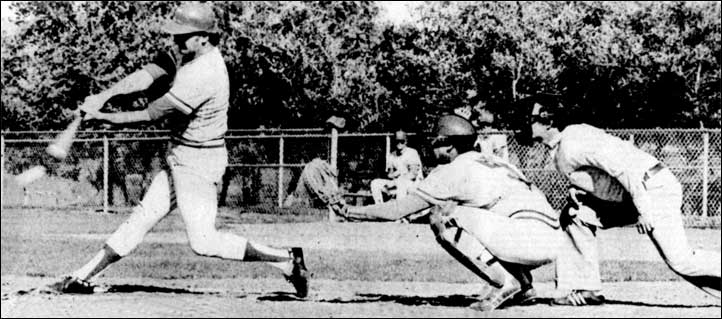 Regina-Moose Jaw Combines' Andy Logan rips a single. The catcher is Edmonton's Orville Franchuk
(August 9) The host team, the Combines of Regina-Moose Jaw, scored an easy win over Prince Edward Island in the opening game of the Canadian Senior Baseball Championship at Ross Wells Park in Moose Jaw Wednesday. Ned Andreoni was a one-man wrecking crew belting a pair of homers and a double and was named the games' MVP in the 14-4 victory. The hosts broke a scoreless tie with six runs in the third inning. Jim Baba singled and Andreoni slugged his first four-bagger. Doug Simon tripled and came home on Andy Logan's single before Rich Gergley and Ross Mahoney also had base hits and put runs on the scoreboard. PEI rebounded in the 5th as Paul Afleck, Kenny Connolly and Lorne Carmichael all singled and scored. Andreoni's two-run blast in the 6th gave the hosts an 8-3 lead and they added another in the 7th as Mahoney doubled and scored. In the 9th, Walter Bradley doubled and scored for PEI but Regina-Moose Jaw had another big inning as Baba doubled in Mahoney and Doug Senyk and scored himself before Doug Simon crushed a homer with Bill Bell aboard. Dan Andrie survived 13 hits to go the distance for the win.
Andrie (W) and Logan
McAdams (L), MacDougall (3), Afleck (5) , Rossiter (9) and MacDonald
In the opening round, BC playing manager Ossie Chavarria, a former major leaguer, smacked a three-run homer to pace the offense in an 11-6 win over Manitoba. The Burnaby Astros, the BC flag-bearers, had blown a 4-0 lead before rallying with three in the 7th and another three in the 8th for the win. Bob Bridges managed to go the distance on the hill for the winners giving up ten hits, three of them homers by Mike Labossiere, Rick McFadyen and Rod Fallis.
Hodgson, Hlady (L) (6), Falk (7), Seafoot (8) and Gullett, Lang (8)
Bridges (W) and Gurniak
Second baseman Ron Masson went five-for-five at the plate Wednesday as BC used a 16-hit attack to crush the Legionnaires of PEI 20-7 in the coast club's second game of the tournament. Les Babuin went six innings for the win. The game was called after 6 1/2 innings as one team was ahead by ten or more runs.
MacDougall (L), Rossiter (5) and MacDonald
Babuin (W), Unruh (7) and Springenatic
Alberta pounded three homers in a 10-3 beating of Quebec. Randy Gregg, Gordon Graves and Ken Baker slugged two-run homers for the Edmonton Tigers, the Alberta representatives. Tom Erasmus, the Alberta pitcher, was named the games`s MVP. He allowed ten hits and struck out ten. Yvon Garceau had the big blow for Quebec, a two-run triple in the third.
Gervais (L), Arsenault (7) and Garceau
Erasmus (W) and Franchuk
Nova Scotia scored in the bottom of the 9th to edge Newfoundland 7-6. The winners out-hit the islanders 18-10. Barry Marchand had a four-master for Nova Scotia while Garry Gulliver and Wayne Gallop had circuit shots for the losers. Mike Cogswell picked up the win in relief.
Reardon, Power (L) (7), Rumsey (9) and Cornick
King, Robbie Mann (8), Cogswell (W) (9) and Robbie Mann
Saskatchewan used a 16-hit assault to take a 9-7 win over New Brunswick. Randy Arthur had a homer for the winners, Hallett for New Brunswick.
Leggett (L), Peterson (3) and Sappler
Plummer (W), Stang (7) and Devine
New Brunswick topped Ontario 7-4 as Scott Harvey bashed a pair of homers and pitched a six-hitter for the win. Mike Carter and Steve Quigley had round trippers for the losers.
Harvey (W) and Sappler
Doe (L), Bacon (6) and Massetti
Ontario rebounded to trounced Newfoundland 12-1 pounding out 17 hits including homers by Jerry Desjardins and Pat Dumouchelle. Wayne Gallop accounted for all the Newfoundland scoring with a homer. Jim Dalton fired a five-hitter for the win.
Dalton (W) and Dumouchelle
Hudson (L), Kent (5) and Cornick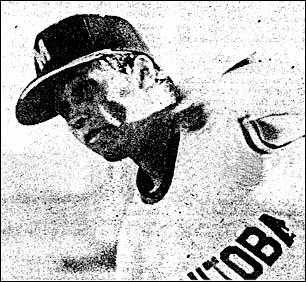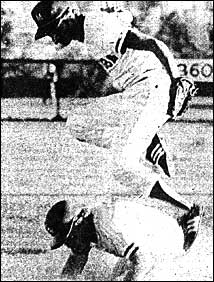 Left - Manitoba's Gerry Falk lets one fly. Right - Combines' Jim Paisley breaks up a double play as Garth Jackman leaps out of the way.
The Combines fell behind 5-0 in the first inning but rallied late to down Manitoba 9-8 at Currie Field at Regina. Rick McFadyen's grand slam homer was the highlight of the opening frame for Manitoba. But, Ned Andreoni, who had slugged two homers in the first game, bashed another two to lead the comeback. Combines trailed 8-3 after six innings but plated four in the 7th to draw to within a run. In the 9th, with two out Andreoni's second four-bagger tied the game. Doug Simon, who had earlier smacked a homer, followed with a double and Andy Logan drew an intentional walk. Rod Heisler reached on an error to load the bases. Manitoba's Gerry Falk then walked Ross Mahoney to put the Combines in front. The excitement wasn't over. In the bottom of the 9th, Randy Sawa walked the first batter and gave up a single to McFadyen. Bob Currie, the son of the man for whom the ballpark is named, came on in relief and set the Manitobans down 1-2-3 to salvage the win.
Sawa (W), Currie (9) and Logan
Falk (L) and Lang
(August 10) The Windsor Chiefs, representing Ontario, took out the heavy lumber Thursday smacking four home runs in an 18-2 thrashing of Nova Scotia, represented by St. Peter's Royals. Jerry Desjardins smacked a three-run homer, one of three hits, and Pat Dumouchelle, Steve Quigley and Kevin Flynn each had a two-run blast. However, Mike Carter earned the player-of-the-game award by knocking in four runs with a four-for-five display. Rick Lindquist, a pickup from Maidstone Shamrocks, tossed a five-hitter and struck out eight.
Lindquist (W) and Massetti
Marchand (L), Dugot (2), MacDonald (5), Wendler (6) and Rob Mann
Ross Lynd fired an eight-hit shutout as the Regina-Moose Jaw Combines blanked Alberta 5-0. Second baseman Jim Paisley, who put the Combines ahead with a two-run homer in the 2nd, ended Alberta's only threat when he turned a soft liner into an unassisted double-play in the 8th inning. Andy Logan also had a two-run homer and Jerry Zrymiak scored on a wild pitch. Ray Brown was the losing hurler.
Brown (L), Hamagami (8) and Franchuk
Lynd (W) and Logan
BC won its morning game with ease trouncing Quebec 12-4 behind a pair of home runs by Russ McKee and single shots by Wayne Rogers and Dale Ramsey.
Janzen (W), Bjarnason (6) and Springenatic
Adam (L), LaSalle (4) and Garceau, Belanger (6)
Doug McPhail, the MVP of the 1977 event while playing for Team Manitoba, led the assault against his former mates Thursday as Alberta rapped 15 hits to crush Manitoba 13-4 at Wawota. McPhail, voted game MVP, smashed a homer, double and single for the Edmonton nine. Keith Van de Keere scattered eight hits in going the route for the win.
Everard (L), Ramsey (3), Seafoot (5) and Gullett
Van de Keere (W) and Teahen
BC and the Regina-Moose Jaw Combines will complete their game today after their contest was suspended after eight innings last night with the prairie squad up 5-4. Catcher Andy Logan unloaded a two-run homer in the first inning to give Combines the lead. But Ossie Chavarria got BC on the board in the 3rd knocking in a run with a single. Combines added three in the 5th on Ned Andreoni's run-scoring single and a pair of BC errors. The coast crew rebounded with a pair in the 8th as Chavarria drove in two more runs with a single.
Heisler, Currie (8) and Logan
Unruh, Johnson (5) and Gurniak
Quebec won its first game as Bernard Ethier six-hit Prince Edward Island for a 6-4 victory. Yvon Alarie and Rene Martel had circuit blows for the winners and Parker MacDonald and Mike Puiia replied for PEI.
Lawlor (L) and Campbell
Ethier (W) and M. Garceau
New Brunswick squeezed by Nova Scotia 18-15 in a slugfest which featured 37 hits, including seven home runs. New Brunswick scored five runs in the 7th to secure the win. Brian Cox and Scott Harvey each belted a pair of four-baggers and Dale Peterson added a solo shot. Richard Mann and Rob Mann had homers for the losers.
L. Dugot, Cogswell (3), Wendland (5), King (L) and MacRae, Rob Mann (5)
Harding, Jeffrey (2), White (4), LePage (W) (6) and Sappier
Saskatchewan put their contest with Newfoundland on ice early with a seven run outburst in the first inning highlighted by a grand slam homer by catcher Brad Devine. From there, Ken Haanen fired a six-hitter in going all the way for the 11-2 victory.
Byrd (L), Kent (1) and Cornick
Haanen (W) and Devine
(August 11) The Regina-Moose Jaw Combines defeated BC 7-6 to finish first in the A Pool with a 4-1 record. The Combines dropped a 3-1 decision to Quebec earlier in the day. Alberta also finished 4-1 in the A Pool while Saskatchewan and Ontario moved into the semi-finals each with 3-1 records in the B Pool.
In the completion of the suspended game with BC, the Combines prevailed in ten innings after BC had tied the score in the bottom of the 9th on Ron Masson's triple and Dale Ramsey's single. BC reliever Ken Bjarnason had his first two pitches of the 10th inning turned into long home runs by Rich Gergley and Ross Mahoney. Down 7-5, BC's Wayne Martin clouted a homer before Dan Andrie retired the side for the win. BC left 18 runners on base.
Heisler, Currie (8), Andrie (W) (9) and Logan
Unruh, Johnson (5), Bjarnason (L) (9) and Gurniak
Regina-Moose Jaw ended the round-robin with a loss to Quebec as 18-year-old Gaetan Arsenault held the Combines to just three hits. Quebec had eight hits including circuit clouts by Rene Martel and Jacques Lincourt.
Arsenault (W) and Y.Garceau
Wanner (L), Hengen (4) and Logan, Bell (4)
Saskatchewan took advantage of 13 bases on balls to dump Nova Scotia 16-5 but then lost to Ontario 9-5.
Elliot, Stang (W) and Devine
Rob Mann (L), Cogswell (6), Jeffrey (7), Rob Mann (7) and MacRae
McMillan (L), Kemp (4) and Morrice, Devine (6)
Dunn (W) and Massetti
New Brunswick handed Newfoundland its fourth straight loss, 4-3. Brian Cox had a homer for the winners, Mike Biust replied for Newfoundland.
Harding (W), Harvey (9) and Sappier
Heinz (L) and Cornick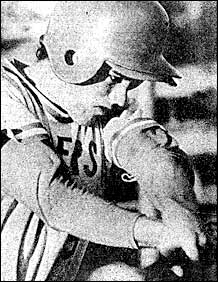 Alberta claimed the other A Pool berth by knocking out pre-tournament favourite British Columbia with a 15-8 decision. An eight-run 2nd inning by Alberta put BC on its heels. Randy Gregg (right) started the onslaught with the first of two tape-measure home runs. Doug McPhail (left) capped it off with a grand-slam. It was a thrilling moment for McPhail who was released from hospital ten days ago and is still not fully recovered from a bout of encephalitis.
Dean (L), Babuin (2), Bridges (4) and Springenatic
Henley (W), Hamagami (7) and Teahen
The Edmonton Tigers shaded PEI 4-3 behind Randy Gregg's three-hitter. The Alberta medical student fanned ten in the seven inning contest.
Gregg (W) and Franchuk
Lawlor (L) and Campbell
Manitoba won its only two games of the tournament Friday, topping Prince Edward Island 8-4 and Quebec 8-3.
MacAdam (L), MacDougall (5), Rossiter (8) and Campbell
Neville (W) and Lang
(August 12) Randy Gregg, with three home runs, a single and two walks, powered Alberta to a berth in the Canadian Senior Baseball Championship final Saturday with an 11-7 win over Ontario. Gregg, who smacked a pair of four-baggers Friday, started off early with a two-run homer in the first inning. He had another two-run circuit clout in the 5th and a single shot in the 9th. Each team had 16 hits in the offensive show and combined for eight home runs. Doug McPhail hit the game's second pitch for a homer in the first frame. Gordie Graves and Orv Franchuk also smacked homers for the winners. Pat Dumouchelle and Ris Massetti replied for Ontario. Harold Johnson pitched into the 8th for Alberta to gain credit for the win.
Johnson (W), Erasmus (8) and Franchuk
Doe (L), Bacon (1), Dalton (3) and Massetti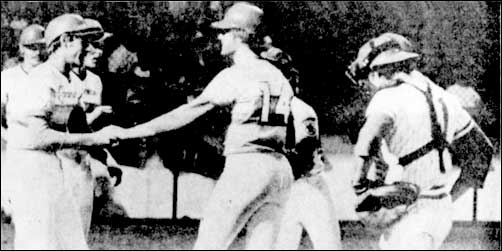 Dale Tileman congratulates Randy Gregg on his second homer.
(August 12) The Regina-Moose Jaw Combines downed Saskatchewan 5-2 Saturday to advance to the Canadian Senior Championship final. A four-run 2nd inning for the Combines proved decisive. Jim Baba knocked in two of those runs with a single. Ned Andreoni drove in another. Brad Devine's two-run blast over the centre field fence accounted for all the Saskatchewan scoring. Randy Sawa pitched a six-hitter for the win. He did it after taking a line drive off his arm in the 3rd inning. The drive off the bat of Bob Brown flew to second basemen Jim Paisley who caught it before it touched the ground and threw to second to double up Randy Munch.
Yonkman (L) and Devine
Sawa (W) and Logan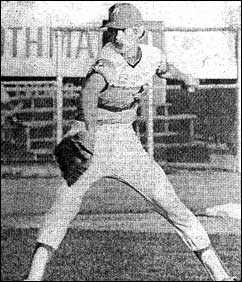 (August 13) The Edmonton Tigers whipped the host team from Regina-Moose Jaw 9-2 Sunday to capture the Canadian Senior Baseball Championship for Alberta.
The Tigers were led by lefty Keith Van de Keere (left) who pitched a six-hitter and struck out 13 and centre fielder Randy Gregg (right) who pounded a pair of homers, his 7th and 8th of the tournament, and knocked in six runs. Gregg, who compiled a .450 average, was named the Most Valuable Player of the event. Tigers put the game away early with a five run outburst, highlighted by Gregg's three-run homer, in the third inning. Gregg brought home another three runs with a four-bagger in the 6th. Both Combines' runs came on circuit blows, one by Jim Paisley in the 5th and one by Andy Logan in the 6th.
Heisler (L), Lynd (4), Currie (4) and Logan
Van de Keere (W) and Teahen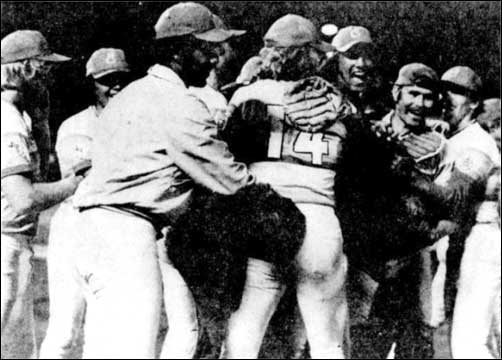 Victorious Alberta players converge on the mound to congratulate winning pitcher
Keith Van de Keere who fanned 13 in hurling the Edmonton Tigers to the Canadian
Senior Championship.
Ontario took the bronze medal downing Saskatchewan 11-9 in the consolation final. Ontario twice rebounded from two-run deficits to prevail as Ris Massetti drove in six runs with a grand slam homer and double. Scott Mallender also homered for Ontario and Bryan Adams had a long ball for Saskatchewan. Rich Lindquist picked up the win in relief of Gary Weese. Wayne Plummer took the loss.
Plummer (L), Yonkman (7) and Devine
Weese, Lindquist (W) (7) and Dumouchelle