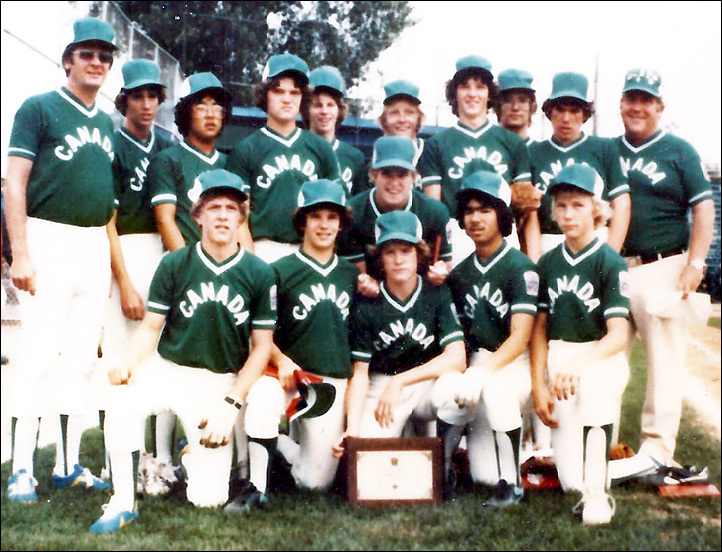 1979 Lethbridge Senior Little League All-Stars
Back Row - (L to R) Dick Necker (coach), Darren Klovansky, Dean Oikawa, Fred Fomrades, Scott Maxwell, Jim Kotkas, Tom Shardlow, Shawn Gilborn, Jerry Wall, Ken Kotkas (manager). Middle Row - Roger Wallace (captain). Front Row - (L to R) Greg Duce, Brad Harvie, Dale Norlin, Blake Tamayose, Tim Luchanski.
At least four members of the 1979 team -- Greg Duce, Brad Harvie, Jim Kotkas and Scott Maxwell -- went on to play for Canada in other international competitions.
---
The team won the right to compete in the Senior Little League World Series championship in Gary, Indiana where, in their opening game, they came up against the Belmont Heights team of Tampa, Florida, which featured three future major leaguers -- Dwight Gooden, Floyd Youmans and Vance Lovelace. In their second game, Larry Beinfest, current President of Baseball Operations for the Miami Marlins and a former Expos G.M., belted a homer to beat the Canadians.
(August 13) Floyd Youmans held the Lethbridge All-Stars to four hits as Tampa, Florida, notched a 7-3 victory in the opening game of the tournament. A two-run homer by Michael Gaines, during a three-run fifth inning, put the lid on the win for the Americans who led 4-0 after two innings of play. Lethbridge picked up its first run in the third and narrowed the margin to 4-3 in the top of the fifth. Darren Klovansky was hit by a pitch in leading off the fifth for the Canadians. He went to second on a infield out and advanced on Dean Oikawa's infield hit. Losing pitcher Tom Shardlow drove one past second to drive in two runs.
Shardlow (L), Duce (7) and Fomrades
Youmans (W) and McCray
Taiwan, shooting for an 8th straight championship, opened with a 3-2 win over Northridge, California. Chen Taifend's two-run homer over the right field fence proved to be the winning blow.
(August 14) Bitburg, Germany, scored a pair in the top of the first inning to surprise Auburn, Maine, but the Americans quickly regrouped to demolish the European squad 23-2. Gary Violette cracked a three-run homer in the bottom of the first and the Auburnites were off and running. Violette knocked in two more with a double. Bill Reynolds added a homer for Auburn.
Troy, Michigan, belted Venezuela 7-1 behind Bob Dodshling's two-hit pitching. The left-hander whiffed 14. Jeff Ozuch connected for a three-run homer and Ron Matney slammed a two-run triple.
California whipped Canada's Lethbridge entry 16-3 to eliminate the Canadian nine. The North Ridge, California, All-Stars erupted for ten runs in the first inning Tuesday en route to their trouncing of Lethbridge. Larry Beinfest and Brad Porter slammed homers in the first inning and Dave Murillo added a two-run shot in the fifth. North Ridge out-hit the Canadians 16 to seven. Tim Luchanski rapped out three hits, including a double for Lethbridge, while Greg Duce singled and pounded a two-run homer.
Klovansky (L), Maxwell (1), Fomrades (6) and Gilborn
Tyler (W), Fineman (4), Beinfest (6) and Murillo
(August 15) Floyd Youmans' three-run homer helped Tampa, Florida, upset Taiwan's Tung-Feng 7-3 Wednesday to send the defending champions to the loser's bracket in the double-elimination tournament. Taiwan is seeking an 8th straight championship. Vance Lovelace tossed a six-hitter for the win.
Curacao eliminated the European entry, Bitburg, Germany, 8-0, and Auburn, Maine, rallied to defeat Taylor, Michigan, 14-4 as Gary Violette led the way with three singles, a solo homer, got hit by a pitch and scored four runs. North Taylor had homers by Jeff Ozuch and Ron Matney. Ralph Vanderlinde fanned 15 in hurling the shutout for Curacao, the Latin American champions.
(August 16) Tampa, the US southern region winners, moved into the title round Thursday night with a 4-1 victory over Auburn, Maine. Winning pitcher Dwight Gooden stole home with Tampa's final run and fanned nine in hurling the triumph.
Earlier in the day, Taiwan eliminated Curacao 3-1 and North Taylor, Michigan, ousted Northridge, California, 3-2. For Taiwan, Liao Chao-Tung fired a one-hitter and struck out 18 in the seven inning contest. Dale Huff smacked a three-run triple in the sixth inning to lift Michigan to its victory.
(August 18) Taiwan defeated Michigan to advance to the tournament final against Tampa.
(August 19) Kang Ming-Shan hurled a two-hit shutout and smacked a solo homer to lead Taiwan past Tampa 5-0 Sunday for the Senior Little League Baseball World Series championship. Taiwan has won the tournament for eight straight years. Tampa entered Sunday's play unbeaten but dropped a 4-3 decision to Taiwan, as Kang knocked in three runs, forcing the deciding game.