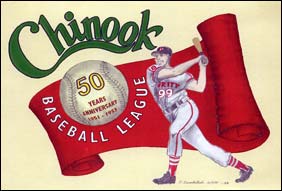 In September, 2001, players from the old Chinook League (1951-1953) met in Calgary to celebrate the 50th anniversary of the league's formation. The league was established to take the place of the Big Four League which ran from 1947 through 1950 with teams from Edmonton and Calgary.
The Chinook League kicked off with six teams (Calgary Mercurys, Calgary Buffaloes, Calgary Purity 99, Carstairs, Drumheller Miners, and Standard). The Calgary teams played our of Buffalo Stadium. Purity 99 took the 1951 championship.
In 1952, the Buffaloes were gone, Twins Cities (Black Diamond and Turner Valley) and RCAF (from #10 Supply Depot, Currie) were in. Carstairs captured the title.
Standard dropped out of the league in 1953 with Red Deer coming aboard. The title again went to Purity 99.
The league featured many well-known local athletes - Harvey Wylie, Bernie Wylie, Hank Bassen, Bill Fennessey, Peter Scott, Jack O'Neill, Jim Berlando, Bill Clapham, Lloyd Bradley, Dick Noon, and Reg Clarkson. Calgary TV personality Henry Viney was a hit as an umpire.
1951 Purity 99s 1951 Final Stats 1953 Final Stats
Back row - left to right - Reg Van Wassenhove, Bill Thederahn, Nick Maskewich and Ron McPherson. Middle row - Peter Scott, Jim Wallace, Lloyd Bradley, Dick Noon, Ken Ing. Kneeling - Paul Sembaliuk, Jack O'Neill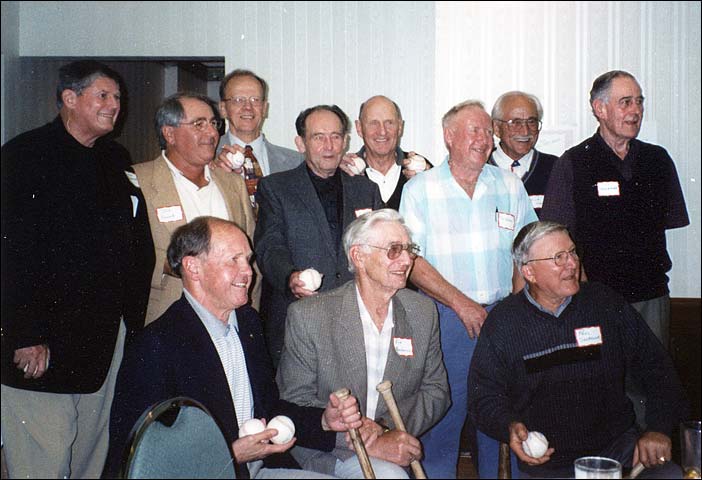 Back row - Bill Thederahn, Peter Scott, Dick Noon. Middle row - Reg Van Wassenhove, Myrnus Casebeer, Lloyd Bradley, Jim Wallace, Bill Fennessey. Front - Bill Clapham, Nick Maskewich, Paul Sembaliuk