For many of the prairie ball players, baseball was just a sideline. Their main attraction was hockey -- the national game.
At least eight Hall of Fame hockey stars suited up on prairie diamonds. Dozens more toiled away in the minors or on amateur clubs or, in the case of Seth Martin, on the international scene.


Thanks to my ol' friend and former classmate Doug Abraham (left and right, in his goalie days a few years back) for accepting the task of revamping the hockey section to expand and improve the page(s).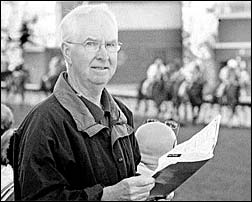 An All-Star goalie in his days in Lloydminster, Doug went on to university to begin a career in education. That, it turned out, didn't last long as he quickly became enamoured with the doings at the race track (right, at Stampede Park in Calgary) !
Following the horses became a life-long attraction and occupation. Doug shifted into the newspaper business as a sports writer for the Saskatoon Star-Phoenix and, for most of his illustrious career, the Calgary Herald.
Now retired, Doug is trying to improve his golf game by spending part of the winter in Arizona. Let's hope he has a little time away from the golf course to work on the hockey connection !
---
Hank Bassen
Two factors seemed to define Hank Bassen's athletic career - he was fast and he liked to roam. This made him a natural outfielder for baseball squads in his hometown, Calgary, and, as he carved out a National Hockey League career as a goaltender, he was at the forefront of the puckstoppers' roaming style that changed the game at its roots.
Bassen was only 19 when he joined Calgary Mercurys in the Chinook Baseball League in 1951. In 1953, he led the loop in stolen bases with 17 while hitting .321.
Hammerin' Hank had a big baseball season in 1957 with George Brookman's Calgary Dodgers (The Brookman Dodgers!) debuting in the Foothills-Wheatbelt League. He tied for fifth in batting at.347, led the league in triples and was named to a baseball scribe's second all-star team in right field. On a big offensive day, he homered and added three singles in leading Dodgers past Medicine Hat by a 10-9 count. Dodgers tied with Granum for first place but Calgary lost the title on a controversial league ruling. Bassen's last baseball squad was the '59 Dodgers.
After graduating from the Calgary Buffaloes junior hockey squad in 1952, Hank initially faced the daunting task of making the National Hockey League with its six-team, one-goalie-per-squad regimen. But he never changed his philosophy that, when it came to loose pucks, the best defence was a good offense - get to 'em first. His forays led to an interesting statistic in Bassen's long career - higher than average penalty minutes. The colourful netminder totalled 63 PIMs with the 1956-57 Calgary Stampeders of the Western Hockey league.
Hank made it to The Show with Chicago for 33 games between 1954-56 with one shutout and Detroit for 97 games from 1960-67 (three shutouts). Bassen's NHL career ended with 25 games with the expansion Pittsburgh Penguins in 1967-68, featuring one goose egg and a 2.86 goals-against-average.
In the WHL, Hank was named Outstanding Goalie for Vancouver Canucks in 1959-60 when this squad captured the Al Leader Cup.
He briefly coached the Calgary Wrangler juniors in the mid-1980s.
Hank's son, Bob, carved out a long career at center ice - 754 games over 14 NHL seasons with New York Islanders, Chicago, St. Louis, Quebec, Dallas and Calgary. Another son, winger Mark, played pro with Hershey Bears and Peoria Rivermen.
---
The Bentleys
The Bentley brothers, led by National Hockey League Hall Of Famers Doug and Max Bentley, put Delisle, Saskatchewan, on the map through their prowess in two sports - they were also the heart and soul of the powerful Delisle Gems baseball squad.
[Left - In 1938-39, five Bentley brothers (left to right - Roy, Wyatt "Scoop", Reg, Doug and Max) played for the Drumheller Miners in the Alberta Senior Hockey League. Photo from Hockey heritage : 88 Years of puck chasing in Saskatchewan.]
On the ice, Doug, Max and Wee Willie Mosienko formed the famous Pony Line for the Chicago Black Hawks in the 1940s until Toronto Maple Leaf owner Conn Smythe engineered a famous 5-for-1 trade for Max. Doug, only 5'8"-145 pounds, fired 219 goals and 324 assists in 565 contests, his best season being 1943-44 when he posted 38 goals and 39 assists in the 50-game season and then added eight goals and four helpers in nine playoff games. Max, the Dipsy Doodle Dandy from Delisle and only a shadow bigger at 5'9"-158 pounds, put up 245 goals and 299 assists in 645 regular-season games. He was a key playoff performer with his 38 points in 40 post regular-season encounters and it netted him three Stanley Cup sips at Toronto. He had won the Lady Byng Memorial Trophy and Hart Memorial Trophy at Chicago. Doug was named three times to the first all-star team and once to the second all-star squad. Max was named once to each team. They played against each other in two all-star games, those being the 1948 and 1949 seasons when the format called for the Stanley Cup champions (Max with Toronto) to play the all-star crew which included Doug from Chicago. Reg Bentley joined Doug and Max for 11 games in Chicago.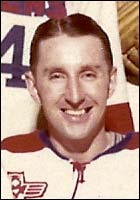 It was through Doug's connections at Chicago that the first black baseball players were brought north to join the Delisle Gems - namely Eddie Brown, Bennie Griggs and Joe Hollin Cretain, who were on the 1950 Delisle squad. They joined brothers Doug, Max, Reg and Roy on the 1950 Gems team that also included Roy's son, Bev (left), at first base. Bev enjoyed a long career as a minor-league hockey netminder (he played from 1947-48 until 1966-67, mainly in the Western League).
[Bev Bentley photo courtesy of Jeff Obermeyer at Seattle Hockey]
The Bentleys' strong influence on those highly-rated Delisle teams even included father William (Bill) Bentley - he often joined his boys on the bench. Max ran away with the batting title of the Saskatoon and District Baseball League in 1948 hitting at a .438 clip, more than 70 points ahead of his nearest challenger. Doug and Max dominated the batting statistics in the 1949 Saskatoon and District League. Doug led the way with a .410 batting average and most hits, 34, while Max finished second at .389 and tied for most runs scored, 21. Max was awarded the Roly Howes Trophy as the 1948 league batting champion while playing for the Delisle Commodores. Max swung from the left side, hit with power and loved to stand forwardly in the batters' box to challenge the pitchers. In 1950, Doug batted .324 for Delisle, Max hit .296 and Bev led the league in runs scored with 22. In 1952, Max batted .283 with 11 doubles and four triples in 44 games. Doug won the coveted shotgun for the highest batting average in the 1951 Saskatoon Optimist Baseball Tournament. He hit a cool .600 in that annual summer highlight! The Commodores laid claim to being the best in Saskatchewan in 1949 by outscoring Moose Jaw Purity Canucks in a season-ending twin bill in the Mill City. Canucks won the opener 5-3 but then lost 8-3. On the day, Max Bentley had six hits, Reg, five. In the finale, Doug and Bev both contributed two hits. Doug and Max were double Gems - they also suited up for Saskatoon Gems in later seasons. So did Reg and Bev.
---

Garth Boesch
Four years with Toronto Maple Leafs. Three straight Stanley Cups in 1947,1948 and 1949 - the first team to do so. Two All-Star games in 1948 and 1949.
That was one heck of a career - albeit short - for Garth Boesch of Milestone, Sask.
Until his sudden retirement, Boesch was the unlikely defence mate of Bill Barilko because both players were right-handed shots. Boesch and Barilko were both excellent shot blockers and, when these blueliners dropped to their knees to smother a shot, the Toronto media dubbed them the 'Maginot Line Knee Drop', a clear reference to the recently-concluded world war.
But the Bashin' B's on the blueline were just not destined to blaze for long ...
The extremely-short career of Boesch, who played only five professional seasons from the ages of 25-29, including the first one with Pittsburgh Hornets of the American Hockey League, can be explained as the signs of his times those many years ago. Prior to his turning pro, World War II was raging and Boesch served two years in the Royal Canadian Air Force. He played defence with Winnipeg RCAF while in the services.
War regulations enabled Toronto to grab Boesch's playing rights from New York Americans in 1943 in a dispersal draft after Boesch was unable to attend the Americans training camp in the U.S. due to conscription and war-time travel restrictions. A hockey reporter had touted Boesch to Toronto owner Conn Smythe as "the best defensive prospect in Western Canada".
Barilko,of course, fired his famed overtime Cup winner against Montreal Canadiens in 1951. Barilko remains the only Maple Leaf ever to have his number - 5 - retired permanently following his untimely death in a northern Ontario plane crash on a fishing trip in the summer months following that glorious Cup win. The Leafs beat Canadiens 4-1 in games but every contest went into overtime. Global TV rates Barilko's tally as the no. 1 goal in Maple Leafs' history. Barilko defied the defensive preachings of coach Hap Day for that winner - he rushed in from the point and swept a Howie Meeker pass from behind the goal line past fallen goalie Gerry McNeil with a high, sweeping backhander while hurtling, sailing headfirst through the air. It was a fitting precursor of Bobby Orr's headlong leap through the air after scoring the Cup-winning goal for Boston Bruins against St.Louis Blues' goalie Glenn Hall in 1972.
There are only two retired sweaters hanging from the rafters at The Air Canada Centre in Toronto - Barilko's number 5 and Ace Bailey's number 6. The latter was retired in a special ceremony at a 1934 All-Star Game held at Toronto's Maple Leaf Gardens to raise funds for Bailey's family. His career had been ended by severe head injuries, including a skull fracture, suffered due to a vicious check by Boston's Eddie Shore. But it was temporarily unretired, at Ace Bailey's personal request, for Ron Ellis to wear from 1968-81 in his final years with the Maple Leafs.
Did we mention those were different times when Boesch joined the Leafs after only one season with Pittsburgh? Facial hair was frowned upon back then by some hockey managers, so much so that he was the only NHL skater who wore a moustache in the 1940s. Perhaps it was fitting that only Boesch wore the lone facial 'bush'.
"It caused a lot of commotion at the time but I felt it was my right," stated Boesch of the moustache that he began growing as a 17-year old member of the famed Notre Dame Hounds of Wilcox, Sask., just a couple of slapshots down the road from Milestone. Boesch then played senior hockey with Regina Rangers and Lethbridge Maple Leafs.
Boesch also played baseball with Notre Dame Hounds in 1939 and 1940. Boesch, a first baseman, homered against Liberty Eagles in 1940 and enjoyed a three-hit game against the same squad one year earlier.
Salaries were very low back then and Boesch quit hockey to take over the family farm when his dad passed away because, he said it was "time to make some real money".
Boesch passed away at age 77 in San Francisco, California.
---
Emile Francis
'Its not the size of the Cat in the fight, but the size of the fight in the Cat.'
With apologies to all dogs, this paraphrase might best sum up Emile (The Cat) Francis, a sportsman for whom a few words - or even a few thousand words - cannot suffice. Only 5'7" - 155 pounds, The Cat, who got his nickname for being labelled quick as a feline as a junior goalie, was the smallest player on just about every team on which he ever played baseball or hockey. But he left giant marks, as clearly as huge clawed ones, on both sports, even being credited with being the first to adapt a first baseman's mitt into a goalies' catching glove by adding wrist padding in the 1940s - the prototype for today's goalies.
Francis was a born leader. This trait did not go unnoticed and, in 1951, at the young age of 24 and after having returned to his hometown North Battleford Beavers after playing a season for the powerful Delisle Commodores, Francis accepted an offer to become shortstop-manager of his hometown team. The Cat was always a true hands-on manager - he recalls a picture of him and (centerfielder) Kenny Nelson drowning gophers during the building of North Battleford's Abbott Field. In seven years, Francis's squad won five championships and represented Canada at the 1956 Global World Series at Milwaukee's County Stadium. They posted a 2-3 won-lost record there, including a tough 2-1 loss to United States.
As playing manager, Francis was deeply involved in the Beavers' finances as well as wins and losses, so he always made sure his squad was doubly 'pumped' for the cash tournaments on which so many clubs depended to pay the bills.
Which brings us to the 1952 Rosetown Tournament and the famous riot, just one of two in which The Cat was involved on baseball diamonds. With North Battleford and the Florida Cuban All Stars in a tight game in the late innings, a dustup ensued when Beavers' Louis Green ran hard into second base. Both benches emptied and Green's teammate, Curtis Tate, the on-deck hitter who had taken his bat to the meeting, reportedly conked Cuban Leopoldo Reyes on the head with it (requiring hospitalization and two stitches). The All Stars, having raced to their bat rack and, thus armed, then chased Tate into a nearby grain elevator operator's home. The RCMP arrived, Tate and one Cuban were jailed with Francis having to bail Tate out the next day.
"And we finished the game, too," The colourful Cat remembers with a wink and a laugh.
That would make the 1957 riot at Edmonton, in which the always fiery Francis got tossed from the game but didn't leave before throwing all the bats onto the field, rather tame by comparison. Once more, the law had to be called to restore order and the game, but not before North Battleford's Johnny Ford was led into a paddy wagon by half a dozen of the police department's finest.
Francis's puck career would be even more impressive. After playing junior hockey in North Battleford, Moose Jaw and Regina, his 15-year pro career included 95 games with Chicago Black Hawks and New York Rangers. Later in the minors, he was named Western Hockey league most valuable goalie for Vancouver Canucks in 1952-53.
Francis puckstopping career ended about the same time as the Beavers' great run and the Rangers, Blackhawks and Red Wings were all bidding for his coaching abilities on the assumption he could succeed in that role in that sport, too.
Francis coached the Guelph juniors for two years before joining the Rangers in 1962. He coached the Rangers on three separate occasions while also serving as general manager from 1964-75. He led them to the Stanley Cup Final in 1972, the first time they'd gone that far since 1950.
A year after his New York run, Francis became executive vice-president, general manager and/or coach of St. Louis Blues until 1983. His NHL coaching total: 393 wins.
Francis immediately became president and general manager of Hartford Whalers until his retirement to Florida in 1993. The Whalers, who hadn't made the playoffs for six years, pushed the Montreal Canadiens to seven games in a thrilling Adams Division final in 1986 when Francis was named Executive of the Year by both The Hockey New and The Sporting News.
In 1982, Francis entered the Hockey Hall Of Fame and also received the Lester Patrick Trophy for his contributions to hockey in the U.S. The Emile Francis Award is annually handed out by the Rangers to worthy volunteers in the New York youth hockey leagues that The Cat started.
The Emile Francis family remains Platinum sponsors to the Saskatchewan Baseball Hall Of Fame.
---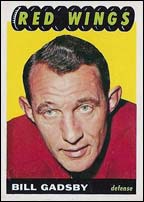 Bill Gadsby
There were many hits and misses in the life of Bill Gadsby.
Hit and sunk by a German torpedo in the Atlantic Ocean just before the outbreak of World War II in 1939, 12-year old Bill and his mother were lucky to be counted among the survivors on The Athenia. The death toll read 112 passengers and crew.
Missed almost completely was a minor-league career for the hockey-crazy kid who, at 17, left Calgary to play two seasons with the Edmonton junior Canadians. He was paid a then-healthy $7,500 plus a $3,000 signing bonus by Chicago Black Hawks and, after only 12 games in the minors with Kansas City Pla-Mors, promoted to the National Hockey League at age 18.
He quickly established himself as a terrific competitor who was equally adept at leading a rush or making a defensive play. At training camp in 1952, he contracted polio but recovered quickly and was twice voted to the NHL second all-star team with Chicago. During his ninth season with the Hawks in 1954, Chicago traded their captain to New York, where Gadsby was voted first all-star in 1956, '58 and '59 (finishing as runner up to Montreal's Tom Johnson for the Norris Trophy as outstanding defenceman in the latter season) and to the second squad in '57. Quarterbacking the power play from the left point, Gadsby's 46 assists with the Rangers in 1958-59 stood as a record for defencemen until shattered by Bobby Orr's 87 helpers in 1969-70 (which he upped to 102 the next year).
In 1955, Gadsby broke Tim Horton's leg and jaw with a crushing - and clean - hit. It was a hip-check at Maple Leaf Gardens.

Detroit boss Jack Adams had his eye on Gadsby but a multi-player trade in 1960 for him and Eddie Shack missed when Red Kelly and Billy McNeill both refused to report to Rangers. Detroit finally acquired Gadsby in 1961 where he set several milestones. He became the first defenceman with 500 points and, in 1965-66 - Gadsby's last - he and Gordie Howe joined Dit Clapper as the only 20-season players in NHL history. Gadsby and Howe also became the NHL's first 1,000-game players.

Gadsby retired as the all-time blueline leader in regular-season games played, 1,248; points, 568, including 130 goals; and penalty minutes, 1,539. He was named one of The Hockey News' Top 100 Players Of All Time and quickly joined the Hockey Hall Of Fame in 1970.

The Red Wings lost Stanley Cup Finals in 1963, '64 and '66. The closest they came was in 1964, when Bobby Baun famously returned to Game 6 to score the overtime winner for Toronto on a broken foot. Wings' Ed Joyal hit the post in the latter part of that contest, with Detroit up 3-2 in games, about the time Baun was asking for more freezing and painkillers for his foot that had been broken by a Gordie Howe shot. Returning for overtime, a blueline blast by Baun deflected off a skate - Gadsby's - and past Terry Sawchuk for the winner. Toronto won Game 7.

Gadsby was proud of his 20 big-league seasons that included three first all-star team and four second all-star team selections and participation in eight all-star games. "I'm proud that Gordie and I were the first to play 1,000 games," Gadsby stated. "In the days of Original Six hockey, to play through injury, pain and discomfort was as expected as much as it was admired."

Bill went on to coach Detroit for two seasons and then scouted for them before retiring.

One more long lasting plus came out of Gadsby's years in Detroit - he and Gordie Howe and their wives really hit it off, so much so that the two families often vacationed together. That's when the husbands could reminisce about hits in another sport - baseball. Both played top-class baseball back on the Canadian prairies where they grew up. Gadsby homered for Edmonton Oilers in an 11-9 win over Howe's Saskatoon 55s in 1951, but Howe's squad won two of three games that weekend.

Gadsby played for Calgary Buffaloes in 1950. Gadsby homered against Edmonton Dodgers but it wasn't enough as the Buffs lost 12-10. In the playoffs, Gadsby, as the Calgary clean-up hitter, was the offensive leader as the Buffaloes clobbered Edmonton Dodgers 17-1. He had four hits, including a two-run homer, scored three times and knocked in three.
In 1951, Gadsby contributed four hits, including a home run, in a doubleheader sweep by Edmonton Oilers over Delisle Gems. Oilers stretched that win streak to seven with Gadsby producing a bases-loaded double as part of his four RBI day in a 14-5 romp over the Kamloops Elks.
A grand-slam homer by Gadsby, an outfielder, keyed a 9-4 victory for Edmonton Athletics over Eastern All-Stars in the 1954 Camrose Tournament.

With so many hits on his sports parade, it would not be fair to only remember Gadsby as the player who played the longest in the NHL without having his named engraved on The Stanley Cup.
---
Gordie Howe
Gordie Howe was still a teenager when he first suited up for Saskatoon Legion in 1947 Saskatoon & District Baseball League action. But he'd already completed two seasons with Detroit Red Wings in the National Hockey League and these two sports would soon clash for the all-around athlete's talents.
Howe, a powerfully built 6-footer at 205 pounds, improved his long-ball status through seven baseball seasons as a first baseman/shortstop/outfielder with Saskatoon squads. There were newspaper headlines and story leads to prove it, especially his 1951 season for Saskatoon 55s: 'A long, two-run home run by Gordie Howe powers Saskatoon 55s past Prince Alberta Bohemians' ... 'Gordie Howe hits 450-foot inside-the-park homer as Saskatoon 55s demolish Colonsay Monarchs 11-1' ... 'Gordie Howe contributes a homer, triple and double in 15-4 Saskatoon win over Regina in tournament play'. And it continued in 1952, with this story lead: 'A three-run homer by Gordie Howe leads Saskatoon Gems to a 9-1 win over Regina Caps in Prince Albert 1952 Tournament Final before 5,000 fans'.
Meanwhile, back on the ice, Howe was leading Detroit to a record (that still stands) of seven straight first-place finishes from 1948-49 to 1955-56, that included four Stanley Cups, while he was capturing the Art Ross Trophy as leading NHL scorer in 1950-51, '51-52 and '52-53 (49 goals and 46 assists in 70 games in the latter) while adding Hart Memorial Trophies as most valuable player in the latter two seasons.
But what if the Red Wings' super star got hurt in baseball? The Detroit brass dreaded the thought of Howe playing baseball as much as the Saskatchewan fans loved it. Gordie played the 1953 campaign for Saskatoon Gems and then gave up baseball on orders from Detroit. In the future, his baseball would be limited to batting practice with Detroit Tigers, where he impressed Tiger slugger Al Kaline among others.
Maybe it was all that untapped baseball energy that permitted Howe to play in the NHL at the unfathomable and unequalled age of 52!
Gordie, a natural skater, gained a powerful physique working construction and the attention of pro scouts after his Saskatoon school team won three league championships. At age 15, this fast-rising youngster was rejected in a tryout by New York Rangers; at 16, signed by Detroit Red Wings but sent home immediately from his assignment to the Galt, Ont., juniors due to a rule that limited western imports; at 17, played at Galt before turning pro with Omaha Knights; at 18, began his long run in 'The Show' at Detroit.
The ambidextrous Howe - he could shoot right or left - set numerous records that seemed unbreakable, including 22 straight 20-goal seasons at Detroit. His NHL silverware included six Art Ross and Hart Memorial Trophies plus four Stanley Cups. The Hall Of Famer's other records, too numerous to mention, include being a 23-time NHL all star.
Two years after his 1971 retirement after 25 seasons with Detroit, Gordie couldn't resist a long-held dream to play with his sons, Mark and Marty. At 43, the trio played for Houston Aeros of the World Hockey Association. Gordie was an instant success, tallying 508 points in 419 WHA games over six seasons. In 1979, he returned to the NHL with Hartford Whalers. He played all 80 games in his 34th year of pro hockey!
Gordie made his final appearance with the International Hockey League's Detroit Vipers in 1997, making him the only skater to play in six decades.

Gordie's NHL regular-season totals: 801 goals and 1,049 assists for 1,850 points in 1,767 games; playoffs: 68 goals and 92 assists for 160 points in 157 games.
Counting the NHL and WHA and playoff encounters, Howe finished with 1,071 goals, 1,518 assists and 2,589 points. Wayne Gretzky surpassed him with 1,072 goals, and 2,297 assists for 3,369 points. But nobody will likely ever break Howe's records of 2,421 games or NHL games played, 1,767, or with one team, 1,687 with Detroit.
Clearly, no. 9 has earned the right to sign his many autographs: Gordie Howe, Mr. Hockey. Then there's the Gordie Howe Hat-Trick: a goal, an assist and a fight in the same game.
Gordie fired 801 NHL goals, while his brother, Vic, who was an oufielder/third baseman for Saskatoon Legion in 1950, scored three goals in 33 games with New York Rangers. They stand favourably on the NHL regular-season, goal-scoring sheet for brothers: 1. Bobby (610) and Dennis Hull (303), total 913; 2. Rocket (544) and Henri Richard (358), 902; 3. Wayne (894) and Brent Gretzky (one goal with Tampa Bay), 895; 4. Frank (533) and Pete Mahovlich (288), 821; 5. Gordie and Vic Howe, 804; 6. Joe (502) and Brian Mullen (260), 762; 7. Mark (694) and Paul Messier (none in 9 games with Colorado), 694.
It wasn't surprising that Gordie played baseball for Saskatoon. His dad, Ab, moved his family with nine children to Saskatoon shortly after Gordie's birth at nearby Floral.
Gordie's first skates were memorably acquired in The Dirty Thirties. A neighbour family, suffering hard times like so many others, surreptitiously became the recipients of a regular pail of milk being left on their doorstep by Gordie's mom. After awhile, a box of ... well, junk ... mysteriously appeared on the Howe doorstep. It was the other family's thanks and payback. The box contained one pair of skates. Gordie grabbed one skate, a sister grabbed another and the war of attrition was on. Who would give up? The whole hockey world now knows it would never have been Gordie and, after a few days, his sister acquiesced and Gordie had skates.
Ab lived just across the street from baseball's Cairns Field in in his retirement years in Saskatoon.
---
Fred Hucul
Fred Hucul was a hometown hero for the folks of Eston, Saskatchewan, even before he became a National Hockey Leaguer - he'd already been a player on his hometown Eston Ramblers baseball squad.
Hucul had a four RBI game for Ramblers when they dumped North Battleford Beavers 8-3 and later homered in a 17-2 trashing of Colonsay Monarchs in early Northern Saskatchewan League action in 1951. This young catcher, only 19 at the time, even batted .400 through the first quarter of that season.
But hockey, in the form of the 1967 National Hockey League expansion, enabled Hucul to finally make his mark - literally - as the solid defenceman who returned to the NHL at age 36 after having been buried in the minor leagues. After moving up from Moose Jaw junior hockey, Hucul managed 121 games with Chicago Black Hawks before spending 13 seasons in the minors (including eight 50-plus points campaigns), mostly with Calgary Stampeders of the Western Hockey League. He was named six times to the WHL all-star team (where he was often joined by his kid brother, Sandy, also a defenceman). Fred made it back to the expansion St. Louis Blues in 1967-68 and was named second star in a road game against the powerful Montreal Canadiens.
This comeback allowed Fred to set a record that still stands - 15 years between NHL goals! The career NHL stats for this solid checker who also performed power-play duties: 164 GP - G11, A30, PTS 41.
Hucul, who had been playing coach of the 1962-63 Stampeders, then coached one year each of minor hockey (Kansas City Blues where he continued one more year as manager) and junior plus one season as assistant coach for Pittsburgh Penguins before retiring from the sport.
---
Earl Ingarfield
At only 5'10" - 165 pounds, it was probably a good thing that Earl Ingarfield was known as a hitter in baseball, not hockey, and a smoothie on the ice.
Ingarfield was still playing junior hockey for his hometown Lethbridge Native Sons when he first suited up for Lethbridge Miners in 1953 in the Foothills-Wheatbelt Baseball League. He joined the powerful Granum White Sox the next season before rejoining Lethbridge in 1957 for four more seasons.
As an infielder, Ingarfield's bat did most of his talking on the field. In winning the Fernie, B.C., Tournament with Granum in 1954, he was the first to hit one over its newly-constructed outfield fence. He had 18 homers in league action by mid-August of 1955, including a two-homer game in a 10-7 win over Picture Butte and four homers in a doubleheader sweep over Lethbridge. Granum also won the Lacombe Tournament that year with Ingarfield going 3-for-4 in a 10-2 trouncing of the Central Alberta All-Stars in the final after homering earlier in the playdown.
Granum owner George Wesley spared no expense in building a winning club with his U.S.imports including Pat Gillick, named in 2010 to the Baseball Hall Of Fame at Cooperstown, N.Y., as a builder. Wesley's White Sox captured the Calgary Buffalo and Medicine Hat tourneys in 1956, the latter featuring a no-hitter by Gillick.
Ingarfield returned to Lethbridge in 1957, hitting .345 with a six-hit doubleheader day against Medicine Hat that included homering in both games. A sports writer's all-star team placed Ingarfield at second base.
Meanwhile, it took two cracks at the National Hockey League for Ingarfield to make it, but when he did, he stuck like Krazy Glue. The slick centre compiled 179 goals and 226 assists for 405 points in 746 games over 14 seasons. Included were 26 and 20-goal campaigns for New York Rangers, where he spent his first nine years, and 21 goals in only 54 games with Oakland Seals, where his career ended in 1971 after two years at Pittsburgh beginning with their expansion squad of 1967. He was more prolific in the playoffs - nine goals and eight assists in 21 contests.
He coached junior hockey for three years - Regina Pats in 1971-72 and Lethbridge Broncos from 1974-76.
Ingarfield never sipped from the Stanley Cup but was on the first three of four straight Alberta championships for Granum White Sox from 1954-57.
---
Larry Leach
Larry Leach had to fight his way into the hockey world - literally.
[Left - Leach image courtesy of Scott Petterson's Portland Buckaroos]
As a teenager growing up in the Alberta-Saskatchewan border city of Lloydminster, Leach's teammate on a youthful baseball squad called the Pirates was Ray Hamlin, also captain of the Humboldt Indians of the Saskatchewan Junior Hockey League. With the newly-formed Lloydminster Meridians getting all the attention, the Pirates played in relative obscurity until they were added to the 1954 Lloydminster tournament almost as an afterthought. They were pitted against the respected Colonsay Monarchs for an 8 a.m. game, the reasoning being that only a small crowd would have to endure the expected slaughter of the local lads.
But a miracle occurred that morning as Eddie Barrack (also a senior Lloydminster puckster) pitched a complete game 6-hitter and struck out 12. Hamlin, the backstopper, clubbed a key triple to spark the 6-2 victory.
For their next match, the Pirates drew ... you guessed it ... the semi-pro Meridians.
"We had an early rally, got the lead and then (Pirate) Don Wingfield flew out to the warning track with the bases loaded to end the inning," Leach remembers.
There would be no more Pirate miracles. Meridians won 9-3 on the way to winning their home tourney, 4-3 over Saskatoon in 13 innings in the final.
It was about this time that Hamlin put in a good word for Leach to Humboldt boss Scotty Munro. But, at training camp, Leach noticed dozens of kids vying for only one available position. He decided to fight his way onto the team. And his strategy paid off.
"Every Saturday seemed to be Fight Night between me and (Prince Albert Minto) Orland Kurtenbach," Leach recalls.
His first roommate in pro hockey? You guessed it ... Kurtenbach.
"Orland turned out to be a great guy," Leach lauds.
But Leach was never really a fighter. He was a lanky centreman with blazing speed.
"Larry could skate from Lloydminster to Saskatoon in 20 minutes," declares former pro linemate Fred Hilts.
After turning pro with Victoria Cougars, Leach was named captain of Springfield Indians - at the age of 21 - by coach Punch Imlach (on a team that included veterans Willie Marshall and Don Cherry) on the way to 126 games (plus seven playoff encounters) over three seasons with Boston Bruins. His National Hockey League regular-season stats: 13 goals and 29 assists.
After toiling with Providence Reds, Leach finally found his home with Portland Buckaroos of the Western Hockey League. In his nine seasons there, when Portland dominated the league - twice winning the championship - and never lost an exhibition game to an NHL squad.
Buckaroo coach Hal Laycoe is credited with being one of the first to employ a checking line. And Leach, with his 6'-2" height and long reach, was literally at the centre of that trio.
Unbelievably, Leach is best remembered by some as a fighter there, too. Bruce Hood, in his autobiography on his refereeing career, labelled a Leach-Jean-Marc Picard dustup as the best minor-league fight he ever saw.
The site was The Cow Palace in San Francisco. With a name like that, perhaps it wasn't surprising that the makeshift penalty box featured a chicken-wire decor. The fight continued even after Hood got these two combatants to the penalty-box area.
"All I remember is that Picard had a bullet hole in one earlobe and that just seemed to enrage me even more and we got tangled up in the chicken wire and everybody got involved," a laughing Leach recalls.
After retiring to his farm, Leach coached the Lloydminster juniors for a few seasons.
P.S. - They even retired Leach's no. 24 uniform at Boston - but not until after Terry O'Reilly had worn it!
---
Jackie McLeod
Saskatchewan-born Jackie McLeod became one of this province's best two sport athletes - in hockey and baseball.
He played junior ball at Gull Lake and senior with Swift Current, Sceptre, Moose Jaw and Eston and semi-pro with North Battleford Beavers and Saskatoon Gems as a complete utility man (LHP-1B). In 1955, he was on the Western Canada League squad that represented our nation in the Global World Series at Milwaukee.
Emile (The Cat) Francis: "Jackie McLeod was with us on all our championship teams. What a competitor! I'll never forget one night in Saskatoon. It was the 1953 Final, we were leading 2-1, Saskatoon had the bases loaded and Jackie struck out the side. He was 3-2 on the last batter and just breezed the fastball by him."
In hockey, he played junior with Notre Dame and Moose Jaw, professional with New York Rangers, Saskatoon Quakers, Cincinnati, Vancouver and Calgary and competed three times in the world hockey championships. He played 106 regular-season games with the Rangers and missed out on the Stanley Cup by the narrowest possible margin - Pete Babando's double-overtime goal that gave Detroit Red Wings the 1950 Cup. It remains the only Game 7 of the Stanley Cup Final ever decided in overtime.
McLeod, only 5'9' - 165 pounds, was a prolific sniper in the Western Hockey League. The right winger fired 44 goals for Vancouver Canucks in 1957-58, when he added 14 goals in nine playoff encounters. He had previously enjoyed four 30-goal seasons in the WHL - three with the Quakers and one with Canucks.
Jack's first coaching experiences in hockey were with senior teams - Saskatoon's Quakers, Moose Jaw Pla-Mors, Trail Smoke Eaters plus Moose Jaw junior Canucks.
He was invited to become coach and general manager of Canada's national team in the fall of 1965 and stayed until the team was disbanded in 1970. One of his big thrills was coaching Canada to victory over the Soviets in the 1967 Centennial Cup series.
Jack joined the Saskatoon Blades in 1970, serving as general manager until 1980 and coaching for most of the seasons as well as becoming part owner. They were the Western Canada Hockey League's East Division champions three times, 1973, 1975 and 1976, and the club also had three second-place finishes. His record over the nine years as a coach was 291 wins, 238 losses and 72 ties for a winning percentage of .544. He has more victories than any coach in Blades' history and during his time with Saskatoon, the Blades sent many players to the NHL, including Hall Of Famer Bernie Federko, Bob Bourne (four straight Stanley Cups with New York Islanders), Ralph Klassen, Pat Price and Blair Chapman.
McLeod and his playing-manager with the Beavers, Emile Francis, were both feisty pepperpots on the diamond. It is interesting that both transferred this baseball style into winning ways in hockey coaching and managing.
Francis: "We had a lot of guys with similar build to Jackie and myself, like Kenny Nelson and Art Stone and the other teams would just call us the &*%$# midgets."
---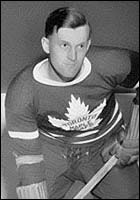 Oh, brothers!
Don (left) and Nick (right) Metz were just two brothers from tiny Wilcox, Sask., until they played key roles in the first Miracle On Ice. That was the 1942 Stanley Cup Final, when Toronto Maple Leafs trailed Detroit Red Wings and faced the previously unaccomplished task of overcoming a 3-0 deficit in games - in a best-of-seven afair- and well before the now famous 1980 Miracle On Ice when the United States team of college players defeated the mighty Russians and captured the Olympic Gold Medal.
Nick and Don Metz were unlikely heroes. Nick had established himself as one of the finest penalty killers while his kid brother, Don, had been unable to crack the Toronto lineup on a regular basis. But ... desperate times called for desperate measures, so Leaf coach Hap Day benched Gordie Drillon and Bucko McDonald and threw youngsters Don Metz and Ernie Dickens into the fray for Game 4.
Midway through Game 4, the cocky Red Wings led 2-0. But the Leafs, sparked by the Metz brothers on their natural wings (Nick on the left, Don on the right) between Syl Apps in the new order, keyed the comeback. Midway through the third period, Nick Metz scored, with assists to brother Don and Apps, en route to a 4-3 win.
Game 5 was a laugher with Don Metz collecting three goals and two assists in a 9-3 romp.
Don Metz downplayed his scoring ourburst.
"A lot of people made me out to be a hero but I didn't look at it that way," Don recalled. "My brother had been playing a lot more than me and when Hap put me in the lineup, I had the benefit of having been rested through the first three games."
Teammate Gaye Stewart, also added to the lineup for Game 5 at age 18, added: "Don was one of the quietest guys on the team. In fact, he and his brother were those typical silent westerners."
In Game 6, Don Metz fired the winner in a 3-0 triumph.
In fateful Game 7, Detroit grabbed the early lead but Toronto - completing a fairy tale rarely accomplished to this day - rallied for a pair of third-period goals and a 2-1 win for the Cup!
That season marked Don's fourth attempt to crack the Maple Leaf lineup. In 25 regular-season games that season, he totalled only two goals and three assists. But in the Miracle comeback, he fired four goals and three assists in four games. Don played the entire following season for Regina Caps, firing 43 goals in the Southern Saskatchewan League before returning to the Leafs. But he only totalled 20 goals and 35 assists in 172 games for the blue-and-white.
Nick, two years older, played 13 straight years in Toronto from 1934-48 and wore a deserving A on his sweater for assistant (alternate) captain. His producation was never higher than that '42 playoff run when he potted four goals and four assists in 13 games. In 518 regular-season games, Nick netted 131 goals and 119 assists for 250 points.
If two brothers worked well in hockey, then three should do even better in baseball. With sibling Bob joining Nick and Don on the Wilcox Cardinals of the Southern (Saskatchewan) League, they enjoyed considerable success. Like 1947, when the Cardinals went 16-3 and captured the South Division pennant in the league.
Starting in 1937, Nick - an infielder- and Don - an ace pitcher and infielder - played with Wilcox into the 1950s. They both enjoyed three-hit games in a 1951 victory, with Nick eventually outlasting his kid brother by participating until 1954.

---
Morris Mott
The record books show that Morris Mott played for Notre Dame Hounds in the Southern (Saskatchewan Baseball) League in 1963. But this native of Creelman, Saskatchewan, would make his real sports name in hockey, first with Father Bauer's Canadian National Team from 1966-70 (after graduating from the Weyburn Red Wing juniors) which included participating in the 1968 Olympics at Grenoble, Italy.
Three seasons and 199 games followed with the California Golden Seals in the National Hockey League. The smooth-skating forward - only 5'8"-155 pounds - was a member of the Salt Lake Eagles championship squad in the Central Hockey League in 1975 and his pro career ended with two games - and a very rare major penalty - with the Winnipeg Jets of the World Hockey Association in the 1976-77 campaign.
His 1975-6 season was spent with Vastra Frolunda in Goteborg, Sweden. The 1976-77 season was spent with St. Boniface Mohawks in the Central Amateur Hockey League while Mott pursued his college degree. Mott eventually became a professor of Canadian history at Brandon University.
---
Bert Olmstead

Bert Olmstead was a young baseball star ... but his journey to the Hockey Hall Of Fame would take a bit longer.
Olmstead was known as a ferocious checker, not a great skater but one who left his mark when he arrived at his intended destination point on the pond. He was a valuable cornerman, digging out countless pucks for his linemates.
The lanky leftwinger played two years of junior hockey for Moose Jaw Canucks, most notably in 1945 when he led them to the Memorial Cup Final by tallying 10 goals and eight assists in 17 playoff encounters. He turned professional with Kansas City in 1946 but had to wait until 1949 - when he put up 33 goals and 77 points in only 52 games at KC - to finally get the callup to Chicago Black Hawks for nine National Hockey League games.
Along with Metro Prystai and Bep Guidolin, Olmstead formed the Boilermakers Line and scored 20 goals and 49 points the next season.
Olmstead's lucky break came in a mid-season trade to Montreal Canadiens in the 1950-51 campaign. He replaced Toe Blake on the Punch Line that included Maurice (The Rocket) Richard and Elmer Lach with Olmstead immediately scoring at a point-per-game clip while the Rocket fired 14 goals in their first 11 games.
Also playing alongside Jean Beliveau and Boom Boom Geoffrion in later years, Olmstead was a second team all-star in 1953 and 1956, accumulating 70 points in the latter campaign and he was an important part of four Stanley Cup wins at Montreal.
On January 9, 1954, Olmstead scored eight points, tying the single-game record for Montreal set by The Rocket a decade earlier and still unequalled.
Claimed by Toronto in the 1958 Intra-League Draft, Olmstead rejuvenated his career with four more years which was crowned by a Cup win during his final season in 1961-62, which ended with his 115th playoff contest.
With 181 goals and 421 assists for 602 points in 848 regular-season games, he was inducted into the Hockey Hall Of Fame in 1985. He briefly coached Vancouver Canucks in the Western Hockey League and Oakland Seals in the NHL.
Perhaps it wasn't surprising that Olmstead played a lot of ball during those summers because he hailed from Sceptre, Sask., the Sceptre Nixons being the unofficial kings of 1950 baseball tournament play with $17,000 in winnings (his brother Dean had tossed a no-hitter in 1945 pitching for the Calgary Purity 99s). .
A 1946 Southern League report shows Olmstead tossing a one hitter in a seven-inning contest but coming out the losing hurler in a 2-0 Regina win over Moose Jaw. Big Bert also played third base/shortstop.
In 1948, Olmstead was a hired gun, one of five imports landed by Delisle Commodores in their halcyon days. He hurled complete-game wins and, in another contest, contributed two triples and two singles in six plate appearances.
Olmstead pitched Sceptre to the Camrose Tournament 1950 title by tossing a four-hit shutout in a 2-0 triumph over Kamloops in the final. Earlier in the day, he had fired four shutout innings in relief to pick up the win as Sceptre advanced to the final. The next weekend, Olmstead had a three-hit shutout at the Lacombe tournament.
If big Bert Olmstead was of such a mind, he could very well place among that rare athletic species that merits stardom in two phases of top-drawer professional sport.

Already the 23-year-old native son of Sceptre has won his spurs as a left winter with Chihawks under the big top in hockey, and there are many competent diamond observers who maintain that the strapping righthander has what it takes to go far along the organized baseball trail as well. (Edmonton Journal, June 15, 1950)
---
Metro Prystai
The Moose Jaw Canucks of the Saskatchewan Junior Hockey league had a sure-fire attraction from 1944-47 - a kid from Yorkton, Sask., named Metro Prystai. During that time, he became a local sports icon by averaging 3.2 points per game in 1946-47 ( 32 goals and 39 assists for 71 points in 22 games after having averaged 3.1 PPG in the previous season), leading his team to three straight provincial championships and a trip to the Memorial Cup.
So it was straight to the National Hockey League upon graduation for Prystai. In some unusual dealings, Prystai began with three seasons with Chicago Black Hawks, then a trade to Detroit Red Wings for four years before another trade back to Chicago for two years followed by the seemingly inevitable trade back to Detroit where he concluded his 11-year NHL career.
Prystai, only 5'8" but stockily built, produced 151 goals and 179 assists for 330 points in 674 regular games with increased production in the playoffs.
His highlights were two Stanley Cups in Detroit, including a Red Wing eight-game playoff sweep in 1952 in which goalie Terry Sawchuk never allowed a home-ice goal. Red Wings outscored the opposition 24-5 overall. Prystai contributed two goals (including the winner) and an assist in 3-0 win over Montreal in the clinching contest and was named first star of the game.
It was 51 years after his last Cup win that Metro was able to bring the hallowed trophy to Yorkton. He led a 2005 Cup parade in a 1956 red Chevy convertible.
Prystai played in three all-star games, two with Detroit and one with Chicago.
Prystai never played a minor league game until joining Edmonton Flyers of the Western Hockey League in 1957 for two campaigns. He briefly coached, first at Omaha and then with the Moose Jaw and Melville junior teams.
Metro was also known for his baseball prowess around Yorkton. After batting .400 in the first quarter of the 1949 season with Moose Jaw Purity Canucks, he became playing coach for Yorkton Cardinals, a team that included his brothers Billy and Harry. A 1952 Manitoba-Saskatchewan League game summary reveals all three Prystai brothers delivered hits in a 4-1 win over Dauphin Firebirds with Metro hitting .369 at the time. He was named all-star third baseman that year.
---
Versatile Vic
Vic Stasiuk would prove to be a very useful player, both in hockey and baseball, but it was his versatility that led him to his greatest glory as a member of the Boston Bruins' famed Uke Line. What might have been a problem - all three members were left-hand shooters - proved not to be as Vic quietly moved to right wing alongside Bronco Horvath at center and Johnny Bucyk on left wing.
In the 1959-60 season, Horvath only missed the National Hockey League scoring title by one point. He compiled 39 goals and 41 assists for 80 points in 68 games, just one behind scoring champ Bobby Hull of the Chicago Black Hawks. Stasiuk finished in the Top 10 with 29 goals and 39 assists - the exact number of goals potted by Horvath - for 68 points in 69 games.
Bucyk would have to wait for the ultimate honor in Boston - the raising to the roof of his no. 9 sweater after accumulating most of his career points for the Beantowners. In 1,540 regular-season games, Bucyk amassed 556 goals and 813 helpers for 1,369 points. In the playoffs, he added 41 goals and 62 assists for 103 points in 124 contests.
"It was a thrill just to practice against the Uke Line and watch them," recalls Larry Leach, also a Bruin of the '60s. "Vic even practiced hard. He could lay the lumber on you."
Stasiuk had already won Stanley Cups with Detroit in 1952 and '55.
Vic was equally versatile on the baseball diamond. He was listed as 1B/3B but also stopped halfway and pitched, too. He posted wins, both of the complete-game variety and out of the bullpen, with the1954 Lethbridge Cubs.
Starting in 1949 with Lethbridge Reos, he enjoyed a lengthy ball career in his hometown. After the Cubs, it was three years with Lethbridge Miners. In a '56 tournament game, Stasiuk clouted two home runs, the last in the ninth inning, to give his squad a 7-6 win over Picture Butte. He was the winning pitcher as Lethbridge beat Vulcan 9-4 to capture the Picture Butte Tournament Consolation Final. Stasiuk also blasted a homer, double and single in that contest.
Vic's '58 Lethbridge Warriors celebrated a first-place finish with the best winning percenbtage only to have league headquarters award the title to Medicine Hat on the basis of more wins.
In 1960, Vic was voted Western Canada Baseball League all-star manager with Calgary Buffaloes. Lethbridge sports writer Don McLean, in a humorous bit, gave Stasiuk a tie for first for 'most talkative manager'.
Vic's final baseball campaign was with the '61 Lethbridge White Sox.
Vic was a professional hockey player or coach for nearly 20 years, beginning in the late 1940s. He debuited in the NHL with Chicago in 1949 and went on to play with Detroit and Boston. He potted 183 goals and 254 assists over a 745-game career. He later coached four straight seasons in the NHL with Philadelphia Flyers, California Golden Seals and Vancouver Canucks plus minor-league stops with Pittsburgh Penguins and Quebec Aces of the American Hockey League and Jersey Devils of the Eastern Hockey League. Versatile Vic won the Lou Pieri Award as the AHL's Outstanding Coach. Finally, he coached at the junior level in Taber, Lethbridge and Medicine Hat in southern Alberta.
Later, Vic was instrumental in building Lethbridge's Paradise Canyon Golf Course. It remains one of the top-rated courses in Alberta and all of Canada.
He was inducted into the Alberta Sports Hall Of Fame in Red Deer in 2009 after prior induction into the Lethbridge Sports Hall Of Fame.