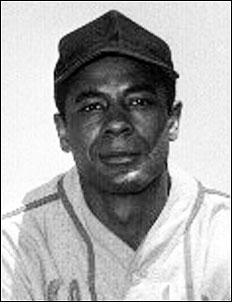 Stan "Gabby" Anderson

London Majors, Intercounty Baseball League
1957-1966
By Stephen Harding
He was born Stanley Robert Anderson in Detroit Michigan, but everybody in baseball calls the hard hitting centre fielder "Gabby".
His family came to London in 1930 when he was three months old. The Andersons' lived on Glenwood Ave. in London East where Gabby was the oldest of 6 boys. He attended elementary school at Ealing, and high school at Beal Tech.
Gabby described growing up in the Hamilton Road area:
"We were friends, we all knew who we were. We had to go out and make our own fun. We swam in the river and played football. I belonged to an east end gang. We might find some one from Chelsea Green in our territory, so we would march them back to Egerton St. It was a friendly rivalry, no body got hurt."
Gabby's father and uncle played on a Negro League team representing the Hotel London in the 1930's. "All my family played baseball coming up. As a 4 & 5 year old kid I took batting practice with the Hotel London team." Stan played organized ball in the PUC playground system at St. Julien Park and junior baseball in the London Majors' system. A highlight for Stan was being on the bench at Labatt Park when the Majors won the North American Sandlot Baseball Championship in 1948. "We all knew that it was quite a team. You could learn a lot of baseball from those guys, just being there."
From 1950 Gabby played pro ball in the Pony League with Olean N. Y. and Peoria Illinois for a total of 5 years. His career was interrupted for service in the US Army. Gabby has good memories of playing in the States: "The racial stuff was just about gone by then. I never went through that."

Gabby joined the London Majors in 1957. Frank Colman, another east ender, owned and managed the team with his brother Jack. " Everybody in London wanted to play for the Majors, it was the highest level of competition." In 1963, after various changes of ownership, the team was with-out a sponsor, so the players took over. "I got together with 4 or 5 other guys, called the League and said that we were in. I managed the club in '63, Tommy Burgess managed in '64 & '65, then Russ Evon in 1966." In his ten years with Majors, Gabby was the league batting champ twice and made the all-star roster eight times. Gabby helped to establish Eager Beaver Baseball and served on the EBBA executive in the 1960s'.
Gabby is a regular attendee at London Sports Old Timers events. "When you retire it is the time to get together and share camaraderie. Some of the fellows were just names to me in my playing days. Now I have the chance to really get to know them..... I'll tell you this: I wouldn't change a thing. I had a lot of fun."
"Stan was always very quiet, he never said much." relates team mate Dan "Uncle Buck" Mendham who played 3rd base for the Majors.
Baseball Day in Labatt Park, July 1, 2006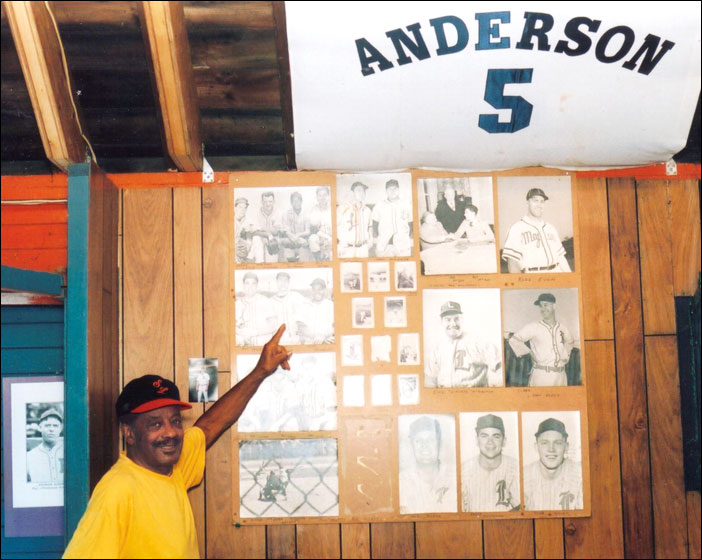 Stan "Gabby" Anderson in the historic Roy McKay Clubhouse. His brother Gerry also played in the Majors' outfield in the late 1950s'. Gabby's number 5 was retired by Arden Eddie, the London Majors' long-time owner/manager. The jerseys of Russ Evon, Tommy White, Roy McKay, Norm Aldridge, Wayne Fenlon, Dave Byers, and Fergie Jenkins are also on display. Photo courtesy The Friends of Labatt Park