Edward (Ted) Oliver Bowsfield
Born : January 10, 1935, Vernon, British Columbia
Bats: Right, Throws: Left
Height: 6'1", Weight: 190 lb.
W L ERA
1950 Penticton, OIBL 2 0 N/A
1951 Penticton, OMBL 10 2 N/A
1952 Penticton, OMBL 12 5 N/A
1953 Penticton, OMBL 5 1 N/A
1954 Penticton, OMBL 5 1 1.83
1954 San Jose, CAL 2 3 4.95
1955 San Jose, CAL 9 7 3.00
1956 San Francisco, PCL 0 3 3.80
1957 Oklahoma City, TEX 7 10 2.57
1958 Minneapolis, AA 8 4 2.62
1958 Boston, AL 4 2 3.84
1959 Minneapolis, AA 10 5 2.45
1959 Boston, AL 0 1 15.00
1960 Indianapolis, AA 0 5 5.03
1960 Boston/Cleveland, AL 4 6 5.11
1961 Los Angeles, AL 11 8 3.73
1962 Los Angeles, AL 9 8 4.40
1963 Kansas City, AL 5 7 4.45
1964 Kansas City, AL 4 7 4.10
1965 Jacksonville, IL 0 0 0.00
1965 Vancouver/Spokane, PCL 1 0 2.25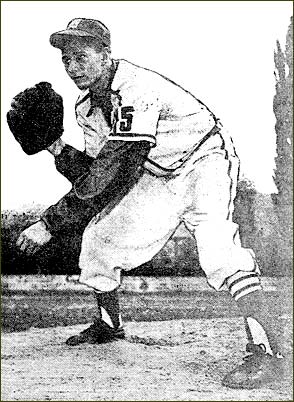 He was just 15 when he began his "Senior A" baseball career pitching for hometown Penticton in Okanagan baseball. His first season was cut short by an arm injury after just four starts, two of them complete game victories.
At age 16, Bowsfield was the ace for the Penticton Athletics in the Okanagan Mainline League of British Columbia in 1951. He topped an outstanding season (10-2, 14 starts, 11 complete games, one of the losses was a 1-0 decision) with a no-hitter in the playoffs.
He was even better in his second summer with Penticton firing two no-hitters, one of them in the playoffs. He had tossed a two-hitter with 19 strikeouts to clinch the pennant for the Athletics.
Picked up by Trail Smokies for the Lethbridge Rotary Tournament in August, 1952, the 17-year-old Bowsfield was a crowd favourite even though he was beaten 2-0 in the tourney final in throwing a four-hitter.
In 1953 he had a one-hitter, two, two-hitters and a three-hitter in his first four complete games but sat out a portion of the summer with an arm injury.
He started out 1954 with a 5-1 record,1.83 ERA and the Red Sox came calling and the left-hander was on a path to the major leagues.
With four summers of minor league ball under his belt, Bowsfield advanced to the majors in 1958 with Boston and spent seven seasons in the major leagues.
Under a headline SCOUTS FLOCK HERE, PRO CONTRACT FOR TED MAYBE the Penticton Herald of June 2, 1954 followed the story of the pursuit of Ted Bowsfield.
Tonight in Summerland ball park some of the best scouting eyes in big league baseball will be in the stands taking a final look at their number one pitching prospect, southpaw, Ted Bowsfield, before making their bid for his budding talents. Five years ago, Ted was just another freckled-faced kid playing ball -- then with the idea of becoming a good slugger and first sacker. Today, with four years of pitching experience behind him, he seems destined for a career on the mound of big league baseball.

Bill Marshall, Milwaukee Braves; Earl Johnson, Boston Red Sox' Tony Robello, St. Louis Cardinals; and Red Rolfe, of the Cleveland Indians are all here and each, no doubt, have a crisp new contract in their hip pocket, all filled out and ready for Bowsfield's signature.

They can't touch him tonight but tomorrow he graduates from school and becomes fair game. How much will the scouts offer him? How much would he settle for? They have had their eye on the 19-year-old Penticton youth for three years now, studied his performance and progress and each probably has a price tag on him right now.

Whatever the final figure, it appears from the widespread interest that he will be another of the "bonus babies" of baseball. To qualify for this higher echelon in the big league world, a player must be signed for a total bonus and salary of $6,000 or better. Under the rules of the baseball association, such "bonus babies" are not to be farmed out to a minor league for seasoning for a period of at least two years.

Bowsfield's rapid rise to pitching fame under the coaching of Les Edwards has echoed across the western provinces each season and his talent is well known in the ball parks of the west coast, right down to California. He has set pitching records here that will go a long time unaltered and in 1953 sixteen strikeouts per game was just an average performance. But it wasn't always thus.

Penticton fans can remember the time when the bleachers would shout, "Get him out of there," as the eager youngster wen to hill in his first year. Recalling the first season that Bowsfield went senior, 1950, Les Edwards commented, "Ted would knock the announcer out of the P.A. booth with that fast ball of his -- wild, but fast!"

Ted is a good six-footer and carries close to 200 pounds on that big frame -- and every ounce of it behind the pitch.

The Okanagan knows what Bowsfield can do in this class of ball; the scouts have a pretty fair idea of his big league prospects. What will be the pitch? Also scheduled for close scrutiny from the scouts is flashy shortstop Loyd Burgart who has come a long way in baseball with the Penticton Athletics.

Toward the end of the week the question of Bowsfield should be settled but until the decision is made, it's a fingers-crossed prospect that Penticton will produce still another triumph in the sporting world on an international level. (Penticton Herald, June 2, 1954)

Promising southpaw Ted Bowsfield launched a budding career in pro baseball Monday afternoon as he inked a contract handed him by Boston scout Earl Johnson and within a matter of weeks the talented youngster will leave for the United States to flex his muscles in the Red Sox organization. Thus the first act is finished. For the past three years big time baseball has had its eyes on the 19-year-old chucker form Penticton and, with Ted's graduation, scouts flocked here to have a final look see and make their bids.

By Monday it had boiled down to a choice between Boston or the deal offered by Tony Robello of the St. Louis Cardinals. After hours of talks between Ted, his father Frank Bowsfield, the two amiable scouts and Les Edwards, the decision was reached and Johnson was all smiles as Ted signed on the dotted line.

What price was paid for Bowsfield is not known. In reply to the burning question Frank Bowsfield said only, "Ted is being well paid, but I am not at liberty to disclose the contract amount at present."

On July 1 Ted will report to the San Jose, California, club and will likely finish out the season there. San Jose is "C" class ball. Next spring, however, the young Penticton hopeful will go to the Albany, New York club of the eastern league, to which he as been signed. Al bandy is "A" class ball. The Sox don't have an extensive farm club organization, just six clubs in all.

Ted will be coached by the well known "Red" Marion, whose brother Monty, made a big name for himself with the old St. Louis Browns.

It appears likely Ted will leave Penticton around June 27 and he is scheduled to meet Johnson in Seattle. The pair will drive down to San Jose and the Boston scout will see Ted settled there. This consideration is not usual but for Earl Johnson the signing is something special too. He began scouting only early last year and Ted is his first real hot prospect -- he is going all out to make the welcome warm.

Johnson, tall and lean with a half smile always on his angular face, is a former southpaw chucker with the Red Sox. He was up there for ten straight years before retiring in 1950.

In a press interview following the signing, Johnson remarked "In the not too distance future I think you will see the name of Ted Bowsfield on the roster of the major league. He has an outstanding future ahead of him, requiring only the experience of better ball to put him in the top brackets." (Penticton Herald, June 9, 1954)

Signed and sealed to a contact with the Boston Red Sox organization, Ted Bowsfield (third from the left) flashes a big smile moments after inking his name on the dotted line.
Earl Johnson, Boston scout (second form left) appeared relieved as the long conferences ended. At extreme left is Les Edwards, who coached Ted along the way, and at the far right is St. Louis Cardinal scout, Tony Robello, who made a big bid for the young left-hander's services.
Bowsfield began 1958 in Triple-A with Minneapolis and fashioned an 8-4, 2.62 record before being called up to Boston. The left-hander made his major league debut on July 20, 1958 pitching in relief as Boston dropped a 3-0 decision to Detroit in the first game of a double-header. He went on to hurl in 16 games, 10 starts, to finish with a 4-2 won-lost mark and 3.84 ERA. Three of his wins came against the Yankees.
He spent most of 1959 back with Minneapolis and with a 10-5, 2.45 effort won a return to the Red Sox in 1960 but found himself traded to Cleveland and after the '60 campaign was a pick by Los Angeles Angels in the expansion draft. We went 11-8 and 9-8 in his two seasons with the Angels before another trade to Kansas City where he pitched in 91 games over two years mainly out of the bullpen. Arm woes forced Bowsfield to retire at age 30 in 1965 after half a season in Triple-A.
After his playing career, Bowsfield worked in administration with the Angels before taking over stadium operations at the Kingdome for the Seattle Mariners.
Bowsfield was inducted into the Canadian Baseball Hall of Fame in 1988.
Kevin Glew has a lovely piece on Bowsfield at his Cooperstowners in Canada site.





Bowsfield's Topps Cards (left to right) -- 1959 with Boston, 1960 Boston, 1961 Los Angeles Angels, 1962, Los Angeles Angels, 1963 Kansas City, 1964 Kansas City