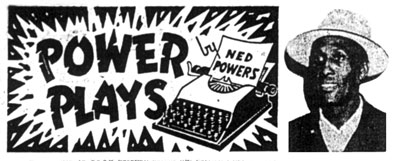 Ned Powers column, Saskatoon Star-Phoenix June 16, 1953
(The photo of Brewer, left, was included in the column. The one in the Kansas City Monarchs uniform, below, is courtesy of the National Baseball Hall of Fame Library, Cooperstown, NY. The painting of Brewer is courtesy of Jacqueline Jolles, a New York artist who provided the work for our (Barry Swanton & Jay-Dell Mah) book on Black Baseball Players in Canada.)
A fabulous 18-year baseball career has carried Chet Brewer into 10 different countries but the tall Negro manager of the Carman Cardinals has never quite discovered anything like the warm, friendly reception that Canadians extend to their diamond heroes.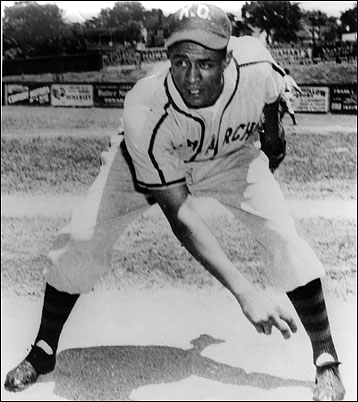 "I toured with Kansas City Monarchs for 11 years but I never got a real chance to settle down in Canada for a spell until 1951 when I played with Indian Head. You can't beat these Canadian fans, especially in Carman. Why, we started off the season with three straight losses and plenty of bad weather. But the people remained kind and easy-going and waited for better things. Now we're up in second place and I'm glad the boys are responding for those swell people in Carman," said Brewer.
"A typical example of the Canadian spirit is the Royal Canadian Mounted Police force," continued Brewer. "I don't think I've ever seen such a group of policemen, who are so human and understanding. They try to prevent crime instead of waiting to apprehend the criminals. I'm glad I came up to Canada because everything has been so encouraging to me."
Besides covering most of Canada and the United States, Chet has pitched in Hawaii, the Philippines, Dominican Republic, South America, Puerto Rico, Cuba, Mexico and Panama. He has managed clubs in Mexico and Panama, was at the helm of teams in the California Winter League for seven years and was the first Negro manager in organized baseball--having led Porterville in the Southwest International League in 1952. The league folded during the winter.
Praise for Musial as Hitter
You can take it from Brewer that Stan Musial of St. Louis Cardinals is the greatest hitter in baseball today.
"I've pitched against most of the big leaguers on tours and there is nobody to match Musial. He has the co-ordination of mind and body and he has that split-second timing that stops him from hitting any bad pitches. I've faced other long-ball hitters from the big time and you fool some of them with a bad pitch. But you can't beat Musial."
He predicts a great future for the new Negro sensation, Junior Gilliam of Brooklyn, but doesn't think anyone will surpass the feats of Jackie Robinson.
"Robinson has the quick reflexes which make him much better than any of the other Negroes in the big league. For example, I saw him in Chicago one day with a 3-0 count. The next pitch was a ball but it got away from the catcher. Jackie knew at the moment that it would be a passed ball and he went all the way to second on the play. If he keeps in condition, I think Jackie is capable of playing his best game for another two years."
When it comes to pitching, Satchel Paige is the best by far according to Brewer. The Carman manager has toured against such major league mound notables as Bob Feller, Mike Garcia, Bob Lemon and Johnny Sain.
"Satchel has an arm that comes once every 50 years. It is loose all the time and he never has any trouble. He has never had any conditioning worries because he's the type that stays slender all the time. Everything he does is colorful and he's a fast man with a gag!"
Satch Was Going One Way!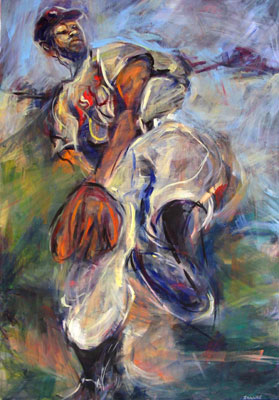 Brewer recalled one afternoon in Philadelphia when Satch was late for the game and decided to take a short cut to the ball park. He entered a one-way street from the wrong end and a policeman soon nabbed him.
"Don't you see this is a one-way street," barked the policeman.
"Sure, I know it is. But I'm going only one way, aren't I?" replied Paige. For that crack he was nicked $25 in police court.
Brewer and Paige were team-mates on the Bismarck, North Dakota, team which won the National Baseball Congress tourney in 1935. Paige won four games, striking out 60 men, and Brewer won three. Of course, they have often been rivals and Chet remembers one tussle in Winnipeg that same summer when the two wound up in an 11-inning scoreless deadlock.
Getting back to the ManDak and Western Canada picture, Chet thinks his club and Brandon will run one-two in his league. In the Western League he hasn't been too impressed with Moose Jaw and Regina but figured North Battleford and Saskatoon were tough cookies.
"Back in our league, Brandon started the season with the benefit of six weeks training down south and no injuries. At Carman, we arrived three days before the first game and then ran into lots of injuries. We're picking up now and have won our last three games at Brandon.
In the way of inter-league rivalry on Monday, there was little to choose between the two clubs except a slight bulge to Carman in the hitting department. And that's the way Mr. Brewer likes it.