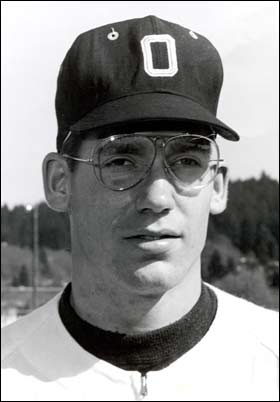 Fred Cardwell
Inducted into the Saskatchewan Baseball Hall of Fame, 2014
One of the prairies' top hurlers in the 1960s and 1970s (once called the "best amateur pitcher in Canada") coming up through minor league ball in Regina, then senior league action with Regina and Moose Jaw before settling in Red Deer. Cardwell won a baseball scholarship to the University of Oregon and was a leading starter for the Ducks in the high level Pac-8 Conference in the late 60s. He was a key member of Canada's national teams having been selected to play in eight international competitions including the Pan-American Games in 1971. A perennial all-star at all levels.
Right-handed pitcher.
1959 - Little League, Regina, City champs
1960 - Little League, Regina, City champs
1961 - Pony League, Regina, City champs
1962 - Pony League, Regina
1963 - Juvenile, Regina, City champs
1964 - Juvenile, Regina, City champs

1964 - Midget, Regina, Alberta-Saskatchewan champs with victories over Edmonton and North Battleford
1965 - Junior, Regina, Provincial champs, Canadian finals in Winnipeg, opening game winner with seven innings of relief in an 11-inning victory.
1965 - Regina Red Sox Juniors & Seniors, Team Canada World Juniors. An All-Star in the Southern League in his debut season
1966 - Regina Red Sox Juniors & Seniors (4-0 in 39 innings). The Juniors captured the Saskatchewan championship and went to the Canadian finals in St. John's Newfoundland. Pitched a two-hitter but lost the final game of the Southern League playoffs, 1-0, as Moose Jaw scored on two errors and a fielder's choice.
1967 - University of Oregon freshman team, Regina Red Sox of the Southern League. Fired a no-hitter in his first start for the Red Sox who went on to become Provincial champions as Cardwell won four times in playoff action.
1968 - U of Oregon and Regina Red Sox. Cardwell had a one-hitter with 14 strikeouts at Melville and tossed a 10-inning two hitter in a scoreless tie with Yorkton.
1969 - U of Oregon. This summer Cardwell stayed close to school pitching for the Eugene (OR) Macks.
1970 - U of Oregon. Cardwell was the top hurler in the Southern League with a 7-1 mark and 1.57 ERA for the Moose Jaw Regals. He added five more victories in the playoffs, Canadian senior championships and tournament ball for an overall record of 12-1. He had a two-hit shutout for Saskatchewan in the Canadian finals.

1971 - Moose Jaw Regals (5-2, 2.09 ERA) Southern League champs, Cardwell was named playoff MVP (five complete game victories, three of them consecutive shutouts). He joined Team Canada for the World Seniors Championship and the Pan-Am Games where he pitched Canada to a 2-1 victory over Mexico.
1972 - Moose Jaw Devons (12 games, 10 complete games, 7-5). Pitched for Team Saskatchewan at the Canadian Senior Championships and for Team Canada at the World Series of Amateur Baseball at Managua, Nicaragua.
1973 - Moving to Alberta, Cardwell joined the Red Deer Generals for the Alberta Major Baseball League. He also represented Canada at the Intercontinental Cup series in Italy and the World Seniors tournament in Nicaragua. He fired eight scoreless innings in a 2-0 win over Costa Rica.
1974 - He pitched in 12 games for the Red Deer Generals (5-3, 2.54) while also suiting up for the Edmonton Tigers and pitching the club to a 5-1 win over Nova Scotia for the Canadian Senior title. Again he was a member of Team Canada this time at the World Senior championships at St. Petersburg, Florida. He pitched Canada to a 7-2 opening game win over Italy.
1975 - Cardwell saw limited action with his home team, the Red Deer Generals as he did most of his work with the Calgary Jimmies the Alberta representatives in the Canadian Senior Championships in Vancouver and Team Canada in the Intercontinental Cup series held in Moncton and Montreal. Among the highlights were an MVP award in the Calgary Tournament as he tossed a four-hitter as Red Deer took top money and a 4-2 win over South Korea and an 8-0 shutout of Puerto Rico in the international series. .
1976 - Now battled arm woes, he pitched in just three games for Red Deer (1-0, 2.86).
1977 - Red Deer (just six games, 0-1, 3.32). He had a brilliant effort for Team Alberta at the Canadian Senior Baseball Championship at Brandon throwing a one-hitter against New Brunswick.
1978 - Red Deer Generals (in the lineup, but didn't see action at the Lacombe Tournament)
1979 - With his final action with the Red Deer Generals at Lacombe, Cardwell called it a career.

---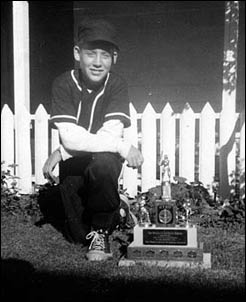 In mid-May, 1959, Mayor Henry Baker officially opened the Little League season at Kinsmen Park and Fred Cardwell followed soon after with a strong pitching performance as the Yankees blasted the Senators 17-4.
Cardwell went on to pitch in ten games, winning them all including a 3-2 win over the Redlegs for the city title.
It was the first of many championship teams for the right-hander. He was a member of Regina Little League champs in 1959 and 1961.
Moving up to Pony League, his club captured the city title in 1961. In 1963 and 1964, his juvenile teams won Regina titles and, playing in the midget category, Cardwell was a member of the squad which won the Alberta - Saskatchewan championship.
Moving up to the Junior ranks in 1965, he was a member of a provincial championship team in both 1965 and 1966.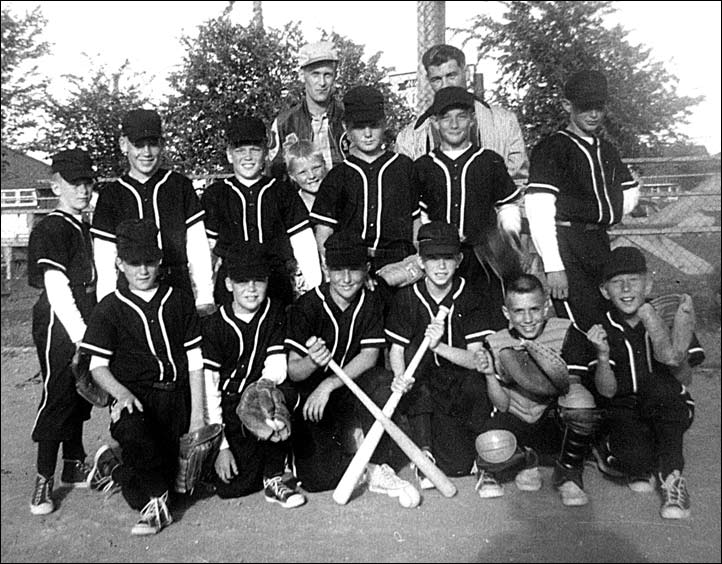 The above photo is from July 1959 and identified as the Yankees. Back row (left to right) - XXX, Fred Cardwell, Gerry Brown, XXX, Dave Sheard, Bob Taylor. Front row (L-R) - XXX, Gord Kuski, Del Galandie, Ralph Willison, Gary Taylor, Dean Galandie
Below - Winning pitcher Fred Cardwell (left) of the Yankees shakes hands with loser hurler Larry Grabowski of the Redlegs following Saturday's Little League baseball final at Taylor Field. Yankees won the title with a 3-2 victory. Cardwell fired a three-hitter and fanned 12. (July 27, 1959 Regina Leader Post)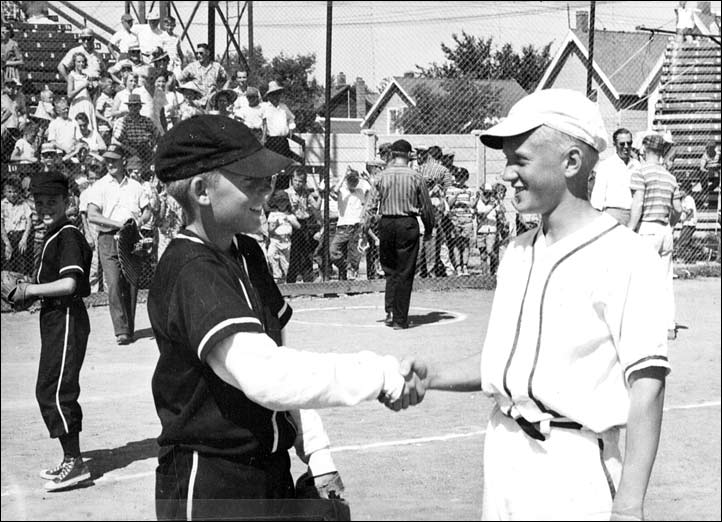 May 28, 1960 Cardwell came within a walk of a perfect game as he hurled the Yankees to a 7-0 win over the Athletics. The right-hander had 14 strikeouts in the no-hit, no-run performance. It was one of three no-hitters for Cardwell, two in succession and three in four games, as he led his Yankees to a second successive Little League title. He pitched three playoff games in four days to lead his club to the championship.
In a move up to Pony League in 1961, it was more of the same as Cardwell helped the Legion to the league championship.
Opening ceremonies of the 1962 Pony League season in Regina featuring eight teams. Pitcher Fred Cardwell of the Legion-sponsored team, set to defend its title won last year, provides a few points to Roy Drury (left) patron of the league and Mayor Henry Baker. (May 22, 1962, Regina Leader Post). Cardwell was in form on opening day firing a one-hitter.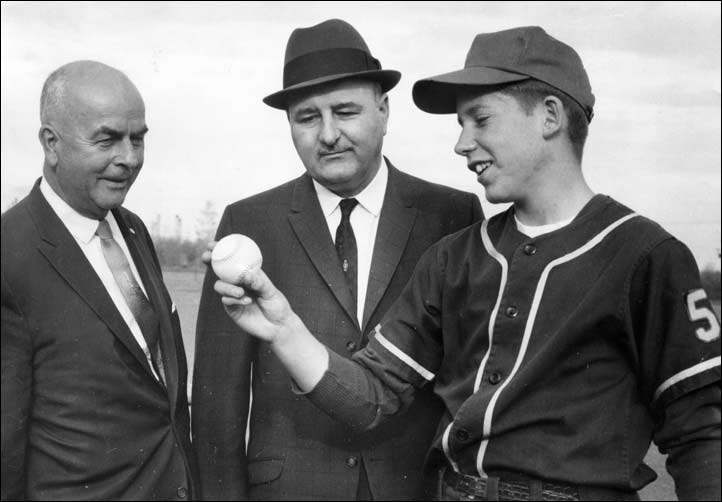 Cardwell's Regina Legion juveniles copped the city title in both 1963 and 1964. Cardwell also pitched for the Regina Legion Midgets and pitched a three-hitter against the Edmonton Canadians as the team captured the Alberta-Saskatchewan championship.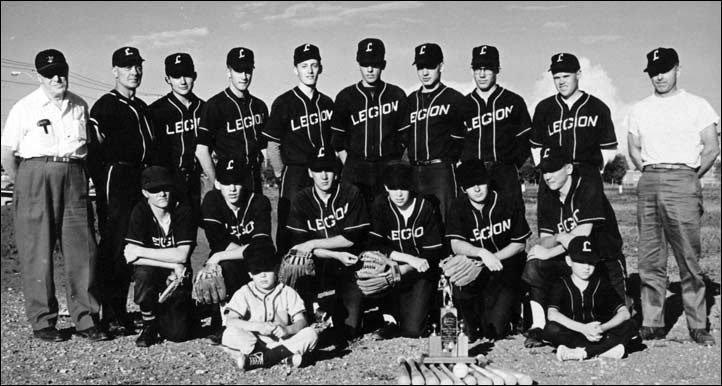 Regina Legion Juvenile Champs.
Back row (left to right) - H. Durbin Asst MGR, D. Minor Coach, E. Hickie, N. Minor, M. Wallace, W., Yeo, K. Hills, F. Cardwell, L. McIntosh, L. Moore MGR
Front row (L-R) - G. Kirkpatrick, R. Irnie, D. Smith, G. Kuski, G. Rusconi, J. Paisley, (R. Durbin & D. Moore Bat boys)
(Right - Regina Red Sox pitcher Fred Cardwell busses the bat that won him and the Sox a victory over Newfoundland in the opener of the National Junior Baseball Championship at Winnipeg. The man holding the bat is Murray Richardson whose clutch double in the 11th inning provided the winning run. Winnipeg Free Press, July 30, 1965)
1965 saw Cardwell make his debut in senior ball with the Regina Red Sox of the Southern League but he also continued as the ace of the Red Sox Juniors who captured the Saskatchewan Junior title and made the roster in the Canadian finals in Winnipeg. Cardwell was selected for Canada's National Junior team to compete in an international tournament in Mexico in October. The Juniors won the Saskatchewan championship.
In late May, 1965, Cardwell, at age 17, made his senior ball debut a winning one as he allowed just five hits and struck out 14 as Regina topped Melville 11-3. He appeared in seven games, four of them starts. Cardwell had four complete games and fanned 48 in 44 innings.

In 1966 he'd again play both in junior and senior ball helping the juniors to the Saskatchewan championship and another trip to the Canadian finals. In the Southern League, Cardwell finished with a 4-0 record and fanned 45 in 39 innings.
In 1967, Cardwell began a four-year scholarship at the University of Oregon. He was the ace on the freshman team in his first season and after the school year returned to pitch for the Regina Red Sox. He was a key part of the team which captured the Southern League pennant and the Saskatchewan Senior Baseball Championship.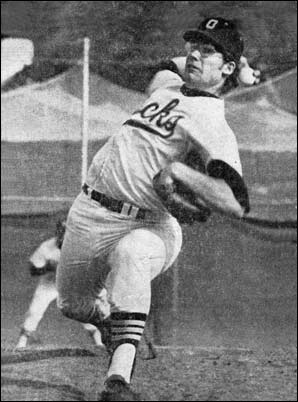 All he did in his first start of the summer in Saskatchewan was to pitch a no-hitter! While he made just six appearances during the regular season, and was 3-0, Cardwell was selected to the all-star team. In the playoffs, he added five more victories.
1968, Cardwell joined the varsity squad at Oregon and quickly became the ace starter for the Ducks in the tough Pacific Athletic Conference, the PAC-8. A one-hitter was among his accomplishments.
In the summer, he returned to pitch for Regina in senior ball in the South Saskatchewan League appearing in nine games, four of them starts including a one-hitter against Melville when he fanned 14 and knocked in the winning run. He also had a two-hit shutout and didn't win (as Regina played Yorkton to a 10-inning scoreless tie).
He compiled a 0.88 ERA in 51 innings allowing just 19 hits while fanning 66 and walking just 11.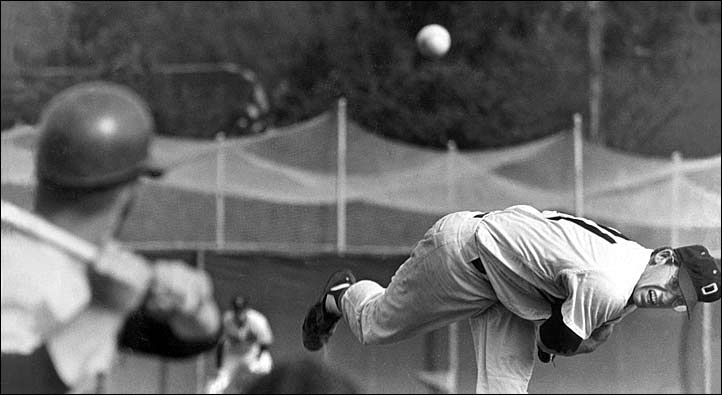 In 1969, after college ball with Oregon, Cardwell played summer ball with the Eugene Macs an amateur team in Oregon. Among the highlights was a trip to Alaska to take on the legendary Alaska Goldpanners.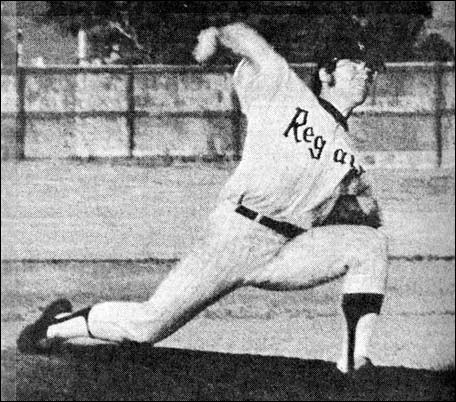 Cardwell continued varsity ball with Oregon in 1970 and was the leader of the Ducks pitching staff going 6-2 with a 2.19 ERA in ten games.
In his return to summer ball in Saskatchewan he lined up in a different uniform, this time with the Moose Jaw Regals. He led the Southern League in pitching, with the most wins 7 (with just one loss) and the best ERA, 1.57. Cardwell made eight starts and had seven complete games.
He added three more, complete game wins in the playoffs as Moose Jaw won the Southern League crown. Selected to bolster the Saskatchewan team at the Canadian Senior Baseball Championship, Cardwell fired a two-hitter to blank the powerful Ontario team.
After the spring of 1971 at Oregon, Cardwell was the ace of the Southern League champion Moose Jaw Regals. During the regular schedule he went 5-2 in 67 innings with 88 strikeouts and a 2.09 ERA. His work in the playoffs was even better. Cardwell pitched five straight complete game victories including three shutouts and another in which he allowed just an unearned run. In 45 innings he fanned 52. His playoff ERA was 0.40. He was a member of the Saskatchewan club which won the Canadian Senior baseball championship and was selected for Canada's national team for the Pan American Games.
In 1972, Cardwell teamed up with Paul Nelson to pitch the Moose Jaw Devons to the Southern League pennant.

After moving to Alberta in 1973 and joining the Red Deer Generals and helping them to the Alberta Major League pennant, he was chosen for the Canadian team at the Intercontinental Cup in Rome.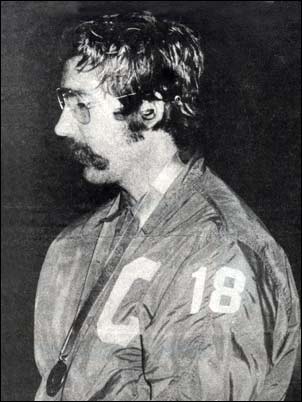 In 1974. Cardwell again helped pitch his Red Deer Generals to the pennant in the Alberta Major Baseball League. As a member of the provincial team he pitched Alberta to the Canadian Senior Championship winning two games including the final. He pitched in two winning games at the legendary Lacombe Tournament, a two-hit shutout at the Killam tourney, a six-hit shutout at the Kamloops International Tournament and a complete game victory in the opening game of the World Amateur Baseball Championship at St. Petersburg, Florida.
Right - Fred Cardwell of the Alberta team receives his gold medal as the club captured the title at the Canadian Senior Baseball Tournament at North Battleford. Cardwell fired a six-hitter and set down 16 via strikeouts as Alberta downed Nova Scotia 5-1 in the final. It was his second win of the championship. 
Cardwell returned to play for Red Deer in 1975 and was selected for Team Alberta for the Canadian Senior championship in Vancouver, Canadian national coach Wayne Norton cited Cardwell as the best amateur pitcher in Canada. He went on to pitch for Canadian at the Intercontinental Cup in Moncton and Montreal.
He finished out his career suiting up for Red Deer in 1975 and 1976 having played for Canada in international competitions in Cuba, Nicaragua, Italym Colombia and Canada.
He graduated from the University of Oregon with a Bachelor of Science and Commerce, and later received a law degree from the University of Saskatchewan. He currently is an instructor at Red Deer College and the Chair of the Legal Assistant Program. He's also the assistant golf coach.