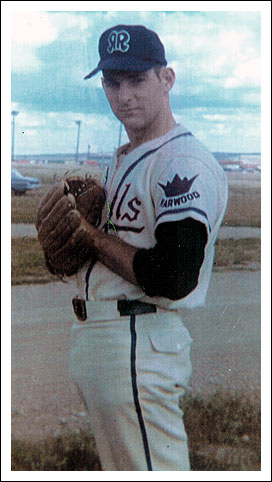 Frederick Wayne LeBere
Batted Right, Threw Left
6'0", 180 lbs.
Moose Jaw 1959 to 1968
Left-hander Wayne LeBere was one of the most feared hurlers in the history of the Southern League.
During his many years in the circuit with the Moose Jaw / Rowletta Lakers and then the Moose Jaw Mallards / Steelers / Regals / Devons, Wayne was named the loop's top pitcher in 1960, 1963, 1966 and 1967. He was also the MVP in 1966.
Wayne was born in Moose Jaw but grew up in Port Colborne Ontario. Scouted by the Brooklyn Dodgers as a teenager, Frederick (his first name under which he was known on his U. S. visa) had a very brief whirl in pro ball.
He attended the Dodgers' training camp in Vero Beach, Florida in 1957 and was assigned to the Class-D Shawnee (Oklahoma) Hawks club in the Sooner State League where he immediately encountered arm problems in trying to adjust to the rigors of pitching every four days.
Returning to Ontario, he finished off the season playing for Welland, where pitching but once a week allowed his arm to recover.
The summer of 1958 saw him hurling for a team in Lockport, New York. Lured back to Moose Jaw in 1959, with the promise of a tryout with the Mill City team in the semi-pro Western Canada League, LeBere headed west but the team folded before the start of the campaign and, wanting to remain in the community of his roots, he joined the Moose Jaw Lakers of the Southern League. He ended up pitching for ten seasons in the Southern League before retiring after the 1968 campaign when he hurt his arm and knee.
When queried about the toughest hitter that he faced during his pitching career in the Southern League, Wayne was quick to respond that Ed Stefureak of the Regina Red Sox seemed to own him. As far as the best pure hitter that he encountered over the years, he felt that import Ned Andreoni (who joined the Moose Jaw Regals as his teammate in 1967 and who remained in the Friendly City until his death in 2007) blossomed into a natural. With no designated hitter rule to limit his appearances as a batter, Wayne named right-handers Fred Cardwell of the Regina Red Sox and Daryl Patterson who toiled for the 1963 Melville Millionaires as the toughest hurlers he had to face. Patterson played only the one season in the Southern League and was signed by the Los Angeles Dodgers in 1964, making it to the majors in 1968 with the Detroit Tigers.
After settling in Moose Jaw and finding the girl of his dreams, Wayne joined the Moose Jaw City Police in 1962 as a constable and rose to the rank of Inspector, retiring after 35 years of dedicated service. In 1984, he was honored with the Governor-General's "Police Exemplary Service" medal.