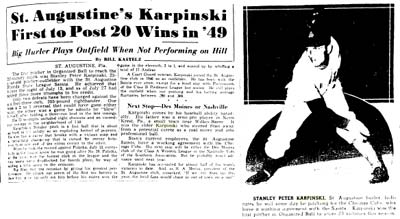 In the late 1940's Stanley Peter Karpinski was an all-star, both on the mound and at the plate, in the Florida State League.
In 1949, he worked 315 innings for St. Augustine and finished at 29-5, 1.57 and racked up 276 strikeouts. At the plate, he produced a .296 average in 291 at bats.
Karpinski played pro ball for ten seasons. He joined Williston of the ManDak League in 1955 and became the playing-manager of the Lloydminster Meridians in 1956 taking the club to within one victory of the championship. In the above story from The Sporting News (August 3, 1949), Karpinski, 6-3, 205, was saluted as the first pitcher in pro ball to reach 20 wins.
"Karpinski's Sunday pitch is a fast ball that is about as hard to hit solidly as an exploding kernel of popcorn. He also has a curve that breaks with a vicious snap and a tantalizing change-up that is cursed by enemy batsmen from one end of the citrus circuit to the other."

" ... Big Stan met the occasion by giving his greatest performance. He struck out seven of the first ten batters to face him ... gave up only six hits before his mates won the game in the eleventh 2 to 1, and wound up by whiffing a total of 17 Azaleas."
Pro record:
Pitching: G IP H R ER SO BB W L ERA
1946 St. Augustine, Florida State 20 144 154 86 66 107 73 7 11 4.13
1947 St. Augustine, Florida State 17 115 111 47 36 78 51 8 6 2.82
1948 St. Augustine, Florida State 15 90 67 26 19 68 40 8 4 1.90
1948 Portsmouth, Piedmont 12 50 58 37 29 20 25 3 3 5.22
1949 St. Augustine, Florida State 40 315 207 67 55 276 102 29 5 1.57
1950 Macon, South Atlantic 36 250 220 103 90 137 122 20 12 3.24
1951 Montgomery, South Atlantic 31 140 155 74 54 95 62 7 9 3.47
1952 St. Augustine, Florida State 6 48 53 27 26 23 18 2 3 4.88
1953 Texas City, Gulf Coast 25 111 124 69 57 59 57 12 3 4.62
1954 Thibodaux, Evangeline 37 150 152 83 71 102 50 12 9 4.26
1955 Galveston-Texas City, Big State 17 56 58 24 22 23 21 2 4 3.54
1955 Williston, ManDak 4 2
1956 Lloydminster, Western Canada 24 128 122 50 37 44 25 9 5 2.60

Batting: AVE G AB R H 2B 3B HR RBI BB SO SB

1946 St. Augustine .324 109 420 77 136 17 11 3 74 47 38 22
1947 St. Augustine .264 126 466 65 123 14 6 2 69 47 56 25
1948 St. Augustine .284 29 81 12 23 4 0 1 14 6 6 1
1948 Portsmouth .222 23 54 6 12 0 0 0 4 2 8 1
1949 St. Augustine .296 96 291 43 86 13 1 2 40 30 45 9
1950 Macon .239 38 92 12 22 5 2 0 11 2 17 0
1951 Montgomery .271 33 48 2 13 1 1 0 3 3 4 0
1952 St. Augustine .310 21 71 6 22 3 1 0 5 9 7 0
1952 Tyler .397 18 58 11 23 3 3 0 12 8 6 0
1953 Texas City .271 38 85 11 23 3 0 0 10 5 10 1
1954 Thibodaux .283 78 191 24 54 12 3 3 30 15 16 6
1955 Galveston-Tex City .172 23 29 0 5 1 0 0 2 3 5 0
1955 Williston n/a
1956 Lloydminster .280 55 157 20 44 4 1 1 29 7 20 1



Stan Karpinski Has Impressive Sports Career
[From the North Battleford News-Optimist]
Stan Karpinski, playing manager of the Lloydminster Meridians, has an impressive career in baseball and also in other major sports.
Baseball Career

He was born in Wilkes Barre and during the past 10 years he has played ball as an outfielder and pitcher for a rash of clubs. This includes baseball from Class D to Triple A. Karpinski started his career with St. Augustine, Fla. and played in the outfield as well as doing mound duties for four years. In 1950 he was with Georgia as a pitcher. During the next four years he played with Springfield, Mass. (Triple A); Nashville, Tenn. (Double A); Montgomery, Ala. (Class A); Texas City (Class B); and then joined the Williston Oilers of the ManDak League in 1955.
This season Karpinski joined the Lloydminster Meridians as playing manager and has had successful results with the club to date. Last season the Meridians had a poor season, finishing in the league basement. However, with Karpinski at the helm this season the Meridians are giving the other clubs in the loop a stiff battle for the top spot and a few weeks ago they were at the top of the league.
Stan is a crafty ball player and knows the tricks of the trade. In a recent game at Abbott Field Karpinski opposed Louis Green's tactics behind the plate and gave the umpire his opinion of the matter which resulted in Green being ejected from the game. A check with the rule book showed Mr. Karpinski was right.
In his pitching appearances at Abbott Field this season and in other W.C.B.L. standings Stan has made creditable performance on the mound. On several occasions he has pitched both ends of a double header and come out on top in both encounters. In a double header against Edmonton Karpinski won both games giving up a total of nine hits and issuing no free passes. When the Meridians pitching staff is weakened Stan takes the mound and gives the other hurlers a rest. When working on the hill, Karpinski has an easy motion and his pitches include everything from a knuckle ball to a slider. Many batters in the loop have been ubsuccessful in trying to connect on his pitches.
During his 10 years in professional baseball, Stan has been voted to six all-star teams and has the distinction of never finishing in the second division during his career.
Other Sports
He has also taken part in other major sports. At one time he played professional football and plays golf, only as a hobby. He has also played the hoop sport. Stan played with the House of David, a professional team in the United States.
Beavers Toughest
In an interview with Stan Karpinski, the reporter of this story asked Stan what team he figured was the toughest in the league? Mr. Karpinski said the record shows that the toughest opposition is right here in North Battleford. The Beavers hold a four wins and one loss record against the border town crew at Abbott Field this season and have also won the only game played in Lloydminster.
Last season Lloydminster and the Beavers never drew too good a gate at Abbott Field, but this season the Meridians have been one of the best drawing attractions.
He is a great athlete and one of the finest managers in the W.C.B.L. both on and off the field.
---

DARRELL MARTIN
Martin was one of the mainstays of the Lloydminster pitching staff in 1954 even as a high school player. He finished with a 4-9 mark for the tail-end Meridians. Traded to Moose Jaw in 1955, Martin had a 7-5 record with a 4.03 ERA in 105 innings. He hit .300. He would go on to an eight year career in professional baseball, spending parts of seven seasons in the Pacific Coast League.
Lloydminster Times Profile, 1954:

Darrell Martin was born at Visalia California in 1936, being now 17 years of age. His home is now at Exeter, also the home of Max Weekly. They have known each other since childhood days. Darrell will be entering his final year of High School at Exeter this fall and then plans to enroll in Physical Education at Fresno State College.
Darrell is a tall pitcher, standing 6' 2", but is not very heavy for his height, weighing 170 pounds. He is a right-hander.
Up until last year, Darrell played all his ball in the semi-professional league at Exeter. He joined Moose Jaw after the middle of last year's season and had a record of three wins and two loses. One of his best games was against North Battleford in last year's playoffs, when he pitched Moose Jaw to a 5-2 win and obtained four hits in as many times at bat.
Unlike the average pitcher, Darrell is a consistent hitter, and has helped to win many of his own ball games. He has also been used in the outfield by the Meridians.
Darrell also plays centre for the Exeter High School basketball team, and bearing in mind his age, we would predict a long and successful future for him in the baseball world.
---

RICK HERRERA
Henry "Rick" Herrera was 1-3 as a pitcher with Lloydminster in 1954 and finished among the hitting leaders with a .282 average. A third-baseman / pitcher out of high school and Legion ball, Herrera signed with the Cardinals in 1952 (his brother Ray had signed with St. Louis a year earlier). He played in the Northwest League for two seasons after Lloydminster (1955-56) hitting .292 and .279 and came back in 1959 for another fling as a pitcher (12-9, 3.72).
Herrera (spelled Herrara by the Times)Lloydminster Times Profile, 1954:
Another young pitcher on the Lloydminster mound staff is 21 year old, Rick Herrara. Rick was born at Oakland, California and still calls Oakland his home. He took his schooling at Oakland Technical High.
Rick played on the American Legion Championship team for three years as a pitcher. In 1952 he played for Hamilton Cardinals in the Pony league, which is listed as Class D baseball. Last year, he advanced to Class C ball pitching for Fresno in the California State League. Rick was doing a real good job at Fresno and was sporting a record of four wins and one loss when he injured his pitching arm. This injury put him out of action for the rest of the season.
Although his injury still causes him a great deal of trouble, Rick pitched against Rosetown on June 10th and beat them 6-5. He also pitched seven innings of no-hit ball against Battleford until the arm injury came back to haunt him. Rick is a good hitter, and for this reason has also been used as 1st base and in the outfield, where he has made some very nice catches.
When Rick was asked whether he engaged in any other sports, he told us that he had been the unofficial Ping Pong Champion of Oakland High and had improved greatly since then. Rick says he will take on all comers, and if any of the takers can't beat Johnny Ford, he will sport them five points.
Upon asking Rick, he told us that he is no relation to Mario Herrara who plays for the Saskatoon Gems.
---

MAX WEEKLY
Marvelous Max gave Lloydminster fans something to cheer about in their inaugural season. He was the club's best pitcher and led the league in strikeouts. Weekly and Martin were traded to Moose Jaw (for slugger Collins Jones) the following season. In 1955, Weekly finished at 7-5, 3.94 and batted .300 with two homers. He had one season of pro ball (1956) before spending two years in the military. He returned to Western Canada in 1959 and posted three wins and a 2.35 ERA in 46 innings before arm trouble ended his career.
Lloydminster Times Profile, 1954
This tall rangy fellow with the loose natural delivery calls Exeter, California, his home. Max took all his schooling at Exeter prior to entering Washington State College, where he enrolled in Physical Education, and has completed two years of the four year course.
Up until last year, Max learned and played all his baseball in the semi-pro league in California. Last year he went to North Battleford but when Bob Linck went to coach the Moose Jaw Maples during the early part of the season, Max went with him. For the last season, Max had a record of 11 wins and four losses, and struck out thirteen men in one game. It is interesting to note that he presently leads the league in strike-outs for a single game, having struck out fourteen Moose Jaw Mallards as Lloyd beat them 11-0 on June 25th.
Max also plays end for the Washington State football team and his ambition upon graduating, is to become a baseball and football coach.
Max is 6' 3" tall and weighs 200 pounds. Like the famous Satchel Paige, Max is also very evasive about his age, although we suspect his reasons might be somewhat different. However, we finally found out that he is 21.
We are sure Max will long be remembered around Lloydminster for his magnificent performance in this year's tournament final, when he took over the pitching chores in the fifth inning and held Saskatoon scoreless until Lloyd won the game in the thirteenth.