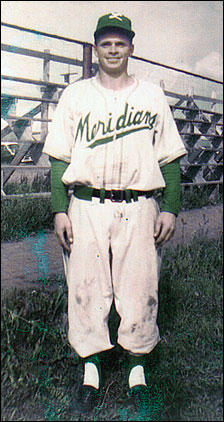 Charles "Chuck" McGuigan
5'10", 170 lbs.
Batted Right, Threw Right
University of San Francisco
Moose Jaw 1953
Lloydminster 1954-55
From the University of San Francisco to the Canadian prairies to McGuigan & McGuigan (father and sons in the family business) Chartered Accounts, Burlingame, CA (just outside San Francisco). Thirteen grandchildren too! Not bad for a "scrappy little infielder" who did a pretty fair job modeling the Lloydminster home uniform (uh, baggy was IN in the 50s!).
Hard to believe it's been more than fifty years since he unpacked his bags in my dad's modest little house on the prairie. Not hard to believe that it's his autograph which shows up at the top of the list in the batboy's 1950s autograph book.
My "out of the blue" telephone call to Chuck, forty-five years since we last talked, is an amazing example of the power of memories and that fascinating storage device we call the human brain.
While, over the last decade or so, we've been bombarded with so much information about the computer age and how these instruments are just so smart they can make millions, perhaps billions, of calculations per millisecond. Well, how about that marvelous internal computer that, in the blink of an eye, immediately remembered the 'ol batboy, his family, and the town upon hearing a voice from forty-five years in the past?
Chuck (above right, in his 2000 web site photo) and wife, Jean, have been extremely helpful in providing information and photographs from Chuck's years in the Western Canada League.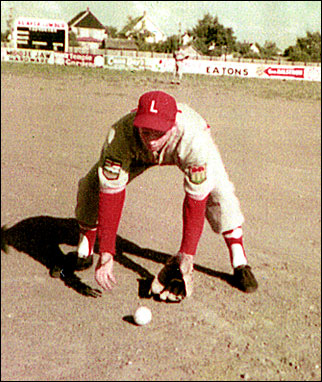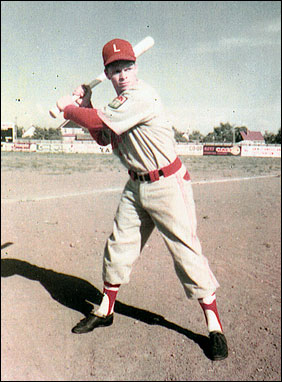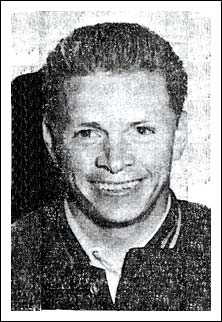 McGuigan, above, in the field and with the bat in the Meridians' grey, road uniforms. Note the sleeve patches on the road uniforms - the provincial emblems of Alberta and Saskatchewan.
McGuigan played second base for the University of San Francisco Dons (in the same period Bill Russell was developing into one of the county's elite players on the basketball court for the Dons),
He first came north in 1953 to the Moose Jaw Maples of the Saskatchewan League. A broken ankle late in the season shortened his initial Canadian campaign.
He was back in 1954 as one of the mainstays of Lloydminster's new ball club, the Meridians.
The popular infielder returned the following season. In 1956 he played both summer and winter semi-pro ball in the Bay area with teams from San Mateo and went on to coach in the San Mateo area.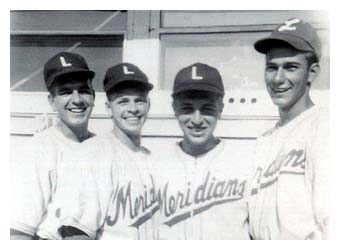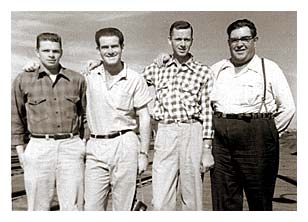 Left - Four amigos on the 1955 Lloydminster Meridians. Left to right -- first baseman
Bob Bayless
(also from the University of San Francisco),
Chuck
McGuigan
,
Dick
Barry
,
Bill
Duft
. Right - Left :
Chuck McGuigan, Tom Feldstein, Don Stewart, Scotty McNeill (?)