Clifton Zoonie McLean

Born: November 17, 1922
Died: August 4, 1987
Minot Merchants/Mallards 1947 to 1957
Williston Oilers 1958 & 1959
6'3", 180 lbs. Batted Right, Threw Right

1947 Minot Merchants .400
1948 Minot Merchants .389
1949 Minot Merchants .467
1950 Minot Mallards .267
1951 Minot Mallards .299
1952 Minot Mallards .369
1953 Minot Mallards .285
1954 Minot Mallards .314
1955 Minot Mallards .351
1956 Minot Mallards .317
1957 Minot Mallards .365
1958 Williston Oilers .289
1959 Williston Oilers .323
* McLean captured the ManDak League batting title in 1952. Minot was the powerhouse of the ManDak League winning the league title four straight years, 1952-53-54-55, while losing out in the finals in 1956 and 1957. McLean won another league championship with Williston in 1958. (The Minot Merchants were the state semi-pro champs in 1948. It is not know how Minot fared in 1947 and 1949.) In addition to his superb play, McLean managed the Minot teams in 1952-54-55 and 1957. He also helped handle the managerial duties in 1951 after Otto Huber resigned in mid-July.
Clifton Zoonie McLean was one of the best and most popular athletes to ever grace the diamonds and hardwood floors of North Dakota, winning induction into both the North Dakota Sports and Montana Sports Halls of Fame.
Born near Rugby, North Dakota where he starred in high school sports, especially basketball, he was an All-District American Legion shortstop at age 11.
Three years military service during the Second World War (he served with a medical detachment on a troop ship, making six round-trip crossings of the Atlantic) likely cost McLean a chance for a professional career.
In 1947, after he returned from service, he was approached by the Philadelphia Phillies but, he turned down the opportunity in pro ball to finish college and embark on a teaching career.
After finishing Minot Teachers' College, McLean suited up with the Minot Merchants in 1947 for the first season of what would become a brilliant, thirteen year baseball career in Minot and, for the last two seasons, Williston. McLean was so revered that in 1949 he was honoured with "Zoonie McLean Day" in Minot. He was just 26.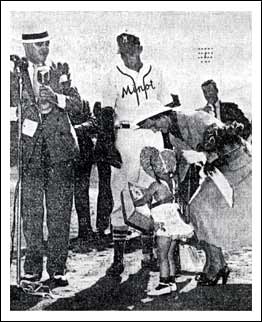 Two-year-old Marsha Lynn McLean, daughter of Clifton and Mrs. McLean (right) receives a surprise gift of a doll from Mayor H.C. Keihn (left) master of ceremonies at the festivities honoring the Minot Merchants' shortstop at Municipal Park. (August 14, 1949, Zoonie McLean in Minot)
James B. Sullivan, The Minot Daily News, August 13, 1949
Tomorrow it will be our pleasure and duty to doff our derbys to the dandiest athlete Minot probably has ever had ... Clifton "Zoonie" McLean ... certainly has the symptoms of a splendid sports star ... I am confident that the pride of Rugby and the rest of Northwest North Dakota is playing baseball in a class far below his capabilities. Take away World War II and move his 1947 opportunity with the Class A Lincoln club of the Western League back to 1942, and I will have McLean in the major leagues ... Pitching eyed by the Minot Merchants in 1947, 1948 and 1949 has been snappy enough to make McLean's .400-plus, .389 and .473 batting averages significant in any society ... he doesn't associate with bad pitches, he can delay action till just before deadline, he applies full wood of the hickory to the horsehide ... "Zoonie's" high-geared base-running and genius for arranging passage to first prompted Manager Cliff Kempf to employ McLean in the leadoff spot where he batted and breezed around this season for 29 games ... But the manager decided McLean's slugging was good for Minot's runs-batted-in totals and shifted him back to his familiar No. 3 notch.

Nobody has ever had any notions about installing the 6 foot 3 inch athlete anywhere but at shortstop ... an arm that blazes the ball to first base ... Few players do more and say less about it than McLean. Altho he is full of confidence, he never mentions Clifton McLean except when he's being sworn into the army or being married, which makes it a total of two times ... The only problem that one gets from McLean is whether he is better at baseball or basketball. At Minot Teachers College "Zoonie" won all-conference cage honors in 1941-42, 1942-43, 1946-47 and 1947-48 ... Last fall McLean concluded his college career by earning a letter in football.
McLean displayed his football prowess in Winnipeg in 1948 as part of a powerful Minot Teachers' College squad which whipped the University of Manitoba 49-2.
McLean went right to work teaching in 1949 at Underwood in Montana. He'd later move on to similar duties at Plentywood, Montana. 1959 was his last season of baseball. As he took up studies toward a masters' degree at Montana State University, McLean would also play a little fast-pitch softball.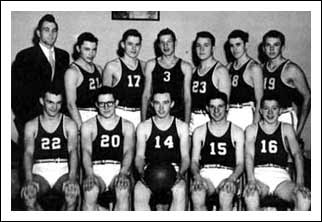 Left - 1949-50, McLean (top left) as basketball coach at Underwood. Right - 1950-51, McLean (bottom right) as a history, athletic teacher at Underwood.
Zoonie? It seems the nickname came from a friend in Rugby who couldn't pronounce the word "junior".