Tom Mulcahy
6'2", 185 lbs.
Batted Left, Threw Right
Gonzaga University
Lloydminster 1954
Williston 1955
One of the originals -- a member of the 1954 Lloydminster Meridians, the towns' inaugural entry into semi-pro ball.
While he was good enough at basketball to win three varsity letters and co-captain a team, baseball was Tom Mulcahy's specialty at Gonzaga in the mid-1950s and he played the game with unvarying excellence.

Mulcahy, from Butte, Mt, played in every game over three varsity seasons and he completed every game he started as a pitcher. His 1954 season was typical. As a pitcher he went 9-1, struck out 97 batters and registered a one-hitter plus several two-hitters.

As a first baseman he had a superlative .433 batting average. In an era when the Bulldogs played some abbreviated schedules, Mulcahy pitched 15 consecutive complete-game victories over a two-season stretch.

He was signed to a professional contract in 1956 by fellow Gonzagan Bing Crosby, then part owner of the Pittsburgh Pirates. In his multi-faceted career, Mulcahy spent 15 years in the Jesuit Order and 20 years in the baseball front office of the San Diego Padres. (Gonzaga University, Hall of Fame)
The genial Mulcahy, a Butte, Montana native, came to the Meridians as a 19-year-old pitcher - first sacker following a star-studded spring with Gonzaga University in Spokane (he averaged 13 strikeouts a game). Mulcahy he lost his initial outing for Gonzaga, then won 15 straight over two seasons).
He had begun the 1954 summer season with Butte in the Copper League (where he had compiled a 12-0 mark in 1953), but answered an urgent appeal from the Meridians and joined the club a month into the schedule.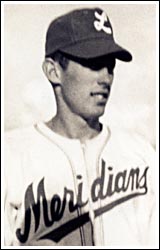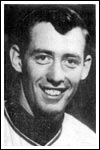 Arriving on the evening of July 12, 1954 Mulcahy was on the hill the next afternoon and put in overtime going eleven impressive innings allowing just six hits while fanning fourteen.
Mulcahy moved on to Williston of the ManDak League in 1955 and added in tournament play with the Kalispell Chiefs and Troy Boosters (at times playing under the name of Morrie Mulcahy).
After a long '55 season, Mulcahy was the star as he led the Kalispell Chiefs to victory in the Libby Labor Day baseball tournament. The Chiefs, playing six games in less than 48 hours (including three on the final day) downed the favoured Spokane Georges in the final as Mulcahy tossed a six-hitter and fanned 14 in the 3-2 triumph.
"Playing his first games with the Chiefs, Tom Mulcahy, former Gonzaga University mound ace ... put on a display of pitching and hitting that has probably never been equalled or surpassed in Northwest Montana baseball circles." (The Inter Lake, September 6, 1955)
At the plate, Mulcahy belted four doubles and a pair of homers to drive in ten runs for the winners. He pitched a pair of gems -- the six-hitter in the title game and an earlier four-hit shutout in which he compiled twenty strikeouts in eight frames.
A week later, Morrie Mulcahy tossed a four-hitter as Troy, Montana won its opener 11-1 in the American Baseball Congress Northwest playoffs. At the plate, Mulcahy had two hits and drove in three.
Troy then dumped Lemmon, SD 5-1 as Mulcahy had a pair of hits, one of them a triple, and then saved the game on the hill getting starter Dick Miller out of a bases loaded, one out jam in the ninth by inducing a double-play grounder.
Then, officials disqualified Troy (which came with just nine players) after finding Mulcahy had not been re-instated by the ABC after playing semi-pro with Williston.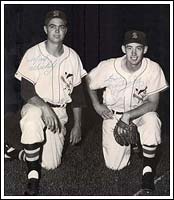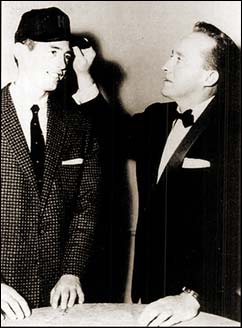 Mulcahy was signed to a professional baseball contract by the Pittsburgh Pirates. Bing Crosby, a part owner of the Pirates and who had attended Gonzaga University, was prominent at the signing.
Mulcahy played two seasons of pro ball, including an 8-3, 3.77 campaign with Spokane in the Northwest League in 1956 before accepting a call to religious life and fifteen years in the Jesuit Order, including time on staff at Gonzaga.
Left - Mulcahy, visited a movie set in 1956 to meet with movie star and a Pittsburgh owner, Bing Crosby, and sign with the Pirates.
Photo from Gonzaga Quarterly, Summer 2007

Above right - Mulcahy (on the right) with lefthander Max Weekly, another Meridians' star of 1954, as teammates with Spokane in 1956.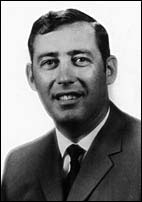 Right - An item in Kalispell's The Daily Inter Lake (June 2, 1968) marking a new career direction.
Left & Below - Headline from The News, Van Nuys, March 25, 1969 noting the signing by San Diego of Mulcahy as a scout for the team. He would later spend two decades as an executive with the Padres.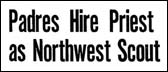 In 1969, the San Diego Padres announced the appointment of the Reverend Thomas Mulcahy, S.J., as an associate scout. Peter Bavasi, the Padres' Director of Minor League Operations made the announcement. At the time, Father Mulcahy was the Director of Student Activities at Gonzaga University in Spokane, Washington.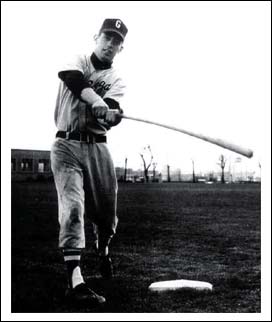 He was born in Butte, Montana and attended Central High School in Butte.
An All-State basketball player, he was a key member of the state championship team in 1950. The previous season he had captained the Montana American Legion baseball champion team. Upon returning to Gonzaga after his pro career, he acted as assistant coach in both baseball and basketball. He was ordained a Jesuit priest in 1968.
During this period, Mulcahy continued an association with baseball as a scout for the San Diego Padres, coach for Gonzaga, and batting practice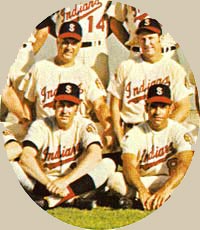 pitcher for Tommy Lasorda's Spokane Indians of the Pacific Coast League (see below left, Mulcahy with Lasorda).
(Left - Mulcahy was also a productive force at the plate.)
(Right - Mulcahy bottom left with Manager Tom Lasorda, back left; Coach Bart Shirley, back right; Dave Lopes, bottom right.)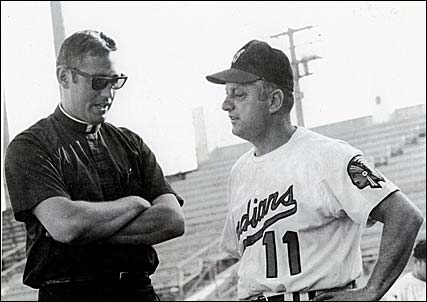 Later, after a year as a high school teacher in Seattle, Mulcahy began a twenty year assignment with the San Diego Padres as Director of Group Sales and Season Tickets.
Now retired (at least from full-time duties with the Padres and helping out managing a restaurant / lounge - close to the ball park in San Diego) he's moved back to his roots in Montana. But, he makes trips to San Diego to continue charitable work in the community. And, there are lots of hobbies -- art, collecting, genealogy - to keep him busy.
In a 1984 story in the Los Angeles Times (September 13, 1984), Tom Lasorda recalled one of the many stories about his former batting practice pitcher from their Spokane days.
"You knew Tom used to be a priest, didn't you?" Lasorda asked. "Father Tom was pitching batting practice for me one day a few years ago and one of the guys on the other team wanted him to hear confession. So he takes the guy down the first-base line and hears his confession. What's the guy do in the game? Bang. One home run. Bang. Two home runs. Bang. Three home runs. I told Father Tom no more confessions before games."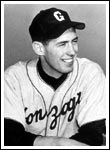 Above left - Tom Mulcahy at Gonzaga. Above right - Four members of the 1954 Gonzaga University team who suited up in Western Canada -- Bob Bourbeau, Keith Gustin, Tom Mulcahy, Gary Ball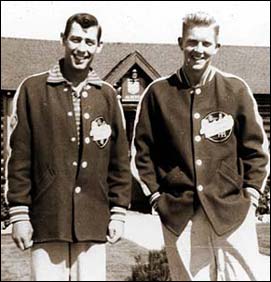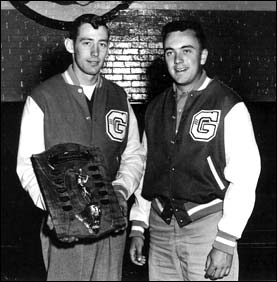 Above left -- Mulcahy and Ron Webb at Lloydminster, 1954 (in their new Meridian jackets). Right -- Mulcahy and Gonzaga buddy Keith Gustin as Tom is recognized as Gonzaga's MVP in baseball in 1954.
Below left - Mulcahy with Hank Aaron. Right - Tom Lasorda, "Featured Roaster" at a testimonial dinner
for Tom in San Diego in 1989.