Conrad Leonard "Connie" Munatones
6'0". 190 lbs.
Batted Right, Threw Right
UCLA
Edmonton/Moose Jaw 1956
Edmonton 1957
Saskatoon 1960

Munatones and friends in LA Times, July, 2020

Connie Munatones was an all-star both on the field and in the classroom.
"Three of the best years of my life [were] spent on the prairies of Western Canada. I am so blessed ... It was one of the great joys of my life ... performing in that league was one of the great maturing projects of my career and life ... I met some of the nicest and most generous people in the world in places like Edmonton, Saskatoon and Moose Jaw, where I played ... I loved the people ... and it "grounded" me on real people values."
It must have come as an eye-opener when the California city kid (Roosevelt High School, Los Angeles and UCLA) "Connie" Munatones arrived on the less-than-urban Canadian prairies in 1956.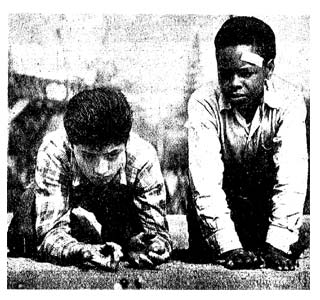 Here was the city kid (everything from a Los Angeles junior marbles champion in 1950, left, to a star at UCLA, see a photo below) setting up shop for the summer in the wilds of the north!
Moose Jaw, Saskatchewan (in those days about the size of a few city blocks in LA) was his first Canadian home, just some 14-hundred miles from his familiar turf in California.
Maybe it was the shock that had Connie appear in a few tilts as a pitcher! (Although he had been an outstanding pitcher until an arm injury a few years earlier.)
During high school, Munatones won honours with his arm and his bat, but the recognition came mainly from his work on the mound. (In 1954, he was named Player of the Year for LA's Southern District, as a pitcher.)
However the competition for headlines was pretty fierce. Below right, Munatones tosses a three-hitter as Roosevelt upsets Garfield 4-0. The same day, future Hall of Famer Don Drysdale threw a no-hitter.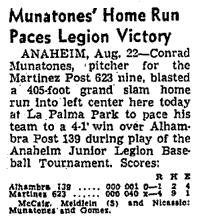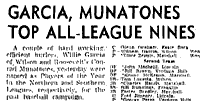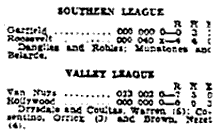 (Clippings from the Los Angeles Times, 1954. Left to right, August 23rd, June 9th, April 23rd.)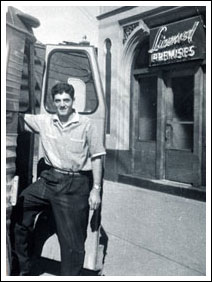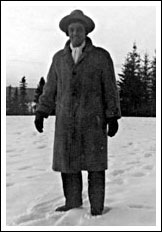 He was a college all-star as well. In 1957 he was named to the California Intercollegiate Baseball Association all-star squad as an outfielder. He also made the District 8 (which included schools in California, Oregon, Washington and Idaho) all-stars.
He moved on from Moose Jaw to the Edmonton Eskimos in 1957 and the season provided some major highlights of his baseball career.
Playing third base and the outfield, the 6-foot, 190-pounder was one of the top hitters in the loop finishing at .306 in 53 games.
(Left - In Edmonton in 1957, getting back on the team bus outside of one of those quaint "Licensed Premises".)
(Right - Munatones enjoying a prairie winter! Connie made a trip back to Edmonton during the Christmas season in 1957. (Have to love the hat!)

The club won the league title and right to represent Canada at the Global World Series in Detroit. The Canadian squad (represented in the main by Americans) upset the defending champion United States squad and came within a whisker of taking the Global title (losing to Japan in the 11th inning of the final).
Munatones belted a triple and scored the go-ahead run in the top of the 11th only to see the Japanese squad rally to win in the bottom of the second extra frame.
(Above right -- A prized artifact from the 1957 Global World Series.)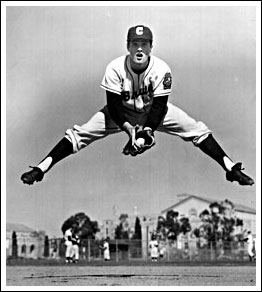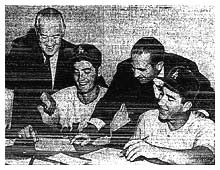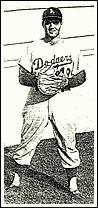 1958 was a big year for the now 20-year-old third sacker.
Munatones was chosen captain of the UCLA nine and, during a successful spring season, attracted scouts from the Los Angeles Dodgers (in their first season on the West Coast after an historic run in Brooklyn).
(Above left -- The versatile Munatones, outfield, third base and pitcher, at UCLA. Middle - Munatones, second from left, and UCLA teammate Ernest Rodriguez sign with the Dodgers. Team Vice-President Fresco Thompson, far left, and scout Ken Myers look on. Right -- as a catcher with the Dodgers at Spring Training.)
He signed a bonus contract following the collegiate season and became the first Los Angeles born player to be signed by the "new" Dodgers.
His professional debut came with Kokomo in the Midwest League in 1958 where he finished at .242 with an impressive 11 home runs in 71 games.
Year two was even better as he batted .285 with 19 doubles and 12 homers in 78 games with Kokomo.
He switched to catching duties during his second professional season and it led to some memorable moments, including a stint in Spring Training at Vero Beach where he had the prized opportunity to set the target for future Hall of Famers Sandy Koufax and Don Drysdale. (What a difference nearly 50 years can make -- in Munatones' spring training at the Vero Beach camp, the players were given meal allowances of $1.50 for breakfast, $1.50 for lunch and $3.00 for supper.)
Enticed to return to Canada in 1960, Munatones suited up with the Saskatoon Commodores and had an All-Star season, finishing second in the batting race (behind perennial batting champion Cliff Pemberton) with a .343 mark. In a July game in Calgary, he had one of those games for the scrapbook as he belted two homers in the same inning! Munatones led off the 5th with a four-bagger and added a two-run shot before Gene Graves, one of the league's top starters, could put down the uprising. Later in the game he added a two-run single.
He joined the legendary Hub Kittle in Yakima (Northwest League), in the California Angels farm system, for the 1961 season (.303 in 65 games).
"Lou Perini, owner of the Milwaukee Braves, was at Parker Field to see his farmhands with the Yakima Valley Bears but it was one of the two non-Braves with Manager Buddy Hicks aggregation--catcher Conrad Munatones--who proved the big star as the Northwest League leaders defeated the Wenatchee Chiefs 8-5 ... Munatones hit his second homer in two nights--this time a grandslammer ... which tied the score at 5-5, and then in the sixth he came through with a double to left center field to bring in Phil Roof with what proved the winning run." (August, 1961)
Injury ("he was hit on the end of the ring finger of his right hand with one of Dick Wantz' fast balls. The nail was torn off and a ligament in he finger was separated from the bone.") would then curtail his pro career as he wrapped up baseball with partial seasons at Davenport (Midwest) and Reynosa (Mexican League).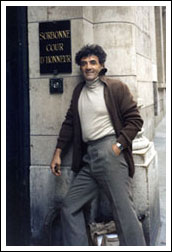 From the mid 60's onward, Munatones turned his energy to a career in education by adding to his Bachelor of Science Degree from UCLA with a teaching certificate from California State University and administration credentials from Pepperdine and even some studies at Le Sorbonne in Paris (right).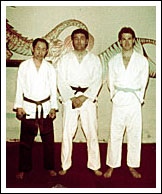 (Left - In the 70's, Connie found time to work on his Karate Kung-Fu, winning a Black Belt.)
He's been active in the classroom for more than thirty years. In early 2004, Munatones marked a major milestone in his education career having been selected for inclusion in the Who's Who Among America's Teachers for his outstanding work at San Fernando Sr. High School in San Fernando, California. It shouldn't be surprising given Munatones' commitment to his students and his obvious pleasure in seeing another of his kids battle through to graduation.
His Canadian experience engendered a love of travel. And he's now set foot in more than twenty countries (including Japan, and more than a dozen countries in Europe). (Among his travel highlights was an opportunity to meet actress Sophia Loren during filming of a movie in Rome!)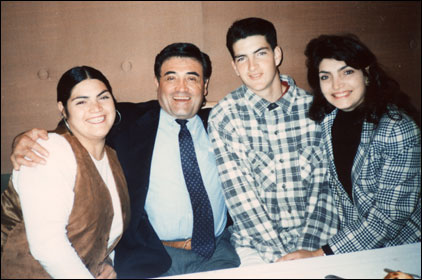 During his travels and studies, he's become proficient in English, Spanish, Italian and French and, still with a drive to learn, he's begun to pick up some German.
(Right - Connie, in 2004, with his offspring, left to right, Sharon, Conrad, Brian and Cozette.)
Nearly fifty years after his first success on the ball fields of Western Canada, Conrad Munatones continues to succeed and make proud those he's met along the way.
There's even a new career!




Munatones as a Moose Jaw Mallard in 1956 (left), then in 1957 at UCLA and Edmonton, in 1961 with Saskatoon Commodores in 1960 and back in the pro ranks with Yakima in 1961.

In retirement from a career in education (below left), Munatones has kicked off another one - acting. That's Connie (left) fresh from make-up for his role in the Disney movie Pirates of the Caribbean: At World's End in 2007.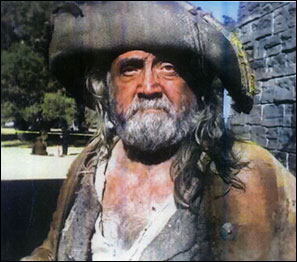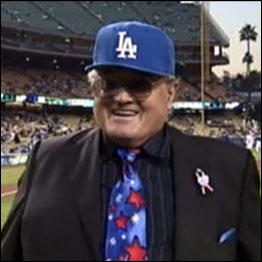 In the summer of 2009, Munatones was saluted by the Los Angeles Dodgers in a special ceremony at Dodger Stadium. The former UCLA star, was honoured by the club during its 50th anniversary celebrations. Connie was the first Los Angeles born player to be signed by the club after its move from fabled Ebbets Field in Brooklyn.
(Right - Munatones at Dodger Stadium for the ceremony)