Sterling Feore Slaughter
Pitcher. Batted Right. Threw Right.
5' 11", 170 lbs.
Born : November 18, 1941, Danville, Illinois
Danville High School
Arizona State University
Lloydminster Meridians & Calgary Buffaloes 1960
Edmonton Eskimos 1961
Slaughter was just 18 when he joined the Lloydminster Meridians for the beginning of the 1960 Western Canada Baseball League season. The slight right-hander from Arizona State University looked even younger. (In the team photo, it would not have been a shock if you picked out Slaughter as the team's bat boy.)
But, he didn't pitch like a youngster. Traded to Calgary in mid-season (there was a rumour about a friendship with a daughter of one of the Lloydminster executives), the university freshman was one of the top hurlers in the circuit leading the loop with a sparkling 2.17 earned run average, Lack of offense resulted in a 2-6 won-lost record in his 16 regular season games. He had 71 strikeouts in 87 innings.
"Chico" Slaughter had had early success on the hill. In 1957, as a sophomore in high school he fired a no-hitter as Danville High School whipped Allerton-Broadlands-Longview 14-0.
He was a key member of a deep Danville high school staff in 1959. However, the future major leaguer, who finished 5-1 during a 23-3 regular season, took a back seat to lefty Steve Kelly, 7-0, who tossed four consecutive no-hitters and fanned 108 batters in 50 innings.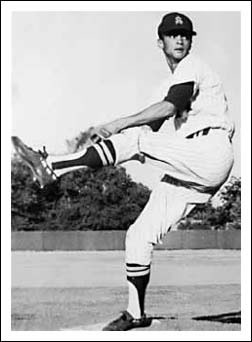 Success continued in college, 6-4 in 1961, 6-3 in 1962 and then 11-2 in his senior year with a 1.56 earned run average and a nation-best 154 strikeouts in 100 innings pitched.
It won him All-American honours, the first such selection for Arizona State (Sal Bando, Rick Monday, Reggie Jackson and Barry Bonds would be among those who followed). Included in his highlight package was a 22-strikeout game against Colorado St.
He signed with the Cubs in 1963 and was assigned to the Double-A Texas League right out of college. With 144 innings with Amarillo added to his 100 college innings in 1963, could arm problems be far behind?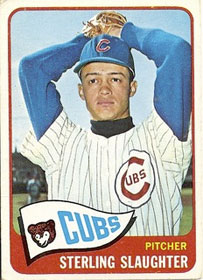 His excellent campaign with Amarillo, 10-7, 3.00 ERA, won Slaughter a major league job with the Chicago Cubs for the 1964 season. He finished his only campaign in the majors with a 2-4 record. His debut as a starter was special, going seven innings in a combined one-hitter with Lindy McDaniel against the Braves (future Hall of Famers Hank Aaron and Eddie Mathews went a combined oh for six). In his next start, also against the Milwaukee Braves, he went the distance on a six-hitter allowing just one earned run. Arm woes effected his performance the remainder of the season.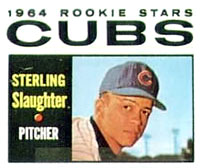 In a return to the Texas League in 1965, Slaughter bounced back nicely going 15-8, 2.87 and then 0-2 on a promotion to Triple-A Salt Lake City. He threw a total of 197 innings as a 22-year-old. In 1966 it was down to 124 innings and just 96 innings in 1967 when he called it quits at age 25.. Over-all he carried a career minor league ERA of 3.34 over 96 games.
In 1981, Slaughter was inducted into the Arizona State University Hall of Fame.