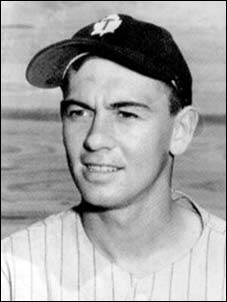 Ronald Duncan Stead
Batted : Right, Threw Left
Height : 5'10", Weight 150 lbs
Born : September 24, 1936, London, Ontario
Died : December 5, 2011, Chatham, Ontario
Played 1955 to 1972, London Majors, Pro (Orlando, Gainesville, Duluth-Superior), Brantford Red Sox, Guelph C-Joys.
In 2006, Stead's outstanding career was recognized with induction into Canada's Baseball Hall of Fame. The left-hander had a legendary 18-year career, 16 of the those summers in Southern Ontario's Intercounty League. He was the first player to win induction based on his amateur career.
After an initial season in the Intercounty with London in 1955, Stead turned pro signing on with the Toronto Maple Leafs of the International League for whom he had been a bat boy.
He was worked hard in his two seasons of professional ball, running up 237 innings, at age 20, in his first summer while finishing with a 10-17 record. He reversed the numbers the following campaign winning 17 of his 27 decisions and posting a 2.43 earned run average in 226 innings. After a brief spin in the White Sox system in 1958, Stead returned to Ontario and began the first of nine spectacular years with the Brantford Red Sox, helping the team to six league titles.
Right - Stead, in 1963, with the Brantford Red Sox.
Photo from the Brantford Expositor
In 1960 he won 12 games and set an Intercounty record of 149 innings. In 1963, Stead finished with a 14-1 mark and 0.63 earned run average. His ERA was even better in 1967 when Stead suited up with the Guelph C-Joys and helped the club to a playoff berth with a 0.35 ERA. That summer he was a key member of Canada's first national team at the Pan American games in Winnipeg. He helped Team Ontario to the Canadian title at the 1969 Canada Summer Games. He added another Intercounty League title in 1970 as Guelph captured the championship.
1972 was his last season. He left behind an 18-year career in which he was an 10-time All-Star and Intercounty Most Valuable Player four times. Stead is the all-time Intercounty leader in wins (104), strikeouts (1,231), shutouts (25), most appearances (198), innings pitched (1,365) and complete games (116).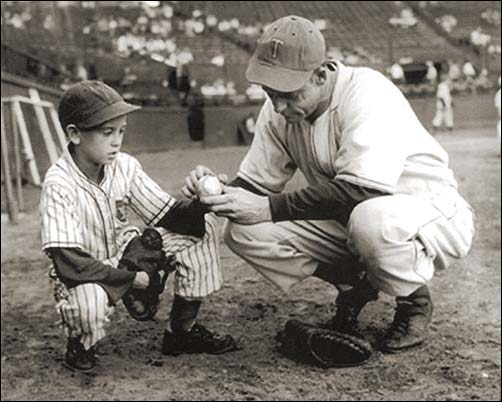 A young Ron Stead concentrates on the lesson as an unidentified player with the Toronto Maple Leafs of the International League provides some tips on how to hold the ball.
The photo is believed to have been taken in 1946 when Stead was just nine years old and a mascot/batboy for the Triple A team.
Photo from the Stead Family Collection, courtesy of Val Haight.