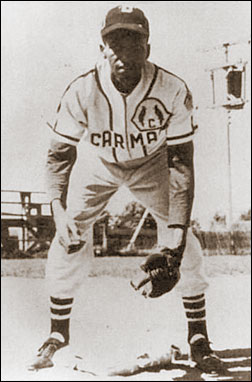 Ron Teasley
First base / Outfield
Batted Right, Threw Right
5' 11", 177 lbs.
Born : January 26, 1927, Detroit, Michigan
Wayne State University
Detroit Cubs, Toledo Cubs, Toledo Crawfords, Toledo Rays, Detroit Wolves, New York Cubans to 1948
Brooklyn Dodger system 1948
Carman Cardinals, ManDak League, 1949-1950

Teasley was an all-star in the ManDak League after a brief stint in pro ball in the Brooklyn Dodger system in 1948 and time in Negro ball with the New York Cubans.
Teasley hit .336 in 1949 with Carman in the Manitoba Senior League and then .299 with Carman in the inaugural season of the ManDak League.
In 1986, Ron Teasley (Carman Cardinals, ManDak League 1949 & 1950) was inducted into the Wayne State University Hall of Fame.
Teasley, a Detroit native and graduate of DetroitNorthwestern HS, was a two-sport letterman in baseball and basketball at Wayne University. In a career interrupted by military service and ended prematurely by the signing of a professional baseball contract, Teasely received two letters in baseball in 1945 and 1947, and three letters for basketball in the 1945, 1947, and 1948 seasons.

A first baseman and right fielder for the Tartar baseball teams, Teasley set five single season records in 1945. He collected 21 hits on 42 at-bats, batting .500, becoming the first Wayne player ever to hit over .400 in a season. He also scored 12 runs, and had a fielding average of .981.

After serving in the U.S. Navy in 1945-46, with a tour overseas to Saipan and the far Pacific areas, Teasley returned to Wayne to resume his collegiate athletic careers. On the ball diamond in 1947, he again led the team's regulars in batting with a .325 average on 13 hits and 40 at-bats, in a season marred by eight rain-outs.

Set to return for the 1948 baseball season, Teasely instead accepted a tryout with the Brooklyn Dodgers for spring training in Vero Beach, Fla. He became the eighth Black player this century to sign with the major leagues on May 2, ahead of such former major leaguers as Minnie Minrose, Dan Bankhead, Sam Jethroe, Al Smith, and Jose Santiago.

Teasley was assigned to the Olean (NY) Oilers of the PONY (Pennsylvania-Ontario-New York) League, breaking the color barrier in the Class D circuit. He was leading the PONY in home runs, and a .277 batting average, when he was released from the Oilers later than summer. He joined the New York Cubans of the Negro National League for the remainder of 1948, and from 1949 to 1951, Teasley played with several minor league teams in the ManDak (Manitoba-Dakota) league. After finishing his baseball career in 1951, he returned to Wayne to finish his Bachelor's of Physical Education degree, which he received in 1955. Teasley also received a Master's of Administration from Wayne State in 1963.

On the basketball court, Teasley was a three-year starter at guard and forward. He capped off his Tartar career being named as one of Wayne's Top Ten Outstanding Athletes by then-Detroit Collegian Sports Editor Paul Pentecost on May 26, 1947.

He joined the Detroit School System after 1955 in the junior high schools, and came on board the staff at Northwestern High School in 1968, where he taught health and physical education.

He coached varsity basketball at Northwestern from 1973 to 1975, compiling a 44-4 record, capturing a PSL title in 1974, and a Class A District title in 1975. Among the players he coached were Terry Tyler and Alan Hardy.

Teasley has been the varsity baseball coach at Northwestern since 1968, and varsity golf coach since 1974. As baseball coach his teams have won six PSL and state district championships. He has seen nine players signed by the majors, including current minor leaguers Norman Brock of the Houston Astros, Cordell Ross of the Detroit Tigers, and Marc Washington of the Chicago White Sox. Ron Johnson, a former defensive back with the Pittsburgh Steelers, played baseball for Teasley at Northwestern.

Teasley resides in Detroit with his wife Marie. They have two sons and a daughter, Ronald Anthony, a former baseball and basketball letterman at Wayne State, and now a supervisor with General Motor's Freemont, Calif., plant; Tim, a former basketball player and captain at Northwestern University, and a sales executive with Southwestern Bell of Chicago, and Lydia, an Eastern Michigan graduate and resident of Oak Park, Mich.

Ronald and Marie Teasley are also the proud grandparents of five grandchildren.

Dodgers signed Teasley, too

He realized Robinson's promotion would signal end of Negro leagues.

Ron Teasley, a former standout at Wayne State and high school coach, recalls Jackie Robinson through newspaper clippings.

By Jerry Green, The Detroit News

Late in the summer of 1945, Ron Teasley boarded a bus in Detroit with his teammates on the Motor City Giants, off to play the Brooklyn Brown Dodgers.

"I had signed to play in the United States Baseball League," said Teasley, who had played baseball for Wayne State University and had developed a reputation as a hitter.

The United States Baseball League was the brainstorm of Branch Rickey, general manager of the Brooklyn Dodgers of the National League. Rickey proclaimed that major-league clubs would be sponsoring teams to play in a new Negro league in competition with the two established Negro leagues at the time.

The bus carrying the Motor City Giants was chugging east when it made a pit stop.

"In Warren, Ohio, our coach got off to make a phone call," Teasley recalled. "When he came back, he said: 'Well, we're going back to Detroit. They signed Jackie Robinson.'"

Rickey's proposed United States Baseball League was a charade, and the Brown Dodgers were a phantom team - all a cover-up to allow him to interview Robinson without publicity and sign him for major-league baseball.

"We were elated," Teasley said nearly 52 years after Robinson signed. "But we knew it would be the end of the Negro leagues. My father took me to games. He said: 'This is going to kill the Negro leagues.'"

Within a couple of years, Rickey would sign Teasley himself to a contract with the Dodgers. "I was the eighth African American to sign with the Dodgers," Teasley said. "It was 1948." Teasley said he had batted .500 at Wayne State in 1945, entered the armed forces shortly after World War II, then returned to Wayne State, batting above .400.

By then Robinson had become a major-league star. The Dodgers had Dan Bankhead, Roy Campanella and Don Newcombe, either in the big leagues or high in their farm system. Other clubs - the Indians with Larry Doby and Satchel Paige, and the St. Louis Browns, briefly with Henry Thompson and Willard Brown - had signed players from the Negro leagues.

The bidding was becoming heavy for prized, long-ignored talent. The Indians were after Luke Easter, the New York Giants were bidding for Monte Irvin, the Boston Braves for Sam Jethroe.

Now Rickey was after younger players, signing them before they joined teams in the Negro leagues. He signed Teasley, who had played for Sam Bishop at Northwestern High, and Sammy Gee, out of Will Robinson's productive program at Miller High.

"We went to Vero Beach, Sammy Gee and I," Teasley said of the Dodgers' camp in Florida. "We were signed. The person we spoke with was Al Campanis. It's kind of funny. The guy who said blacks didn't have ..."

Years later, Campanis would make a fool of himself on Ted Koppel's Nightline program on ABC when he said, flustered under questioning, that blacks lacked "the necessities" for managerial and front-office jobs. The Dodgers summarily fired Campanis, a longtime employee who had befriended Robinson when both were young players.

The Dodgers sent Teasley and Gee to the minors.

"We started in the PONY (Pennsylvania Ontario New York) League, at Olean, N.Y.," Teasley said. "It was very exciting. I was leading the league in home runs with three or four, my batting average was about .270. Sam's was .320. I was playing first base, Sam shortstop. One day they came to us and said they got to make room."

Released, Teasley went off and played a season in Canada and signed with the New York Cubans in the Negro league.

"In talking with other Negro league players," Teasley said, "they said they, the major-league teams, were not ready to have bench players. You're a regular or you're dropped."

After his career as a player, Teasley coached young players for two decades at Northwestern High, winning several championships. He is a member of the Wayne State Hall of Fame. (Detroit News, July 14, 2000)