Leonard W. Tucker
Batted Right, Threw Left
6' 2", 205 lbs.
Born : November 18, 1929, Mounds, IL
Died : July 25, 2011
Fresno State University
Kamsack Cyclones 1952
Pro 1953-1956
Saskatoon Commodores 1957
Pro 1958-1961
Lethbridge White Sox 1961
Pro 1962-1963
Tucker, or Len Tuck as he was known in one Canadian newspaper, first played in Canada in 1952 with Roy Taylor's Kamsack Cyclones.
Stan Obodiac writing in the Yorkton paper in July, 1952.
Wednesday afternoon I was in New York City -- the Brooklyn Dodgers were playing Cincinnati at Ebbetts (sic) Field, over television. Thursday afternoon I was in Kamsack with the Cardinals playing ball in the Man.-Sask. League. You get a quick comparison of the play. Negro Len Tuck of the Cyclones hits the ball as powerfully as Jackie Robinson, but who knows whether he could hit major league pitching.
The same issue carried a story of Kamsack's 7-3 win over Yorkton and noted, "Big Negro Len Tuck, one of the best ball players to ever show in this district, led Kamsack at bat." A report in the Kamsack paper said Tucker hit "about" .480 and led the league in home runs, triples and stolen bases.
Tucker wasn't afforded much of an opportunity to play in the majors. He did join the Washington Senators in Spring Training in 1959. In his lone day in the lineup, he belted a homer but Frank Robinson got the press as he smashed a grand slam. A few days later, the club sold his contract :
"Washington Senators today began their squad-pruning when they sold outfielder Len Tucker to Miami Marlins of the International League ... Tucker, a 29-yera-old rookie, appeared in only one game this spring and hit a home run against Cincinnati." (UPI,March 28, 1959)
Club League G AB R H 2B 3B HR RBI SB AVG
1952 Sequoias JC (Jr College) N/A
1952 Kamsack Sask-Man N/A
1953 Fresno St (College) 148 47 57 8 3 9 41 22 .385
1953 Fresno California 97 379 79 108 13 9 11 55 16 .285
1954 Peoria Three I 130 474 120 139 25 2 23 89 47 .293
1955 Peoria Three I 121 479 99 138 22 5 26 72 31 .288
1956 Pampa Southwestern 140 565 181 228 40 13 51 181 47 .404
1957 Nuevo Laredo Mexican 48 177 28 54 6 2 8 38 8 .305
1957 Saskatoon Western Canada 53 198 56 78 12 5 18 68 17 .394
1958 Poza Rica Mexican 109 421 81 138 28 8 21 64 29 .328
1959 Miami International 18 39 6 5 0 0 0 1 1 .128
1959 Charlotte South Atlantic 16 60 8 15 2 0 3 13 2 .250
1959 Vcr/Portland Pacific Coast 43 119 15 26 6 1 2 15 6 .218
1960 Yakima Northwest 132 469 126 158 25 5 24 117 48 .337
1961 Yakima Northwest 50 164 36 48 6 3 11 43 3 .293
1961 Lethbridge Western Canada N/A
1962 Modesto California 94 347 78 102 19 3 30 101 7 .294
1963 Modesto California 92 353 67 115 16 2 26 113 12 .326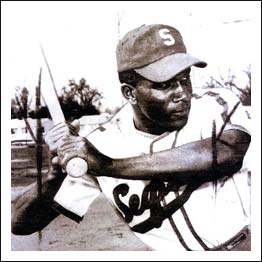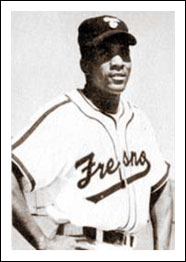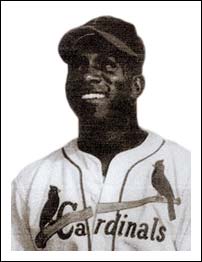 Above left - In 1952, Tucker began his college career with College of the Sequoias following military service in the Air Force. Middle - Tucker was the leading hitter on the 1953 Fresno State club. Right - Tucker with the Fresno Cardinals in 1953.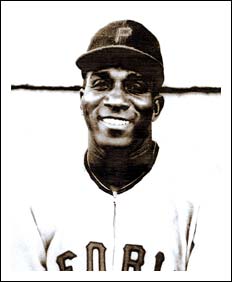 Left : May 26, 1953 Len Tucker signs a pro contract with the St. Louis Cardinals.
Tucker is flanked by Marvin Milkes (left) business manager of the Fresno Cardinals and Ken Penner, a scout.
The newspaper item in the New York Times carried the headline "CARD FARM GETS NEGRO".
Above right - Tucker had two outstanding seasons with the Peoria Chiefs of the Three I League, 1954 (.293, 23 home runs, 47 stolen bases) and 1955 (.299, 26 home runs, 31 steals). In 1960, at Yakima, he would steal a career high 48 bases. But, nothing compared to his outburst in Pampa.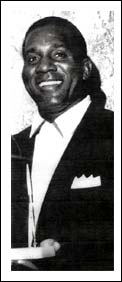 In 1956 Tucker had "one for the books" (in fact, the feat was cited in a SABR (Society for American Baseball Research) publication as one of the best minor league slugging performances of all time).
With Pampa, Texas of the Southwestern League, Tucker hit .404 with 51 home runs, 40 doubles, 13 triples,181 runs batted in, and 47 steals !
Tucker brought his bat to the Western Canada League in 1957. The caption for this photo (Saskatoon Star Phoenix, July 20, 1957) was "MR. FABULOUS -- The amazing swatsmith of the Saskatoon Gems". He had an on-base average of .506 and a slugging percent of .778.

Tucker finished second in the batting race in 1957, with a .394 mark, and led the league in homers, 18, and RBIs, 68. His 17 stolen bases were one behind the leader.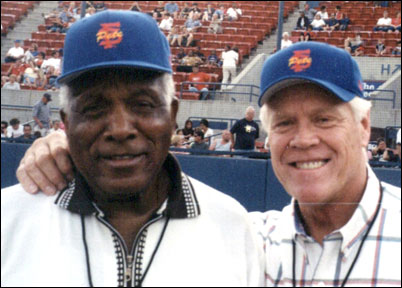 Left - in 2002, Len Tucker with former teammate Jack Hannah at the unveiling of the statue of coach Pete Beiden at Fresno State.
In the late 1950s, after he came to the realization that a major league career was out of reach, Tucker began to put his degree in education to good use.
He was a teacher and athletic coach in the Fresno area for more than twenty years.
He also began to dabble in breeding thoroughbreds.
Fitting for a guy they called Lightnin' Len.
---
Ex-Fresno State star Tucker had speed, energy
Fresno man was first black player for MLB's Cardinals.
Tuesday, Aug. 30, 2011
By Jeff Davis / The Fresno Bee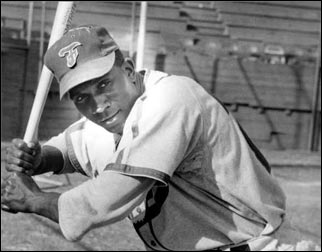 Fresno's Len Tucker, the first African-American signed by the St. Louis Cardinals, never reached the major leagues but earned a reputation as a speedy base stealer with punch in his bat.
Mr. Tucker died July 25 at age 81.
"Tuck was a warm-hearted guy with a beautiful, effervescent personality," said Jack Hannah, who played with Tucker at Fresno State College in 1953.
Mr. Tucker was born in Mounds, Ill., and his family migrated to Fresno when he was young. He played sports at College of the Sequoias in Visalia, then transferred to Fresno State, where he became a star in baseball and basketball.
Mr. Tucker was a 23-year-old Air Force veteran working on a teaching degree at Fresno State in 1953 when the St. Louis Cardinals signed him for $3,000, six years after Jackie Robinson broke the Major League Baseball color barrier with the Brooklyn Dodgers. A day later, he made his professional debut with the Fresno Cardinals.
Mr. Tucker's signing made national news and news stories at the time made a big deal that he was the "first Negro" in the Cardinals organization.
"It's kind of an insult, in a way," Mr. Tucker responded. "The first this or the first that. Who cares?"
Mr. Tucker, who reportedly ran a 100-yard dash in 9.8 seconds in the Air Force, played 11 years in the minor leagues as an outfielder and first baseman and reached as high as Triple-A baseball. Along the way, he had to deal with segregation – being told to stay at different hotels than his white teammates.
But he did have his brush with the big time.
The 6-foot-2, 205-pound Tucker joined the Washington Senators as a 29-year-old rookie in spring training in 1959. In his lone game, the left-handed swinging Tucker smashed a home run against Cincinnati. A few day later, the club sold his contract to the Miami Marlins of the International League.
Years later, Mr. Tucker told baseball historian Jim Rygelski that he gave it his best shot.
"I've always said that when your fate is in someone else's hands, they can squash you or let you go, and they did both to me," Mr. Tucker said. "With all the miles I traveled and the people I met, I learned how to deal with people. I'm thankful for that."
Mr. Tucker was inducted into the Fresno State Baseball Hall of Fame in 1995 along with Tom Goodwin, Dan Gladden, Jerry White and Eddie Zosky.
Former Bulldogs coach Bob Bennett played alongside Tucker in 1953 and remembers him as a dapper dresser and a player who could "run like a deer."
"He was older than us and I told someone: 'I don't know how good he is,' " Bennett said of his initial impression of Tucker. "Well, in his first time up for us he breaks his bat and hits the ball over the fence."
Mr. Tucker batted .385 with nine homers, 42 RBIs and 22 steals in his one Bulldogs season. On the basketball court, he set a then-school record with 459 points.
"He was an electrifying athlete, a fan favorite," said Tom Sommers, a member of the Bulldogs' baseball Hall of Fame. "He was pigeon-toed and quick, and his helmet would always fly off when he ran the bases."
Mr. Tucker nearly quit baseball in 1956 when his Sacramento team sent him to a lower class in Amarillo, Texas. But he caught on with independent Pampa, Texas, of the Southwestern League, where he had an astounding year: .404 average, 51 homers, 181 RBIs and 47 stolen bases.
Mr. Tucker retired from baseball in 1963 after batting .326 with 26 homers for Modesto in the California League.
With his teaching degree in hand, he worked as a substitute for years and taught full-time at several local middle schools. Mr. Tucker also officiated high school and college basketball games and bred thoroughbred race horses.
"I remember how he encouraged me and others to not be afraid to try different things," said grandson Chester Prince III. "He was a big dreamer, too. He always wanted to have a horse run in the Kentucky Derby."
Mr. Tucker was married twice and for years helped second wife Madge run M&L Beauty Supply at Fresno and F streets.
He is survived by Chester Prince III of Fresno, daughter Lynnette Hurks and her son Karron Hurks of Chicago; and granddaughter Donna Prince of Fresno.
---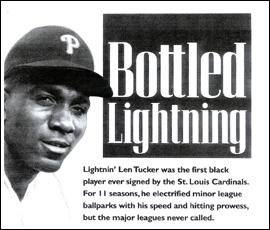 In the June, 1997 edition of the St. Louis Cardinals Game Magazine, writer Jim Rygelski had a portrait of "Lightnin' Len".
Lightnin' Len Tucker was the first black player even signed by the St. Louis Cardinals. For 11 seasons, he electrified minor league ballparks with his speed and hitting prowess, but the major leagues never called.
Len Tucker never did like the label of "first Negro" signed by the St. Louis Cardinals and was even less enamored of the Redbirds' giving up on him.
But Tucker, 67, who compiled a .315 batting average over 11 minor league seasons, harbors no bitterness about the major league career that might have been.
"I do think of it," Tucker acknowledged recently while watching his first love, college basketball, on television from his home near Fresno, Calif. "But I say this, had I made the major leagues I wouldn't have married the woman I did. It's frightening."
Len and Madge Tucker have been married for 35 years and met about the time Tucker was hanging up his spikes for good and devoting his full-time efforts to teaching. These days he helps his wife operate a beauty supply business.
Tucker was a 23-year-old Air Force veteran working on a teacher's degree at Fresno State College when he inked a minor league contract with the Cardinals on May 26, 1953. August A. Busch Jr., whose Anheuser-Busch Brewing Co. had recently purchased the Redbirds and was integrating their ranks nearly eight after the Dodgers has signed Jackie Robinson to a contract, telegrammed this message to Tucker:
"We welcome you to the Cardinal organization. You are joining one of the greatest groups of athletes in America. You have a fine service and college record and I hope your professional record will be a credit to all of us."
"That gave me a boost," said Tucker, who had led his Fresno State collegiate squad that year in homers and runs batted in. A 6-foot-2, 200-pound outfielder, Tucker was among that rare breed of player who threw left handed but batted from the right side.
After he accepted a $3,000 offer from Cardinals scout Ken Penner, Tucker stayed in Fresno to play for that city's entry in the California League. In 97 games, he hit .285 and was promoted to the Peoria Chiefs of the Three-I League, the next rung in the Cardinals' chain.
Newspaper stories made much of his being the "first Negro" signed by the Cardinals. But not Tucker. '`It's kind of an insult, in a way. The first this or the first that. Who cares?" he said.
What he cared about was showing people he could play baseball.
He hadn't played it at all while growing up in Mounds, Ill., on the southern tip of the state. "No, I didn't play baseball," he said. "The first time was when I was 16 years old, working the summer in East St. Louis. It was on a little old pickup team."
Tucker said that when he signed with the Cardinals' organization, he still hadn't seen a major league game, although he had listened to Cardinals broadcasts, first by France Laux and then a young Harry Caray. "I would picture playing ball in my mind and think, 'I wish I could do that."
"But that was wishful thinking," he said. "we were trained to accept what they had," he said of the all-white majors.
Tucker said basketball was his best sport while growing up. He also excelled at track and field, mirroring the all­around athleticism of Robinson, who was UCLA's only four-sport letterman. In 1953, besides leading Fresno State in homers and RBIs, Tucker led the basketball team with 15.5 points per game and a 50.5 percent shooting average. While attending Douglass High, he starred in basketball and won a medal in the high jump in the Illinois state championships in 1946.
Tucker used the speed he'd displayed on the track to open eyes in Peoria during 1954 and '55. He hit .292 and .288 respectively, and led the league in steals both seasons, swiping 47 bases his first year and 31 the next.
A June 1954 newspaper account called him "Peoria's phantom of the base lines." and noted that he usually took a lead off second base that put him nearly halfway to third. If the catcher threw to second hoping to catch him retreating to the bag, Tucker took off the other way and stole third.
"My basic philosophy was that I could beat two throws anywhere," explained Tucker, who ran the 100 in 9.8 seconds while in the Air Force. "If they threw behind me, I was gone.
"But there was one catcher who bluffed a throw to second and then ran right at me," he said, recalling how he was trapped in no-man's land and tagged out.
Tucker said the Peoria players and fans accepted him, as fans will of any person of color who produces as he did. Tucker as popularly known as "Lightnin' Len."
"I was the big gun," he chuckled. In Tucker's first year with Peoria, the U.S. Supreme Court also reached its landmark decision barring racial segregation in public schools. Yet as Tucker traveled with the Chiefs on the road, he found that hotels didn't necessarily follow suit.
"There were one or two places where I couldn't stay with the team," he said. "But I wasn't about to say that if I can't stay with the team, I'm going to take my glove and go home. I was just getting started. I took it as I went."
In the meantime, the Cardinals had promoted Tom Alston to be their first black major leaguer. Expecting again to be promoted following a productive campaign in I955, Tucker instead was released. He said the Cardinals never gave him a formal reason, although at the time he speculated to reporters that he'd been cut because of his age.
"I went on; I was still determined to make it," he said of his major league quest.
But Tucker nearly gave up on his baseball career after a frustrating spring with teams in Sacramento and Amarillo. Instead of quitting, he caught on with the independent Pampa, Tex., team of the Southwestern League. After changing his grip and switching to a lighter bat, he put some monstrous numbers on the board in 1956: a .404 batting average, 181 runs scored and 47 stolen bases - league-high totals in each category - with 51 home runs and 181 RBIs. In one three-game series, he smashed 10 consecutive extra-base hits: four homers, a triple and a double in a double-header, then a home run and three doubles the following evening.
Since the scouting reports said he didn't have a major league outfielder's arm, Tucker made the shift to first base and primarily played there for clubs in the Mexican League the next two seasons. In 1959, the Washington Senators invited him to spring training. Things looked great when he hit a towering home run off a Cincinnati hurler in a Grapefruit League game that spring. "It went out there pretty good, well over the fence," he recalled.
"They gave me the silent treatment when I got back to the dugout," Tucker said, noting how his teammates followed the time-honored tradition of responding to a home run by a "rookie," even a 29-year-old rookie. "Finally, I said, `(Bleep) you guys," Tucker said with a laugh. "Then they broke out with laughs and said, 'Way to go, Tucker."'
When Tucker's mother called to say she'd been sent a copy of a Washington newspaper article that was highly praiseworthy of his accomplishments, Tucker believed he'd finally get his chance in the show.
"Now's my time, I thought. I've finally got a shot. But they assigned me to go to Miami. And while there I got injured."
Cards legend Pepper Martin managed the Miami club in the International League and tried to build up Tucker's confidence, but by that point Tucker had decided the teaching degree he had earned would come in handier than his ball glove.
He began teaching social studies and physical education in the Fresno Public Schools system and played minor league ball after school let out for summer. In his last season, 1963, he batted .326 with 26 homers and 113 RBIs in 92 games for Modesto in the California League. Before calling it quits, he had the chance to play with up-and-comers such as Brooks Robinson and Joe Morgan.
"I felt I had their respect," he said.
Though retired. Tucker still teaches as a substitute while helping his wife run her T&M Supply Co.
"I've been breeding thoroughbreds since 1974," he said. Asked if any of his mares had made it to the Kentucky Derby, he laughed and said, "Not yet."
Tucker keeps up with the game but said he had no favorite teams. "I kinda look at the Cardinals," he said, adding that the encouragement Pepper Martin gave him long ago helped him get over his hostility toward the club for dropping him.
"The biggest difference today is that they don't play as hard as we did, though some do," Tucker said. "But you'll never have another one like Joe DiMaggio. You just can't find anyone to measure up to him.''
Tucker believes he gave it his best shot.
"I've always said that when your fate is in someone else's hands, they can squash you or let you go, and they did both to me. With all the miles I traveled and people I met, I learned how to deal with people. I'm thankful for that."
Jim Rygelski is a baseball historian based in St. Louis.
---
On February 29, 2008, Major League Baseball carried a feature on Len Tucker during its Black History Month presentation.
Big-league shot eluded 'Lightning Len' Tucker never let snub get him down during electrifying career
By Kevin T. Czerwinski / MLB.com
Len Tucker had his moments, many of which were breathtaking, to say the least. He thrilled crowds throughout the United States and Canada for nearly a dozen years, playing a brand of baseball that, had he arrived two decades later, would have earned him millions.
Yet unless you lived in towns like Peoria, Pampa and Modesto throughout the '50s and early '60s, the chance to appreciate what Tucker had to offer wasn't available. Though the speedy power hitter earned rave reviews for his performance in the Three-I, Southwestern and California leagues, the closest he ever got to the Major Leagues was a brief tryout with Washington in 1959.
The zeitgeist of 1950s middle America had as much to do with keeping Tucker out of the Majors as did the many owners, managers and general managers who still carried racial agendas. While there are many who believe that Tucker -- who also garnered headlines in 1953 as the first African-American ever signed by the Cardinals -- was never given the proper chance, he's long past feeling bitter or angry about the power brokers who kept him from realizing his dream. He channeled those feelings of disappointment into a teaching career after retiring from baseball in 1963, likely having more of a positive impact in the classroom then he ever would have had had he made it big on the diamond.
"I never played the race card," said Tucker, now 78 and living in Fresno, Calif. "I never tried to take advantage of that. I let that be the last thing I thought about. And if I did mention it, it was only to my close friends or my wife. I never wanted to comment or go public with the race thing. If you backed me up against a wall, I'd probably make a comment. You can't control a person's mind, though."
While Tucker never thought to use his race as a means to get ahead or gain attention, the Cardinals and the media certainly had no problem issuing great proclamations in the spring of '53 when they signed the Air Force veteran -- for $3,000 -- who was closing in on a teaching degree from Fresno State. His signing was news around the country with even The New York Times declaring "Card Farm Gets Negro."
"I never looked upon it as anything but a guy who was signing," said Tucker, who hit .385 with nine homers and 41 RBIs in 148 at-bats during his final season at Fresno State. "They brought attention to me by saying I was black. And I thought, 'What are you trying to say, that a black shouldn't be here or that it's a miracle?'
"If they were so concerned that I was black, and [then Cardinals president August] Busch got a lot of publicity from it the night I signed, then why didn't I ever go further with them? I didn't disgrace them out of college. And that was worth something. But after a while, they just let me go."
No, Tucker certainly did nothing to disgrace himself or the Cards after they assigned him to Fresno of the then Class C California League. He went 6-for-17 in his first series, stealing a pair of bases and playing flawlessly in the outfield against Ventura. He played only home games for the first several weeks because he was finishing up his semester in school. But once Tucker got onto the field full-time, he was impressive.
Tucker hit a ninth-inning grand slam to beat San Jose on June 14. By July 16, he had connected for 11 homers, including capping off a three-in-three-games stretch to again power the Cards past Ventura. All seemed well for the Illinois native. He finished the season by hitting .285 with 55 RBIs and 16 steals in 379-at-bats before Peoria acquired him the following January.
Peoria proved to be no great challenge for Tucker, who earned the moniker of "Lightning Len" while playing for the Chiefs. He spent two seasons in the Class B circuit, playing against the likes of future All-Stars Earl Battey and Roger Maris. Tucker combined to bat .291 while hitting 23 and 26 homers, respectively. The latter total set the Peoria franchise record. He also led the league in steals twice, with 47 and 31, yet was released following the 1955 season.
"I did the best I could and I thought I was credible, but they didn't" Tucker said. "Guys like Maris and all those other guys in the Three-I league at the time, I didn't see any more from them than I had to offer.
"There was one night in '54 that [St. Louis manager Eddie] Stanky came down to watch us play an exhibition against St. Paul, a team in the Triple-A American Association. I hit two homers and drove in four runs and we tied them, 4-4. The St. Paul manager said I looked good and Stanky came back to watch a few times, and I did well. When they sent me back to Peoria in '55, I didn't want to go. It was a letdown."
Though Tucker was disappointed, he didn't let it impact his performance on the field. He signed with Pampa of the Class B Southwestern League, which had previously been known as the Class C and D Longhorn League, and proceeded to have a season that can be counted among the greatest ever produced by a Minor Leaguer.
Tucker hit a career-best .404 to lead the league. He was one of two players in organized ball to hit over .400 that season, with Dubuque's Grover Jones leading the Midwest League with a .409 mark. Tucker's 181 runs scored also were tops in the Southwestern circuit. He had 51 homers and 181 RBIs but failed to lead the league in either category; Plainview's Frosty Kennedy had 61 homers and 184 RBIs that season.
"Frosty Kennedy had played in that league for five or six years, so he was a mainstay, a bit of an older guy," Tucker recalled. "Joe Bauman was in that league, too. He was a mainstay. I was just an upstart. The league had mostly older pitchers who didn't overpower you with a fastball; it was just common sense pitching.
"I figured if I could get through that I'd have a pretty good year, and I did. The wind there helped, too. I guess you could say it was a hitters' league."
Tucker bounced between Mexico and Canada during the next two seasons, learning to play first base while hoping his dream of reaching the Major Leagues hadn't died. He finished second in the batting race in 1957, hitting .394 for Saskatoon of the Western Canadian League. He also led the league with 18 homers and 68 RBIs in only 198 at-bats. Meanwhile, his .506 on-base percentage and .776 slugging percentage earned him the title of Mr. Fabulous around the league.
That ultimately led to his being traded by Poza Rica of the Mexican League to Washington in 1959. He spent most of the spring on the bench until one day shortly before the club broke camp and headed north. Tucker finally got a start against the Reds and in his first at-bat, he connected for a long home run.
Senators manager Cookie Lavagetto appeared interested enough to have Tucker work out at first base the following day while the club was on a road trip. The day after that, however, Lavagetto informed him that he had been sold to Miami of the International League.
"I stayed behind to work at first base and picked up everything but the earth," Tucker said. "I looked good and now they sell me to the Marlins after one game. Lavagetto told me he didn't think I was better than anyone he already had. [Former All-Star Roy] Sievers was playing first at the time and they had a Cuban guy backing him up.
"From that time on, I got depressed. I went to Miami and played for Pepper Martin. He liked me, but I didn't have the heart to keep it going. I think that took the spark out of me. I was ready to give it up, so Miami sold me to Vancouver of the Pacific Coast League and then I was sold down to Portland."
Tucker combined to hit .211 with five homers and 29 RBIs in 218 at-bats for Miami, Vancouver and Portland. He went to Yakima of the then full-season Class B Northwest League in 1960, hitting .337 with 24 homers and 117 RBIs while leading the circuit with 126 runs scored.
He split the following season between Yakima and Lethbridge of the Western Canadian League before returning to school as a teacher in northern California. Tucker was back in the Cal League in 1962 and '63, playing half-seasons once school let out. And he was stellar yet again, hitting .294 with 30 homers and 101 RBIs in 347 at-bats in 1962. The following season, his last, he batted .326 with 26 homers and 113 RBIs in 353 at-bats, teaming with future Hall-of-Famer Joe Morgan to lead Modesto to the league championship series.
"After Washington, I gave up," said Tucker, who taught for 20 years and still serves as a substitute from time to time. "I was going to be 31 years old. But I did all right for a poor boy. In the final analysis, I saw what was in the Major Leagues at the time and in my heart I knew they were no better than what I could do. It just wasn't for me. I couldn't get a shot."
That's too bad because Lightning Len likely would have done in the Major Leagues what he always did -- electrify a crowd.
Kevin Czerwinski is a reporter for MLB.com.