[Hitoshi "Mel" Wakabayashi was a teammate of Hall of Famer Fergie Jenkins and Ontario Intercounty player Paul Allen in the late 1950s in sandlot ball in Chatham, Ontario. Mel went on to become an All-American in hockey at the University of Michigan and a star in Japanese hockey. He was inducted into University of Michigan Athletic Hall of Honor in 2006. The following article, by freelance writer John U. Bacon, appeared in 2002 in the U of M publication, Michigan Today.]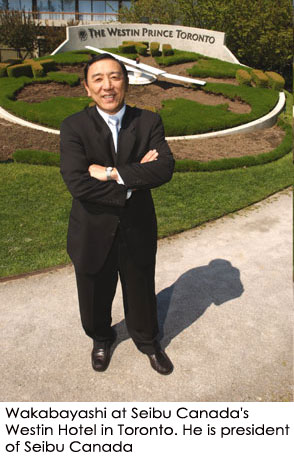 U N A S S U M I N G , S K I L L F U L ,
S W I F T , S M A R T ,
G E N T L E M A N L Y :
T H E Y A L L A D D U P T O :
L I T T L E M E L
By John U. Bacon
Mel Wakabayashi '66 is perhaps the most unlikely star in the long history of Michigan sports, and surely one of the most inspirational. Despite standing just 5 feet 5 inches, Little Mel, as he was known, led all Michigan scorers his last two years, and was named the hockey team MVP, the league MVP and an All-American his senior year. But there's a lot more to tell than that.
Wakabayashi's story began during World War II. Shortly after the US relocated more than 100,000 Japanese-Americans into squalid internment camps, the Canadian government followed suit. In 1942, relocation administrators removed Wakabayashi's Japanese-born parents, Hatsuye and Tokuzo, and their three children from their modest Vancouver home, taking their few possessions from them in the process. A year later, Hatsuye gave birth to her fourth child, Mel, in the barren camp.
The government kept the Wakabayashis and the other Japanese-Canadians in the camp until the war ended. In spite of the obviously unwarranted cruelty of the move, Wakabayashi's parents rarely talked about it.

A negative turned positive
"And when they did," Wakabayashi recalls, "they gave it to us as a positive thing, not a negative. They'd say, 'If we were in Japan, your father would probably have to go to war and we probably wouldn't be able to eat, and we would have no shelter.'" Wakabayashi inherited his parents' remarkable ability to turn injustice into opportunity without bitterness, a trait that has served him well throughout his life.
After the war the Wakabayashi family, now with eight children, moved to Chatham, a small town of 30,000 surrounded by Ontario farmland. To support his family, Wakabayashi's father worked long hours in a local cosmetics factory. "It was very loud and smelly," Wakabayashi says. "I didn't go there very often." Although the Wakabayashis had to contend with a tight budget and a "few little [racial] incidents, it was a good life," Mel insists.
When Al Renfrew '49, U-M's coach back then, first came into contact with the family, he was struck by the depth of their community spirit. "The Wakabayashis had eight kids, and not a lot of money, I think," he says, "but they had a big New Year's party every year. Seemed like the whole town of Chatham was there."
Mel and his younger brother Herb spent whatever free time they had playing baseball, street hockey and pond hockey with a Black guy down the street named Eddie Wright. The trio formed what the white guys called the "international line" on the Chatham Junior Maroons. Mel's reputation soon preceded him. Wilf Martin '65, a future pro who played for the Regina Pats before coming to Michigan, remembers a diminutive Japanese player from Chatham "making a fool of the All-Star team in Regina." Word spread.
"Of course I dreamed of playing in the NHL one day," Wakabayashi says, "but knowing my size, I didn't think it would ever be a reality. I really didn't expect to sign any contracts, or even go to the U of M."
But other Chatham natives like Larry Babcock '63, Al Hinnegan '62 and Ron Coristine '64 had gone to Michigan and done very well, with Babcock captaining the 1962-63 team. Wakabayashi suspects one of them-he's still not sure who-sent word to Renfrew that there was another player back home he might want to take a chance on.
In the fall of 1963, when Wakabayashi entered Canada's grade 13 to take "all these courses I didn't want to take," Renfrew came up to see one of his games. Wakabayashi had no idea the coach was in the stands-or even who he was-but he performed well enough for Renfrew to approach the young center after the game and initiate a conversation Wakabayashi remembers well.
"He asked me if I had any interest in going to Michigan. I said, 'I can't afford to go, no way, and if it is difficult to get in, that could be another problem,'" Wakabayashi recounts. "My grades were only so-so, because I concentrated on sports in high school. Well, he brought me down to Ann Arbor to see the campus and take the SAT, and I did okay."
In January 1963, Wakabayashi settled in Ann Arbor as a college student. "It was not a dream come true, because I didn't even let myself dream of it," he says. "It was just unbelievable! Obviously, it changed my whole life."
Due to freshman ineligibility, Wakabayashi could not join the team until January 1964. "The year off was really good for me because I was worried that I couldn't make the team," he says. "But seeing the players from Chatham do so well gave me a little confidence." The wide-open style of college hockey in those days suited his breakaway speed; nevertheless, he says he was surprised to make the team.
"The college game was made for him," asserts former teammate Dean Lucier '67. "He's the best player I've ever stepped on the ice with, for or against, and that includes [NHL stars] Tony Esposito and Keith Magnuson. He had tremendous team sense."
'The guy you watched'
Magnuson himself, who shone for the University of Denver and the Chicago Blackhawks, puts Wakabayashi on the short list of great college players. "We only played him two times, but Wakabayashi you didn't forget," he says. "He was very quick, and could find a way to beat you if you didn't have your senses about where he was on the ice. He was the guy you watched."
One telling measure of the man is what he remembers, and what he doesn't. Although Wakabayashi scored two goals in the thrilling upset over Denver in the 1964 championship game, he can't recall which ones they were or how he scored them. He can, however, recount in photographic detail the single penalty he received in his three years of college hockey.
"We were playing Loyola University out of Montreal at the Coliseum during my sophomore year," he says. "Another guy and I got tangled up together, he fell and I got a tripping call. Since I started playing hockey in pee wees, my coaches really banged it into my head that I was supposed to score the goals, not try to knock the big guys around and end up getting hurt or getting a penalty. I remember very clearly the feeling of sitting in that penalty box-and how much I realized I didn't like sitting in that box!"
While at Michigan, Wakabayashi never again suffered the sensation of sitting in that box, even though another man would have been sorely tempted to retaliate against the kind of cheap-shots the darting center regularly received on the ice. "I know a lot of guys took runs at me," he says philosophically, "but it really helped me in the long run, because it forced me to be aware of everyone on the ice at all times." The same uncanny game sense that helped him avoid oncoming thugs helped him become one of Michigan's craftiest scorers, too. Wakabayashi had obviously inherited his parents' ability to make the most of hostile surroundings, without bitterness.
You, a hockey player? No way!
Unlike most elite athletes, Wakabayashi didn't enjoy attracting attention. "Hockey was not as popular as football and basketball, but it got good coverage," he says. "For me it was great, because I didn't like being recognized. I liked being low-key, behind the scenes. Besides, whenever I tried to tell someone I was a hockey player, they wouldn't believe me anyway."
If Wakabayashi wasn't wild about the spotlight, he certainly enjoyed the camaraderie of his teammates, with whom he lived all four years of college, and the extra academic assistance afforded him as an athlete. "I was never a good student," he admits. "I needed a lot of help, in psychology, physiology. You needed a 2.0 to be eligible, so I tried to keep up. A lot of people were willing to help you out."
Renfrew's teams never equaled the success they enjoyed during Wakabayashi's sophomore season, when they won the 1964 NCAA title. But that didn't stop the tiny center from becoming the team's leading scorer and MVP as a junior, and as a senior, the team captain, the Western Collegiate Hockey Association's leading scorer, the league's MVP and an All-American. By the time he graduated, the little kid from Chatham who didn't dare dream of playing for Michigan had proven beyond any doubt that he belonged.
Trying to prove himself outside Ann Arbor was tougher. Each spring Wakabayashi played baseball for fun, but was good enough to be named to the All Big Ten team as a second baseman. At former coach Don Lund's urging, the Tigers invited him down to Lakeland for spring training but didn't sign him. Whether Wakabayashi's size or his race were factors is impossible to know now, but Lund '45, a football and baseball star at Michigan and former pro baseball player, is convinced he was good enough to play in the organization.
Wakabayashi characteristically didn't give it a second thought and signed with the Red Wings instead. The NHL still had only six teams in 1967, so Wakabayashi found work in the spring of 1967 with the Memphis Red Wings in the Central Hockey League and the Johnstown Jets in the Eastern Hockey League. He proved once again that, despite his size, he could play with the big boys. The Red Wings thought so too, and invited him to join their camp in the fall of 1967.
'I had the face but not the mouth'
About the same time, however, Wakabayashi received an intriguing offer from the Japan Hockey League, then in its second year, to become the first foreigner recruited to play there. Ironically, Wakabayashi was once again the outsider, trying to prove that he belonged. "I spoke no Japanese," he says. "It was not as easy to adapt then as it is now for the foreign players. It was especially tough for me, because I had a Japanese face but not a Japanese mouth. And I didn't have an interpreter, either, so I had to learn fast."
He also had to learn how to handle playing away games on an outdoor rink in Furukawa, where the natives would throw their sake bottles at the players if they were unhappy. But that was nothing compared with the culture shock Wakabayashi encountered on the ice. "When you're brought up in Japan, you're taught not to stick out," he says. "The coaches pound the best players down to the level of the ordinary guys."
One of the most important pillars of Japanese civilization is the relationship between older mentors and their younger mentees, called sempai-kohai, with the kohai always deferring to his sempai. "On a hockey team," Wakabayashi explains, "sempai-kohai means the younger players have to go in the corner and get the puck. In my first year over there, when I passed the puck, very seldom would it come back to me. In North America, you want to advance the best players and bring the other players up to that level. There are advantages to the sempai-kohai system, but I don't know if the Japanese approach is always good for sport."
Regardless, Wakabayashi was good for Japan. He played 12 years in the six-team Japan Hockey League, mostly for a team called the Kokudo Bunnies. They are owned by Yoshiaki Tsutsumi, a man Forbes magazine once called the richest in the world. Tsutsumi owns the Seibu department store chain, the Seibu railroads, hundreds of supermarkets and thousands of real estate ventures, making him the largest landowner in Japan. He also owns 39 ski resorts, 37 golf courses and 82 Prince Hotels. Tsutsumi wields so much weight in Japan, the emperor has to make appointments with him.
Hockey si! Baseball no!
Tsutsumi also owns Japan's best baseball team and its two best hockey teams. These days he only watches three baseball games each season, while attending 30 hockey games.
"Baseball games are decided more in terms of individual skills, not like hockey," Tsutsumi said in a rare interview. "Hockey has more speed, and it depends more on teamwork and passing. I love watching five men working toward one goal."
Wakabayashi's playing style fit in beautifully with the Japanese ideal-he was always among the league leaders in scoring while playing for seven consecutive seasons without taking a single penalty-and his advanced skills forced the other players to improve. He was named the Bunnies' player-assistant coach in 1972, player-head coach in 1978, and head coach of the Japanese Olympic team in 1980. His younger brother, Herb, who had been a two-time All-American at Boston University before joining Mel in Japan, was selected by his peers to carry Japan's flag into 1980s opening ceremonies in Lake Placid, New York. "Walking into the Olympic Stadium in Lake Placid, with my parents in the stands," Wakabayashi says, "that was my biggest thrill."
Four years later, in 1984, Gordon (Red) Berenson '62, '66 MBA, had just been named Michigan's seventh coach and invited Wakabayashi to bring his Japanese national team to play in Ann Arbor. Although Wakabayashi's team lost 6-4, they played well and gained a measure of respect. After the game many of Wakabayashi's younger players discovered the big black-and-white photo in the Deker Hall of Fame lobby display of Wakabayashi in his prime, and had their pictures taken next to it. Remembering this, Wakabayashi's voice becomes soft. "That surprised me," he says.
When Wakabayashi reflects on the course of his life, which started in a decrepit internment camp and has wound through Chatham, Tokyo, and Lake Placid before arriving in Toronto in 1994, where he now works as president of Seibu Canada directly under the most powerful man in Japan, his thoughts return to his days in Ann Arbor, and a bunch of guys who were neither rich nor famous but changed his life forever. "If not for Al Renfrew and the Michigan hockey team, I would probably be working with my dad in the factory in Chatham," he says. "I don't even want to think about that one."
Freelancer John U. Bacon of Ann Arbor adapted this story from his history of U-M hockey, Blue Ice (U-M
Press, 2001, $29.95 cloth, $18.95 paper). His stories have appeared in the annual anthology The Best American Sports Writing.