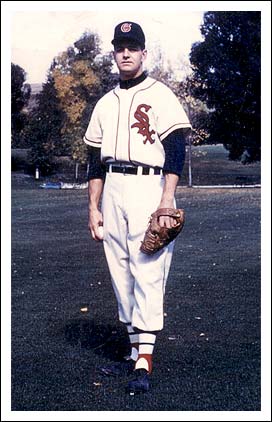 William "Willie" H. Walasko
Batted Right, Threw Right
6' 0", 175 lbs.
Born: July 20, 1935
Died : February 14, 2007
Alberta Amateur baseball 1951-1952-1953
Carmangay Eagles 1954
Granum White Sox 1955-56-57-58
Pro (Missoula) 1959
Calgary Buffaloes 1960
Lethbridge White Sox 1961
Calgary Giants 1963-64
Calgary Orphans/Odeons 1965-66-67-68
The "flashy right-hander" was in the baseball headlines for more than 15 years in a career in which he was one of the most dominant hurlers on the prairies.
Left - Walasko in 1955 with the Granum White Sox. Below left - in his stint in pro ball with Missoula in 1959. Below right - Pitching for Granum in 1956.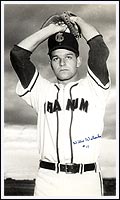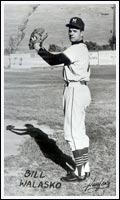 A product of the sandlots of Southwestern Alberta (home was the small Crow's Nest Pass community of Hillcrest, in the shadows of the Rocky Mountains), Walasko gained recognition as a standout hurler while barely into his teenage years.
" ... Willie Walasko, the 16-year-old mound marvel from Hillcrest, who this year is toiling on the hill for Pincher Creek Dominoes, had himself quite an afternoon last Sunday.

Pitching in a regular Crow's Nest Pass Baseball League tussle against Natal-Michel, the young pitching sensation breezed a third strike past 21 would-be sluggers. Willie, who can be found pitching most every night of the week, practicing to perfect his control and develop his right arm, had his curve ball working close to perfection and his fast ball steaming as he mowed down Red Sox batters in monotonous fashion. He struck out five hitters in succession during one stretch and fanned the last seven men to face him. He retired the side on strikes in four innings and chalked up no less than two strikeouts in every frame but one.

It was not Willie's top strike-out performance -- he whiffed 24 batters during a juvenile game two years ago -- but when you consider that he won't be 17 until July 20, that's pretty fancy chucking for a youngster who was facing senior batters. Willie, who stands six feet and weights 165 pounds, has been throwing a ball since he was eight years old and last season, at the tender age of 15, was taking his turn on the hill in senior company and 10 strikeouts a game wasn't unusual for him. It's still too early to know how far he will travel along the road that leads to professional baseball. But Willie has a burning ambition to become a big league hurler and if he turns in many more performances like last Sunday, then it would not be surprising if big league scouts came knocking at his door." (Arian Pontarollo, Crow Corner, Lethbridge Herald, June 20, 1952)
Walasko, with considerable experience in Senior ball, gained provincial recognition in 1953 as he led the Pincher Creek Chinooks to the Alberta Junior championship. In late season tournaments and the playoffs alone, he won nine games in the space of a few weeks.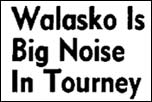 In the playoffs, there was a 13-inning, five-hitter in which he fanned twenty and walked none. In the Foremost tournament he tossed back-to-back shutouts.
In a classic match up in the Southern Alberta final, Walasko threw a two-hitter with 14 strikeouts as Pincher Creek downed the Lethbridge Junior Miners 2-1. (Dave Jones of the Miners allowed just one hit -- a double by Walasko.)
In the Alberta final, Walasko was the winner in both games as the Chinooks swept Edmonton (a lineup which included future NHL hockey starts Norm Ullman and John Bucyk).
Walasko was one of two Alberta athletes invited to spend time at a Brooklyn Dodger camp in Great Falls, Montana.
"When I was eighteen, just getting out of high school, I was approached by the Dodgers and Detroit, but the parents wouldn't hear of it," said Walasko. "The schooling came first."

Fresh from his success as a junior, Walasko suited up with the Carmangay Eagles of the Foothills-Wheatbelt League in 1954. He didn't skip a beat. In the season opener, he tossed a two-hitter and fanned seventeen. Later, he'd add a no-hitter. Not bad for a kid just out of his teens. "I don't remember the no-hitter," said Walasko, "but I recall beating Granum because they were the powerhouse at the time."

George Wesley, remembering the kid who beat him in '54, landed the ace righthander for his Granum White Sox for the 1955 season and Walasko would star for the club over four summers before taking a spin at pro ball.
While records are incomplete, Walasko appears to have finished 13-6 (league, tournament and exhibition games) in '54 and 15-4 the following season,1955 (including a no-hitter at the Fernie Tournament). While impressive, it just set the stage for one of the most dominant seasons ever by a pitcher on the prairies.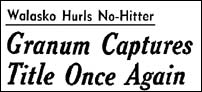 Newspaper accounts report his overall 1956 record as 21-2 in twenty-eight appearances.
Walasko started twenty games completing eighteen of them. He had a no-hitter, a pair of one-hitters, and two, two-hitters. In the prairies' short season, the right-hander was on the hill for nearly 200 innings.
After two more seasons as the ace of the White Sox, Walasko, whose parents had turned down an opportunity for their pitching phenom to turn professional as a teenager, decided to take a spin in the pros.

Walasko set out for the Jack Rossiter Baseball School in Cocoa, Florida.
(Left -- Rossiter & Walasko)
The lone Canadian in the camp was the first player to be offered a pro contract. Walasko signed with the Washington Senators who sent him to Missoula Timberjacks of the Pioneer League for the 1959 season.
Playing with the worst club in the circuit (it was a

Washington farm club after all) Walasko still finished among the ERA leaders (fifth) and pitched 189 innings in 34 games. "We had the worst team in the league, just a lousy team, the worst park, which was typical of the whole Washington system," said Walasko,
"Riding the buses I could see that the organization wasn't going to improve a heck of a lot. It wasn't what I thought it was cracked up to be." And, at $235 a month, it was a pay cut from Granum.
The Canadian moundsman must have been a novelty to his American teammates-- a college graduate who listed his hobbies as classical music, mountain hiking and hockey! Walasko even enjoyed the bus travel through the mountainous areas of Montana and Idaho and used the time to learn some Spanish from his Cuban teammates while he taught them a little English.
The end of the '59 season brought an offer from the Washington Senators of a promotion to the Charlotte Hornets of the Class A, Sally League. But, the prairies beckoned.

So, it was back to Alberta in 1960 to anchor the pitching staff of the new Calgary entry in the revamped Western Canada League.
Even at this higher level of competition, Walasko finished at 9-3 (the top pitcher won 11) and was fourth in ERA at 3.18. As Calgary folded after just one season, the Alberta native was back with George Wesley in 1961 with the

Lethbridge White Sox.
Among other things, he had a 23 inning scoreless streak and won his lone playoff start allowing no earned runs as Lethbridge upset the heavily favoured Saskatoon Commodores in the final. (While he pitched mainly in home games for Lethbridge, he did a little extra-curricular mound duty with the Calgary Orphans of the Alberta Senior circuit.)
" ... With all the bonus baseball contracts they've been dishing out the past few years, you get to wondering why there hasn't been a count who's seen a good prospect in Willie Walasko and done something about it.

The stylish righthander, who's been knocking around Alberta semi-pro and amateur ranks for more than a few years, is still one of the best in these parts. And he's getting better.

Down Lethbridge way they'll tell you Willie is having his best year yet in Western Canada Baseball League company. And from his performance here Thursday against the Saskatoon Commodore power pack, what they'd tell you could more than likely be rated an understatement.

Walasko's sparkling five-hit shut-out of the Commodores ended a six-game drought the Lethbride White Sox of George Wesley were battling in games against the Hub City nine. And it was only the second time this season that the Saskatoon offence has been barred from the scoreboard ... This latest effort has also added another nine innings to a new string of gooseggs Willie has rung up. The Lethbridge hurler, who resides in Calgary, has now fired 20 consecutive scoreless innings in action involving the WCBL ... Possibility even more excited about his Thursday endeavor than Willie himself, was Vic Stasiuk. "This guy is the greatest," beamed last year's Calgary Buffalo manager following his semi-final upset. "He's never been better." Stasiuk, of course, is a coach with the Sox this season." (Larry Wood, Calgary Herald, July 28, 1961)
The summer of 1962 was the first in a decade where Walasko failed to toe the rubber. It was a forced break as the Western Canada loop was dismantled and semi-pro ball took a hiatus. He remained in baseball, however, managing a junior team in Calgary.
He never suffered a major injury. "Nothing to make me sit out. I did get tendonitis in my shoulder in 1963 or 64, but I continued to play."

When the Western Canada League bounced back in 1963 and 1964, Walasko was back on the hill for the Calgary Giants in a league comprised mainly of college players (Tug McGraw, Nelson Briles and Tim Cullen among them) hoping to strut their stuff for major league scouts.
He'd be in the Calgary lineup for the two seasons of the new WCBL (he opened the '64 season going 6-0). And, when that, too, would fold, Walasko was enticed to carry on "just for exercise" for the Calgary Orphans and Odeons of the Alberta Major Baseball League.
" ... The stars of the league-leading Calgary Odeons of the Edmonton-Calgary baseball loop are a pair of old Granum pros, Bill Fennessey and Willie Walasko ... if that doesn't stir up a memory or two for George Wesley, nothing will." (Lethbridge Herald, June 10, 1967)
He continued as an often dominant pitcher for four more seasons, finally stepping off the mound for good at the end of the 1968 season.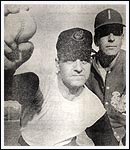 (Left : 1967 - Walasko displays his pitching form to Al Johnston, manager of the Calgary Odeons.)
(Right : 1968 - his final season in prairie ball, pitching for the Odeons of the Alberta Major Baseball league)
In 1971 Walasko returned to the field as pitching coach for a new Calgary team, the Cubs.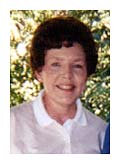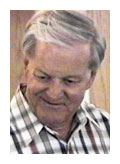 Walasko, who worked in saw mills and the Wesley ranch (among other things) to finance his way through college, became involved in commercial and light industrial construction in the Calgary area in the late 50s.
He met the lovely Patricia while he was playing pro ball in Missoula, Montana. September, 2007 would have marked Bill and Pat's 47th wedding anniversary.
Bill passed away in February, 2007.