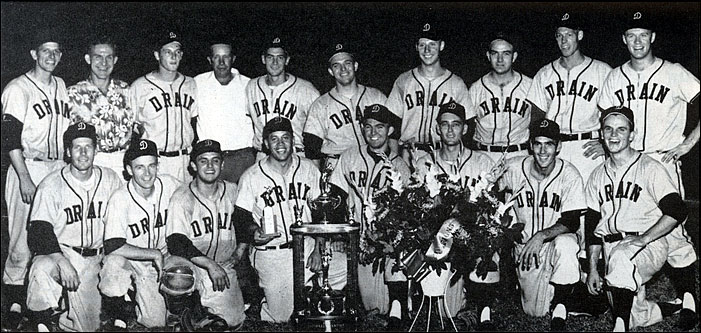 The 1958 Drain Black Sox, winners of the 1958 National Baseball Congress Tournament. Back row (left to right) : Back row-left: Wes Stock (Business Manager), Tom Myers, Don Lane, Harold Woolley (sponsor), Jerry Bartow, Jack Henkel, Jerry Droscher, Irv Roth, Darrel Wooten, Jim O'Rourke. Front row : Wimp Hastings, Stan Dmochowsky, Ellis Olson, Ray Stratton, Elwood Hahn, Dan Luby, Lowell Pearce, Jim Pifher.
Drain Black Sox Among Inductees to Oregon Sports Hall
(From KGW.COM, August 15, 2000)
They were called the Black Sox, but there was nothing scandalous about their performance. Made up mostly of college players, the Drain Black Sox captured the 1958 National Baseball Congress tournament, the World Series of amateur baseball.
Held annually in Wichita, Kan., the tournament has long featured former and future big-league ballplayers, including Satchel Paige and Mark McGwire.
The first West Coast and only Oregon team to ever win the title, the victory gave Drain a sense of pride and a glimmer of national attention. On Saturday, their team will be inducted into the Oregon Sports of Hall Fame with Nike founder Phil Knight and four others.
"When we got to Wichita, the people were saying 'Drain? You mean down the drain?' " recalled Jim Pifher, who drove in the championship run. "They weren't saying that when we left."
The Black Sox swept seven straight games to win the 31-team tournament. While obviously stocked with talent, Drain's manager, Ray Stratton, and some of his players, said the story of the Black Sox is not one of great athletes. Rather, it is about a great sponsor, Harold Woolley.
Amateur and semi-pro baseball was a big deal before television brought professional teams into the living room. Many sawmill and lumber barons sponsored popular teams in southwest Oregon's Sawdust League.
Woolley was its George Steinbrenner, without the firings.
Drain's primary mill owner, Woolley loved baseball and wouldn't let money stand in the way of winning. He built a great ballpark, supplied the best equipment, provided comfortable accommodations and put the entire team on his lumber company's payroll. When Stratton scheduled an ambitious road trip, Woolley bought three brand new station wagons.
"Mr. Woolley offered such a good package that it wasn't hard to get good ballplayers," said Stratton, now 74. "The trouble was narrowing the team down; it was quite a job."
Woolley, who died in 1970, chose the team's scandalous name because he didn't think anyone else would take it. After all, who would name their team after the one that threw the 1919 World Series?
He also had a feeling that it would be lucky.
Most of Drain's players came from the University of Oregon, Oregon State and Washington State and were lured to 1,200-person town by the promise of summer money and good competition. While the players occasionally put in a hard day's work at the lumber mill, they spent almost of their time playing ball. The watchdogs from the NCAA never caught on.
"I kept waiting for the hammer to fall," Stratton said of the bogus jobs. "We were in violation of the rules; I admit that."
Then again, maybe the NCAA couldn't find them. Stratton had them playing back-to-back games in places like Boise, Idaho and Bellingham, Wash. On their Canadian tour, they stopped in those cities you only see on the back of a hockey card: Medicine Hat. Red Deer. Saskatoon.
"It was the most fun a single kid could have," Pifher said.
Though they breezed through the Oregon state tournament, no one gave Drain much of a chance in Wichita -- not even themselves.
"You had to be there because if you saw the type of competition we faced, you'd be amazed," said Stratton, naming Earl Wilson, a pitcher who later became a 20-game winner with the Boston Red Sox. "I thought we'd play two games and go back home. I was amazed after every game."
But Woolley had little doubt. When Drain played the heavily favored San Diego team early in the tournament, Woolley made a $5,000 bet with that team's sponsor, Stratton said.
After the tournament, he showed his appreciation by having the team's flight stop in Reno. As the college kids got off the plane, he gave them $100 each to gamble -- a gesture that certainly lived up to the team's nickname.
During the tournament, the team won six straight games, most with late rallies. In the seventh and final game, the Black Sox blew a three-run lead in the eighth inning, but won it in the ninth when Pifher drove home Wimp Hastings.
"That's the most pressure that I've ever felt," Pifher says. "When you get to my age, you look back at the things you've accomplished in life. Driving in that run is certainly one of the things I'm most proud of."
Pifher and some of the other players look back and shake their heads at the benevolence of Woolley. He spent lots of money on that team, with no return on the investment.
His widow, Donna Woolley, said she and her husband did get a return. She said the players were paid well because it was hoped they would stay in school. In the 1950s, many young men figured they didn't need college because they could earn just as much in the woods. With the baseball salary, players earned enough to sustain them through an entire school year.
"I'd say 75 percent of the players eventually went into the education field," said Woolley, who still has a house in Drain. "It's quite a boost to know we had young men of this caliber."