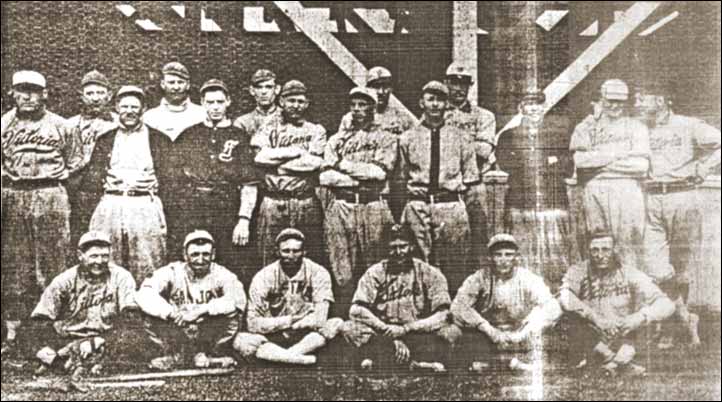 Names not available. The following were believe to be on the team roster when the photo was taken :
Jimmy Adams OF, Joe Berger P, J. Brennan 3B, C C Clementson OF, James Concannon P, William Daniels OF, Fitzsimmons INF, Friene OF, William Grindle C, Erving Kanthlener LHP, Richard Kauffman P, Clyde Keller 2B, Jorstad P, Edward Kennedy OF, Ed McCreery P, Herman Meek C, Merritt INF, Alfred Narveson P, Lou Nordyke 1B/MGR, Johnny Rawlings SS, Sadofsky/Sanofsky 3B
[Photo from the Victoria Colonist, April 13, 1912]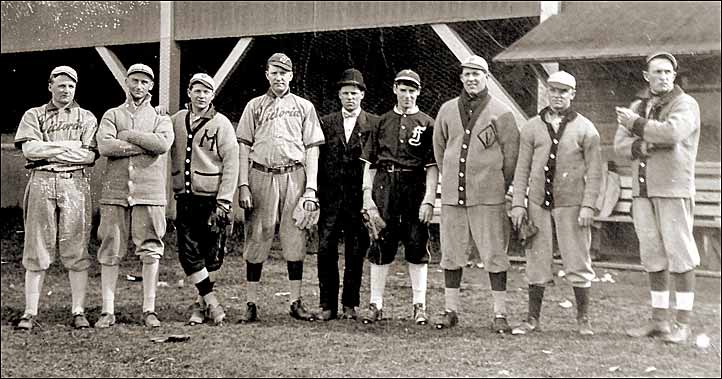 And, we have this photo of some members of the 1912 Victoria pitching staff, taken during Spring Training at San Jose, California.
Left to right - Joe Berger, Young, "Rebel" Clark, "Kiddo" Wilson, Alfred Narveson, James Concannon, Ed McCreery, Olson, "Rube" Griffin.
[Photo from the Victoria Colonist, March 27, 1912]