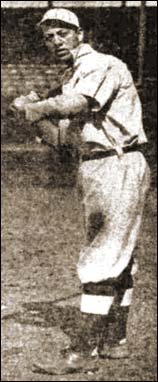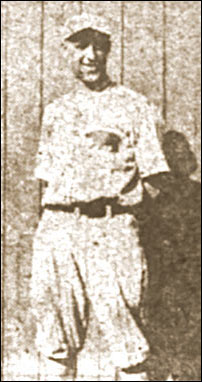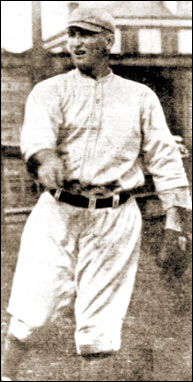 Above - Three pitching stars of 1919 "busher" baseball in Alberta, all Americans. Left - Frank Juney who played for Lethbridge, Moose Jaw, Calgary War Veterans, Barons, Burdett, Nick Williams All-Stars, Oyen and Maple Creek ran up a record of 20-4 in 28 games, 23 of them starts, all complete games.
Middle - Emery Webb mainly pitched for Vulcan, but added starts for Taber, Carmangay and Drumheller racking up an 12-3 won-lost mark in 18 games, 15 of them starts.
Right - Luke Glaven who played early in the season with the Moose Jaw Robin Hoods then pitched for at least three semi-pro teams in Alberta, Barons, Oyen and the Nick Williams All-Stars compiling a record of 9-2 in 11 games. He was 2-2 with a .333 batting average in 12 games with Moose Jaw and was an outstanding pitcher and hitter for the semi-pro clubs. Glaven, under the name Glavenich had, in 1914, pitched in one game in the major leagues with the Cleveland Indians. Glavenich, like Juney his teammate in Alberta in 1919, was a product of St. Mary's College in California.