(July 1) Barons captured top money at the Carmangay Dominion Day Tournament downing the host club 8 to 3 in the final behind the solid hurling of Phil Hovey. Barons earlier defeated Claresholm 12 to 8. George Moore led the winners with three long wallops.
Hovey (W) and xxx
Skinner (L), Naffer (1) and xxx
---
(July 8) Six teams competed in the Melville Dominion Day Tournament Tuesday. Thousands attended the events until a hailstorm, one of the worst ever witnessed broke out about 8:30 and halted the final midway through the third inning with Oak Hill leading Yorkton 7-1 . Earlier, Yorkton edged Lemberg 8-7, Oak Hill trounced Melville 11-1, Yorkton downed Melville 7-5.
---
(July 15) Carmangay Tournament. Barons won the Southern Alberta League Tournament at Carmangay Tuesday edging Champion 5-4 in ten innings in a thrilling tourney final. In the extra frame Josh Moore drew a 12-pitch walk off Lester Haynes and promptly stole second. Frank Juney, who had four hits, followed with a single to bring in the winning run. Barons had taken a 2-0 lead in the fourth inning on Juney's single, Oscar Berg's triple and an infield out. Champion rebounded with three in the fifth on hits by Burroughs and Buckley and two Barons' errors. Barons regained the lead in their half of the fifth on Juney's safety, Berg's second three-bagger and Dick Nelson's long fly to left field. In the sixth, Champion tied the count as Haynes smacked a triple and Charlie Starr brought him home with a single. It was viewed as the finest game of the season.
Hovey (W) and Williams
Haynes (L) and Grady
Champion reached the final downing Carmangay 7-6. Champion tied the score with a run in the sixth and got the winner in the seventh. Lester Haynes relieved starter Si Siler in the sixth and pitched shutout ball the rest of the way for the victory. The game featured 23 hits, 12 by the losers.
Siler, Haynes (W) (6) and Grady
Webb (L) and Jensen
Barons broke up a tight game with four runs in the ninth inning to dump Claresholm 8-3 in the first game of the tournament. They opened up an early 4-0 lead before Claresholm battled back with singletons in the fourth, seventh and eighth to make it a one-run game. Barons rapped out 16 hits including a triple by Luke Glaven and two-baggers by Dick Nelson and Nick Williams. Ted Easterly bagged a triple for Claresholm. Frank Juney scattered ten hits and fanned eleven in going the route for Barons.
Juney (W) and Williams
Young, Myers and Easterly.
---
(July 19) Champion Tournament Barons pounded out 15 hits off two of the best amateur hurlers in the province Saturday to whip Champion 7-1 to win the Champion Tournament. Oscar Berg, who had three hits in the first game, smacked four more and Wiggins cracked three, one of them a home run, as Barons lit up Lester Haynes and Si Siler. Champion got an early sign this was not to be their day as leadoff hitter Powers slugged the first pitch for a homer. In the third frame, Wiggins got his circuit blow and the Barons added another in the fourth on hits by George Moore, Frank Juney and Berg. Nick Williams cracked a three-bagger to plate a run in the fifth and hits by Berg and Hovey got a runner homer in the seventh. Wiggins drove in another marker in the ninth. The lone Champion run came on a homer by Charlie Starr who had three of the six hits allowed by winning pitcher Phil Hovey.
Hovey (W) and Williams
Haynes (L), Siler and Allen
Oscar Berg rapped three hits and scored three times and Wiggins and Baska added three hits apiece as Barons topped Claresholm 7-2 in the tournament opener. Frank Juney fashioned a five hitter for the win.
Young (L) and Easterly
Juney (W) and Williams
---
(July 23) Barons Tournament Champion and Barons battled to a 3-3, 11-inning draw draw in an exciting finish to the Barons Tournament. Champion came to town loaded up with six of Vulcan's best players in a desperate attempt to grab top money in one of the league's tourneys, Barons having won at both Carmangay and Champion. Both teams sent their talented southpaws to the mound, Phil Hovey for Barons and "Pep" Williford for Champion. It was a pitchers' battle from start to finish until called after 11 innings because of darkness. Barons took the lead in the third inning as Nick Williams drove in Oscar Berg. Champion was blanked until the ninth when Charlie Starr tied it with a homer. In the top of the 11th, Barons went ahead 3-1 on an error and hits by Hovey and Frank Juney. Champion roared back in the bottom of the frame when Starr slugged a triple and Buckley followed with a two-bagger. "Frisco" Edwards, who had four hits, then singled to score Buckley with the tying marker. Barons hit machine, Oscar Berg, had three more safeties.
Hovey and Williams
Williford and Edwards
In the opening game of the tournament Champion downed Claresholm 4-1 as Si Siler twirled a six-hitter. Bert Knudson took the loss. Claresholm hurt itself making four errors.
Knudson (L) and Easterly
Siler (W) and Grady
---
(July 29 Claresholm Tournament Claresholm, the host team, captured top money in the latest Southern Alberta League tournament. Claresholm shaded Champion 7-6 in the final.
Knudson (W) and Easterly
Haynes (L) and Grady
Champion had beaten Barons 4-2 in the opener behind the sterling mound work of Si Siler.
Williams (L) and Jensen
Siler (W) and Grady
---
(August 1) The hometown Unity squad won the Unity Tournament Friday defeating Kerrobert in the final. Unity had qualified for the final with a win over the amalgamated Scott-Wilkie team while Kerrobert topped Cut Knife.
---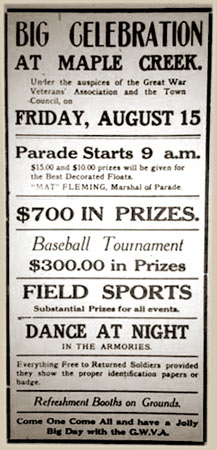 (August 15) Maple Creek Tournament American hurler Frank Juney put on a spectacular pitching display at Maple Creek Friday as the home squad won the Maple Creek tournament, a highlight of the Great War Veterans celebration. Juney, one of the imports from the Nick Williams All-Stars, pitched both games for Maple Creek, getting 4-0 and 8 to 0 shutouts over Swift Current and Leader tossing a no-hitter and racking up 42 strikeouts.
Juney fanned 24 in fashioning the no-hit, no-run game in the opener. Catcher Nick Williams provided enough for the victory with a home run in the fourth inning. "Tanlac" Hastings, McAllister, Earl Bell, McIlhinney and Juney distinished themselves with the stick. Roy Brown, the former Moose Jaw Robin Hood, took the loss.
Juney (W) and xxx
R.Brown (L) and xxx
In the tournament final, Juney allowed just two hits and set down 18 by stirkeouts for a day total of 42. Williams slugged another homer and Phil Hovey knocked out three hits. Earl Bell, an import from Medicine Hat, started a five run rally in the second inning with a three-run homer. Hill got both hits for Leader. The games drew record crowds.
Juney (W) and xxx
xxx and xxx
In an afternoon game Leader defeated Gull Lake 11-1 in a contest far better than the one-sided score would indicate.
* With much thanks to Philip Pype, Archivist at Medicine Hat's Esplanade Arts & Heritage Centre for digging out the information from the Maple Creek paper.