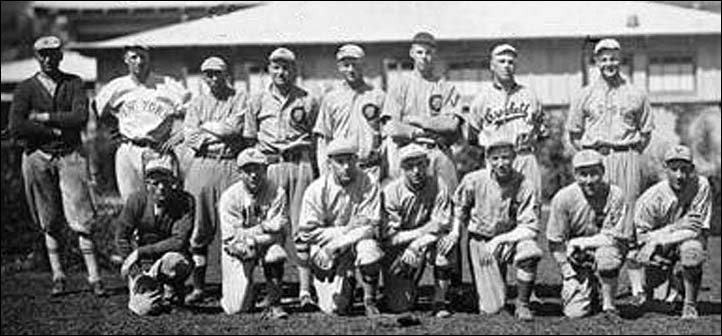 Back Row (left to right) Adolph Machold P, Fred Libke P, Roy Watson C, Henry "Heinie" Manush OF, Sam Leake C, Floyd "Lefty" Herman1B (prior to being tagged with the nickname "Babe"), Fred Snodgrass (guest coach and former New York Giants outfielder), Ed Pillette P.
Front Row - George Jones P, "Stubby" Higert SS, Al Gioia 3B, Eddie Miller SS, Stupin IF, Phil Apperson OF, Stanley Pillette SS

Stan Pillette, "Stubby" Higert and Stupin (first name unknown) were all released and never appeared in any 1921 W.C.B.L. regular season games.
The photo was taken sometime during April,1921 when the team played exhibition spring training games at Crockett, California (in the SF/Oakland area).

Fred Snodgrass, the guest coach, was also a scout and was instrumental in bringing both Herman and Manush to Edmonton. Playing manager Gustave "Gus" Gleischmann was not in the photo as he was in the hospital recuperating from injuries sustained in an automobile accident. Fred Snodgrass handled the team temporarily in Gleischmann's absence.