(June 7) Former Winnipeg Maroon Leo Seiffert held Dooley, Montana, to six hits and whiffed 16 in pitching Weyburn to a 5-3 exhibition victory. Seiffert fanned nine of the first 12 batters. In the seventh inning, the former pro cracked one of the longest home runs ever hit at the Weyburn diamond to give the locals the lead.
xxx and xxx
Seiffert (W) and xxx
---
CALGARY SENIOR AMATEUR BASEBALL TOURNAMENT
(June 25-28) Teams - Blairmore, Calgary Hillhurst Hustlers, Calgary Riverside, Calgary Y.M.C.A., Olds, Rockyford
(June 25) Calgary YMCA took the opening game by default after the Calgary Hillhurst Hustlers left the field in bottom-of-seventh inning Monday over a umpire's decision and resulting melee. YMCA was leading 6-3 when the game was called.
MacKenzie (W) and Savage
Castagner (L) and McNabb
(June 27) Rockyford broke loose for six runs in the seventh inning Wednesday to erase a 6-4 deficit and went on to down Calgary Riverside 11-6. The winners pounded out 18 hits of Jean Bride, three apiece by Walker, Ralph Knight and Stacey. Mickey King had a home run for Calgary.
Bride (L) and D.Goss
Earl Brown, Glickman (W) (5), Callaghan (7) and M.Smith
(June 28) The good news for Olds was that they outscored the powerful Rockyford nine 6-2 over the last seven innings. The bad news was they were trailing 15-0 after the first two as Rockyford advance to the final of the Calgary Tournament with a 17-6 victory. Right fielder Earl Brown led a 13-hit attack with four singles. Catcher McDonald had three hits for Olds which managed 12 safeties off Callaghan who went the distance for Rockyford.
Hanson (L), Russell and McDonald
Callaghan (W) and Stacey
(June 28) With Lefty Brown hurling a six-hit shutout, Rockyford romped to the championship trophy and medals at the Calgary Tournament with a 8-0 victory over Calgary YMCA. Only one of the Rockyford runs was earned as the Calgary nine booted the ball eight times. Second sacker McIntyre led the winners with three hits.
Lefty Brown (W) and M.Smith
Sabourin (L) and Savage

---
(June 27) Ray Drew fired a no-hit, no-run game, the second of his career, Wednesday as Wilcox dumped Milestone 8 to 0. Only three men reached base, one on an error and two on walks. It was the seventh straight win for Wilcox without a loss. Drew's win was his ninth consecutive victory. Wilcox scored four runs in each of the second and third innings.
Drew (W) and Cleveland
Moerkle, Cottlingham, Houghtaling and White
---
ARCOLA TOURNAMENT
(July 19-20) In the opening contest, Arcola, behind the strong hurling of Jacobi, dumped Kisbey 10-2
Jacobi (W)and Jones
Marlow (L) and Hall
Weyburn won its game by default as the Kennedy team was unable to field a full team.
Grenfell pushed across three runs in the seventh and final inning to down Antler 4-1. The game featured a pitching duel between winning hurler Hogg of Grenfell and Hidlebaugh of Antler.
Hogg (W) and Stenchel
Hidlebaugh (L) and George Stuckey
Remple hurled Wapella to an 8-1 triumph over Russell. Amby Moran, who did the receiving for Russell, pleased the crowd with his fine catching.
Remple (W) and McNeally
Logel (L) and Moran
In semi-final action, Grenfell shaded Arcola 3-2.
Lefty Moody (W) and Stenchel
Jacobi (L) and Jones
Weyburn slipped by Wapella 7-4 as Lefty Hartman, kept Wapella off balance with his puzzling delivery which featured pitches from all angles.
Lefty Hartman (W) and Steinert
Remple, Purdy and McNeally
Weyburn took $300 first prize money downing Grenfell 8-1 in the final. Veteran Wally Schupe turned on a strong mound effort for the winners.
Schupe (W) and Steinert
Hogg, Moody and Stenchel

---
SASKATOON EXHIBITION TOURNAMENT
(July 24) The second edition of the baseball tournament associated with the Saskatoon exhibition got underway with $1,000 in prize money at stake. The team from Kinley, after getting away to a weak start, settled down in the middle and late innings and went on to defeat Dundurn 7 to 6. Powell, the Kinsley heaver, surrendered seven hits and was better able to come through in the pinches than losing chucker Ramsay who was touched for eleven hits. Powell fanned ten Dundurn batters while Ramsay rang up nine strikeouts. Outfielder Cummings had two doubles and a single for the winners and teammate Dunbar, the shortstop, laced a triple and two singles. First baseman Rowe, with a double and single, paced Dundurn's hitters.
Ramsay (L) and Hamilton
Powell (W) and Johnson
(July 24) A heavy downpour at Cairns Field forced postponement of the Conquest-Lanigan game.
(July 25) Conquest knocked out six hits for four runs in the fourth inning and went on to an 8-4 victory over Lanigan to advance to the second round of the tourney. Everyone in the lineup got at least one hit for the winners with Fisher and Johnson with two-baggers and Murray with the lone triple. Koshi, who had three hits, one a double was best for Lanigan. Douglas survived 13 hits to go the distance for Conquest, racking up ten strikeouts, walking four. Murray, the second baseman, made several stellar plays, including a romp into centre field to bring down a short fly ball and later an unassisted double play.
Green (L), Rodgers (4) and H. Wolfe
Douglas (W) and Washburn
(July 25) Bad weather continued to plague the tournament. In an abbreviated four-and-a-half inning contest, Eatonia slipped by Watson by the tune of 3 to 2. Three consecutive hits in the fourth frame off losing twirler Gunstell, the sum total of their offensive production, accounted for all three of Eatonia's runs. In spite of the constant drizzle, snappy fielding, good pitching and clean hitting were featured throughout the game. Winning tosser Moore allowed five hits and struck out nine. Gunstell whiffed six. Watson shortstop "Bunny" Cook of hockey fame, was the only batter on either squad to manufacture two base hits, a two-bagger and a single.
Gunstell (L) and Ferguson, Rees
Moore (W) and Bigelow
(July 26) Behind the two-hit pitching effort of Ellis, Wadena whitewashed Grandora 7 to 0 in the morning game. Ellis fanned 11 in earning the complete game mound triumph. Wadena collected 9 hits and played errorless afield in chalking up the comfortable win. Catcher Eric Quist picked up three singles for the victors while third sacker Dufour contributed a double and a single.
Ellis (W) and E. Quist
Grey (L), Moore (7) and Thompson, Currie
(July 26) The noon game saw Denholm slap down Humboldt 9 to 4. Scoring twice in the top of the first frame, Denholm never lost the lead. The winners racked up 13 hits off a pair of Humboldt chuckers as catcher Scott led the way with a double plus a brace of one-baggers.
Bird (W) and Scott
Beyel (L), Sanson (6) and Conners
(July 26) Shortstop Bill Dunbar hit a double, triple and home run, fielded in sensational style and was altogether the big noise in Kinley's 11 to 3 trouncing of Macklin in the evening encounter. Kinley's Jerry Cummings tossed a five-hitter and whiffed seven in recording the hill victory. His batterymate, Johnson, nicked the duo of Macklin heavers for a trio of singles.
Cummings (W) and Johnson
Brown (L), Henry (4) and Batey
(July 27) Each team utilized three pitchers as Wadena took a 17 to 11 slugfest from Denholm in the early game. The combatants combined for 35 hits in this pitchers' nightmare with the victorious Wadena aggregation accounting for 20 of them. Third baseman Dufour stroked a home run, two doubles and a single in pacing the winner's attack. Teammate Millar collected a double and three singles while Robertson drilled a pair of doubles and a three-bagger.
Amundrud, Remple (6), Ellis (W) (7) and E. Quist
Bainbridge, Everett (L) (1), Bird 8) and Scott
(July 27) Another loosely-played contest in the day's finale saw the Conquest nine drub Eatonia 13 to 8. A plethora of base hits combined with shoddy defensive play by both teams characterized the proceedings. Eatonia fell behind early and wound up using four pitchers in an effort to stem the tide. Conquest held a 12 to 9 edge in base hits. Outfielder Johnson clubbed a brace of doubles for the winners while third baseman Dalton was Eatonia's best with the hickory, slamming a triple and double.

Following the game, a draw was made involving the three remaining teams, Kinley, Conquest and Wadena, and Kinley was the lucky team to receive a bye into the tournament final.
Murray (W) and Washburn
Moore (L), Dafoe (3), Bagley (7), Dalton (9) and Bigelow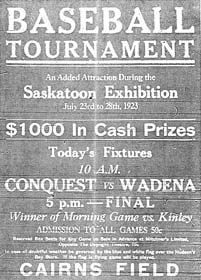 Left - an ad which appeared in the July 28th edition of the Saskatoon Phoenix announcing the semi-final and final tournament games.
In the small print near the bottom, fans were informed that in case of doubtful weather, they were to watch for a blue and white flag flying over the Hudson's Bay Store. If the flag was flying, all systems were go and the game would be played.
(July 28) In a tournament semi-final match, Wadena eliminated Conquest, the winner of the inaugural exhibition tournament in 1922, 4 to 3 in eleven innings. No game details appeared in the print media sports pages. .
(July 28) Kinley, led by Bill Dunbar, defeated Wadena 10 to 5 to capture the 1923 Saskatoon exhibition week tournament. Dunbar belted his second four-bagger of the tourney, a two-run shot to go along with a double. Teammate L. McMahon collected three hits including a pair of triples. Losing twirler Ellis of the Wadena nine had three singles.
Powell (W) and Johnson
Ellis (L), Amundrud (3) and E. Quist
---
EDMONTON TOURNAMENT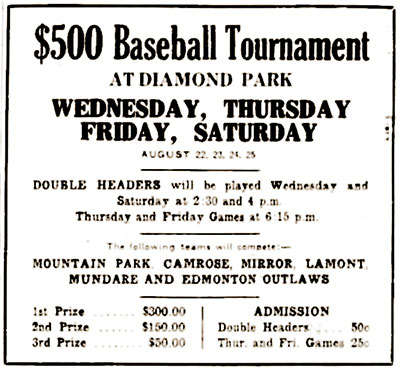 (August 22-25) The Edmonton Outlaws, composed of players who had their amateur cards suspended by the Alberta branch of the A.A.U. in early August, were the motivators behind the formation of this semi-pro tournament. Rain forced the tourney into an unexpected extra day of play.
(August 22) Two easy victories marked the opening of the six-team Edmonton Baseball Tournament. Mountain Park crushed Calder 12-0 and the Edmonton Outlaws whipped Camrose 11-1.
In the lid-lifter, Cliff "Tiny" Turner fashioned a two-hit shutout with nine strikeouts and no walks for Mountain Park in the seven-inning contest. Bissett led a ten-hit attack for the winners with four singles. Turner had the game's lone extra-base hit, a double. Mountain Park scored three times in the first inning and cruised to the victory.
Dodds (L) and Diamond (6) and Tobin
Turner (W) and Keating
Edmonton Outlaws erupted for three scores in the initial stanza en route to an 11-1 triumph over Camrose. Catcher Laurie Scott and third sacker Jack Starky each rapped three hits for the winners. Starky had the lone extra-base swat, a double and drove in three runs. Norman Dodge fired a six-hitter for the win. He had just two strikeouts and a walk. Joy, the losing pitcher, fanned ten and walked six.
Joy (L) and Adams
Dodge (W) and Scott

(August 25) In a game described in the paper as "about the niftiest exhibition of the diamond pastime seen here this season", Mirror edged Lamont 5 to 4 at Diamond Park. Leading 2-1 after six innings, Mirror scored three in the seventh and held off Lamont rallies in the eighth and ninth for the win. Kadlac went eight innings to pick up the win. Walker relieved in the ninth after Lamont had scored a pair to climb to within a run, but he fanned the next three batters to save the game. Each team had 11 hits, with Pete Ryan, Jerry Stacey and Joe "Red" Tulloch each with a pair for the winners.
Oslund (L) and Humphrey
Kadlac (W), Walker (9) and S.Ray
(August 26) In a tournament semi-final, Edmonton Outlaws upended Mirror 6-1 to advance against Mountain Park for the $300 top prize. Outlaws broke up a tight battle with a five-run eighth inning. Norman Dodge had a no-hitter through five innings but weakened in the late going. In the seventh, Mirror loaded the bases with one out but a snappy double play got him out of trouble. Dodge retrieved a grounder and threw home for an out and Laurie Scott fired to first to end the frame. Bill Walker, for Mirror, had a two-hitter before the Outlaws broke out in the eighth. Mirror had six hits, one more than Edmonton. Jack Starky had a double and single and scored twice for the Outlaws. Dodge fanned nine with no walks. Walker set down 13 by strikeout and walked three.
Walker (L) and S. Ray
Dodge (W) and Scott

(August 26) Steve Chekaluk blanked the Edmonton Outlaws on two hits to lead Mountain Park to the $300 top prize in the Edmonton Tournament. He racked up 13 strikeouts and walked a pair. A three-run first inning proved enough for the victory. Mountain Park got big offensive games from second baseman Scott, with four hits, and Tiny Turner, playing the outfield, with three.
Hawley (L), Starky (1) and Scott
Chekaluk (W) and Watson