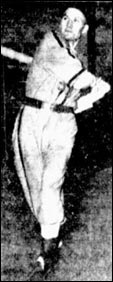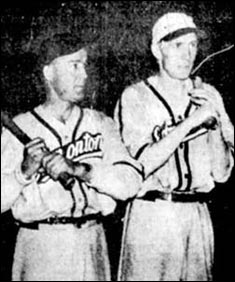 Above, left to right - shorstop Woody Huckabay of Calgary Purity, outfielder Jimmy Lowe Purity, and, 2nd from the right, catcher Ken Samis (left) and outfielder Dave Brockie of Edmonton Eskimos. Below left - Calgary Buffaloes shortstop Charlie Stroulger and (right) Buffs first sacker Babe Work.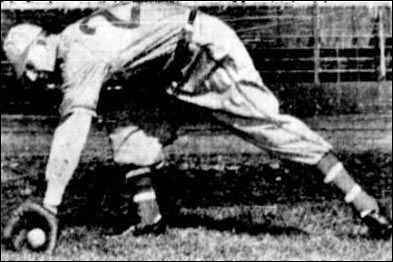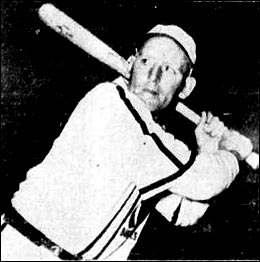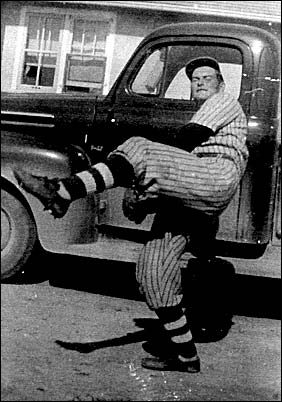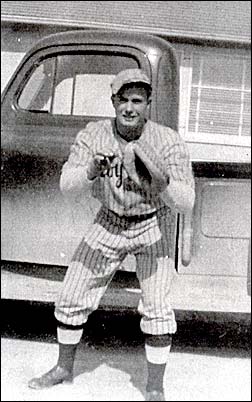 Brothers Ernie (left) and Roy Porkka (right) , who played in Southern Alberta with the Foremost Braves and Picture Butte Royals & Indians in the late 40's and early 50's.
The photographs were taken at the family farm north of Picture Butte in 1948. (Photos courtesy Rob Porkka)
Picture Butte Royals or Indians ? Roy Porkka explained :
" ... Picture Butte was represented by an older team, the ROYALS. They wouldn't let any of the younger players onto the team and Harry Watson, a businessman in town, put together a team of younger players and others who could not get on to the Royals and took their cast off uniforms. This new team competed around Southern Alberta for a year at various tournaments and made enough money to buy new uniforms the following year. This new team was the INDIANS. In the next year there was a big playoff to see who would represent Picture Butte and the Indians won."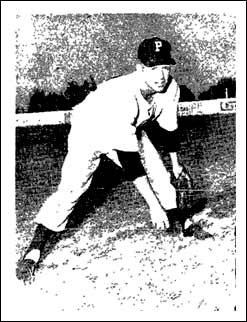 Left - 17-year-old Del St. John as a junior with Pincher Creek in 1948.
A catcher, St. John was touted as the best prospect in Southern Alberta, being wooed by teams in Calgary and Lethbridge. (Lethbridge Herald, July 10, 1948)
Right - Lethbridge's Joe Tufteland, signed by the Dodgers, went 18-2, 2.29 in his pro debut with Ponca City of the KOM League.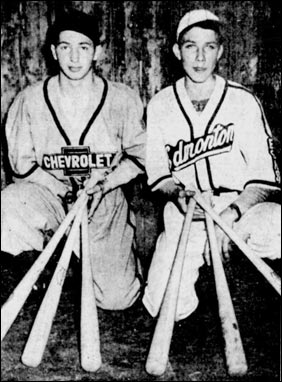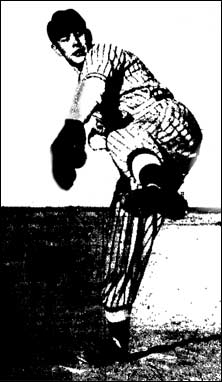 Left - Even the batboys had their 15 minutes of fame.
In May, 1948, the Edmonton Journal carried a photo of Edmonton batboys Lefty Simovitch of the Edmonton Cubs (left) and Myron Kupnowicki of the Eskimos. The boys were selected after being judged winners of an essay contest, "Why I want to be a bat boy at Renfew Park".
Right - Don Menzies of the Lethbride Reos of the Southern Alberta League.
Below left - Young Colin Kilburn, a local baseball and hockey star, gets a tryout with the Edmonton Eskimos of the Big Four league. The catcher is the Esks playing manager Eddie Morris.
Below right - Catche Ernie Choukalos of Calgary Purity 99. Choukalos, who also played football with the Calgary Stampeders, went on to a pro career in baseball.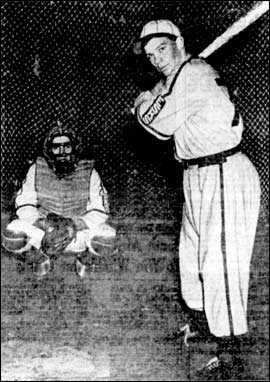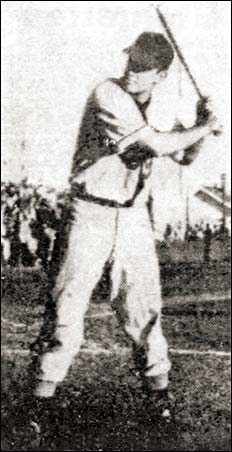 Below - opposing managers in Alberta's Big Four League. Both were catchers, Eddie Morris (left) of the Edmonton Eskimos and (right) Laurel Harney of the Edmonton Chevrolet Cubs.