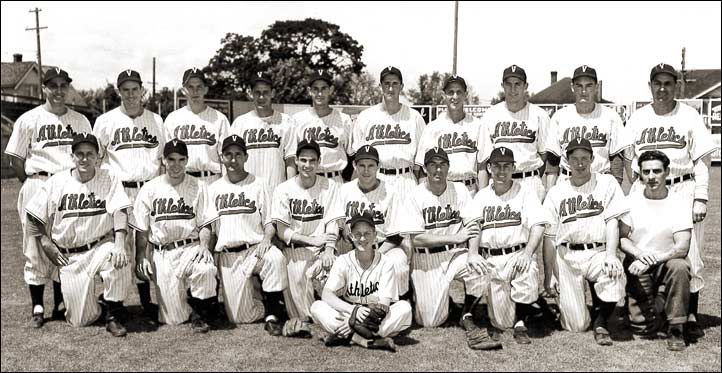 Only two IDs so far - Sal Recca is on the far left, standing. Len Kasparovitch is third from the left, kneeling.
1948 Victoria Athletics of the professional Class B, Western International League. Team roster :
Chuck Balassi, Joe Blankenship, Vic Buccola, Frank Cirimele, Michael Dalton, Roy Gilmore, Albert Goot, William Harmsen, Gil Hawkins, Lauritz Jensen, Paul Jones, Len Kasparovitch, Robert Koraleski, Lou Kubiak, Frank Logue, Dick Morgan, Ted Norbert, Delmer Owens, Jack Palmer, Richard Powers, Jim Propst, Sal Recca, Richard Walkingshaw, Russell Walseth, Larry Ward, Archie Wilson
The back of the photo shows the signatures of 20 players - Jimmie Propst, Del Owens, Bill Harmsen, Walt Eads (not listed above on the Victoria roster), Al Goot, Russ Walseth, Carlos Ballagente (also not listed on the roster), Frank Logue, Len Kasparovitch, Lauritz Jensen, Sal Recca, Vic Buccola, Archie Wilson, Dick Morgan, Joe Blankenship, Lou Kubiak, Chuck Balassi, Berlyn Hodges (Bat Boy), J.B. Palmer, Ted Norbert.