INTERCOUNTY LEAGUE

(1948 London Majors team photo)
(March 24, 1948) According to The Sporting News, Johnny Futcher has signed with Daytona Beach of the Florida State League after a tryout at the invitation of the Washington Senators. Futcher, a 22-year-old shortstop, played with St. Thomas of the Inter-County League.
(August 24) Auggie Herchenratter of the Waterloo Tigers captured the Senior A Intercounty batting title with a .369 mark. Russ Evon of London Majors, the runner-up last season, again finished second, this time at .367. Tied for third at .345 were Johnny Bain of Kitchener and Clare Martin of Waterloo. Evon topped the circuit in doubles with 10. Billy Flick of Stratford Nations led in stolen bases with 16 and Tom McGratton of Brantford Red Sox tied with Evon for the most runs batted in - 23.
Intercounty Final Series
(August 6) Toronto Staffords trounced Windsor Sterlings 15-4 to advance to the final day of play in the Canadian Sandlot Baseball Congress series. Staffords punched out 18 hits off three Windsor hurlers. Joe Spring was the winner for Toronto. Third baseman Shea had four hits to lead the offense.
Spring (W) and Doherty, Short (1)
Gilbert (L), Camlis, Davis and xxx
(August 6) London Majors downed Waterloo Tigers 5-3.
xxx and xxx
xxx and xxx
(August 7) London Majors clipped Waterloo Tigers 13-3 to capture the Canadian Sandlot Baseball Congress title. Before 6,000 fans at London, the Majors jumped into a 4-run lead in the first inning than added six more in the second. Don Cooper had the big bat for the winners knocking in eight runs with a grand slam homer, a two-run triple and a two-run single. Tommy White survived 11 hits to take the win.
xxx and xxx
White (W) and xxx
Tigers reached the final by trouncing Toronto Staffords 11-0 in an afternoon tilt. A big seventh inning in which they scored six times put the game out of reach.
xxx and xxx
xxx and xxx
(September 1) In the Intercounty final series, London Majors took a 2-0 game lead in the best-of-seven set with an 8-4 win over Waterloo Tigers at Waterloo. Tommy White held the Tigers to nine hits in registering the win. Waterloo took the lead with three runs in the 3rd inning on two singles and two errors. Majors tied the count in the 6th, took the lead in the 7th and wrapped up the win with three in the 9th. Russ Evon led the offense with three hits, including a triple and double. White helped his own cause with two hits and two runs scored.
White (W) and xxx
xxx and xxx
(September 2) The National Baseball Congress announced a Canadian-American series would be held in mid-September matching the non-professional champions of the two countries. A tentative starting date of September 16th was set for the best-of-seven series. The winner has been invited to play a series of games in Mexico this fall. Meeting at London will be the two 1948 champions, London Majors and Fort Wayne, Indiana, General Electrics. Both are repeat winners, having won national titles in 1947.
(September 2) London Majors jumped into a 3-0 game lead in their final series downing Waterloo Tigers 8-6 at home. Bill Wagner was the winner stranding 12 Tiger runners. Joe Bechard led the Majors attack with a triple and double. Ike Koslowski had three hits and Milt Schmidt a pair for Waterloo. The turning point came in the 4th inning when the Tigers had the bases loaded with one out. Ken McFadden made a sensational grab on Archambault's liner and doubled Gallinger off third base to end the threat.
Jack Giffen (L), Cy Bricker (3) and xxx
Wagner (W) and xxx
(September 6) Ken McFadden drove in the winning run in the ninth inning to give London Majors a 4-3 victory over Waterloo and a four-game sweep of their final series. Bob Fisher had tied the match in the 8th with a homer.
xxx and xxx
xxx and xxx
---
(September 13) Brantford Red Sox captured the Intercounty Baseball League Senior "B" playoffs defeating Galt Terriers 5-4 in 10 innings in the deciding game of the best-of-seven series. Abie Scott was the hero for the winners coming through with a sharp liner down the third base line to score Bill Johnson with the winning marker with two out in the extra frame. Angelo Torti, in right field for the Sox, made six smart putouts. Galt's biggest crowd of the season, more than 2,200, watched the game.
---
Ontario Final Series
(September 11) London Majors took the opener of the Ontario Senior Baseball final 10-5 over Windsor.
xxx and xxx
xxx and xxx
(September 12) Windsor Ryancretes edged London Majors 12-10 in a slugfest at Windsor Sunday to tie their best-of-five playoff series at a game apiece before more than 6,000 fans at Windsor. The contest featured 31 hits and 10 errors.
xxx and xxx
xxx and xxx
(September 15) London Majors crushed Windsor Ryancretes 11-4 to take a 2-1 game lead in the Ontario Baseball Association senior semi-final. A five-run 5th inning was key for the Majors. Tommy White went the distance for the win. Russ Evon had a four-bagger for London. Jeff Hilliere belted a two-run homer in the 6th for Windsor.
Casezolla (L), Lefty Oleynik (5) and xxx
White (W) and xxx
(September 19) Tommy White registered his 9th straight playoff victory as he hurled the Majors to a 13-2 win over Windsor Ryancretes and a 3-1 game victory in their best-of-five Senior "A" series. White scattered ten hits in taking the mound triumph and helped the offense with three hits including a 6th inning homer.
White (W) and Fairs
Parent (L), Casezolla (3), Ferriss, Olenik and Robinet
---
North American Final
In Ontario, the London Majors of the Intercounty Baseball League, defeated the Fort Wayne (Indiana) General Electrics in a best-of-seven series to capture the North American Sandlot championship. Fort Wayne was fresh from winning the National Baseball Congress title in the United States.

(Sept 21) Joe Bechard (left) singled in Johnny Lockington with the winning run in the 11th inning as London Majors topped Fort Wayne General Electrics 8-7 in the opening game of their series.
Bechard had four hits, including a two-run homer and triple. He had earlier tied the game with a single in the 9th.
Bobeck, Feeney and Horman
Dumouchelle, Wagner and Fairs


(Sept 22) Fort Wayne Electrics, held to just four hits, built an early 3-0 lead then held on to shade London Majors 4-3 to tie the best-of-seven series at a game apiece. Charlie Shipman (left) scattered seven hits to register the win.
Cy Bricker (right) was the hard-luck loser. Russ Evon and Joe Bechard had back to back homers for the Majors in the 7th inning.
Bricker (L) and Robertson
Shipman (W) and Sewell

(Sept 23) Gord McMackon (left) squeezed Johnny Lockington home with the winning run in the bottom of the 9th inning as London Majors took a one game lead in the series with a 6-5 victory over Fort Wayne at London. Tommy White went the distance for the win. Majors chased Bill Brandt with a four run 2nd inning. Virgil Feeney finished up for the Americans.
Brandt, Feeney (L) (2) and Sewell
White (W) and Robertson

(Sept 25) The Fort Wayne offense broke loose for 13 hits in a 12 to 4 win to knot the series at two games each. Leonard Bobeck (right) fired a six-hitter for the win.
Dumouchelle (L), Fairs and Robertson
Bobeck (W) and Sewell

(Sept 27) Charlie Harmon's three-run homer in the 9th inning gave Fort Wayne a come-from-behind 3-2 win over London and a 3-2 game lead in their international series. Charlie Shipman again topped Cy Bricker. Shipp allowed 11 hits and fanned 12. Bob Winters of Fort Wayne and Joe Bechard of London each had three hits in four trips.
Shipman (W) and Sewell
Bricker (L) and Robertson

(Sept 28) London Majors trounced Fort Wayne 13-1 to force a seventh and deciding game in the Sandlot Baseball World Series. Tommy White fired a five-hitter for his 14th consecutive win on the season and second of the series. Majors, who pounded out 18 hits, got off to a good start as Joe Bechard belted a grand slam homer in the first inning. Johnny Lockington led the attack with a triple and two doubles. Stan Shargey had two hits for the losers. Bill Brandt (right), a former major league pitcher with Pittsburgh, failed to get out of the first inning for the Americans.
White (W) and Fairs
Brandt (L) , Feeney (1) and Sewell


(Sept 29) 24 hours after pitching a five-hitter to keep London's hopes alive in the Sandlot World Series, Tommy White (left) pitched a five-hit shutout to lead the Majors to a 5-0 victory over Fort Wayne General Electrics in the seventh and deciding game of the series. It was White's 15th straight win and third of the series. Majors erupted for five runs in the 9th to win. The final featured a brilliant pitching duel between London's White and Leonard Bobeck of Ft. Wayne as both matched goose-eggs for eight innings. London broke the deadlock in the top of the 9th as Don Cooper was hit by a pitch and catcher Jack Fairs (right) reached on catcher's interference. White singled to right to score pinch-runner Bobby Rose. Joe Black's single to centre brought Fairs home. Majors loaded the bases as Ken McFadden reached on an error and Johnny Lockington drove in two with a double to left. Ft. Wayne fought back to load the bases in the bottom of the 9th but White buckled down to retire the side without allowing a run. White led the London offense with three hits. Majors won a cash prize of $5,775.00 for winning the North American championship.
White (W) and Fairs
Bobeck (L), Feeney and Sewell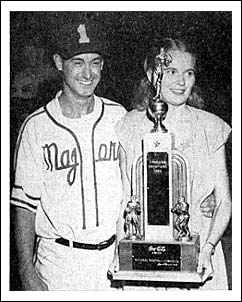 London manager Clare Van Horne receives the Coca Cola Award, emblematic of the Canadian title, from Mrs. Gord McMackon, wife of the Majors' shortstop.

Earlier, Majors had trounced Waterloo Tigers 13-3 to capture their second straight Canadian title. Before six-thousand fans, Majors took a 4-0 lead in the opening frame then exploded for six more in the 2nd to take what proved to be an insurmountable lead. Don Cooper (right) was the offensive star driving in eight runs with a grand slam homer, two-run triple and two-run single. Cooper was also brilliant in the field handling nine chances without a miscue. Gordon McMackon had three hits, including a double and knocked in three. Tommy White scattered 11 hits to rack up the win.
Bricker (L), Giffen (1), Ariss (2) and Archambault
White (W) and Fairs
(Photos from the 1949 Annual of the National Baseball Congress)


A few years later, Clare Van Horne would become infamous in a sordid tale of spurned romance and murder. In May, 1957, Van Horne used a claw hammer to beat his step-niece to death. The 46-year-old Canadian murdered 27-year-old Mrs. Nancy McLennan in her Menlo Park, California home because she spurned his attentions. Van Horne insisted that Mrs. McLennan, who brought her two daughters to Menlo Park from Canada in 1956, had been his girl friend but refused to have anything to do with him when he came to visit in May. McLennan, estranged from her husband, was the step-daughter of Van Horne's brother. After originally pleading not guilty, Van Horne admitted his guilt and was sentenced to a life term at San Quentin.
---
WEST TORONTO SENIOR LEAGUE
(May 25) Mayfairs and Mahers, the top clubs in the West Toronto loop battled to a 5-5 draw at Earlscourt Park. Mayfairs came from behind on three occasions to tie Maher and retain a share of the top rung. Don Rogerson highlighted the contest with a triple and sparkling centre-field play for Mahers. Bruce Ferguson, the Mayfair hurler, pounded out a double and two singles. Archie Minarsky cracked a pair of two-baggers for Mayfairs. Keith Taylor and Andy Kowalik had the other hits. For Mahers, Mickey Seymour, Harry Connolly and Bill Harper each had a pair.
(May 29) League-leading Mayfairs added another to the win column Saturday in the first game of a twin-bill at Earlscourt Park. In the opening stanza, Mayfairs worked a double-steal for their first run. Red Gilbert drove in the winner in the next inning. Earlscourt loaded the bases in the final frame and managed a singleton but Lefty Scattalon put down the rally.
(May 29) Mahers took advantage of Westerns miscues in the final two innings to come from behind with four runs for a 6-5 victory. Bill Harper, who had a triple and two singles, drove in the winning marker.
(July 17) Gord Roach and Don Spier combined to lead Earlscourts to a 6-5 decision over Westerns. Roach fanned 10 while yielding just five hits. Spiers, who has been working out with the Toronto Maple Leafs of the International League, added to his league-leading batting pace with a double and two singles. Ed Sitarsky added a two-run triple and a single. Koyanagi and O'Hara handled the mound for for Westerns.
(July 29) The hottest hurdler in town, Goose Gostlin turned in a four-hit shutout in leading Earslcourts to a 6-0 win over Mayfairs. Gostlin fanned six and walked four.
(September 11) In the last inter-city game of the season, Toronto Westerns walloped Hamilton Nisei 15-2 at Eastwood Park. The host club fought on even terms for six innings but collapsed after Happy Ide's bases-clearing triple in the seventh. Soc Tsukamoto cracked a homer, triple and single and walked three times for Toronto. Aki Koyanagi had three hits while Bob Ohashi, Ide and Herb Miyasaki had two apiece. Three Westerns hurlers - Seiji Takata, Ken Mitsui and Aki Koyanagi - combined on a five hitter.
(September 14) Bill McBratney's long fly ball brought in the winning run as Mayfairs shaded Earlscourts 2-1 in the opening game of their West Toronto championship series. McBratney was the winning pitcher allowing just four hits.
(September 16) Goose Gostlin fired a three-hit shutout as Earlscourts blanked Mayfairs 10-0 to square their West Toronto playoff 1-1. Eddie Sitarsky knocked in four runs with three singles.
---
TORONTO VIADUCT BASEBALL LEAGUE
(May 29) Joe Spring Jr. powered Staffords to a 5-4 decision over Riverdale Grands in the opening game of Saturday's Viadcut double-headler at Millen Memorial Stadium. Spring drove in four runs, two with a double in the first stanza and another paid with a two-run homer in the fourth. Staffords managed just two other hits off the combined deliveries of Harris and Taumi Mitsui. Johnny Krycia went the route for the winners giving up five hits.
In the late game, West Yorks blasted three Milwaukke Columbus hurlers for 13 hits in an 11-4 victory. Wilson pitched six-hit ball for the winners.
(July 17) Joe Spring drove in the first two runs for Staffords then bore down to hurl a two-hitter as Staffords topped Milwaukee-Columbus Grads 6-3 at Millen Park Saturday. The win, breaking the Gradss nine game winning streak, gives Staffords an edge for the right to represent the league in the Congress district playoffs. Except for his own wildness and some sloppy play in the field, Spring would have had a shutout. Staffords hit Joe mcGowan freely but couldn't break through against Hap O'Donnell who relieved in the fourth inning.
(September 7) Vic Goberis, Stratford centre fielder, had a career day in driving home eight runs with four hits, including two homers, as Stratfords crushed Mayfairs 13-2 in the third game of the Viadcut league final series.Ralph Hosking added a double and two singles while Staynor, Short and Jeffers each chipped in with two hits. Joe Spring coasted on the mound for the winners allowing six hits. Bill McBratney took the loss.
---
(September 13) Four run outbursts in the first and fourth innings carried the Milwaukee-Columbus Grads to an 8-5 decision over Mahers in the third game of the Toronto Baseball Assocation Senior "B" finals at Millen Stadium. Mahers out-hit the winners 12 to 7 and grabbed eight walks but failed to capitalize. Triples by Pete Szoldra and Joe McGowan accounted for the splurge in the first while a pair of hits, three errors and walks made up the four in the fourth. George Phillips was the winning hurler with help from Deluca in the seventh. Phillips allowed ten hits and fanned 11.
---
TORONTO NISEI BASEBALL LEAGUE
(September 26) In a thrilling finish, the Bums captured the 1948 Toronto Nisei championship with a 9-7 victory over the defending champion Danforth Cleaners. Ronnie Mende drove in two runs in the bottom of the ninth to break a 7-7 tie. Bums had exploded for four runs on four consecutive hits in the 8th to rebound from a 7-3 deficit.
Doc Yasui, Maw Mori (W) and Yozy Yasui
Frank Sumi, George Inata, Kiyo Tamura and Saki Matsumoto