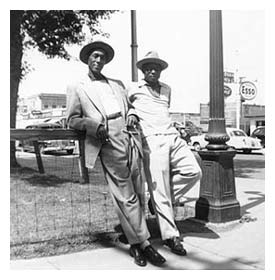 Left - The ultra cool Barney Brown, veteran lefty pitcher, and infielder Jimmy Valentine, hanging out in downtown Brandon.
Below left - three amigos, pitcher Mario Amaro, outfielder Joe Mitchell, playing manager Willie Wells.
Below right - Cuban import pitchers Mario Amaro (left) and Armando Suarez (right) displaying very different emotions. It looks as if Amaro has taken a first inning pounding and Suarez has tossed a no-hitter.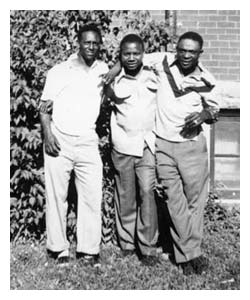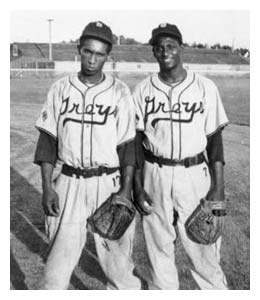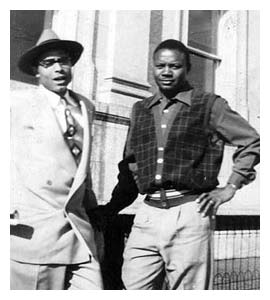 Above left - infielder Skeeter Watkins (left) with Joe Mitchell. Right - Mitchell (left) and Clarence King (right) pose in front of the Brandon bus.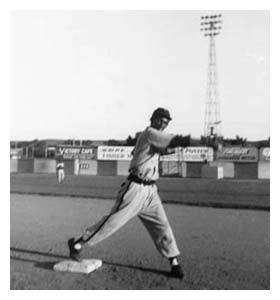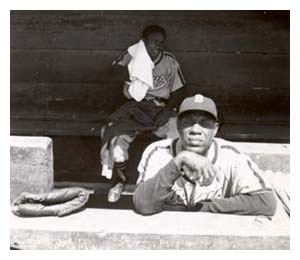 Above left - Armando Suarez. Above right - playing manager Willie Wells with an unidentified player in the dugout.
Below left - Mario Amaro. Below right - Jimmy Valentine.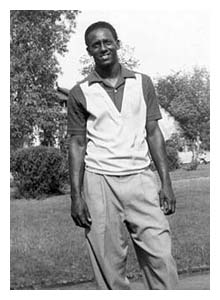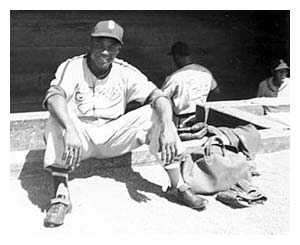 [The above photos courtesy Lois Bentley]
---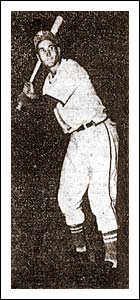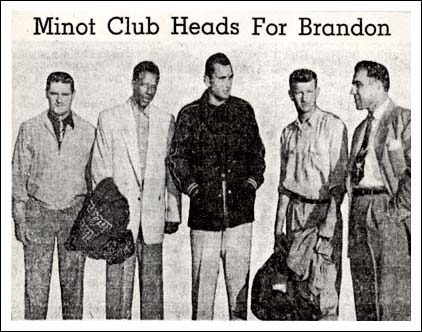 Left : Zoonie McLean, Minot's playing-manager
Right : Members of the Minot Mallards Brandon bound for the 1952 playoff series against the Greys. Left to right: outfielder Wally Jako, pitcher Mal Murray, playing-manager Zoonie McLean, third baseman Duke Bowman, and outfielder Yogi Giammarco.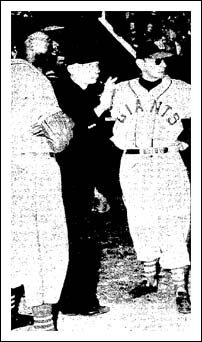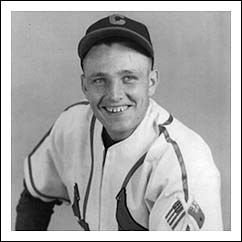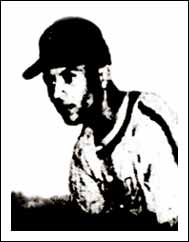 Above left - At the season opener at Osborne Stadium, umpire Jack Carrigan points out the ground rules to Gentry Jessup of the Carman Cardinals and Bill Peterson of Winnipeg Giants. Middle - Almer McKerlie, Carman's homegrown catcher. Right - Irvin Castille of Brandon.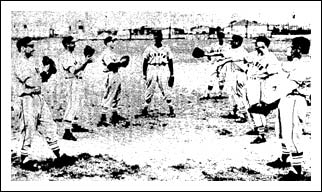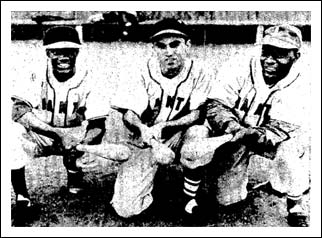 (Left) Winnipeg Giants prepare for the 1952 season. The team's initial practice was held on May 16th. Warming up are (left to right) Ray White, Al Tehero, Don Loewen, manager Bill Peterson, Mel Gallegos, Arnie Fernandez and Nick Cannulli. In the background is Jerry Powell. Winnipeg Free Press, May 17, 1952
(Right) Winnipeg rookie Jerry Powell flanked by a pair of veterans, Hal Price on the left and Jesse Douglas on the right. Winnipeg Free Press, May 17, 1952