Ah, that first season of the Lloydminster Meridians. Below, left to right - Tom Mulcahy (right-hander from Butte, Montana was a star with Gonzaga University in Spokane), Rick Herrera (pitcher-first baseman from Oakland had two years of pro ball in the Cardinals' farm system before an arm injury), Chuck McGuigan (second sacker from the University of San Francisco). All these Lloydminster photos courtesy of Tom Mulcahy.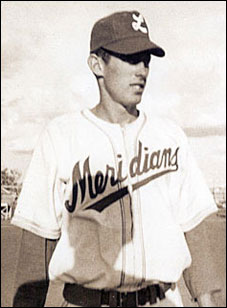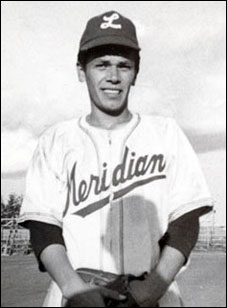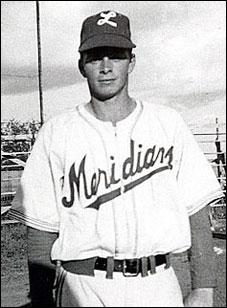 Below, left to right - Catcher Jerry Quane (from Lewiston, Idaho), lefty pitcher Bob Rosell (Chicago, Colorado State College), Arne Thunander (first baseman/outfielder from Chicago, played at Idaho State College).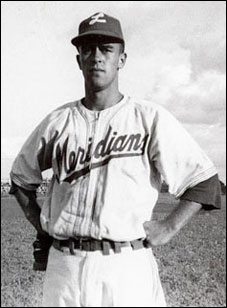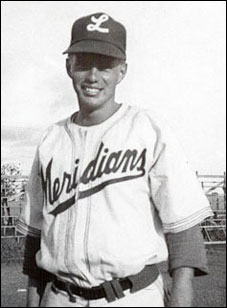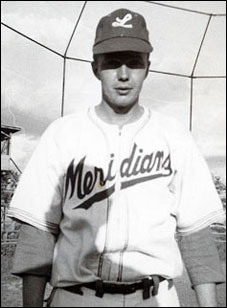 Below left - Pitcher Ron Webb from Washington State College, 1953 with La Grande, Oregon in the Tri-State League,
Below right - Lloydminster's Bob Rodness sliding home. Umpire George Pelletier was all set to call Rodness out when the ball, relayed from the outfield, got away from Indian Head catcher Miguel Miranda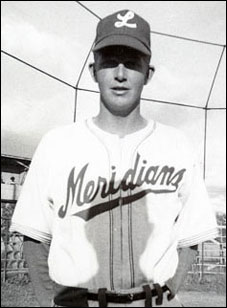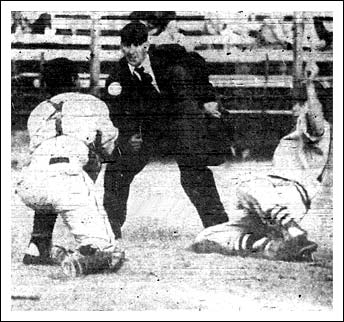 Below, left - Roberto Zayas (from Havana, Cuba, with Moose Jaw in 1953) and Johnny Ford (out of Oakland, California and North Idaho Junior College). Right - Ed Tanner (catcher from Dewdney, BC) and Oswaldo Garcia (Havana Cuba).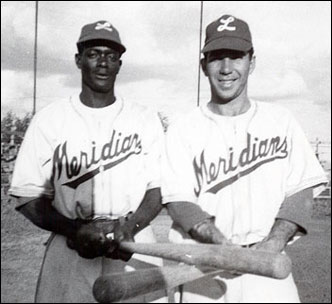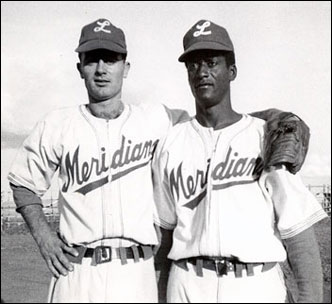 Below left - Action in a 1954 game between North Battleford Beavers and Saskatoon Gems. That's Curtis Tate sliding into 3B as Gems' third baseman Leopoldo Reyes awaits the throw. Tate and Reyes were two of the main combatants in the 1952 Rosetown Riot.
Below right - Tom Mulcahy and Ron Webb in their new Lloydminster Meridians jackets, with the Lloydminster crest.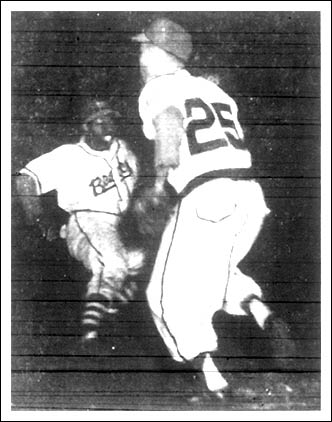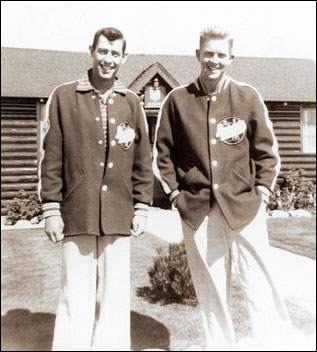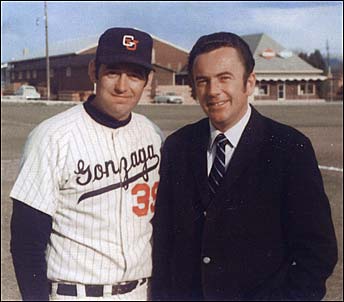 Above left - in 1968, two former Gonzaga (Spokane) University students and members of the Lloydminster Meridians (Tom Mulcahy left, 1954, and Keith Gustin, right, 1956) get together at an Gonzaga alumni affair.
Above right - Moose Jaw Mallards uniform (Pancho written into the band of the pants, perhaps Pancho Gray's). Thanks to Max Weder for the photo.
Below - left-hander Max Weekly, a baseball and football star at Sequoias Junior College in Visalia, California, takes a turn at first base. The photo offers a good view of a section of Sportsman's Park in Lloydminster.