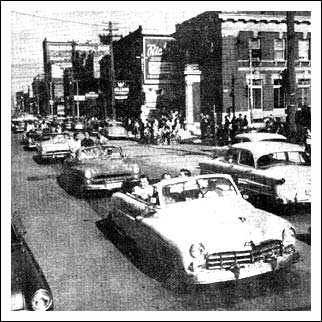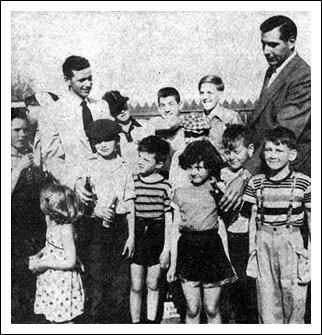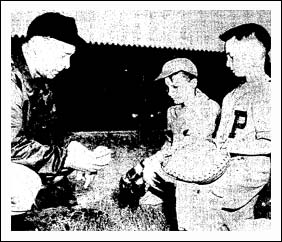 Above left - Brandon has a parade to kick off the 1954 ManDak League season. (Image courtesy Don Stewart)
Above right - Don Stewart (left) and Dan Ahtipis greet young Brandon fans as the Greys kickoff the '54 campaign (Image courtesy Don Stewart)
Left - Dee Moore, the popular manager of the Brandon Greys, demonstrates the fine arts of pitching and catching to a pair of interested Little Leaguers - George Smith (right) and Bob Taggart. The photo was taken during tryouts for the Brandon Little League all-star team. (Winnipeg Free Press, July 16, 1954)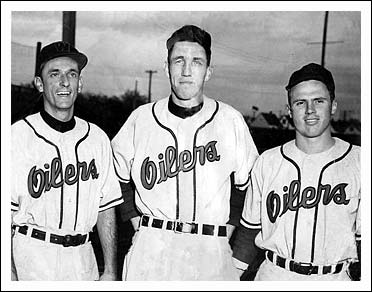 Above left - Tony Campos comes to the aid of an injured teammate (Williston Oilers). (Photo courtesy Tony Campos Jr.)
Above right - Tony Campos (left), Ralph Blinn (centre) and an unidentified teammate from the Williston Oilers. (Photo courtesy Tony Campos Jr.)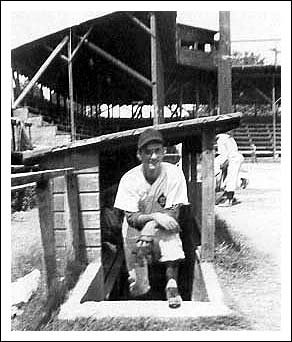 Left & right - Tony Campos (in 1952) playing in Quebec's Provincial League with Drummondville.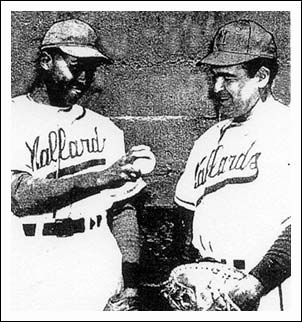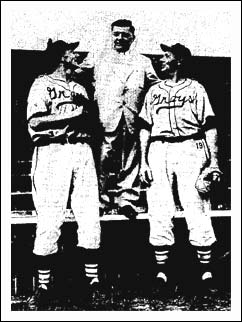 Left - "Minot's probable Sunday starter, Sugar Cain (left), surveys a sample of the ammunition he will use in the Man-Dak League opener with Williston here. Taking a look with him is batterymate Joe Massaro, who has caught Cain for two campaigns and knows the righthander has the weapon to fire the pellet. Cain set a league record for wins, 12, last season" (Minot Daily News, May 21, 1954) (Courtesy Bill Guenthner)
Right - Curly Haas, general manager of the Brandon Greys, with two of his prized acquisitions, the White twins, Bob and Bill. Bob is an outfielder, Bill, a third baseman. Newspapers gave their height at 6-foot-six to six-foot-eight. The brothers are both school teachers.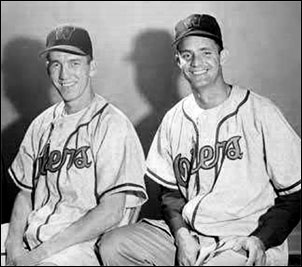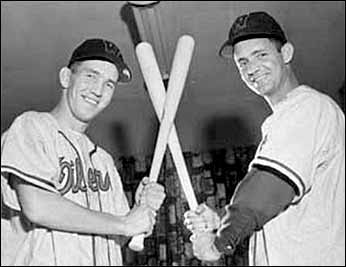 Above - a pair of Williston Oilers, 1953 or 1954. As yet unidentified. From the Bill Shemorry Collection at digitalhorizonsonline.org.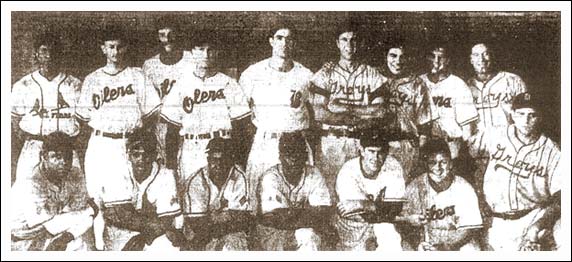 Members of the ManDak League All-Stars who whipped the Minot Mallards 14-4. Left to right. Front : Lou Louden, Brandon; Sam Drake and Jesse Douglas, Carman; Dirk Gibbons, Brandon; Lloyd Gearhart and Roy Weatherly, Williston; Dan Ahtipis, Brandon. Back row : Chick Longest, Carman; Dick Schoonover, Harry Taylor and Dewey Williams, Williston; Bob Miller, Carman; Ellis Daugherty and Frank Mascaro, Brandon; Buddy Afremow, Williston; Dee Moore, Brandon (Manager). (Image courtesy Bill Guenthner)