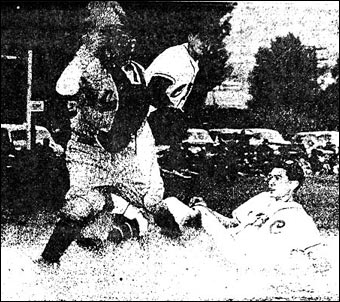 Above left - Baz Nagle, right-hander for the Kamloops Okonots of the Okanagan Mainline Baseball League. Nagle also played for nine seasons in the Canadian Football League with Calgary, BC and Winnipeg.
Above right - in the championship game, October 2nd, 1955 between Summerland Macs and Oliver OBC's, Oliver's Bill Martino is out on an attempted steal of home. Ollie Egely is the catcher.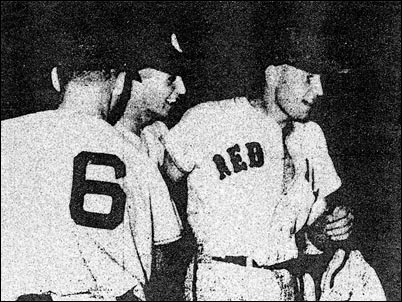 In a July 13th game between Summerland and Penticton, the Red Sox clouted three home runs in the second inning. Above left - Joe Posnikoff gets congratulations as he crosses the plate after belting one over the right-centre field fence, good for a pair of runs. That's Eddie John, number 6, and George Drossos joining the celebration.
Above right - George Drossos rounds third and a dejected McNiven after his four master.
Below left - Wendell Clifton is all smiles as he gets congratulations from Bill Raptis (number 47) and Posnikoff. Clifton later (in the 7th) smacked another.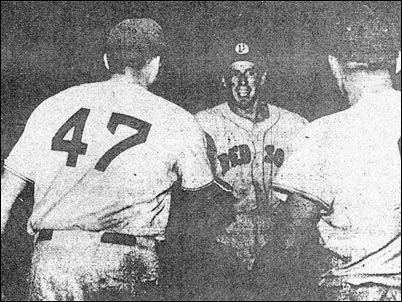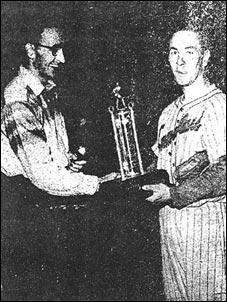 Above right - some 4,000 fans looked on as George Taylor, playing coach of the Summerland Macs, received the CKOK Trophy for their victory in the Okanagan Mainline Baseball League championship series. Dave Roegele presented the silverware.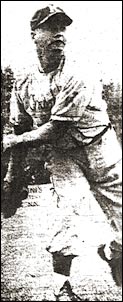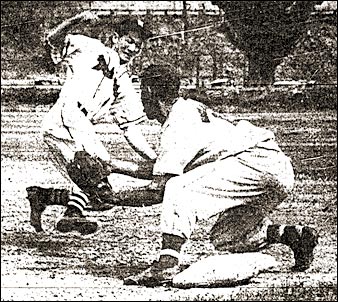 Upper left - Vernon Silver Stars of the BC Interior League were an all-junior squad (with the exception of two mid-season recruits) and made a good impression.
Three of the Stars' stars were (left to right) first baseman Dick Munk, catcher Alex Kashuba and shortstop Lorne Shockey.
Upper right - Pitcher Paul Prehara of the Kamloops Jay-Rays.
Left - catcher Stan Kato of the North Kamloops Mohawks strayed a little too far off first base in a game against Vernon. Silver Stars first sacker Joe Kornitsky is about to put the tag on Kato after getting a quick throw from pitcher Jerry Jellison.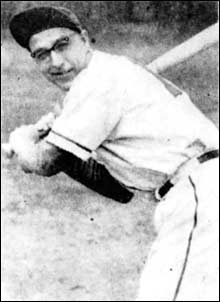 These photos are from the Dewdney Senior League of 1955, more specifcially, the Chilliwack Monarchs, one of the six teams.
Left is teenage pitcher Pat Collins and right is playing-manager Harp (I believe for Harper) Owen.
And below left, catcher Morley "Budsy" Usher and right, pitcher Marv Thompson.
The photos are from the local Chilliwack paper, the Chilliwack Progress.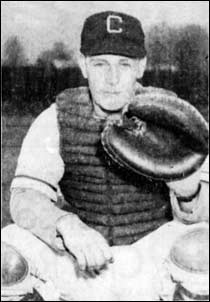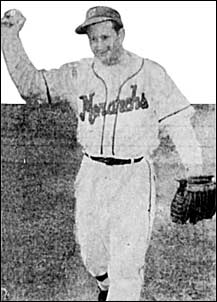 Again, that's Budsy Usher (left) and Marv Thompson, right.
This BC Interior photo is believed to be from 1955 featuring teams from Nakusp and Kaslo. The Nakusp players were pretty easy to ID -- Otto Yanagisawa, second from the left, Buster Patterson, the tall guy, second from the right, and Jackie James, extreme right. James, one of the star player for Burton and Nakusp, was killed in a tragic logging accident. There's a ball park in Nakusp named after him. His widow Dale James has been kind enough to provide the photo. Thanks to Chris Bostwick of Kaslo, we have an ID for the player on the far left - pitcher Jack "Lefty" Turner. We had earlier tracked down the name of the other Kaslo star, Arnold Sonny Norberg. The youngsters in front are Lefty's boys Paddy and Jimmy.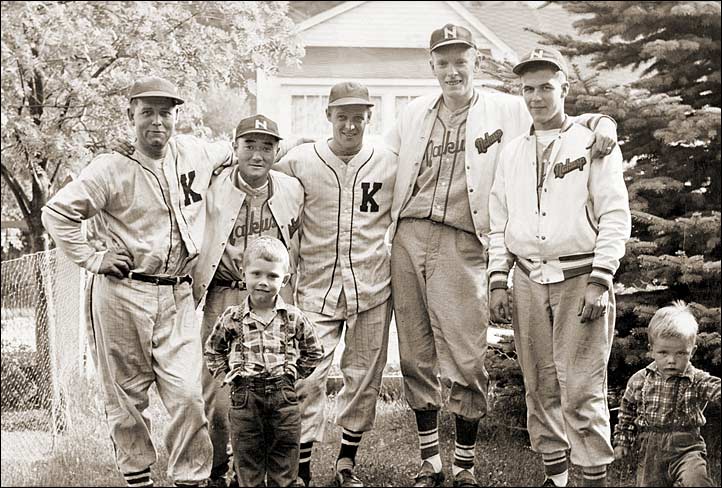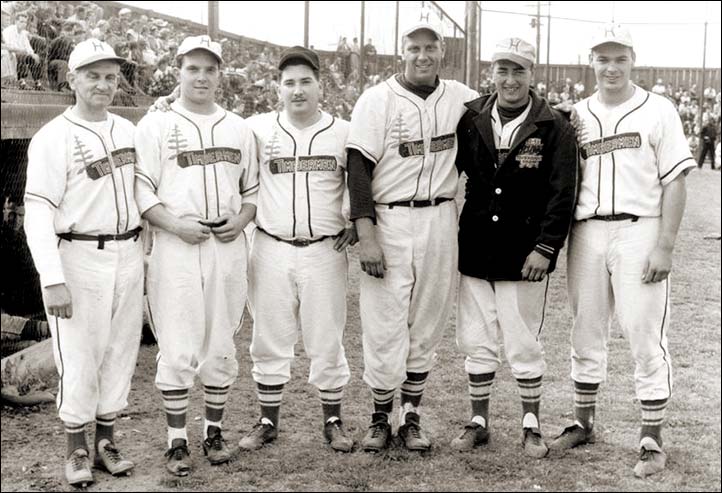 The pitching staff of the 1955 Haney Timbermen. Left to right - Bill Minty, Merv Minty, Harold Fisk, Howard Maki, John Wishlove, Larry Walker Sr.(see below) [Photo courtesy of the Maple Ridge Museum & Archives - P03790]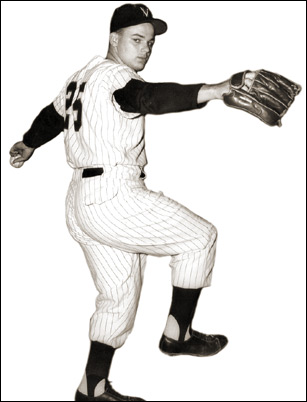 Larry Walker Sr. was a star in local ball with Haney and area teams and good enough as a lefty hurler to have won a pro contract. He played just one season of professional ball when, as an 18-year-old, he went 2-1 in 13 games with the Class B, Yakima Bears of the Northwest League in 1956 for legendary manager Hub Kittle.
His son Larry Jr. would go on to a 17-year major league career, starting with the Montreal Expos before ten outstanding seasons with the Colorado Rockies. He finished up playing with the St. Louis Cardinals in 2004-2005. He compiled a .313 lifetime batting average and clouted 383 home runs. In 1997, his best season, Walker hit 49 home runs on the way to the NL's Most Valuable Player award.
[Photo courtesy of the Maple Ridge Museum & Archives - P03845 ]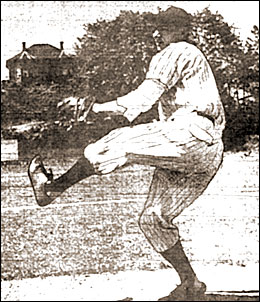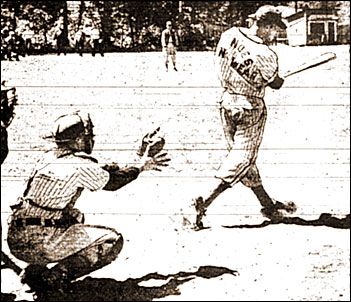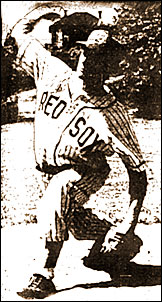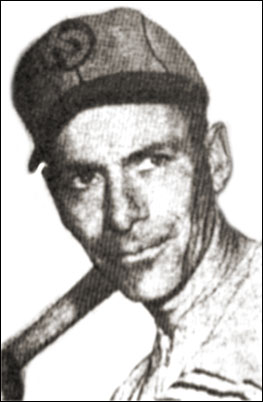 Above left - Bert Webb of Nanaimo. Above right -
Doug Brinham of Chemainus leans into a Don Smith pitch with Nanaimo's Red Naylor behind the plate.
Left - Al Goldie of the Chemainus Red Sox.
Right - Elmer Garinger of Kimberley Dynamos
Below - Russ Hearn of the Victoria Capitals smacks one to the outfield, but it's an out in the game, the season opener, with the Eagles at Royal Athletic Park. Looking on are Eagles' catcher Ron Pearce and umpire Roy Schneider.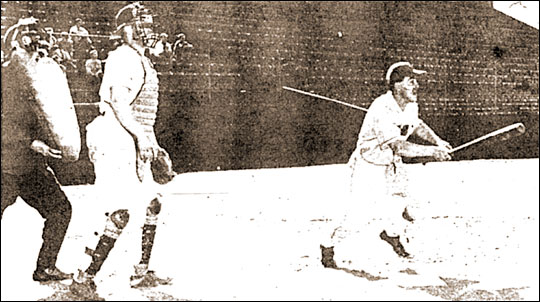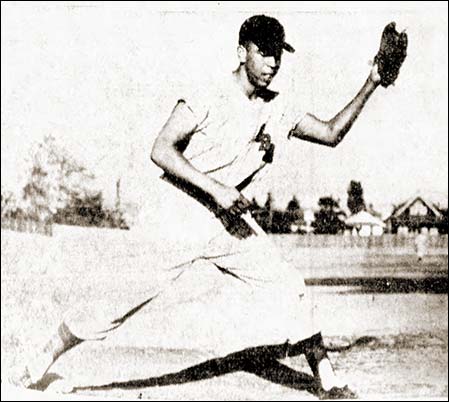 Ken Mitchell, first baseman-outfielder of the South Burnaby Athletics.
Mitchell had a pro try-out, but continued to play in amateur and semi-pro ball, mainly on the West Coast, although he suited up for two seasons in Alberta with the Calgary Dodgers.
An All-Star with Calgary, he had a memorable debut in 1957 belting a game-winning, three-run homer in the bottom of the ninth inning in Calgary's opening game of the season.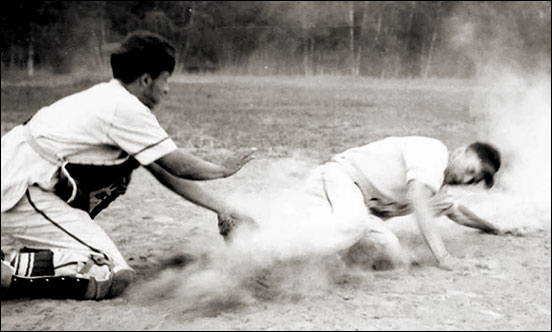 Vernon's Terry Kineshanko slides into home plate as catcher Don Koenig of the Enderby Merchants attempts to apply the tag.