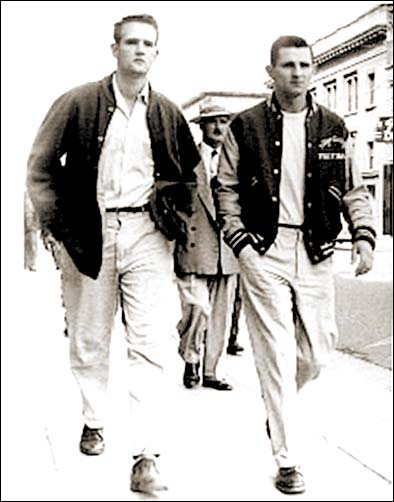 Left - Regina Braves' Roger Gray (left) and Mark Cameron, a couple of California kids marching down the streets of Regina (probably on their way to pick up their gear).
Photo courtesy Mark Cameron
Below - a quartet of Meridians - left to right - Roberto Zayas, Keith Gustin, Benny Lott, Gary Ball
Photo courtesy Karen Ball-Pyatt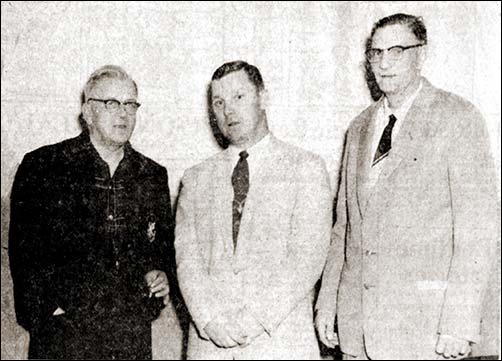 Three of the main figures at the Lloydminster Sportsmen's Dinner Saturday night. Left to right, Father Athol Murray, Notre Dame College, Wilcox, Saskatchewan; Roy "Stormy" Weatherly, Williston, North Dakota, former major leaguer with Cleveland, New York Yankees and New York Giants; W.A. "Slim" Thorpe, president of the Lloydminster and District Baseball Association.
Above - Lloydminster Meridians' right-hander Gary Ball warms up with catcher Eddie Morris. Pitcher Jim Hansen looks on.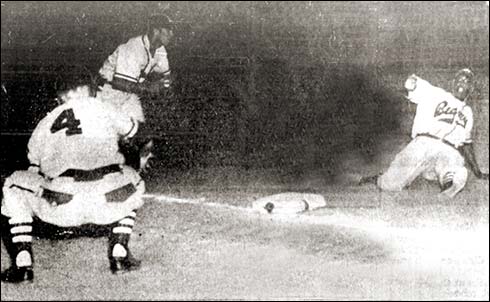 Left - June 28, 1956, Curtis Tate of North Battleford Beavers makes it safely to third base on a steal as manager Emile Francis, coaching at third, signals for a slide. Regina Braves' third sacker Lee Murphy looks on.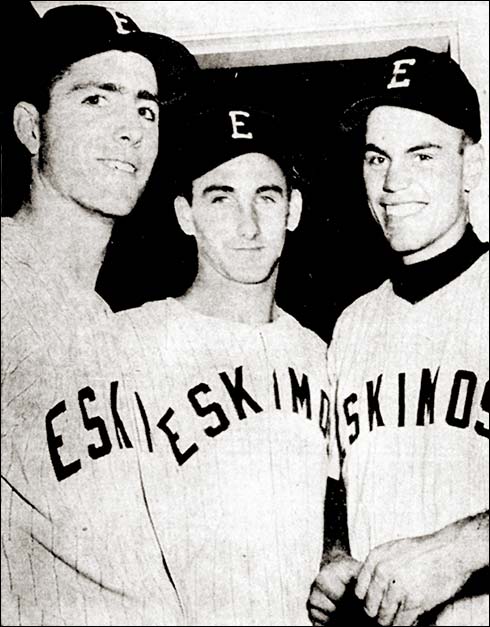 Left - Edmonton stars (left to right) Dale Zeigler, the league's ERA champ, Canadian starter
John Doucette, and catcher Tom Shollin who topped the circuit in homers.
(Image courtesy Dale Zeigler)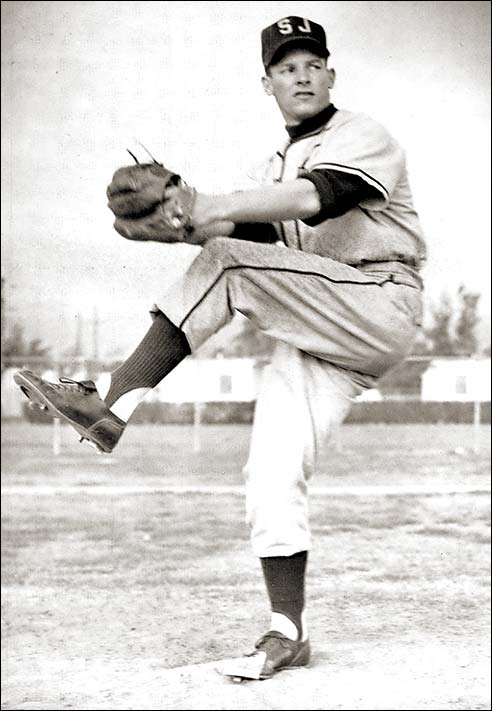 Left - July 30, 1956 - Right-hander Tuck Halsey fashioned a brilliant one-hit shutout as Regina Braves clobbered Moose Jaw 11-0.
Halsey lost a no-hit bid when Con Munatones singled with two out in the eighth.
Halsey came to the Braves from San Jose State University where he was the mainstay of the Spartan's mound staff.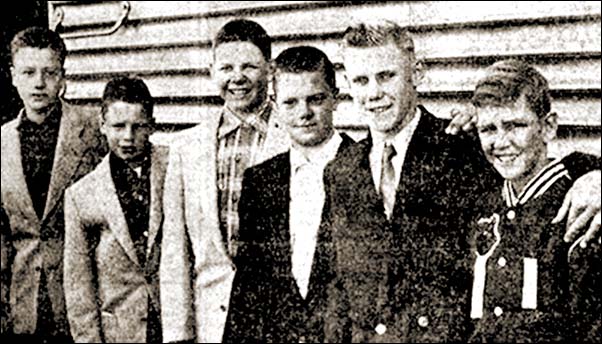 Above - Local Pony League players were selected by each team to represent their clubs at the Global World Series in Milwaukee. Bud Rendell, second from the right, was selected to represent the Lloydminster Meridians. Left to right - Brian Robbins (Regina), Jim Monahan (Edmonton), Dennis Johnston (Saskatoon), Bob Foster (North Battleford, Rendell, and Skip Hudson (Moose Jaw).
Below - baseball executives, Don Grant of the North Battleford Beavers and Slim Thorpe of the Lloydminster Meridians. [Photo courtesy of Norman Thorpe]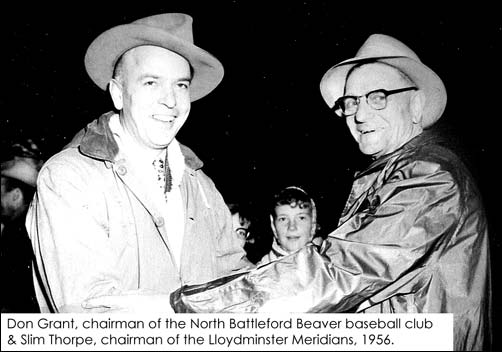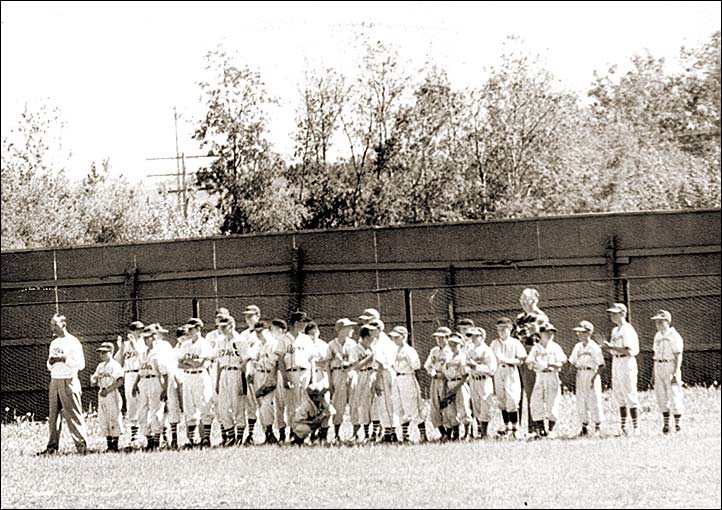 Lloydminster Little Leaguers in the outfield at Sportsmans Park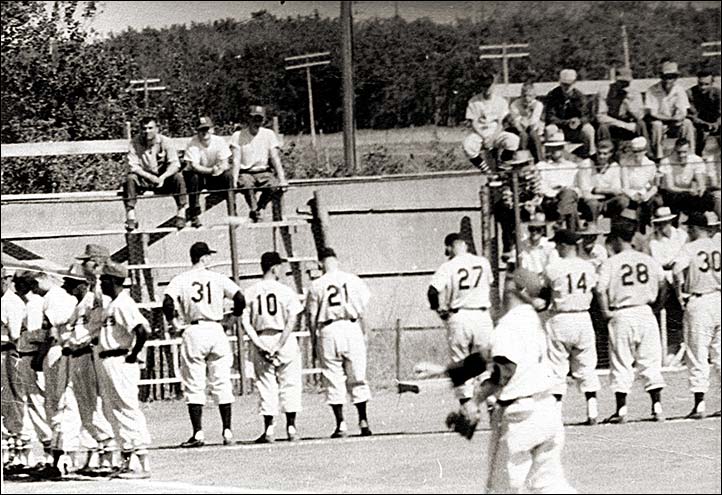 Stan Karpinski warming up as Lloydminster hosts Edmonton
Looks like a called strike on Edmonton's Ron Fairly (No. 17) in a game
at Lloydminster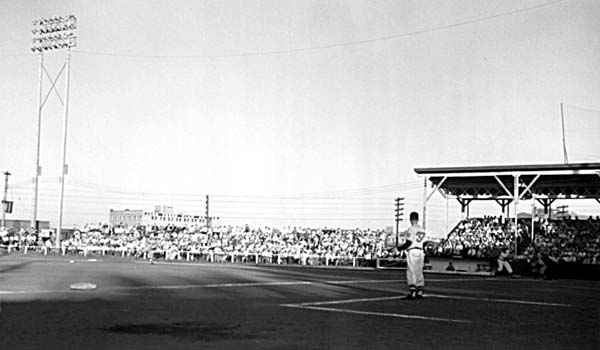 1956 Opener in Saskatoon (S-SP250-1, courtesy the Saskatchewan Archives Board}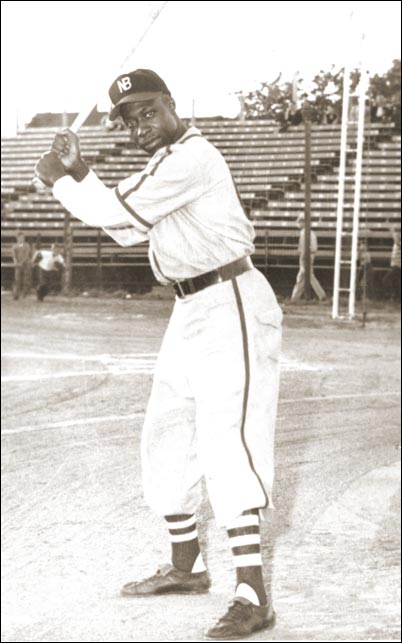 Curtis Tate, North Battleford's All-Star third baseman. Photo courtesy of Bob Fleming.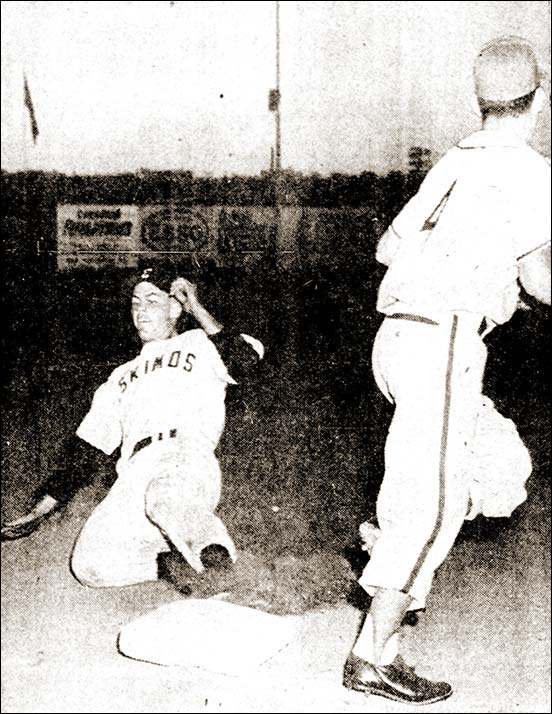 Edmonton catcher Tom Shollin is safe at third as Edmonton came from behind to down
Moose Jaw 9-6. The Mallards' third sacker is Rich Rubio. (Edmonton Journal, June 20, 1956)