The local paper of the Huron Elks of the Basin League The HURONITE and THE DAILY PLAINSMAN provided substantial coverage of the club, including many photos (unfortunately, the microfilm versions are of such poor quality). Nonetheless, even as placeholders for the real photos (one can always hope), a sample below :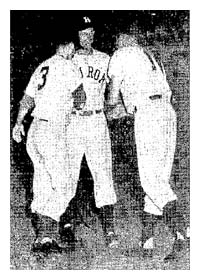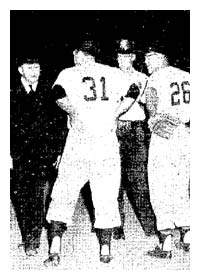 Left - Carl Bush, Huron first baseman, receives congratulations from Dean Scarborough (left) and Len Van De Hey (right) on his homer against Yankton. It was Bush's 4th four-bagger of the season. Middle - Mitchell Kernels manager Joe Lutz and umpire Joe Stahl argue a call at second base in the Huron-Mitchell contest. The heated discussion brought a response from the police (second from right). Lutz was ejected and escorted off the field by lawmen.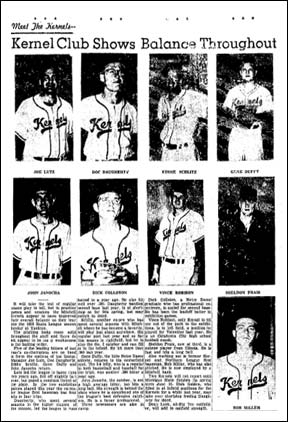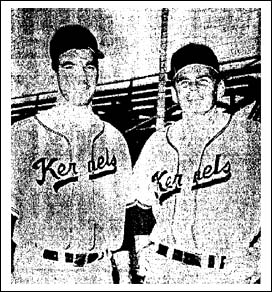 Right - A pair of Mitchell Kernels getting ready for the new season. Former Basin League teammates, pitcher Curtis French (left) and outfielder Vince Robison (right) who played with Valentine Hearts in 1957, suit up in 1958 with Mitchell. A third, former Valentine player, pitcher Jim Hammond was also expected to join the Kernels.
Left - the Mitchell Daily Republic provided extensive coverage of the Basin League. The paper took a major share of its sports page to run a preview, with photos, of the new team, June 14, 1958. (Photos from the Mitchell Daily Republic)