Bill Kinder, coach of South Burnaby in the Dewdney league, is caught on camera as his carefully-laid plans go astray. Kinder, a 20-year-veteran of Dewdney play strokes his chin in anticipation, makes a decision, winces as the play is carried out then looks disappointed as the man is thrown out.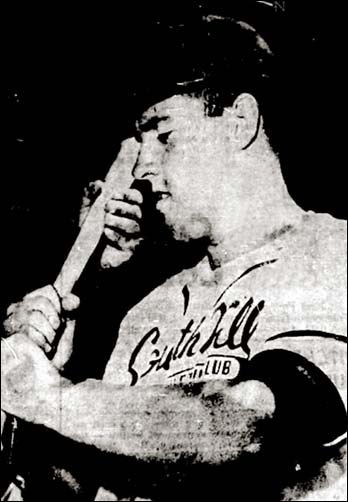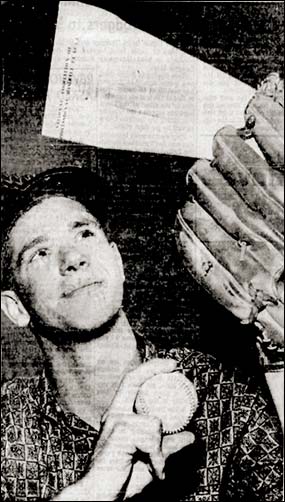 Left - Catcher Denny Doyle of the South Hill Athletics of Vancouver's Burrard Baseball League getting a tip from the coaching staff on the proper way to grip to bat. Right -
Right - Port Moody outfielder Wayne Norton has a great catch - a bonus contract with the New York Yankee organization. The 18-year-old pitcher-turned-outfielder has been assigned to St. Petersburg of the Florida State League.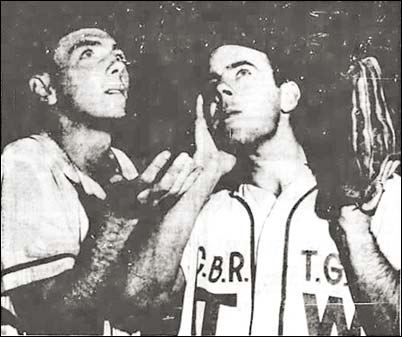 This photo in Victoria Times carried the caption "Please Mr. Weatherman ...".
That's John Balloch (left) the second baseman for the Victoria Transport Workers and teammate Barry Harvey (right) the shortstop. The pair expressed concerned about a little summer rain spoiling their scheduled game.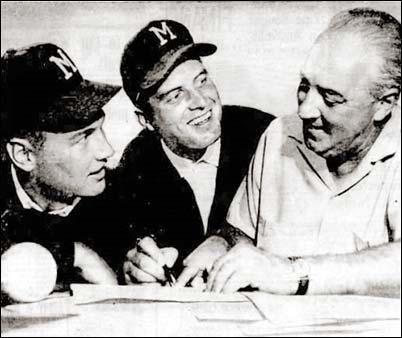 Boyhood buddies Wayne Doiron (left) and Wayne Leonard were signed to professional contracts by scout Bill Marshall of the Milwaukee Braves.
The signings followed a two-day tryout camp at Capilano Stadium.
Both players, teammates with the South Hill Athletics of the Burrard League, will work out with the Vancouver Mounties for the remainder of the season.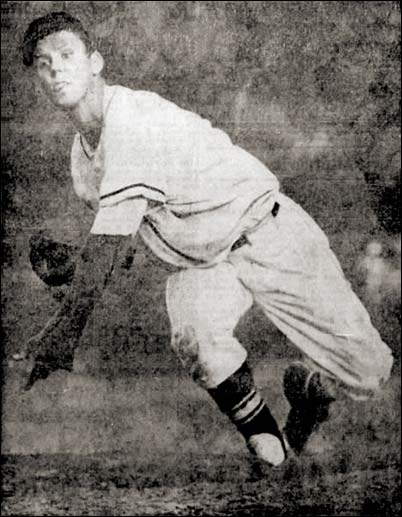 Rookie southpaw chucker
Dave Lea of the South
Burnaby Athletics of the
Dewdney League of BC's
Lower Mainland.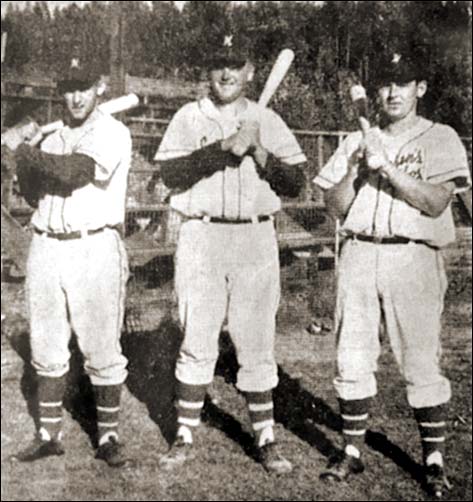 .
Getting ready for their playoff opener against the Nelson Outlaws, the Kimberley Hobos' outfield warms up to the task (L-R) - Jim Putsey, Moose Ronquist and Art King.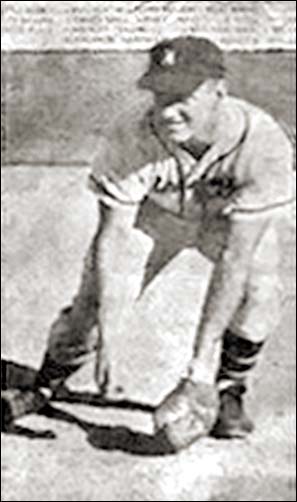 John Kosiancic, the hard-hitting Kimberley Hobo shortstop, goes down to field a hot grounder. Kosiancic spends his winter chasing pucks for the Calgary Stampeders of the Western Hockey League. He advanced to the Stamps after a college hockey career at Michigan Tech.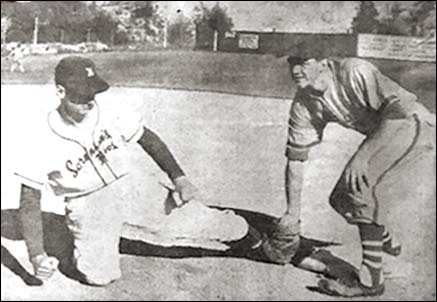 Out at first ! Harvey Nash the Kimberley Dynamo first baseman tags Jim Ratcliffe, the Kimberley Hobo pitcher sliding back into first base.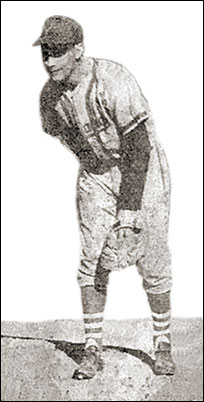 Eric "Ike" Bodin ace pitcher for Kimberley
Dynamos in East Kootenay senior baseball.