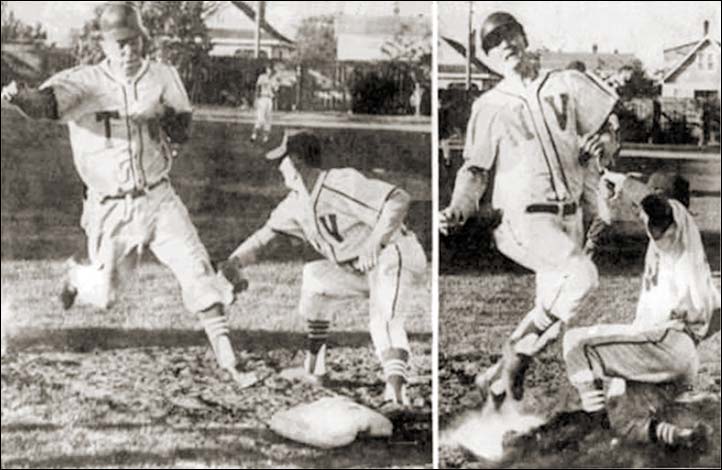 This carried the caption TURNABOUT IS FAIR PLAY. Left - first baseman Joe Patterson of the Victoria Naval Vets takes the throw in time to retire Les Brice, his counterpart with the Transport Workers. Right - Brice turns the tables grabbing the ball in time for the put out at first in spite of Patterson's all-out effort to beat the throw. Action during the first game of the Victoria Senior Amateur League semi-final at Macdonald Park. (Victoria Times photo by Bill Halkett).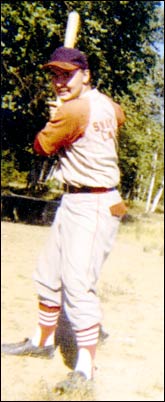 From 1962 BC Interior baseball,
Leo Wurtz (left) of the Revelstoke
Spikes.


In just a couple of weeks in the summer of 1962, the New York Yankees signed four young hurlers from British Columbia.
On June 21st, the Yankees announced the acquisition of 17-year-old left-hander George Hemming (left), the first product of Victoria's minor baseball organization to sign directly with a major league team.
On July 6th, the first of two Okanagan pitchers signed. Reg Main, an 18-year-old right-hander with Vernon of the Mainline League, joined the Yankee organization.
A day later, it was announced that 6-foot-two right-hander Derek McGillivray of Kamloops had signed with New York.
Then, on the 14th of July the Yankees signed 18-year-old Dennis Rutter (above right) an 18-year-old right-hander pitching for CYO of the Vancouver Industrial League. He's a veteran of local minor league play having pitched in Little League, Babe Ruth and Connie Mack before joining local senior ranks last year.
In 1961, he pitched in the now defunct Burrard League and in 1962 joined CYO in the Industrial circuit.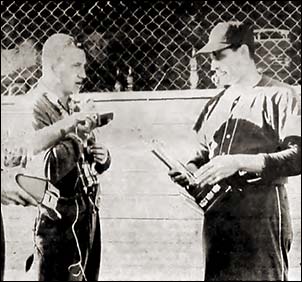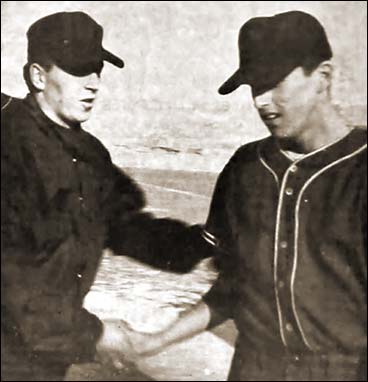 Above left - Merritt Luckies manager John Brkich accepts the Radio CKOK league championship
trophy from Don Ewart of CKOK Penticton.
Above right - Merritt starting pitcher Carl Sheeley congratulates reliever Larry Webster.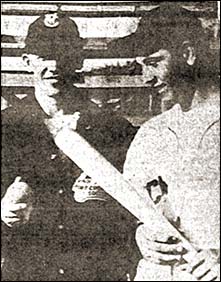 Left - John Brkich is presented with the Quesnel Jewellers Tournament Trophy by Harvey Copeland. Merritt downed Maillardville in the tourney's finale.
Right - Fred Sabatine (left) and Alex Kashuba of the Vernon Luckies celebrate a win over Kelowna at the Kelwona Diminion Day Tournament. Sabatine was the winning hurler while Kashuba had seven hits in the tourney, including a three-run homer and a pair of two-run blasts.
Below - Merritt's Keith Cousins scores the first run of the season at Voght Park in Merritt.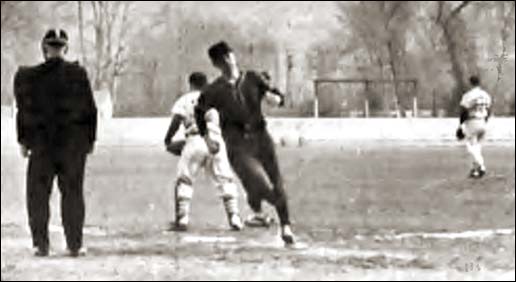 Below left - 15-year-old left-hander Steve Cohen is all smiles as teammates offer high fives for a winning effort in the consolation final of the Kamloops Labour Day Tournament. Right - the Vancouver Dufferins' coach (unidentified) accepts the $500 prize money from Okonots president Bob Saklofsky with Maillardville sluger Dave Parker and Dufferins' pitcher Bill Gillespie.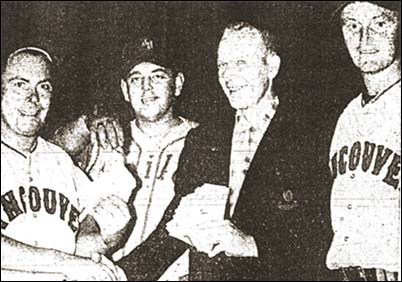 Below - Kamloops Okonots get instruction from playing manager Gordon Beecroft. Left to right - Bill Cliff, Chet Simpson, Jack Fowles and Beecroft.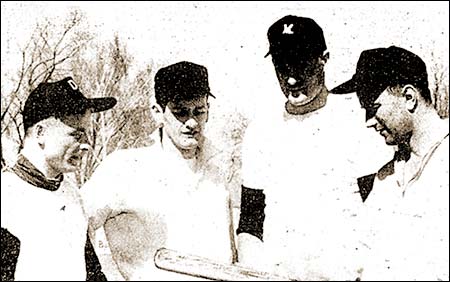 Below - Scout Glenn Elliott scout for the Philadelphia Phillies offers batting tips to Vernon star Reg Main at the Phillies baseball clinic held at Riverside Park. Vernon's Gordon Nuyens, Deke McGillibray and Bob Davoren of Kamloops listen in.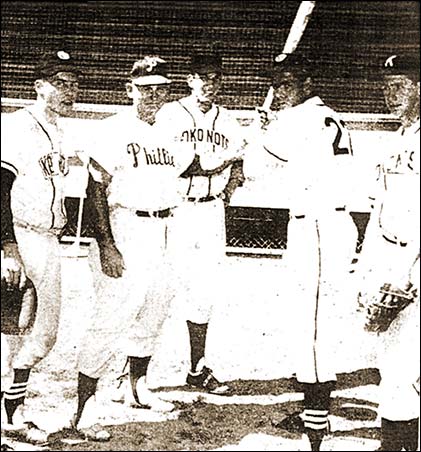 Below left - Kimberley Dynamos ace hurler and manager Eric "Ike" Bodin. And right, Bodin with Dave McLary, manager of the rival Kimberley Hobos.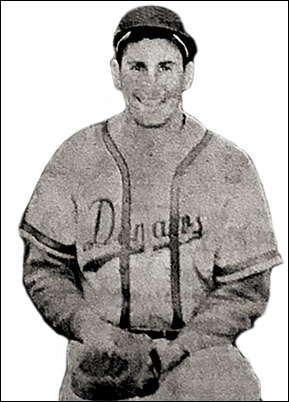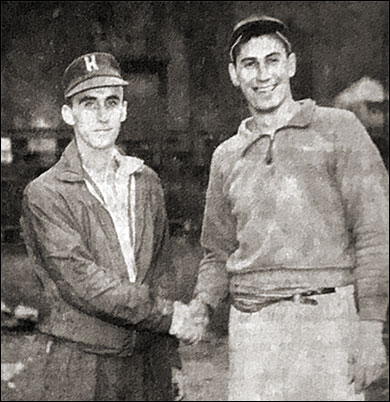 Below - Vancouver product Bob Lasko works out at Spring Training, 1962 at Fort Lauderdale, Florida, with the New Yorm Yankees. Bob Turley (left) and Ralph Terry (centre) watch the young Canadian's form. While he never pitched in the major leagues, Lasko had a solid minor league career, mainly at the upper levels of AA and AAA. He played for 11 seasons with 83 wins and a 3.40 ERA.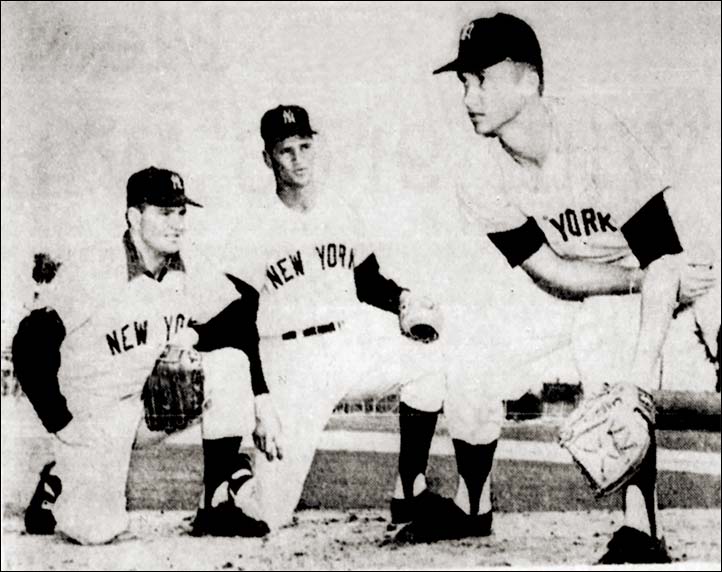 The amazing Zenders of Deming,Washington. Left to right - Dan, 18, the nephew of brothers Spike, 28; Nick, 34; Jim, 22, Red, 31, Bernie, 38, and Pete, 40. Another brother, Dick, was injured earlier this year. (Vancouver Sun, June 19, 1962)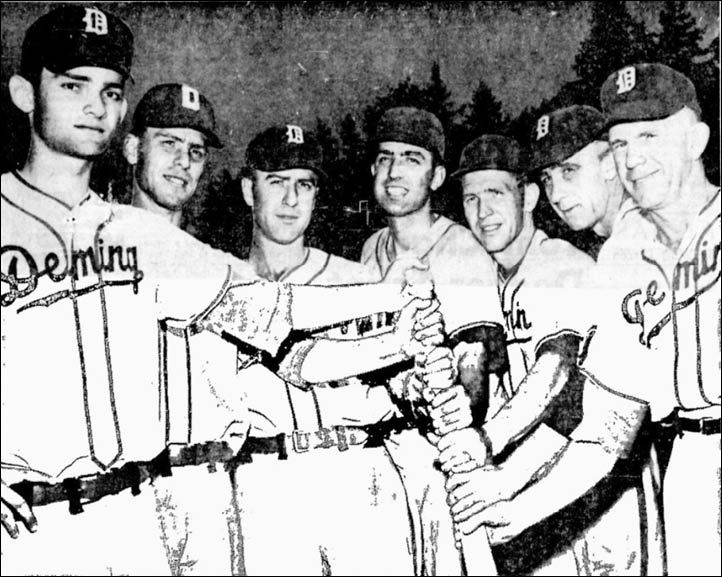 Baseball is a family tradition with the citizens of Deming, Washington.
Most of the citizens of Deming are named Zender, and for the past decade, the Zenders have comprised from 75 to 100 per cent of the town's baseball team.
They play under the collective name of the Loggers, which is a quick way of saying Zender Logging Company.
The Loggers have been in and out of Vancouver and District senior baseball leagues since 1952, the year the Zenders decided there were enough of them to form their own team.
This year, Deming entered the Dewdney League, a seven-team loop comprised of Lower Mainland teams and one from Bellingham.
Sunday, the Loggers visited Maillardville for a game with the Athletics : A Wilson, a Wood, A Raymond and seven Zenders.
The elder Zenders -- Bernie 38, Pete, 40, Nick, 34, Red 31, and Spike, 28, have all played in Vancouver many times before, with the Loggers in the 50's and with Bellingham Bells in the 40's.
Pete and Dick, another brother who's been on the Deming injured list recently, both played for the Vancouver Capilanos of the old Western International League.
For Jim, 22, and Dan, 18, this is the first year they've been a member of the Zender attraction locally.
All except Dan (he's Dick's boy) are the sons of Jacob Zender, a logger of German-Irish descent who settled in Deming several decades ago and who's been raising ball players ever since.
Besides his 11 children -- nine of them boys -- there are now 51 grandchildren living in Deming and surrounding settlements, one of the hamlets called, appropriately enough Zenderville.
Bernie is the team spokesman and unofficial coach. A slender redhead, he speaks with a sleepy drawl and a slow grin that tightens occasionally when old muscles begin to act up.
He and Dick both played in the Dodger organization for several years in the 40's.
The Zenders -- with nine of them playing for Deming -- won the Washington state championship in '56. They went to the U.S. championships in Wichita, Kansas, and surprised everyone with a second place finish in the 30-plus team tourney.
The Zenders called it quits in 1959, but this year decided to try for a comeback.
"We had so many young kids coming along, and we wanted to give 'em a chance to play," said Bernie. "But I don't know how long us oldtimers are going to last."
The Zenders this year have been bolstered by several youngsters from Western Washington University in Bellingham, but Sunday in Maillardville the Zenders came through on their own.
Bernie and Jim each hit home runs as Deming triumphed 9-7 and 10-4. The wins were only Demings third and fourth in ten league games, but the fact they're sixth in the seven team league didn't bother the Zenders.
"It's still early," said Bernie "We're only getting warmed up."
(Also see Deming Loggers, 1956)