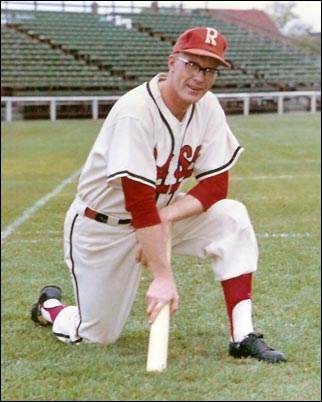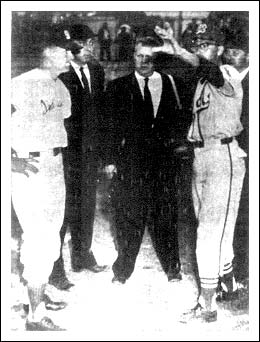 Left - Regina Red Sox infielder Harvey Johnson.
Above - Managers, Jackie McLeod (left) and Mike Dayne (right) go over the ground rules before a game between Moose Jaw and Swift Current. Listening in are Harry Bateman, base umpire (closest to McLeod), Tommy Hundley, plate umpire and John Mandzuk, base umpire (at the extreme right, hidden behind Dayne).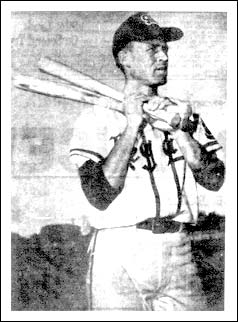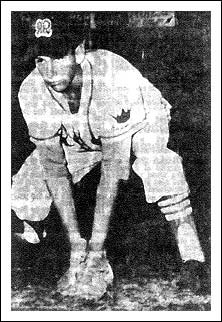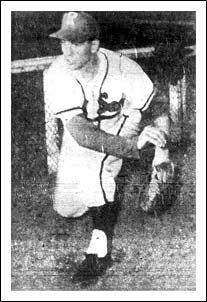 Left - Wally Blaisdell, Moose Jaw Regals, awaiting his turn at bat. Centre - rookie third baseman, Garry Andrews of Moose Jaw. Right - Regina Red Sox right-hander Al Ash warming up in the bullpen.
Above - Bob Peters, import pitcher-outfielder with the 1962 Saskatoon Commodores, puts the wood to a pitch from Saskatoon Ambassador right-hander Marcel Richard during the first inning of the 1962 N.S.B.L. opener at Cairns Field. Ambassadors' catcher Ray Gerwing watches the hit, a double, put the Commodores ahead but the Ambassadors bounced back for a 6 - 5 victory. The umpire is Ace Corbin. [Photo courtesy of the Saskatoon Star-Phoenix and the Saskatchewan Archives Board, Photo # S-SP-B-26942]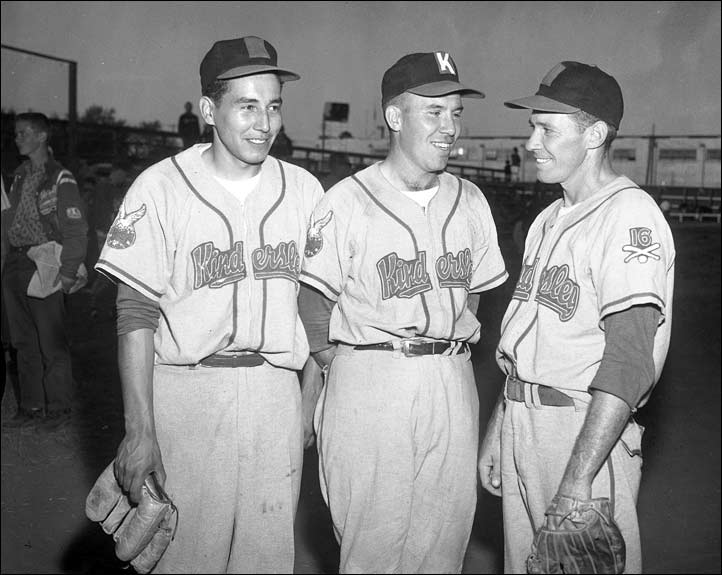 A trio of Kindersley Klipper players banter together following a 1962 N.S.B.L. victory. Left to right are Glen Bellegarde, Garnet Hannon and Gene Graves [Photo courtesy of the Saskatoon Star-Phoenix and the Saskatchewan Archives Board, Photo # S-SP-B 29806(1)]
North Battleford Beavers, 1962