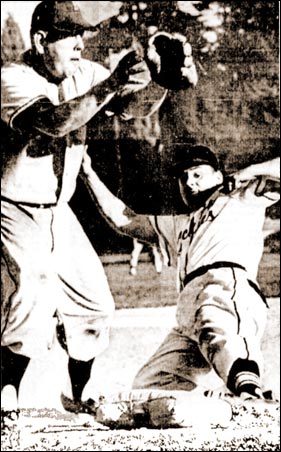 Larry Walker Sr. of Haney-Hammond slides safely into third base under the Duffs' third baseman Dave Parker with time to spare. However, Duffs got the last laugh notching a 3-2 Dewdney Baseball League victory at Central Park Friday, May 17th.


Walker's son, Larry Jr., would become one of the most feared hitters in a 17-year major league baseball career from 1989 to 2005.
Larry Jr. broke into the majors with the Montreal Expos. His best seasons came with the Colorado Rockies.
He was the National League's Most Valuable Player in 1967 and won the batting title three times, 1998, 1999 and 2001. He topped the league in home runs in 1997 with 49.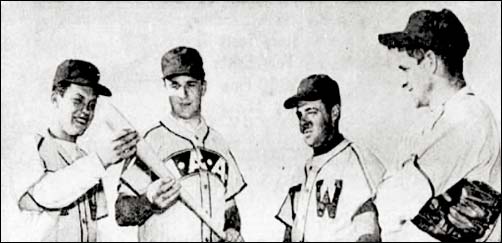 Rookie Terry Whitman picks the right man as he goes looking for tips on how to hit pitching in the Victoria Senior Amateur Baseball League.
He's getting advice from Gary Tuttle, who won the league batting title in 1960 with a hot .408 batting average. Listening in are Barry Harvey, manager of Transport Workers, and Des Mosley (right) pilot of Builders Sash club. Victoria Times photo by Bill Halkett.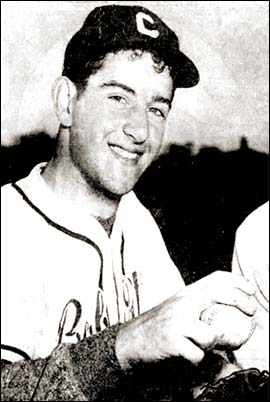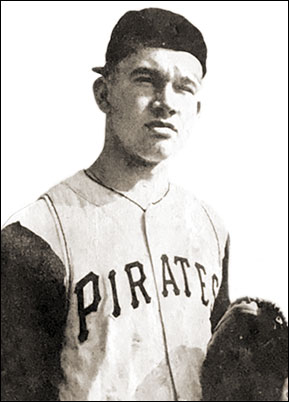 Above left - 16-year-old Gord Strongman, called up from Victoria's Connie Mack minor baseball ranks to catch for the Transport Workers of the Victoria Senior Amateur Baseball League in the second game of an August 3rd double-header. Four days later, he made a successful mound debut, earning the pitching win against Builder's Sash & Door. As a pitcher, catcher and outfielder, Strongman continued play in Victoria senior ranks into the 1970s, including a stint with Team BC.
Above right - 18-year-old Alan Fabro, catcher for the Kimberley Combines, will soon be off to Tennessee to begin a pro career. Last season he won a pro contract with the Pittsburgh Pirates. Fabro, who has been playing senior ball since age 15, was the all-star catcher in the senior league last season and was selected as Rookie of the Year. He batted .365. Ed Barberis, scout for the Pirates, was in Kimberley last summer and convinced Fabro to sign with Pittsburgh over two other offers, one from the Yankees. Fabro has just graduated from high school.