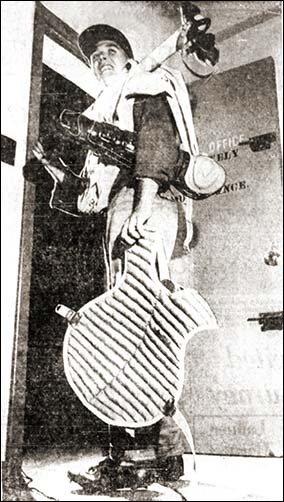 Catcher Del Bergum gets prepared for Opening Day.

In Edmonton, 1963, there was the formation of a new Big Seven Junior "A" Baseball League.
In early June, two playing coaches who met in the 1962 Big Seven Senior League quarter-finals come face to face to kick off the new circuit. Jim Ryan, coach for the Army & Navy Cardinals and Wally Waddle, for Cal's Dodgers, will be sending their clubs into action. In the other half of the afternoon card, coach Larry Kadatz will send his Safeway Athletics against the Blue Willow Angels coached by Arnie Enger, Wes Montgomery and Clare Drake.
Working on a rebuilding job during the past week since picking their 15-man player roster by means of the point system, both teams have looked to greener fields for player help. By the look of the Athletics roster, seven players are from the Big Seven, Leduc Lions, two from Calmar Cubs of the Oilfield Baseball League and two from Sexsmith. Coach Enger said following Friday's practice that he will have a few surprises in his lineup for the opener.
Among the newcomers will be Oil King captain Roger Bourbonnais, who will share the catching duties with Del Bergum in the first game. Last year, Roger played behind the plate with Fort Saskatchewan Red Sox of the Big Seven.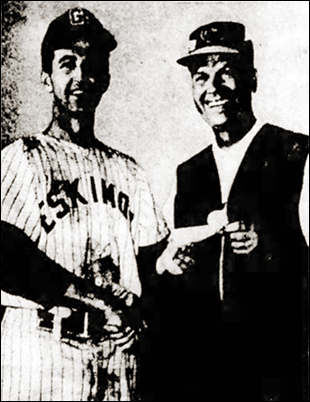 Left - Garth Roberts, playing-manager
of the Grande Prairie Eskimos accepts
a cheque for $1,100 from tournament
chairman Gordon Sweet after the Esks
won first place in the annual Lacombe
Lions Baseball Tournament. Close to
5,000 fans turned out for the final
game of the tourney.