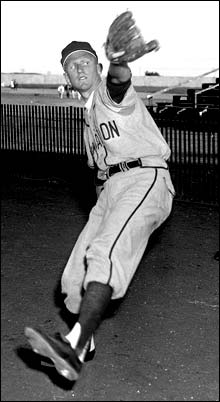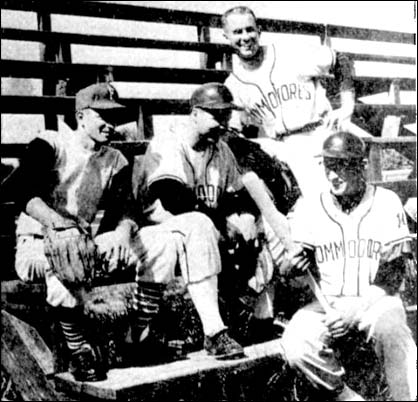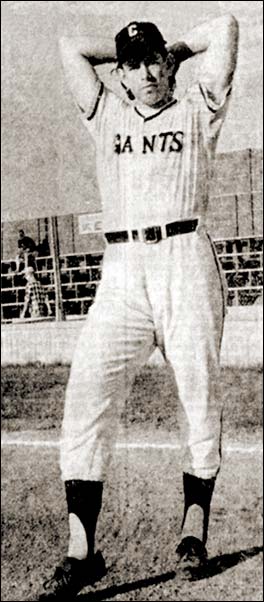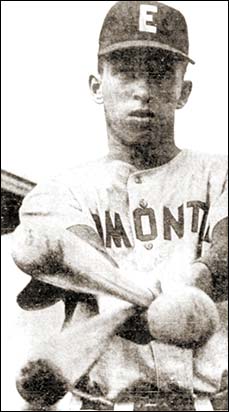 Above left - Paul Edmondson the tall, righty of the Saskatoon Commodores, warms up in the bullpen. [Saskatchewan Archives Board, S-SP-B 27808]
Above right - Lyle Olsen (lower right), playing manager of the Saskatoon Commodores, takes a break during a practice session with a trio of his charges. Left to right are Howard Martin (outfielder), Mike Gallagher (pitcher) and Leo Ruth (catcher).
Left - Calgary's 19-year-old Nelson Briles who, after just one season in the minors, went on to a 14-year career in the major leagues.
Right - Edmonton's Gary Sutherland another future major leaguer.
Below - In preparation for the opening of the Western Canada Baseball League, the Lethbridge Cardinals recruited top talent from California schools. Terry Christman (centre) of San Francisco State College talks strategy with catcher Harry Laiolo, St. Mary's College (left) and playing manager Ray Young of Stanford. (Lethbridge Herald, June 11, 1963)
[Photo courtesy of the Galt Museum and Archives, Photo # 19753802119]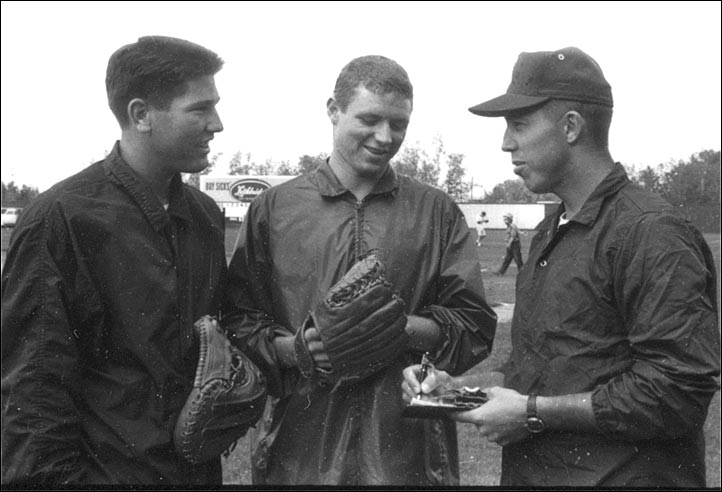 Below - Leadoff batter Gary Malvini of the Calgary Giants takes a healthy cut but misses the offering of Saskatoon Commodore pitcher Mike Gallagher. Catcher Leo Ruth holds on to the pitch as a strikeout is recorded, Gordon Ross is the umpire calling balls and strikes. [Saskatchewan Archives Board, S-SP-B 27803]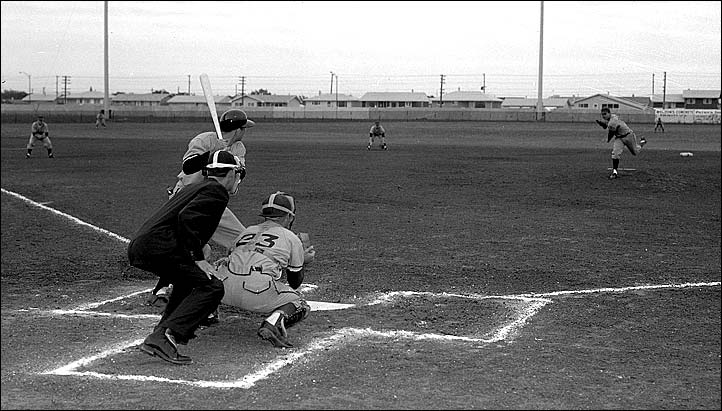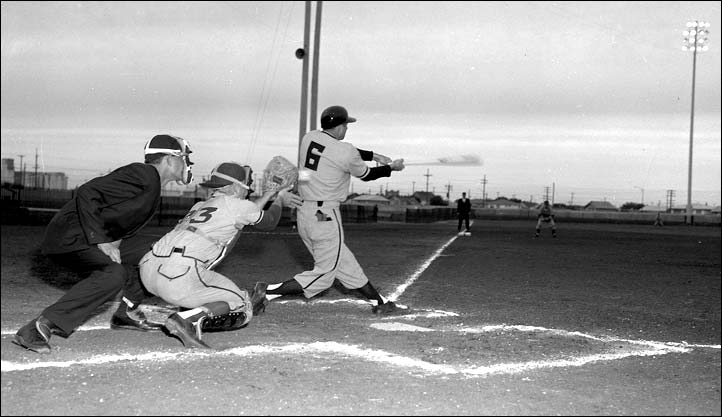 Below - Photo in the Edmonton Journal, June 14, 1953 carried the caption "Something Is Going To Give". Calgary third baseman Tim Cullen (right) roars down on Edmonton catcher Clark Rex (13). Rex failed to snare the ball (top left) on a bad throw and Cullen scored Calgary's sixth run in the ninth inning, bowling over the Edmonton playing manager in the process.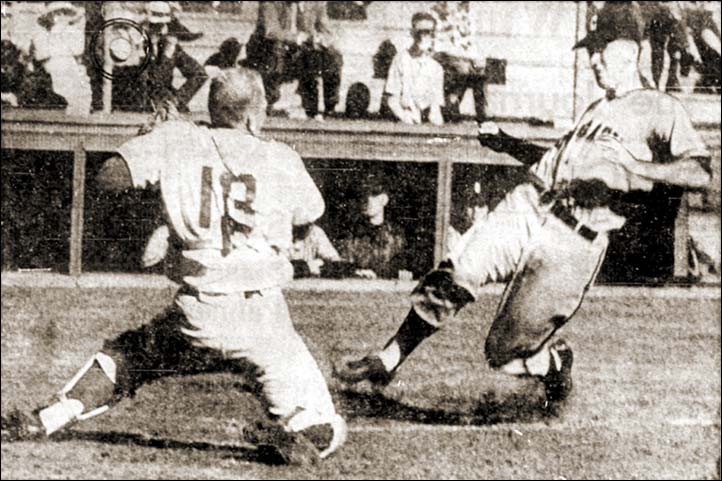 Below left - Edmonton outfielder John Allison (left) congratulates teammate Rene Lachmen (2) as the latter crosses the plate after clouting his eighth homer of the season at Calgary. Both players were later tossed from the game over disputes with the umpire. Allison's eighth-inning rhubarb triggered a lenthy ruckus that was terminated only when umpire Jim Prior called the game and awarded it to the local Giants. (Photo by Andy Etey)
Below right - Calgary Giants' left-hander Larry Loughlin, another of the college stars who advanced to the major leagues.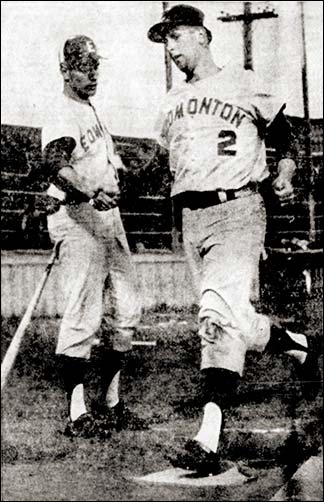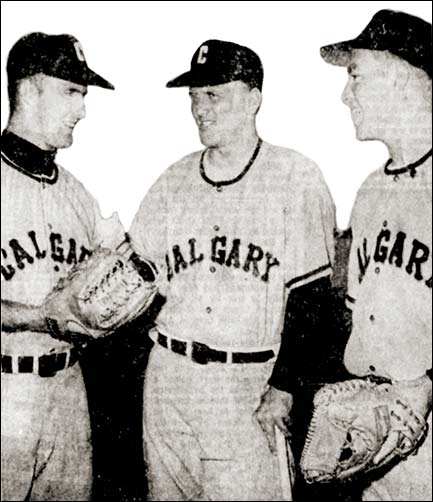 Left - Calgary Giants' manager John Carbray (centre) takes pitcher Larry Loughlin (left) and catcher Jim Beasley (right) aside to brush up on strategy for a contest with Saskatoon.
Below left - Edmonton Oiler right-hander Orville Franchuk
Below right - Outfielder Kenny Washington of the Edmonton Oilers assumes a sprinter's stance and Terry Murphy prepares to put the spurs to his quarter horse in a test race around the base paths at Renfrew Park. Oilers will match their fastest runner - either Murphy or Washington - against the same quarter hose during a contest against Lethbridge Cardinals.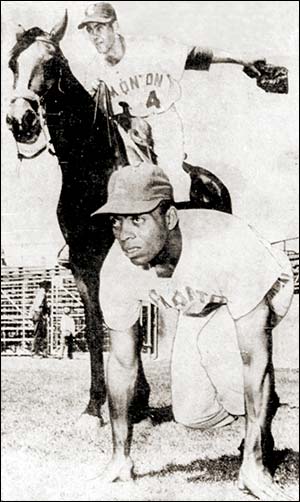 Saskatoon Commodores playing manager Lyle Olsen successfully steals second base as he slides under the glove of Edmonton's Terry Murphy while the ball bounces away and umpire Gordon Blye signals safe.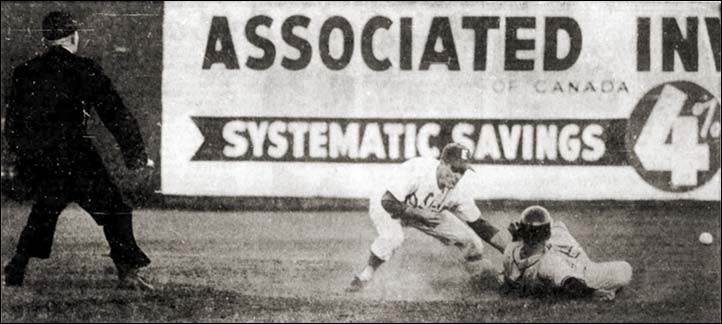 The Western Canada League drew top calibre players from the best baseball schools in the United States, including Ted Bridges (left) and Gail Hopkins (right) of the Pepperdine Waves.