DEWDNEY TOURNAMENT
(June 16) New Westminster broke a 3-3 tie with a run in the seventh and two in the eighth to down Duffs 6-3 in the final of the Dewdney League tournament at Maple Ridge Stadium at Hammond on the weekend. The Royal City crew got the final runs on singles by John Thompson, Gordie Brandolini and Wayne Wallace. The winners gained a spot in the final on a coin flip as Duffs needed to play the District of Coquitlam in a semi-final. They won 4-2 getting the deciding markers on singles by Barry Sullivan, Keith Commons, pitcher Morley Deans and catcher Bob Bissell. Earlier Sunday, Duffs eliminated Port Moody 3-1 on hits by Ed Lorenz, Sullivan and Barry Arnett. Sunday morning, Coquitlam edged Haney-Hammond 2-1 on Lynn Byland's two-run triple.
Frezell (L) and Bissell
Blight (W) and Wallace
---
INVERMERE DOMINION DAY TOURNAMENT
(June 30-July 1) Kimberley Combines dumped Revelstoke Carlings 12-4 Monday to win the eight-team Invermere Dominion Day Tournament and top prize of $300.
Combines broke open a tight 3-3 game with three runs in the 5th inning and put it out of reach with a five-run outburst in the 8th. Playing manager Elgin Smith, who started on the hill for the Combines, led the attack with a two-run homer and a pair of singles. Joe Postnikoff added two hits giving him seven safeties in ten trips in the tourney. Jerry Carter, who relieved in the fifth, was credited with the pitching win.
In the opening game of the event on Sunday, Golden romped to a 13-2 victory over Invermere. Revelstoke followed with a hard-fought 5-4 triumph in their match with the Cranbrook Pacers. Radium eliminated Crossfield, Alberta, 4-2. The Combines punched out 24 hits in crushing Canal Flats Lakers 24-3, called after six innings. Ed Craft and Mel Johnson each had four hits and Jerry Carter aided with a pinch-hit homer. Van Pratt was the winning pitcher for Kimberley.

Revelstoke had little trouble in the first semi final beating Golden 10-3 while the Combines shutout Radium Premiers 5-0 behind a three-hitter by veteran Ike Bodin.

---
ST. PAUL 16TH ANNUAL BASEBALL TOURNAMENT
(June 30 – July 1) The hosting St. Paul Cubs, paced by the peerless fielding and heavy hitting of playing-manager Chuck Kendall, reign as champions of the 16th annual St. Paul baseball tournament. An 8 to 6 conquest of the Viking Shamrocks in the final game earned the Cubs top money of $700 in the $2,000 tourney involving eight teams, played before record crowds. The Shamrocks' second-place finish earned them $400.
Kendall cracked out three singles in four trips to lead his Bruins to their triumph. Right-hander Ron Babiuk, one of three Edmonton players added to the St. Paul lineup, went the distance on the hill for the victory, fanning four, walking two and yielding nine hits. Ed Williams, of Big Seven League no-hit fame, took the loss. He struck out five and walked three but five Viking errors squelched any hope of his coming out on top. The St. Paul cause was also aided greatly by import Dennis Lindstrand who singled twice and drove in three runs. Shortstop George Stickle was the other Cub addition. Catcher Al Symington, an Edmontonian who attends Sam Houston State College, and first baseman Ron Prior were the Viking hitting heroes. Prior singled three times and Symington drilled the only extra-base hit, a double, off Babiuk. The Cubs advanced to the final by knocking off Vegreville 7 to 1 Sunday and Mayerthorpe 7 to 3 in a Monday afternoon encounter. The Shamrocks earned their place in the showdown match by bouncing the Edmonton Safeway Seals 11 – 0 Sunday and Two Hills Eagles Monday.
---
BIRTLE DOMINION DAY TOURNAMENT
(July 1) Bob Kabel cracked a homer over the left field fence in the 11th inning Monday to give the Dauphin Redbirds the championship of the $1,400 Annual Birtle Dominion Day Tournament with a 2-1 victory over Riverside Blues.
The blast broke up a fierce mound duel between Dauphin's Dennis McAuley and Lorne Lilley. Lilley likely emerged as the star of the day in spite of the setback. He pitched in all three Riverside games, going a total of 17 innings winning one and saving another. Lilley came on to toss three shutout innings as the Blues rallied for a 13-5 win over Brandon in their opening contest and they saved the second for starter Eddie Evans as the Blues topped Hamiota 6-4.
The Red Sox had taken their opener 5-2 over Virden while Dauphin advanced to the final after a bye as they got by St. Lazare 4-2.
In the opening game of the day, Wayne McConnell got the win for Hamiota with Bill Cairns taking the loss. Dallas Smith smacked a homer for the winners and Doug Lund cleared the fence for the Oilers. In the second game, Riverside romped to a 5-0 lead over the Cloverleafs only to have Brandon battle back to tie the score. However, the Blues jumped on reliever Jack Denbow for eight runs in the last two frames. Neil Amy and Bill Cundiff, who had a 1-0 duel last Thursday, hooked up again in the third game. St. Lazare opened with three in the first inning and that proved enough. Bob Thompson hit a homer for the Athletics. Riverside also opened fast against Hamiota with five markers in the first two innings against Ken Morton. But, the Red Sox battled back to close the gap and Evans needed Lilley to nail down the verdict. The final was a fitting climax for the huge crowd as the game was scoreless into the seventh until hits by Wes Rathwell and Ross Kinsley punched one in for the Blues. Lilley had pitched out of bases-loaded jams in the first and third innings and had blanked Dauphin until Al Evason tied it with a homer in the eighth. Kabel's game-winner was his only hit of the day.
---
SASKATOON EXHIBITION TOURNAMENT
(July 22) After ten innings of exciting baseball it took a coin toss to pick a winner in the opening game of the Exhibition baseball tournament. Delisle and Kindersley battled to a 1-1 draw only to be halted by darkness. The tourney rule - a coin toss - was called into play and Kindersley made the right call to claim the victory. The Klippers' run came off a Delisle error in the first inning when Murray Coben dropped a double-play ball at first base. But Coben redeemed himself in the fourth belting a triple to drive in Max Bentley who had beaten out a bunt. Coben tried to stretch it into a home run but was thrown out at home on a four-man relay to the plate. Gene Graves pitched a seven-hitter with no walks and 13 strikeouts for the coin-flip win. Roland Jones gave up just six hits.
Jones (L) and Wanner
Graves (W) and D.Jackson
(July 23) Lew Hobson, imported from Prince Albert for the tourney, twirled a four-hitter Tuesday morning to help Asquith to a 3-2 win over Neilburg Monarchs. Rival hurler Jerry Nyman was even better holding Asquith to two hits while setting down 15 by strikeouts, but was hurt by errors, one of them his own. Asquith took the lead in the third inning when Les Stack's sacrifice fly scored Les Bloomquist. Monarchs took the lead in the fifth scoring twice as Cliff Mein's single to right scored both Jim Johnson and Larry Flicek. In the bottom of the eighth Elmer Walker reached for Asquith on an error. Jack(Jock) Cleghorn laid down a bunt to advance Walker to second and was safe himself on Nyman's wide throw. Les Stack put down another bunt and all hands were safe as Nyman chose to try to get an out at third but Walker slid in ahead of his throw. One run scored on a ground out and the eventual winning run came home on a sacrifice fly.
Nyman (L) and P.Prediger
Hobson (W) and Brooks
(July 23) The defending tournament champion Unity Cardinals blasted Fulda Flyers 16-3 Tuesday evening as pitcher turned first baseman Ross Stone went four-for-four with a homer, triple and two singles and scored five times. Ken Hoyt smashed a three-run homer and winning pitcher Erwin Doerksen belted a pair of doubles. Doerksen scattered seven hits for the pitching win. Three Fulda pitchers yielded 13 hits and 12 bases on balls while fanning 14. Ted Suer clouted a homer for Fulda.
Doerksen (W) and Chow
R.Suer (L), J.Stroeder (3), G.Stroeder (7) and Wempe

(July 24) Richlea wiped out a 2-0 North Battleford lead with a five run explosion in the bottom of the second inning and held on for a 5-4 triumph Wednesday. Reliever Dave Banks played a key role for the winners coming to the rescue of 17-year-old starter Stan Millar with one out and two runners on base in the sixth inning. Banks proceeded to pitch no-hit ball for the final 3 2/3s innings. Beavers' Bennie Griggs, who took over for losing pitcher Harold Hunchak in the second inning, yielded just one hit and fanned ten in his 6 1/3 innings of work. Bob Marik and Garth Irvin each had two hits for Richlea.
Hunchak (L), Griggs (2) and Brooks
Millar (W), Banks (6) and Marshall
(July 25) Kindersley Klippers chased home five runs in the third inning en route to an 8-2 win over Asquith. Wally Jackson's two-run homer, a run-scoring triple by Jerry Flanagan and a double by Dave Torrens highlighted the big inning. Bentley MacEwen allowed just five hits and two walks in twirling the win. He fanned nine. Jim Wiley, Garnet Hannon and Wayne Morgan had two hits apiece for the winners.
Lazecki (L), Hobson (3) and Brooks
MacEwen (W) and J.Flanagan, D.Jackson
(July 26) Unity's Ross Stone had another big night at the plate, cracking a grand slam homer, to lead the Cardinals to a 6-1 victory over Richlea. An overflow crowd witnessed a sterling pitcher's duel into the bottom of the 8th as the teams fought to a 1-1 draw before the Cardinals broke out. Veteran right-hander Lawrence Bilokryly for Richlea got one out in the bottom of the 8th before giving up a single to Erwin Doerksen and a walk to Johnny Repin. Bob Marik was brought in from right field to relieve Bilokryly and walked Marcel Richard to load the bases and Ken Hoyt to force in the tie-breaking run. Richlea then sent Stan Millar to the hill to face Ross Stone who sent a pitch far over the left-centre field fence to clear the bases and hand Cardinals a 6-1 lead. The homer was Stone's second hit of the night giving him six for the tournament, two homers, a triple and three singles. Jerry Burcher, the Unity playing manager, held Richlea to seven hits and compiled ten strikeouts.
Bilokryly (L) Marik (8), Millar (8) and Marshall
Burcher (W) and May

(July 27) Gene Graves had a no-hitter for six innings, finishing with a one-hit gem as Kindersley nipped Unity 2-0 to win the Exhibition Tournament and $575 in prize money. The lone safety off Graves came in the seventh inning when Ross Morrison lofted a high fly ball which dropped between left fielder Layne Jackson and shortstop Jim Wiley. A third inning double by Graves set up the winning run. His two-bagger sailed over Marcel Richard's head in left field and Graves came home when Jim Wiley singled. The second run came in the fourth helped by two errors. In the inning, losing pitcher Ross Stone fanned three batters but still had a run scored against him. Stone allowed just five hits.
Stone picked up $25 for collecting the most hits in the tournament, six. Neilburg's Jerry Nyman captured the $25 award for most strikeouts in a single game, 15.
Stone (L) and Chow
Graves (W) and D.Jackson
---
(July 22) Swift Current Indians upset the Satchel Paige All-Stars 12-8 in an exhibition tilt at Mitchell Field Monday evening. Paige pitched two scoreless frames before giving way to Sherman Cottingham in the third and LeRoy Paige Jr. in the eighth. Merv Sanderson went the route for Swift Current and helped the offense with the home run in the seventh.
After being blanked for five innings, the Indians broke loose in the 6th sending 14 batters to the plate to produce a total of ten runs on seven hits and four walks. The added a pair in the seventh.
The All-Stars scored four in the first inning, one in the 4th, two in the 8th and a singleton in the final frame. Sanderson gave up 11 hits.
Paige Sr., Cottingham (3), Paige Jr. (8) and xxx
Sanderson and xxx
The Paige All-Stars included Sherman Cottingham who returned to Canada to pitch for North Battleford Beavers in 1964 and 1965 and the Walker brothers, Oscar and Isaac, who suited up in the Manitoba Senior League in 1964. The club had 26-year-old Willie Washington at third base, 19-year-old Oscar Walker at second and Isaac Walker as the catcher. Meyers was listed as the first baseman, Green in right field, Stallings in centre field, La Grande, also a first sacker, Moore at shortstop, Quick, catcher. The pitchers were identified as Cleveland, Cowans, Poinalter, Waddell and Pearson.
---
LACOMBE LIONS TOURNAMENT
(July 24-25) Grande Prairie Eskimos topped Vernon, BC, Luckys 6-5 to take top money in the Lacombe Lions $4,500 tournament. Before a crowd estimated at 5,000, the Alberta club came from behind to notch the winner in the bottom of the ninth inning. Grande Prairie took home top prize of $1,100. Vernon led 5-4 as the Eskimos came to bat in the ninth and got back to back singles from Dale Stokke and Guff Chapman to lead off the frame. Stokke tied the contest when pinch hitter Mel Watchorn was safe on a fielder's choice. Al Peterson then connected on a grounder to second baseman Jim Berlando who threw to first base as Chapman scampered home with the winning run. Vernon won a berth in the final with a 10-6 win over Viking, Alberta, All-Stars and Grande Prairie shaded Fairchild, Washington, Air Base Fliers 3-2. Others - St. John, Washington, Indians, Rosebud League All-Stars, Edmonton Junior All-Stars, Prelate, Saskatchewan.
Following is an edited version of Hal Pawson's (Edmonton Journal Sports Editor) story on the Grande Prairie victory.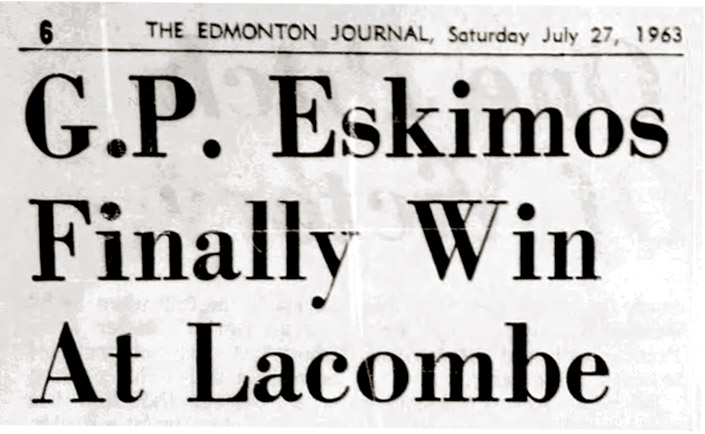 The Grande Prairie Eskimos today are undisputed champions of the Lacombe Lions Baseball Tournament, after three straight tries.
And if the 5,000 fans who watched the final last night managed to forget the way they beat the Vernon (B.C.) Luckys 6-5 in the bottom of the ninth inning, veteran central Alberta baseballer Jim Berlando won't.
Berlando, who has played in more Lacombe tourneys than any other man in the 14th annual had a mental lapse that give ball players nightmares.
The Esks went into the bottom of the ninth down 5-4, and pushed across the tying run on two hits and a fielder's choice against dead tired pitching. Guff Chapman, who had been a constant tournament strength for Grande Prairie at first base and at bat, stood at third with the winning run. One was out.
ONLY PLAY
Left fielder Al Peterson lashed a grounder straight at Berlando, in the second base hole. The only play that could keep Vernon in the ball game was a peg to home plate to cut off Chapman, who was away before the crack of the bat. The double seemed impossible.
Berlando fielded it solidly, hesitated and threw to first base. Chapman scored in a cloud of dust thicker than the shower of $1,100 in bills it meant in top money for Grande Prairie.
Runner-up Vernon earned $750. Fairchild (Wash) Air Base Flyers, who lost 3-2 in a ninth inning situation to the Esks in the day's first semi-final, took $550 as did Viking Shamrocks, 10-6 late-innings loser to Vernon. The four first day (Wednesday) losers picked up $440 each, as the kitty totaled $4.550.
RAINED OUT
An inch and a half of rain Wednesday night washed out Thursday and stretched Canada's best baseball tournament over into Friday, but it was worth the wait as Friday's perfect, hot sunny weather and three heart-stopping ball games---made the tournament the greatest success in the Lions' history. Six of the seven ball games were thrillers.
Garth Robert's Eskimos from the Peace River country had been trying to win at Lacombe for three straight years. The first year they were nothing, and last year they reached the finals only to have the playoff for top money washed out.
Like the Luckys, the Esks were devoid of fresh pitchers going into the final. John Doucette the ex-Edmonton Eskimo who had pitched an opening two-hit victory Wednesday started and had a one hitter going into the sixth, when Vernon sluggers got to him for five hits, including a 3-0 pitch three-run homer by first baseman Russ Keckalo.
The resultant four runs put the Eskimos behind 5-3, although they got one back in their half off third baseman Bob Potter's homer. John gave over to Merv Currie, who had pitched a win, in relief of Dennis Lindstrand, over Fairchild in the first semi-final.
It stayed 5-4 Vernon until last bats, when Dale Stokke, who had an earlier triple to go with brother Ray's homer, singled, with Chapman singling behind him and going to third when outfielder Eldon Ray was safe on a fielder's choice.  That set the stage for Berlando's poignant mental lapse.  But if Jimmy won't soon forget, neither will Ponoka's John Zahara, playing second for Eskimos. Four errors made it the worst game of his career.
WINNING HURLER
Grande Prairie's coach-manager Roberts hit three for three, as Currie turned out to be the winning pitcher in a game beset by pressure errors.  The losing pitcher was Fred Sabatine, who had started Vernon's semi-final. Luckys final game starter was courageous Carl Sheeley who had seen action in both earlier games, and was relieved, when fatigue set in, by sore-armed Bob Elliott.
Pitching held up for Fairchild, but the Airmen lost in the bottom of the ninth against Grande Prairie in their semi-final. They had four double play chances, missed them all, and Eskimos pushed across the winner on a hit, two walks and four fielder's choices. Chapman's single scoring Zahara for a victory.
Viking's golden coach turned back into a pumpkin when the Cinderella Shamrocks ran out of pitching in the seventh against Vernon, giving up two runs in each of the seventh and eight innings to break up a 6-6 tie. The loser was Mickey McNabb, although puckster Gord Labossiere also failed to stem the tide.
Fairchild 2 Grand Prairie 3
Bell (L) and Matocha
Lindstrand, Currie (W) (6) and Roberts
Viking 6 Vernon 10
Niwa, McNabb (L) (2), Labossiere (7) and Kulka
Sabatine, Sheeley (W) (4) and J.Kashuba
Vernon 5 Grande Prairie 6
Sheeley, Elliott (5), Sabatine (L) (6) and J.Kashuba
Doucette, Currie (W) (7) and Roberts
---
PEACE RIVER TOURNAMENT
(August 4-5) Mel Watchorn's two-run homer in the top-of-the-eighth inning boosted the Fairview Outlaws to a 4 to 2 victory over the Peace River Stampeders and top money of $500 in the $1,000 eight-team Peace River baseball tournament.
The lanky, 25-year old outfielder went yard with his dinger moments after Peace River has plated a deuce to deadlock the score at 2 – 2. Earlier in the day, Watchorn blasted two more taters over the right field fence to lead the Outlaws to an 8 to 4 decision over the Donnelly Cubs. The Stampeders, pennant-winners in their first year in the Smoky River League, entered the final round with a convincing 5 to 0 win against the Westlock Generals. Winning pitcher in the tourney final was Kenny Fox although he needed relief help from cousin Jim Fox. Larry Mickey was the loser. In opening-round action, Peace River trounced Grimshaw Combines 12 to 1, Westlock blanked Mayerthorpe 7 to 0, Donnelly beat Redwater 11 to 3 and Fairview outlasted Falher 5 to 1.
---
B. C. SENIOR BASEBALL CHAMPIONSHIP TOURNAMENT
(August 31 - September 2) With standout pitching from Art Worth, Des Moseley and Brent Siddons, Victoria's Transport Workers swept to victory at the BC Senior Baseball Championship at Kelowna.
Victoria went unbeaten in the four-day affair wrapping up the title with a 6-3 victory Monday over Terrace. Siddons tossed a five-hitter in the final with ninth inning held from Moseley. Sharing the hero's role was Les Brice who cracked a three-run inside-the-park homer to account for the winning margin. Victoria had little trouble in reaching the final. Workers blanked Kelowna 3-0 on Saturday as Moseley, a left-hander, fired the masterpiece of the tournament, a one-hitter. Worth yielded just four hits on Sunday as Victoria downed Haney 6-2.
Terrace found the road to the final somewhat tougher. Beaten 11-5 by Haney in the opening round, Terrace roared back with three straight victories including a 6-5 decision over the same Haney nine in the semi-final.
Terrace 3, Victoria 6
Orr, Nelson (6) and Sunberg
Siddons, Moseley (9) and Moody
Haney 5, Terrace 6
Trinder, Gillespie (5) and Bowyer
Tenmark, Orr (5) and Swanson
Victoria 6, Haney 2
Worth (W) and Moody
Schwartz, Deans (3) and Bowyer
Merritt 4, Terrace 5
Terrace 5 Kelowna 3
Kelowna 0, Victoria 3
Sheelsy, Shafer (8) and Leonard
Moseley (W) and Moody
Terrace 5, Haney 11

---
KAMLOOPS LABOUR DAY TOURNAMENT
(August 31 to September 2) Standout pitching by a trio of teenagers and the home run blasts of two veteran outfielders sparked the Kamloops Lelands to victory in the 11th Annual Kamloops Labour Day Baseball Tournament. The Lelands came into the competition as underdogs against such teams as the Vancouver Dufferins the champs the last two seasons and the North Vancouver Carlings who finished atop their league this season.

In their opener Sunday afternoon, Lelands eliminated the Maillardville Jubilees blanking the 1962 finalists 4-0 behind the two-hit pitching of 18-year-old Ed Brown, an import from Seattle. Brown fanned 11 to beat Norm LeClair the first of three Maillardville hurlers.

Left fielder Jack Fowles belted a two-run homer to cap a five-run rally as Kamloops downed Kingsway Motel 7-4 in the semi-final Monday afternoon. 16-year-old Steve Cohen held Kingsway to three hits in five innings of relief to collect the win. Kingsway executed a rare triple play in the fourth inning on Bud Allison's pop-up catching Jim Allison off second and Ed Brown off first.
A crowd of close to 2,000 watched pitcher Barry Elson score the winning run against Bellingham on a base running gamble in the fifth inning. Elson, who walked, advanced as Bud Allison was hit by a pitch and raced to third on a single by Ray Fujikawa. As third base coach Ray Scott signaled Elson to hold at third, the youngster charged home and slid in ahead of the throw as Lelands notched a 3-2 triumph. Fujikawa had given Kamloops a 2-0 lead in the third when he belted one over the right field fence. Elson, who fanned six without allowing a walk, was carried off the field on his teammate's shoulders after they had executed a double play to wrap up the tournament. The 18-year-old right-hander aided his own cause in the fourth inning when he caught two consecutive line hots to the mound.

The Bells had moved into the final with a 6-0 shutout over North Vancouver. In the opener Saturday night, North Vancouver Carlings battled for 11 innings before upsetting Vancouver Dufferins 3-1. Penticton went two extra innings before bowing to Kingsway Motel 2-1. Pinch hitter Jim Bush scored the tying run for Penticton on Bob Parker's single in the seventh inning but an infield error in the ninth allowed Kingsway to plate the winner.
Bellingham Bells capitalized on four errors by the Fort St. John Huskies to post a 5-2 win. In an lop-sided seven-inning consolation final, Kingsway swamped North Vancouver 13-3. John Gardner smacked a two-run homer and playing manager Bill Kinder drove in three runs with four hits to spark the Kingsway outburst. Back to back round trippers by Bill Green and Rusty Bruce gave North Vancouver their three runs in the fifth inning.
North Vancouver 3, Vancouver Dufferins 1 (11 Innings)
Kozak, Crawford (9) and Fairbrother
Gillespie, Frizzell and Edwards, Medine
Penticton 1, Kingsway 2 (9 Innings)
Terbasket (L) and Gebert
Johnson, McRae, Sparks and Osadczuk
Maillardville 0, Kamloops 4
LeClair, Heathcote, Michaud and Eriksson, Stein
Brown (W) and Kato
Fort St. John 2, Bellingham 5
Ray (L) and Fofonoff
Ray Moline (W) and Thompson
North Vancouver 0, Bellingham 6
Empey (L), Crawford and Fairbrother
Saldisberry (W) and Thompson
Kingsway 4, Kamloops 7
Smith, McRae, Crosato and Osadczuk
Elson, Brown, Cohen and Kato
Kingsway 13, North Vancouver 3
Sparks, Peters and Taylor
Nichol, Crawford, Empey, Kozak and Moberg
Bellingham 2, Kamloops 3
Neil Hutcheson, Moline and Thompson
Elson (W) and Kato, Fujikawa