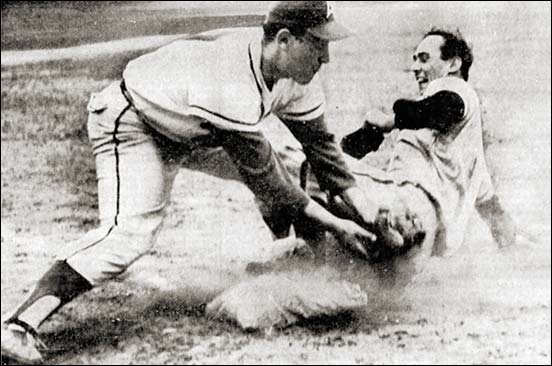 Gordie Lowery, the CYO catcher, has a smile of satisfaction as he successfully steals third base during Monday's Industrial League game at the Powell Street grounds. Pete Blanchard is the Astoria third baseman. CYO, with home runs from Ken Spees and Barry Moscovitz came out ahead, 6-3.
(Ralph Bower Photo, Vancouver sun, June 23, 1964)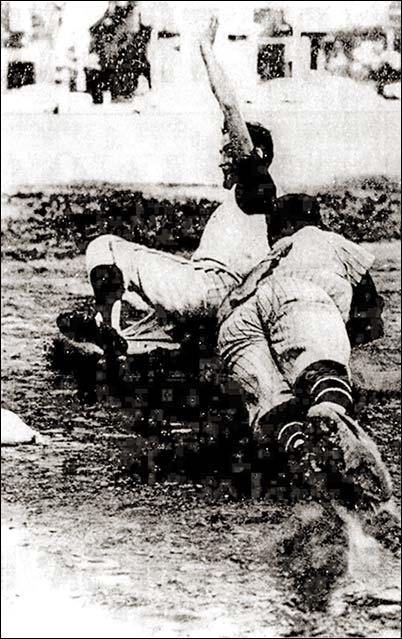 Left - The caption was pretty cute - SPLIT DECISION AT HOME PLATE. Umpire Joe Frizzell had an embarrasing moment in a Pacific International Baseball League game at Central Park. His pants split as he dusted off home plate. Vancouver OK's Don Cowan looks on, not realizing the view from the other side (Ralph Bower Photo, Vancouver Sun, May 28, 1964)
Right - Rich McPhee of the Longshoremen slides into third base as a prostrate John Wilson of the Boilermakers drops the ball. Longshoremen won as Bob Elliott tossed a shutout. (Ralph Bower Photo, Vancouver Sun, August 12, 1964)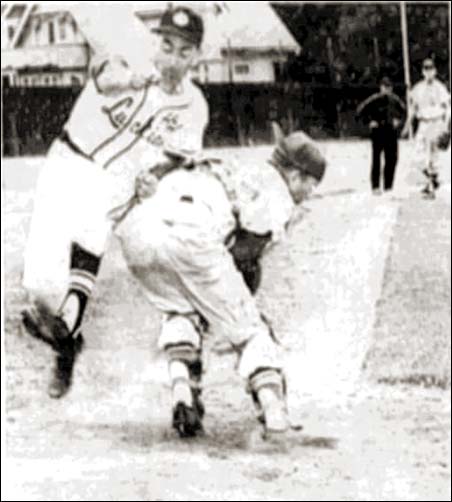 Running like a football fullback, Haney playing-manager Ted Bowyer, discovers it's not an easy chore to cross home plate.
Vancouver catcher Stan Osadczuk put the block on Bowyer in the third inning of the final game in the Victoria tournament.
The ball got away from the catcher and Bowyer made it safely. Vancouver won the 11-inning final, 9-8.
Brothers Brian McKenzie (a catcher) and Bruce McKenzie (a pitcher) McKenzie of Victoria's Transport Workers. Overjoyed but a bit bewildered by the rapid turn of events as they were signed to professional baseball contracts by New York Yankee scout Eddie Taylor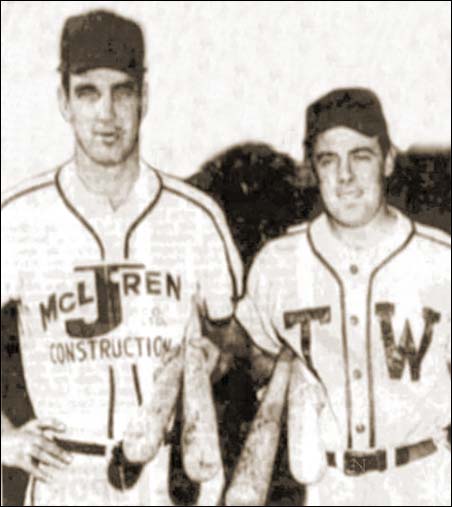 There is optimism aplenty among managers on the eve of another season in the city Senior Amateur Baseball League and some of the confidence is displayed by Mike Hodge (left) and Barry Harvey as they pack lumber for Saturday's season-launching double-header at Royal Athletic Park.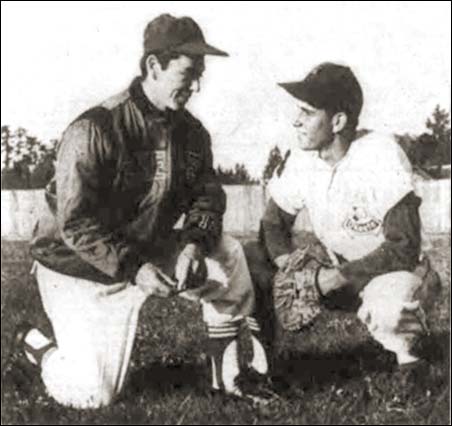 Preparing for 1964 Victoria Senior Amateur Baseball Association tournament of July 3-5 - two products of the Vancouver minor baseball program, pitcher Steve Cohen and catcher Gary McCloy.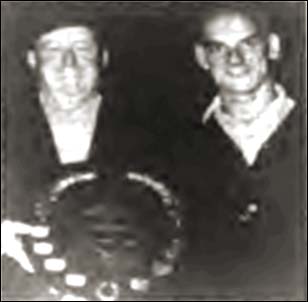 Above left - Mel Johnson – 1964 Kimberley Dynamos of the Can-Am International Twilight Baseball League
After arriving on the scene as an East Kootenay teen-age pitching sensation in the late fifties, Johnson began experiencing arm difficulties over the years which led to his ultimate transition to a shortstop in the early to mid sixties :

"Against the advice of some pretty smart baseball people, I threw lots of curve balls too young and with too much elbow action - because it was effective... ending up having to get some professional medical help, rest and moving to a fielding spot. I credit my first catcher when joining the senior league with my early success. He could spot hitter weaknesses and I had enough control to get the outs."
Above right - Manager Charlie Welbourne (left) and assistant John Haar accept the Mel Ottem Memorial Plaque following their victory at the 19th Annual Kamloops Labour Day Weekend Tournament. The Burnaby O'Keefe's defeated Kamloops 9-2 in the final.