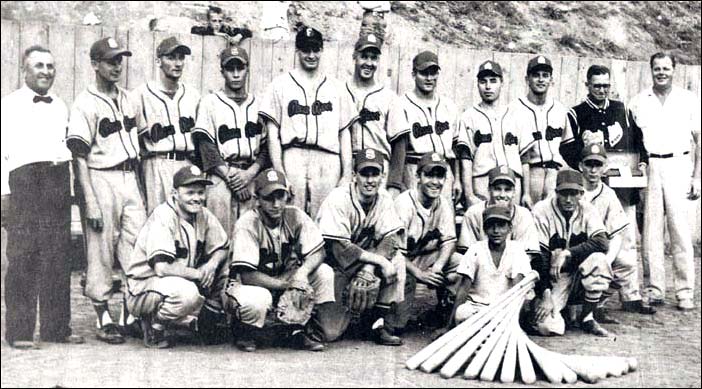 We've since discovered this is a photo of the 1961 Peace River team.
Standing: Mike Tanne (Sec-Treas), Joe Weremy LHP/COACH, Frank Brown SS, Pete Lizotte RF, Mel/Neil Watchorn SS, Al Adair MGR, Lyle Tansem CF, John Czuy 1B, John Zahara, Harry Palm (VP), Ron Campbell (President). Kneeling : Les Brecker LF, Jim Kozie C, Ron Duda 3B, Fred Windjack 2B, Ron White CF, Dave McPhillamey P, Pete Czuy P. In front, batboy Ralph Paul.
(Photo courtesy Joe Weremy)
(Aug 16) Joe Weremy tossed a one-hitter to lead Falher Leths to a 6-1 win over Peace River Stampeders to clinch first place in the North Peace Baseball League. The game was called after seven innings because of darkness.

(Aug 18) Ken Gall allowed just one hit as Peace River downed Falher 2-0 in the opening game of a best-of-three North Peace semi-final series. John Doucette gave up just four hits in taking the loss.
Doucette
Gall