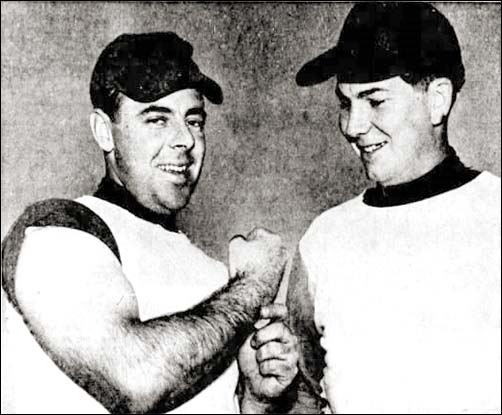 POWER FOR TRANSPORTS
If muscle will do the trick, figures rookie George Fuller (right) as he surveys bulging bicep of manager Barry Harvey, Transport Workers should be tough to handle in the city Senior Amateur Baseball League.
Fuller, all-star last season in Connie Mack League, will be at third base Saturday and Harvey will start at second as Transports open new season at Royal Athletic Park. (Victoria Times photo by Bill Halkett)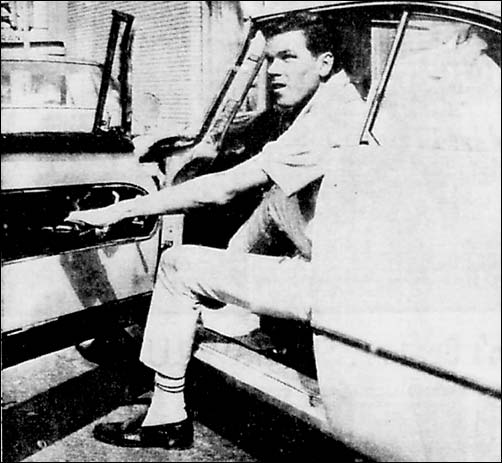 Trail Smoke Eaters newest pitcher Steve Gustafson of Seattle has his first look at the Silver City upon his arrival Saturday.
Gustafson, a right-hander, faces Rossland Caps at Butler Park. (Trail Times Photo)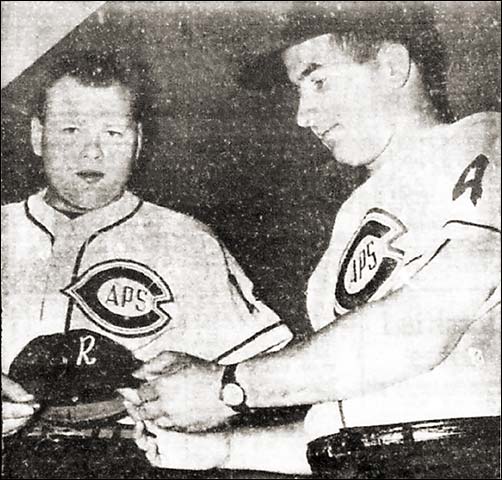 Sporting new uniforms.
The Rossland Capilanos visit Butler Park to take on the Trail Smoke Eaters in a regular Can-Am League game. Rossland playing-coach Don Holmes (left) and playing manager Dennis Ferrey are seen inspecting their headgear and trying out the uniforms that were supplied by Rossland merchants. (Trail Times Photo)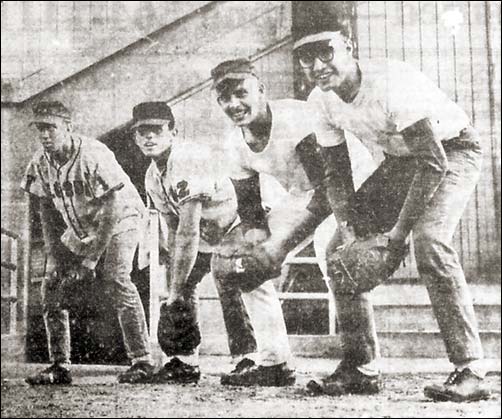 Bring on the Braves !
That's the motto of the Trail Smoke Eaters infield corps shown at a practice session prior to their game with the Nelson Braves. Smokies are (L-R) Doug Lynd, Morey Johnston, Tom Bird and Butch Simpson. (Trail Times Photo)

The big bats belong to the Trail Smoke Eaters (L-R) Ron Cull, Dan Coe and Larry Kissock.
Kissock is the regular catcher for the Trail club while Coe and Cull patrol the outfield. (Trail Times Photo)