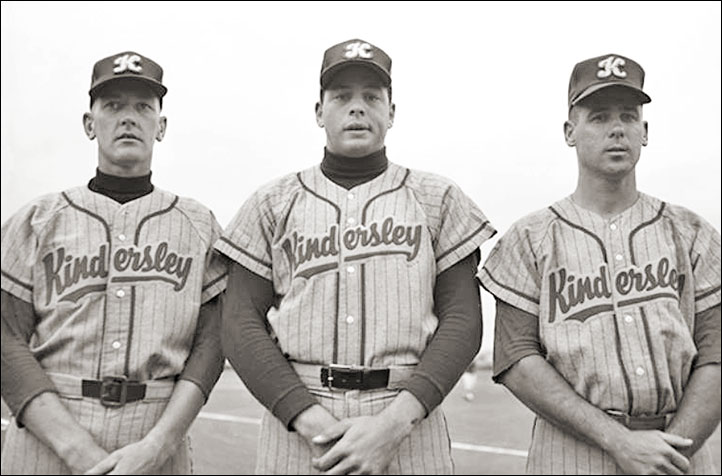 Our best guesses for this Kindersley Klippers trio - (L-R) Jerry Flanagan, Joe Ferguson and Wally Jackson. (Later confirmed by Leo Wurtz and Earl Bedard)

[Photo from the baseball collection at the Saskatoon Public Library]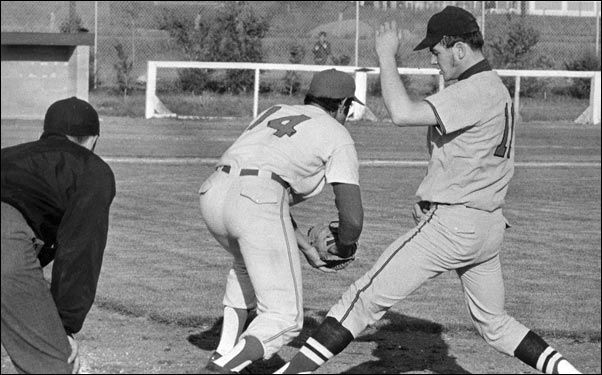 Regina Red Sox catcher Andy Logan avoids being tagged out on pick-off attempt as the
base umpire watches the play develop. Photo supplied by Terri-Lynn Ruhr (daughter of
Lionel Ruhr). Player ID provided by Al Ash (long-time Regina Red Sox pitcher).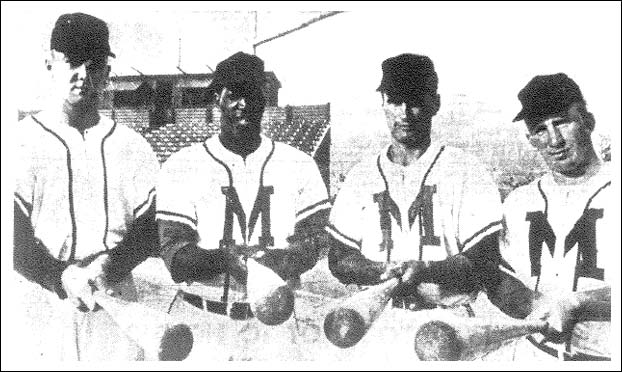 Above - Melville Millionaires Murderers' Row - Dan Roach, Ira McKnight, Bev Hickie & Gord Nelson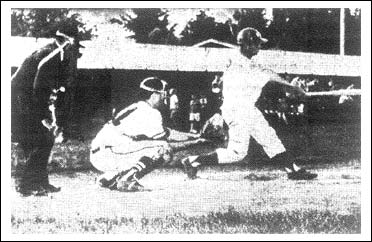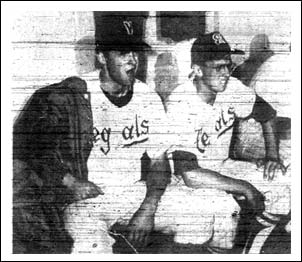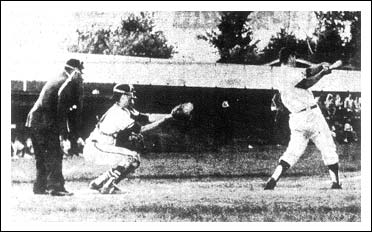 Above left - Moose Jaw Regals' catcher Larry Tollefson slams one of Regina Red Sox' pitcher Ken Simon's offerings over the left-field wall but foul by inches in the 1966 Southern League final series.
Above right - John Fisher & Ivan Gutfriend watching game action from the Moose Jaw Regals' dugout.
Left - Moose Jaw Regals' third baseman Jim Booth singles to drive in a run in a playoff game against the Regina Red Sox.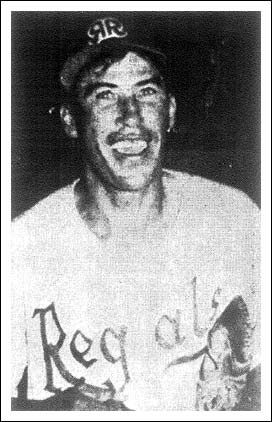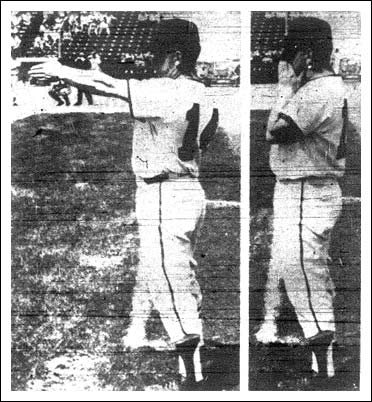 Above left - Playing-manager Mike Dayne of the Moose Jaw Regals celebrates following the Regals' triumph over the Regina Red Sox in the Southern League final series. Right - Regina Red Sox playing-manager Lionel Ruhr directing runners from the 3B coaching box.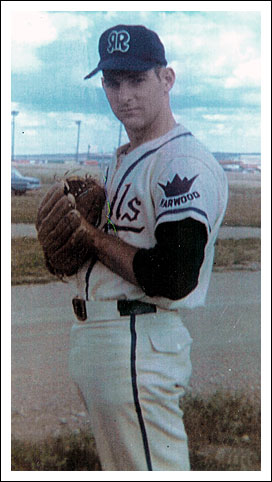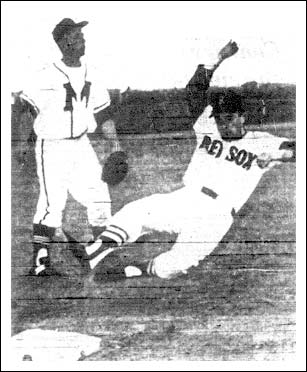 Left - left-hander Wayne LeBere was one of the most feared hurlers in the history of the Southern League. During his many years in the circuit with the Moose Jaw / Rowletta Lakers and then the Moose Jaw Mallards / Steelers / Regals / Devons, Wayne was named the loop's top pitcher in 1960, 1963, 1966 and 1967. He was also the MVP in 1966.
Above right - Jack Buch of the Regina Red Sox slides safely into 3B while Gord Nelson of the Melville Millionaires watches helplessly with no throw coming.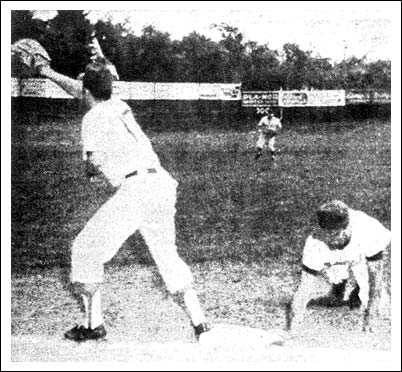 Left - Moose Jaw Regals' first baseman Brian Keegan takes a pick-off throw from pitcher Wayne LeBere as Ron McKechney of the Swift Current Indians dives back safely.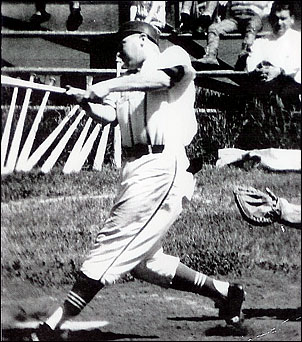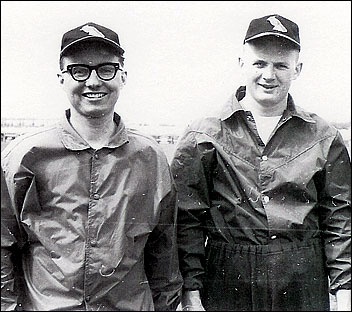 Left - Unity's Irl Flanagan takes a big cut. Right - Ervin Boehm, Jim Shaw Unity Infielders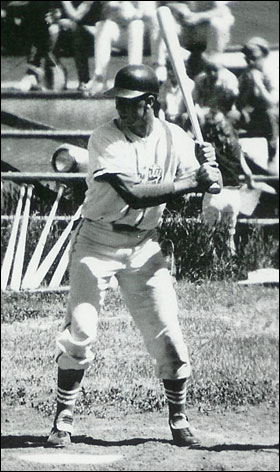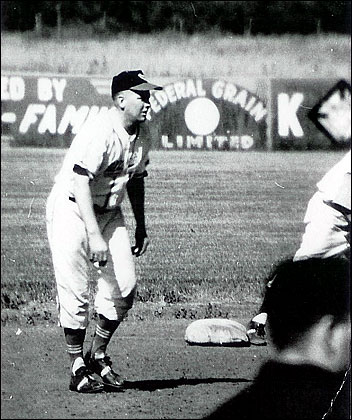 Lyle May, Unity Cardinals, ready at the plate (left). Right - Irl Flanagan, on base, taking a lead.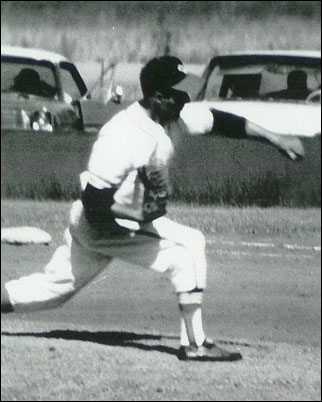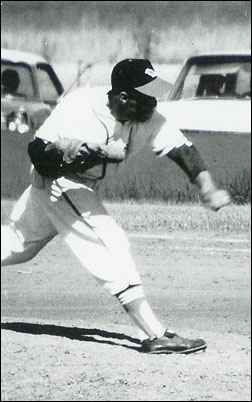 Ross Stone, ace lefty of the Unity Cardinals, in action.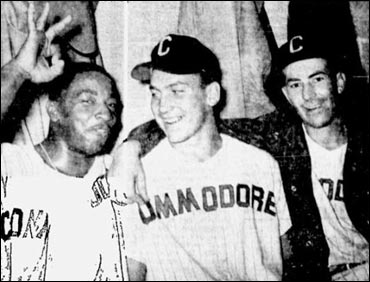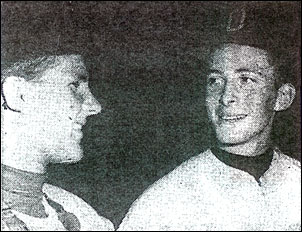 Left - Don Poindexter celebrates a victory with Cliff Koroll (centre) and Len Breckner. Right - Saskatoon Commodore rookie battery mates, catcher Bryant Bogren (left) and pitcher Ron Fyfe (right) are all smiles after a winning effort.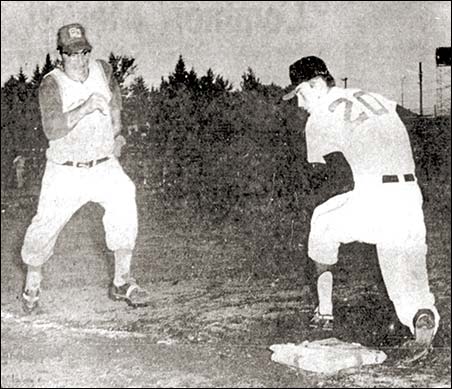 Left - Eston's Adam Fetch is safe at first as Ron Coleman (20) of Kenaston cannot come up with the throw from third sacker Cliff Koroll.
Reg Andrews scored on the play, ruled a throwing error by Koroll.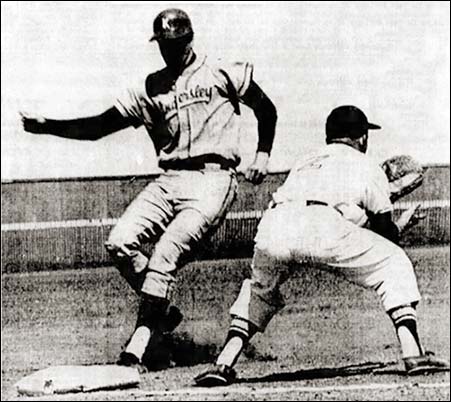 Left - Joe Ferguson of Kindersley (a future major leaguer) the outstanding player in the first day of the Lacombe Tournament, scoots into third base while Dale Cassell of Kamloops awaits the throw from the outfield.
Ferguson struck out 16 batters and belted a 400-foot home run as the Klippers beat Kamloops 6-2 and advanced to the semi-finals against the Edmonton Colts.